Matt Williams
A prospect we've written about in detail prior to each of the last two seasons, Colorado's Josh Scott returns to Boulder for his final year of eligibility ranked among the top center prospects in the senior class. Left off a guard-heavy Pac-12 first team after receiving the honor in 2014, Scott averaged 14.5 points and 8.4 rebounds per game as a junior despite missing a number of games with a lower back injury. Finishing as the Buffaloes' top rebounder and 2nd leading scorer behind now graduated shooting guard Askia Booker, Scott did not take a significant step forward a year ago after showing marked improvement as a sophomore.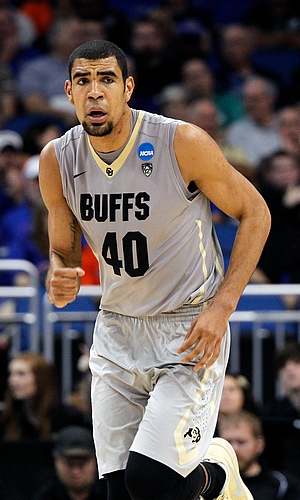 Standing 6'10 with good length and a solid 245-pound frame, Josh Scott has nice size for the power forward position and average size for a center, but doesn't quite have the type of elite athleticism that would solidify his NBA upside. He is by no means a poor athlete, possessing good mobility, but isn't overwhelmingly quick, still has room to get stronger, and struggles at times to finish over length and athleticism in the post.
Offensively, Scott is extremely efficient, even if his overall productivity is erratic at times. Averaging just under 20 points per game in the month of March last season and ranking in the 97th percentile in overall points per possession last season among all college players according to Synergy Sports Technology, Scott's terrific hands, soft touch, and a knack for making his free throws shines through on many nights.
On his best nights, Scott's interior scoring skills, coupled with his size and mobility, made him one of the most efficient big men in the country scoring off put backs, cuts, and transition opportunities a year ago. Shooting 62% around the rim as a finisher, Scott is also a reliable threat operating one-on-one in the post. He shot 47% from the block using an array of hooks, scoops and step-throughs on the block.
More than an interior scorer, Scott's shooting mechanics aren't pretty, but he made a very respectable 78% from the line a year ago and 41% of the 1.4 perimeter jump shots he attempted per game as a junior to go along with a positive assist-to-turnover ratio. Possessing a nice feel for the game, Scott isn't a prolific distributor, but he finds the open man and plays a low mistake brand of basketball, which is particularly impressive given the number of double teams he faces. He's also a solid, albeit unspectacular, offensive rebounder, showing nice instincts when he's playing with energy on the boards. Ranking 2nd among players in our senior class rankings in offensive rating, Scott is an extremely productive offensive weapon at the college level.
Despite his very impressive efficiency, Scott doesn't seem to have a clear calling card as a NBA prospect, and isn't without a few areas to improve offensive. He doesn't always establish great position in the post and has struggled mightily against the better competition he faced scoring one-on-one. He isn't as effective against bigger, longer, NBA caliber defenders, and can be a bit predictable making moves to his left hand on the block. With Booker headed to the pros, Scott is likely to assume a huge role for the Buffaloes this year and it will be interesting to see if he can show the ability to carry Tad Boyle's team offensively.
The challenge for Scott early in his career was making his presence felt on the defensive end. A very solid offensive rebounder but a comparably average defensive rebounder, Scott has improved a bit in that regard since his freshman year, but could still stand to be more aggressive pursuing the ball defensively. His lack of quickness off the floor limits him here, but it didn't, however, stop him from improving as a shot blocker. He's by no means a high level rim protector, but his anticipation and effort in contesting shots has helped him double his per-40 minute pace adjusted block rate since his freshman year.
Scott is a solid defender at the college level. His lack of quickness can limit him in defending dribble penetration and recovering to shooters on the perimeter, but he shows nice awareness defending the pick and roll and plays tough on the block, looking comfortable against players with comparable speed.
There's little question that Josh Scott is one of the top big men in the Pac-12, but he'll need to take another significant step forward like he did as a sophomore to solidify his draft stock. If that isn't in the cards, he's likely a lock to get an invitation to the Portsmouth Invitational Tournament, would certainly get an opportunity to catch on in Summer League, and would be an extremely attractive player overseas where his lack of elite athleticism wouldn't be an issue.