We continue our coverage of the top returning NBA prospects in the SEC with scouting reports on players ranked #2-5:
Phil Pressey
,
Patric Young
,
Jarnell Stokes
and
Kentavious Caldwell-Pope
.
Incoming freshmen have been excluded from these previews, as we'd like to wait and see what they have to offer on the NCAA level before we come to any long-term conclusions.
-Top 20 NBA Prospects in the Big Ten-Top 20 NBA Prospects in the ACC-Top 11 NBA Prospects in the Big XII-Top 15 NBA Prospects in the Pac-12-Top 20 NBA Prospects in the Big East
-
Top NBA Prospects in the SEC, Part One
(#1) B.J. Young Video Scouting Report
#2, Phil Pressey, 6'0", Junior, Point Guard, Missouri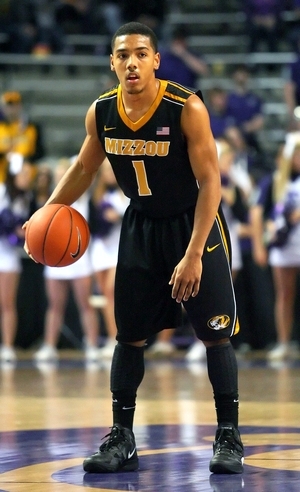 Derek Bodner
Controlling the reigns of the Missouri Tigers offense, Phil "Flip" Pressey guided the nation's most efficient offense to a 30-4 record before their disappointing loss to Norfolk State in the first round of the NCAA tournament.
With new coach Frank Haith, Missouri operated at a much slower pace, and this style of play suited a pure point guard in the mold of Phil Pressey better than the frenetic tempo played by Mike Anderson's squads in previous years.
Pressey responded by posting 7.9 assists per 40 minutes pace adjusted, which is the top figure among returning prospects in our top-100 rankings. He also ranks #1 in Pure Point Rating, by a fairly wide margin. Pressey was able to take advantage of the considerable offensive talent he had around him, as he displays excellent court vision, with the ability to make both the flashy no-look pass off the dribble and the routine kick-out to the open shooter in the corner. Pressey does an excellent job of having his head up and his eyes always surveying the floor, seeing lanes across the court and through traffic that you wouldn't expect someone of his short stature to be able to see,
Pressey was particularly dangerous as a passer when he got into the lane, showing very good vision and creativity in hitting the big man diving to the basket and constant awareness of where the three point shooters were stationed as outlet valves. He was able to get into the lane with regularity thanks to his excellent combination of quickness and ball-handling ability, as he has a very low and tight dribble, always having complete control over the ball. He has a very good crossover, and overall has a tremendous amount of misdirection moves when he can't get by his defender with pure quickness alone.
Missouri also put Pressey in plenty of pick and roll situations. His combination of quickness, ball-handling, and ability to shoot off the dribble presented a tough cover in these sets, and he once again was able to use this to get into the lane and create scoring opportunities for his teammates. He was also able to use these sets to create offense for himself, as he showed excellent ability to shoot off the dribble, needing very little space and time to get off a jump shot with his short, compact release. Pressey has a very good, repeatable form and good touch on his jump shots, and this is overall his biggest weapon when generating his own offense. He still isn't terribly consistent in this area, though, only converting 36.5% of his 3-pointers last season, and 34% of his overall jumpers. Part of this has to do with his shot-selection, which can be questionable on occasion, and part of this might have to do with his lack of size. NBA scouts will surely want to see him become more consistent in this area.
When Pressey gets into the lane and is forced to score on his own, some of his deficiencies show up. He has very good touch and body control, but his lack of size and strength prevent him from finishing at the rim at the rim at a high rate, and he struggles to finish through contact. He converted just 47% of his attempts around the basket last year according to Synergy Sports Technology, which is a below average rate, and doesn't draw a great deal of fouls. He also tends to get slightly out of control at times, frequently leaving his feet without having an outlet to pass to, which results in some turnovers or forced shots and passes that have little probability of success. Further developing his floater and short pull-up game could help him avoid these situations and present him new opportunities to score.
Measuring in at just 6-0, and 178 pounds, with a 6-3 wingspan, Pressey's size and strength presents some obvious problems on the defensive side of the ball when trying to project him to the NBA. He moves his feet fairly well laterally, but his lack of length makes it hard for him to adequately contest shots, and his lack of strength makes it hard for him to fight through screens. He also has a tendency to gamble a bit too much. This results in a very impressive 2.6 steals per 40 minutes pace adjusted, but it also has a tendency to put his teammates in a tough rotation to cover up for him when the gamble does not pay off.
With the graduation of Marcus Denmon, Ricardo Ratliffe, and Kim English, Phil Pressey and the Missouri Tigers are going to have a lot of offensive talent to replace, and Pressey will have lost some of his favorite targets. How Pressey continues to find the right balance between passing and scoring will be interesting to watch. If Pressey can prove he can score efficiently from inside and outside the arc, his combination of shooting, court vision and feel for the game should make him a coveted option considering the demand in today's NBA for pure point guards who can create for themselves and others.
#3, Patric Young, 6'8, Center, Marquette, Junior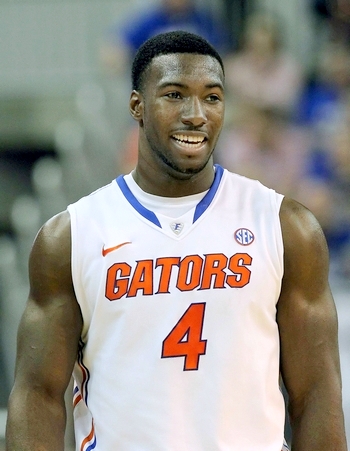 Kyle Nelson
Patric Young was a legitimate NBA prospect before he stepped foot on Florida's campus, a McDonald's All-American who was expected to make an immediate contribution for the Gators. Yet, he struggled initially, posting a remarkably unproductive freshman season that left scouts and fans alike scratching their heads. During his sophomore year, Young improved, but he still struggled with bouts of inconsistency. The question entering his junior year remains: will Patric Young's basketball ability ever catch up with his elite physical and athletic profile?
At first glance, it is easy to see why Young has been an NBA prospect since he was a teenager. Standing 6'9 with an excellent 249-pound frame and a long 7'1 wingspan, Young has looked the part of an NBA big man for quite some time. He also possesses an elite athletic profile, equipped with freakish explosiveness around the basket and excellent lateral quickness, and showing outstanding speed in transition. While technically undersized for an NBA center, Young's elite physical and athletic profiles suggest that he can probably defend either post-position at the next level.
Young is not a prolific scorer, posting just 15.6 points per 40 minutes pace adjusted last season. That is not to say that he was not, at times productive as evidenced in his 25 point performance against Arizona, 19 against Alabama, and 21 against top-ranked Kentucky. Furthermore, he increased his 2-point percentages from 55.6% as a freshman to an impressive 61.8% as a sophomore. He posted almost as many single digit-scoring nights as he did double digits, however, showing that while he showed flashes of dominance, he largely struggled to produce consistently.
This discrepancy is particularly vivid on film, where Synergy reveals that he finds the majority of his possessions in the post. Young does an excellent job of carving out space in the post, controlling entry passes, and finishing around the rim. The problem is that his footwork is not particularly advanced and he has only a few reliable post moves, primarily his jump hook, which he can launch with his right and left hands, and various combinations of spin moves and up-and-unders. His post-game ultimately remains basic and before he can approach his ceiling as a dominant post scorer, he must further develop his footwork and expand his post arsenal.
Despite his proficiency in the post, however, Young struggles with bouts of passivity, represented in the 12 games in which he attempted five or fewer shots. Another alarming trend is his extremely low 3.7 free throw attempts per 40 minutes pace adjusted; this is an improvement from 2.3 attempts per 40 minutes pace adjusted from his freshman year, but nevertheless rates him just outside of the bottom 10% of prospects in our top-100 rankings.
Where Young is dominant, however, is when he doesn't have to create his own shot. He runs the floor hard and throws down acrobatic dunks in transition while also showing the ability to finish off cuts to the basket. He is also a good offensive rebounder and he finds quite a few shots by outhustling his man in traffic and tipping in his teammates' misses. He also shows some potential as a finisher in the pick-and-roll, where he rolls to the basket extremely quickly and often finishes with an emphatic dunk. This aspect of his game, in particular, is where Amar'e Stoudemire comparisons seem most apt and scouts will be watching to see if he can further develop in this area.
Playing alongside Florida's shot-happy guards likely had plenty to do with his lack of offensive consistency, as it's difficult to say that his strengths were being showcased in the past two seasons with Erving Walker and Kenny Boynton playing such dominant roles. Young took just the sixth highest percentage of shots on the team last year, despite being by far their most efficient player. Now that Bradley Beal and Erving Walker have moved on, it is time for Young to show scouts that he can be more productive on a nightly basis while showing some development in terms of creating his own offense.
Defensively, Young's physical tools alone – his top-tier explosiveness, strength, lateral quickness, and length, in particular – allow him to be a competitive defender at this level, even if he is undersized for the NBA center position. Luckily, he also shows solid focus and energy on defense, guarding a variety of variety of NBA caliber post players and doing a fairly good job of holding his position and denying his man the ball. He is not outstanding guarding perimeter oriented big men, where he oftentimes fails to maintain his stance when taken off the dribble and struggles to close out on shooters. He also could stand to improve guarding the pick-and-roll, as he sometimes loses track of his man and allows open jump shots.
Finally, it's worth noting that while Young is hardly the type of rebounder one would expect given his size, strength, and athletic advantages at this level. Just as he did during his freshman season, he averaged just 5.7 defensive rebounds per 40 minutes pace adjusted as a sophomore, which ranks amongst the worst for center prospects in our top-100. His small hands are certainly a factor and, therefore, he really must work on his fundamentals and maintaining his focus to compensate.
While Young is likely to be drafted in the first round based on his physical attributes alone, there are quite a few questions that remain about what kind of player he can be at this level, let alone in the NBA. As he looks towards his junior year, Young must focus on refining his post game and improving his fundamentals and awareness across the board. Players with his tools are extremely rare, and it is really up to him to determine just how good he can be. Florida will look very different next season and Young should have more opportunities to assert himself as a viable offensive option. If he does, and Florida continues its winning ways, then expect him to shoot up draft boards come June.
#4, Jarnell Stokes, 6'9, Sophomore, Power Forward, Tennessee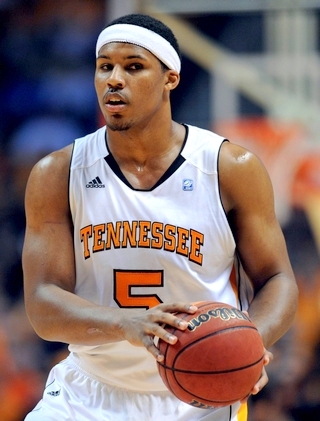 Matt Williams
Ranked among the top-25 recruits of the 2012 high school class, Jarnell Stokes was ruled ineligible to compete at Southwind prep due to transfer rules, in what would have been his senior year of high school. The honors student opted to take the road less traveled and graduate early, making the jump to Tennessee at the beginning of the spring semester. Stepping into the Cuonzo Martin's starting lineup in mid-January, only a few short weeks after enrolling, Stokes had an immediate impact for the Volunteers, finishing the year third on the team in scoring and second in rebounds. One of the stars of the Gold Medal winning USA Junior National Team at the FIBA U-18 Americas Championships this summer, Stokes returns to campus looking to parlay his experience into a breakout campaign in his first full season at the NCAA level.
A 6'9 post player with a 7'1 wingspan and a powerful, near 260-pound frame, Stokes doesn't look like an 18 year-old rising sophomore. Possessing a mature physique and tremendous physical strength which he isn't shy about throwing around in the paint, the Memphis native already looks the part of a NBA power forward. A solid athlete, Stokes isn't the quickest or most explosive player, but can continue to refine his frame to maximize his athleticism and is already an imposing presence because of his strength and toughness.
Stokes makes his biggest impact in the post at this stage. He does terrific work before the catch, using his frame to carve out deep position on the block, often catching the ball with both feet in the paint. Stokes doesn't have a refined arsenal of post moves, or any move that he goes to in particular, but he uses his strength to move his defender and powers up to the rim, usually looking to finish with his right hand. Stokes has plenty of room to improve his post arsenal and left hand, but already proved effective in a half-season of action, shooting an impressive 52% in back to the basket situations last season according to Synergy Sports Technology.
As a finisher, Stokes shows intriguing creativity and body control in the lane. He lacks a degree of lift and struggles to finish over longer, more athletic defenders, but can make plays above the rim when he has a step to gather himself and some space. Active without the ball and on the offensive glass, as Stokes develops the polish to score over and around defenders at the college level, he'll become an even more potent scoring threat.
The young big man also has a lot of room to improve away from the basket. Stokes connected on 7 of the 20 jump shots he attempted last season, but shot just 57% from the foul line. He did not appear comfortable stepping away from the rim on a regular basis last season, and doesn't have a very fluid release, but has plenty of time to develop his midrange game.
Defensively, Stokes plays with good intensity and solid fundamentals for a player his age. He doesn't look too comfortable defending away from the rim at this stage, but more than holds his own in the post. He is a decent shot blocker for a player his size, and does a nice job boxing out.
Jarnell Stokes won't turn 19 until January and is easily the youngest player in our sophomore rankings. Essentially stepping out of a high school gym right into a prominent role at the NCAA level, Stokes's 9.6 points and 7.4 rebounds per-game were a promising preview of things to come. With a successful summer and a full preseason of preparation under his belt, Stokes will be one of the more intriguing players to watch in the SEC this season as he teams with Jeronne Maymon to form a dangerous front court duo for the volunteers.
#5, Kentavious Caldwell-Pope, 6-6, Shooting Guard, Sophomore, Georgia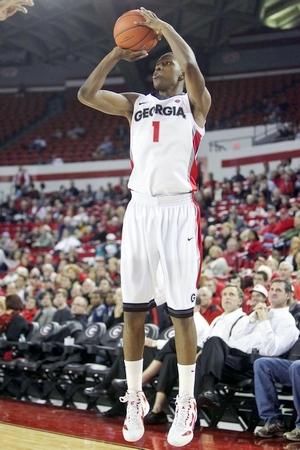 Joe Treutlein
Kentavious Caldwell-Pope had a freshman season at Georgia, exhibiting his impressive athletic abilities and scoring instincts, but at the same time displaying his rawness in many areas of the game.
Standing 6-6 with just an average wingspan (6-5 ½) but a solid frame, Kentavious Caldwell-Pope is a great athlete for a wing, possessing excellent quickness and ability to elevate around the basket.
On the offensive end, Caldwell-Pope does the vast majority of his damage with his mid and long range jump shot, while he sees more than half of his field-goal attempts coming from behind the three-point arc. He shows a natural ability for putting the ball in the basket, and actually is a more efficient player on shots off the dribble than shots spotting up according to Synergy Sports Technology, averaging 0.93 points per shot pulling up and 0.84 points per shot on catch and shoots.
Unfortunately for Caldwell-Pope, while he does show a natural feel for putting the ball in the hoop and clearly is a talented scorer, it's not something he's been able to execute efficiently and consistently just yet.
Caldwell-Pope's 50% true shooting percentage ranks sixth worst of all players in our top 100 prospects, and it stems mostly from his inefficient outside shooting, and particularly his shot-selection.
While Caldwell-Pope shows a solid foundation for his mechanics with a high and quick release, he's often sloppy with his motions, seeing his arm drift to either side and not consistently getting his feet beneath him. This seems to occur with equal frequency whether he's guarded or open, and he actually seems at his best when he's in rhythm pulling up off one or two dribbles in space. Despite making just 30% of his 3-point attempts last season, he took nearly seven per game, which represented more than half of his overall field goal attempts.
Caldwell-Pope doesn't possess much of an isolation game at this stage, not showing much in terms of advanced ball-handling skills and almost never putting the ball on the floor to go to the rim. He is solid gaining separation quickly to get off his jump shot off the dribble or using jab-steps out of the triple-threat position, but has yet to develop more of a complete off-the-dribble game.
While Caldwell-Pope doesn't do much going to the rim with the ball in his hands, he is much better operating on cuts and getting out in transition, where he's able to fully take advantage of his solid size and excellent athleticism. Caldwell-Pope's ability to finish in transition is probably his best asset at this stage, and he's also pretty good at the rim in the half court.
On the defensive end, Caldwell-Pope possesses excellent tools, and he puts them to good use most of the time, where his combination of foot speed and size make him capable of effectively defending virtually any wing player at this level. His effort and focus can wane from time to time, as he is prone to giving up on plays, but for the most part puts in a solid effort with decent fundamentals.
Looking forward, Caldwell-Pope is a very intriguing player due to his natural talent and physical tools, while he's already proven himself as a player capable of scoring in bunches as a volume shooter against good competition. Still, he'll need to develop into a more efficient shooter and/or develop a more respectable dribble-drive game to come anywhere close to his potential, while he also shows potential to considerably improve his already solid defense. Caldwell-Pope's tools and natural feel give him a very high ceiling should he develop his skills and approach to the game, but he's still a raw prospect with a lot of work to do and is nowhere near his potential just yet.