Jarnell Stokes
Recent Tweets
All Tweets
DraftExpress: At #35 Utah takes Jarnell Stokes. One of the best rebounders in the draft. Young for class.
2014-06-26 23:10:15
DraftExpress: Best available players now according to the DX Top-100 rankings K.J. McDaniels P.J. Hairston Kyle Anderson Jerami Grant Jarnell Stokes
2014-06-26 22:16:12
DraftExpress: Best PER at #fibaU19 so far Jahlil Okafor Aaron Gordon Marcus Smart Justise Winslow Nikola Milutinov Zhou Qi Jarnell Stokes Harrell
2013-07-04 08:53:31
DraftExpress: Elfrid Payton James Robinson Marcus Smart Jarnell Stokes Rasheed Sulaimon Mike Tobey Nigel Williams-Goss Justise Winslow still here
2013-06-16 14:48:00
DraftExpress: Jarnell Stokes showed a real commitment to dominating the paint today. Rebounded on both ends. Scored inside. Even made a mid-range jumper.
2013-06-15 13:53:03
Team: Sioux Falls
Physicals
Positions
Salary
Misc
H: 6' 8"
W: 263 lbs
Bday: 01/07/1994
(21 Years Old)

Current: PF
NBA: PF
Possible: PF

Agent: Travis King
Current Salary:$725,000

High School: Memphis Central
Hometown: Memphis, TN
Drafted: Pick 35 in 2014 by Jazz

Predraft Measurements
| Year | Source | Height w/o Shoes | Height w/shoes | Weight | Wingspan | Standing Reach | Body Fat | No Step Vert | Max Vert |
| --- | --- | --- | --- | --- | --- | --- | --- | --- | --- |
| 2014 | NBA Draft Combine | 6' 7" | 6' 8.5" | 263 | 7' 1.25" | 8' 7.5" | 8.2 | 31.0 | 36.0 |
| 2013 | USA Basketball | 6' 8" | 6' 9" | 269 | 7' 1" | 8' 9.5" | NA | NA | NA |
| 2011 | LeBron James Camp | NA | 6' 9" | 256 | 7' 1" | NA | NA | NA | NA |
| 2011 | Amare Stoudemire Camp | NA | 6' 9" | 256 | 7' 1" | NA | NA | NA | NA |
| 2010 | NBA Top 100 Camp | 6' 8" | NA | 251 | 7' 1" | 8' 7" | NA | NA | NA |



Basic Per Game Statistics

- Comprehensive Stats - Statistical Top 25s
| Year | League | Name | GP | Min | Pts | FG | FGA | FG% | 2Pt | 2PtA | 2P% | 3Pt | 3PtA | 3P% | FTM | FTA | FT% | Off | Def | TOT | Asts | Stls | Blks | TOs | PFs |
| --- | --- | --- | --- | --- | --- | --- | --- | --- | --- | --- | --- | --- | --- | --- | --- | --- | --- | --- | --- | --- | --- | --- | --- | --- | --- |
| 2015/16 | NBA | Jarnell Stokes | 2 | 2.0 | 0.0 | 0.0 | 0.0 | &nbsp | 0.0 | 0.0 | &nbsp | 0.0 | 0.0 | &nbsp | 0.0 | 0.0 | &nbsp | 0.5 | 0.5 | 1.0 | 0.0 | 0.0 | 0.0 | 0.0 | 0.0 |
| 2015/16 | DLEAGUE | Jarnell Stokes | 2 | 26.5 | 23.5 | 11.0 | 15.5 | 71.0 | 11.0 | 15.5 | 71.0 | 0.0 | 0.0 | &nbsp | 1.5 | 2.0 | 75.0 | 5.0 | 4.5 | 9.5 | 0.0 | 1.5 | 1.5 | 3.0 | 4.0 |

Player Page&nbsp&nbsp| Player Stats | Mock Draft History | Related Articles&nbsp&nbsp| Add to My Draft Express&nbsp
&nbsp
Situational Statistics: the 2014 Center Crop
June 21, 2014
Tennessee big man Jarnell Stokes ranks as the 2nd highest usage player in this group, averaging 14.7 possessions per-game. Perhaps more impressively, the burly center ranks above average in efficiency scoring 1.021 points per possessions overall. One of the most unique players in this group physically standing 6'8.5 inches in shoes with a 7'1 wingspan and powerful 263-pound frame, Stokes's offensive profile reflects the advantages and disadvantages of his size and strength, particularly in the post.

Averaging 5.3 post up possessions per-game, Stokes is the 2nd highest usage back to the basket scorer in this group. He shows a well below average 42.3% with his back to the basket, but still ranks exactly average scoring .88 points per possession. Seldom turning the ball over less and getting fouled as frequently as almost any player in this group down load, Stokes' lack of size and touch limited his shot making ability last year, but his powerful frame made it extremely difficult for defenders to strip him and prevent him from establishing deep position inside, leading to his surprising efficiency. Capable of making a hook shot with either hand, Stokes will need to add some finesse to his post repertoire to help him take the next step as a post scorer and help overcome his height disadvantage at the next level.

Stokes did show some touch a year ago, making 35.1% of the 1 jump shot per-game he attempted, which ranks above average in this group, but wasn't a weapon he fell back on frequently. He was more adept and using his wide body to shield defenders from the ball when finishing inside. Attempting 4.2 shots at the rim in the half court per-game, more than any other player on this list, Stokes scored a 3th ranked 1.38 points per-possession, outshooting a number of taller, more athletic, and more skilled players thanks to his combination of strength, sure hands, and toughness. Leading this group averaging 2.6 put back attempts per-game, there's an aggressiveness to Stokes's game that has inspired confidence among decision-makers that he'll be able to make it work at the next level to the extent that it wouldn't be shocking to hear the young big man hear his name called in the first round.

[Read Full Article]

---
Jarnell Stokes Scouting Video
May 22, 2014
[Read Full Article]

---
2014 NBA Combine Interviews: Stokes, Bairstow, Bachynski
May 17, 2014
[Read Full Article]

---
Jarnell Stokes Updated Scouting Report
April 14, 2014
Josh Riddell

After being a key member of USA Basketball's U19 national team that won the gold medal in the World Championships this past summer, Jarnell Stokes helped his Tennessee Volunteer team reach the NCAA Tournament Sweet Sixteen, where they fell to Michigan. Stokes had a successful season individually, as he was named to the SEC All-Conference 1st Team as well as the SEC All-Tournament Team.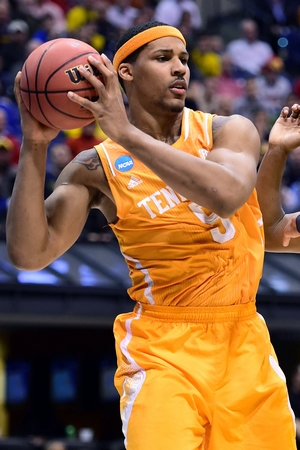 US Presswire



Stokes increased his production for the third year in row, as he finished the season averaging 19.5 points and 13.7 rebounds per 40 minutes pace adjusted. He has also been able to increase his minutes as he has improved his conditioning each year, as he was able to play just over 32 minutes per game this season, which helped him become more relied upon in the Volunteer offense.

Measured at 6'9", Stokes has an impressive 7'1" wingspan, which helps make up for his for the fact that he will be smaller than similar players in the NBA and is not particularly explosive. Stokes is very strong and uses his lower body well to carve out space on both ends of the floor. He hasn't lost much of his strength after shedding some weight and this has helped him improve his open court speed, which allows him to beat big men down the floor in transition.

Offensively, the majority of Stokes' baskets come around the rim, either from offensive rebounds or post up opportunities. At 5.5 offensive rebounds per 40 minutes pace adjusted, Stokes was one of the best offensive rebounders in college basketball and ranks as the #1 offensive rebounder among our top-100-prospects. He is a tireless worker who chases nearly every missed shot, securing many rebounds that were out of his immediate area. He is great at converting second chances, shooting 61.6% on such chances, according to Synergy Sports.

In the post, Stokes is excellent at gaining initial position with his lower body and then showed some decent footwork to get good looks at the rim. He relied on his size and strength against collegiate defenders, so he will need to improve his footwork and develop secondary moves when he cannot overpower his defender. He has solid vision as a post passer, especially out of a double team, but needs to become more consistent on the accuracy of his passes to his teammates to put them in better position to catch and shoot.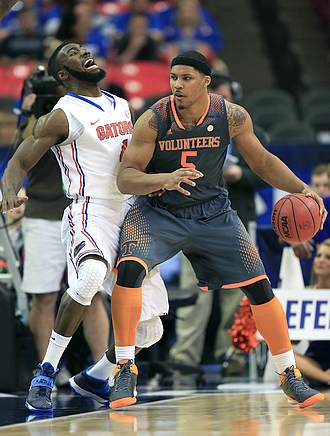 US Presswire



Stokes attempted only 37 jump shots last season according to Synergy Sports and converted only 35% on these attempts. His fundamentals need to improve, but it would be helpful for him to develop a useful mid-range jump to make him a more dangerous offensive player, especially out of ball screen situations. Developing a steady jump shot would make him a more well rounded offensive player and a more enticing prospect as he would be able to space the floor by becoming a mid-range threat. As of right now, he looks like an undersized center who dominates collegiate opponents with his brute strength, so improving his ability to operate outside the paint could improve his prospects significantly.

On the defensive end, Stokes has the potential to be a useful interior player due mainly to his strength, which will not let him get pushed around inside. He won't be rim protector due to his average leaping ability, but his length will allow him to at least challenge shot opportunities. His defensive ceiling is somewhat limited, however, because he will be at a disadvantage on the perimeter due to his poor lateral quickness while being somewhat undersized on the interior. This is one of the biggest concerns he faces in translating his effectiveness to the NBA level.

Stokes is nearly as good a defensive rebounder as he is on the offensive end, as his 8.2 defensive rebounds per 40 minutes pace adjusted ranked sixth among all players in our top-100 prospect rankings . He is a consistent ball hawk who has a nose for the ball, both for those that drop in his area and those he has to chase down. This will be a necessary skill for him to stay in the league and he will need to continue to play at a high intensity level to be a valuable rebounder.

Due to entering college early, Stokes is the third youngest junior in college basketball and is younger than several sophomore draft prospects. Stokes will need to continue to play at a high intensity level to make up for his physical limitations, which will help him be a dominant rebounder at the next level. This will help him find his way onto a NBA team, but by adding a few pieces to his offensive game, mainly an improved mid-range jump shot, he can raise his ceiling as a NBA player and become a real contributor for a team that values his strength and physicality.

[Read Full Article]

---
USA Basketball U19 World Championship Training Camp Report, Part Two
June 19, 2013
Coming off a very solid year at Tennessee--what would have been his freshman season had he not decided to graduate early from high school and enroll early—Stokes was expected to play a major role at this camp as a key contributor on last year's U18 FIBA Americas championship squad.



Interview




Stokes didn't disappoint, coming in looking in much better shape than he was last season, and being quite emphatic in his will to dominate the paint.

Standing 6-9, with a massive 260+ pound frame, long arms, and big hands, Stokes is a load for any opposing big man to handle, particularly when he's competing as hard as he did here in Colorado Springs. He moves opponents around with his sheer strength, establishing position and sealing his man off inside, which allows him to get plenty of high percentage shots off as a finisher around the basket. He catches everything thrown his way, and has very good touch around the basket, which, along with his length, helps compensate for the fact that he's not a naturally explosive leaper and doesn't possess the most diverse post-arsenal at this stage of his development.

Stokes showed some other wrinkles to his game here as well, namely his ability to beat opposing big men down the floor, some ball-handling ability from the mid-post, and a decent looking mid-range jumper. While he's a player who will always make his living around the basket thanks to his terrific physical tools, it was nice to see him punish the defense when left open, which is something he'll likely need to do depending on what type of big man he's paired with in Prague.

Stokes has always been a phenomenal rebounder—and that held true in Colorado Springs. He has suction cups for hands and a terrific knack for pursuing loose balls out of his area, particularly on the offensive glass, where he was dominant at times.

Defensively, Stokes competed well, as he's not the type of player that you'll see getting backed down inside the paint very often. He's somewhat limited stepping out onto the perimeter, as he possesses just average lateral quickness, but makes up for it with his length and can still be a factor when he's dialed in and playing with the effort level he displayed here.

Stokes figures to be a major part of what USA Basketball is able to accomplish in Prague, as very few international big men have the strength needed to handle him inside the paint, and his offensive rebounding can be a major factor when outside shots aren't falling.

[Read Full Article]

---
Top NBA Draft Prospects in the SEC, Part Two (#2-5)
October 24, 2012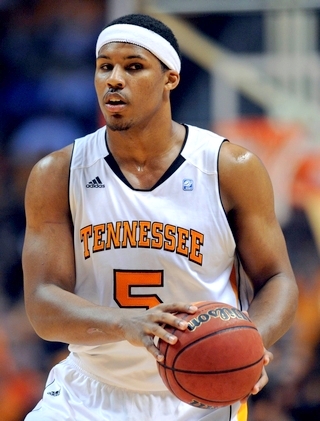 US Presswire



Matt Kamalsky

Ranked among the top-25 recruits of the 2012 high school class, Jarnell Stokes was ruled ineligible to compete at Southwind prep due to transfer rules, in what would have been his senior year of high school. The honors student opted to take the road less traveled and graduate early, making the jump to Tennessee at the beginning of the spring semester. Stepping into the Cuonzo Martin's starting lineup in mid-January, only a few short weeks after enrolling, Stokes had an immediate impact for the Volunteers, finishing the year third on the team in scoring and second in rebounds. One of the stars of the Gold Medal winning USA Junior National Team at the FIBA U-18 Americas Championships this summer, Stokes returns to campus looking to parlay his experience into a breakout campaign in his first full season at the NCAA level.

A 6'9 post player with a 7'1 wingspan and a powerful, near 260-pound frame, Stokes doesn't look like an 18 year-old rising sophomore. Possessing a mature physique and tremendous physical strength which he isn't shy about throwing around in the paint, the Memphis native already looks the part of a NBA power forward. A solid athlete, Stokes isn't the quickest or most explosive player, but can continue to refine his frame to maximize his athleticism and is already an imposing presence because of his strength and toughness.

Stokes makes his biggest impact in the post at this stage. He does terrific work before the catch, using his frame to carve out deep position on the block, often catching the ball with both feet in the paint. Stokes doesn't have a refined arsenal of post moves, or any move that he goes to in particular, but he uses his strength to move his defender and powers up to the rim, usually looking to finish with his right hand. Stokes has plenty of room to improve his post arsenal and left hand, but already proved effective in a half-season of action, shooting an impressive 52% in back to the basket situations last season according to Synergy Sports Technology.

As a finisher, Stokes shows intriguing creativity and body control in the lane. He lacks a degree of lift and struggles to finish over longer, more athletic defenders, but can make plays above the rim when he has a step to gather himself and some space. Active without the ball and on the offensive glass, as Stokes develops the polish to score over and around defenders at the college level, he'll become an even more potent scoring threat.

The young big man also has a lot of room to improve away from the basket. Stokes connected on 7 of the 20 jump shots he attempted last season, but shot just 57% from the foul line. He did not appear comfortable stepping away from the rim on a regular basis last season, and doesn't have a very fluid release, but has plenty of time to develop his midrange game.

Defensively, Stokes plays with good intensity and solid fundamentals for a player his age. He doesn't look too comfortable defending away from the rim at this stage, but more than holds his own in the post. He is a decent shot blocker for a player his size, and does a nice job boxing out.

Jarnell Stokes won't turn 19 until January and is easily the youngest player in our sophomore rankings. Essentially stepping out of a high school gym right into a prominent role at the NCAA level, Stokes's 9.6 points and 7.4 rebounds per-game were a promising preview of things to come. With a successful summer and a full preseason of preparation under his belt, Stokes will be one of the more intriguing players to watch in the SEC this season as he teams with Jeronne Maymon to form a dangerous front court duo for the volunteers.

[Read Full Article]

---