We continue our coverage of the top NBA prospects in the ACC with scouting reports on players ranked 17-21 in the conference:
Chris McCullough
,
Malcolm Brogdon
,
Joel James
,
Olivier Hanlan
, and
Aaron Thomas
.
The Top 20 NBA Draft Prospects in the Pac-12 Conference
The Top 20 NBA Draft Prospects in the Big 12 Conference
The Top 10 NBA Draft Prospects in the AAC Conference
The Top 22 NBA Draft Prospects in the SEC Conference
The Top 10 NBA Draft Prospects in the Big East Conference
The Top 20 NBA Draft Prospects in the Big Ten Conference
Top NBA Prospects in the ACC, Part 1
(#1) Jahlil Okafor (Scouting Video)
Top NBA Prospects in the ACC, Part 2
(#2) Justise Winslow (Scouting Video)
Top NBA Prospects in the ACC, Part 3
(#3) Montrezl Harrell (Scouting Video)
Top NBA Prospects in the ACC, Part 4
(#4) Tyus Jones (Scouting Video)
Top NBA Prospects in the ACC, Part 5
(#5) Brice Johnson (Scouting Video)
Top NBA Prospects in the ACC, Part 6
(#6) Marcus Paige (Scouting Video)
Top NBA Prospects in the ACC, Part 7
(#7) Theo Pinson
(#8) Justin Jackson
(#9) Terry Rozier
(#10) Jerian Grant
(#11) Kennedy Meeks
Top NBA Prospects in the ACC, Part 8
(#12) Rasheed Sulaimon
(#13) Mike Tobey
(#14) Cat Barber
(#15) J.P. Tokoto
(#16) Wayne Blackshear
#17, Chris McCullough, 6-10, Freshman, Power Forward, Syracuse
Without the benefit of extensive high school footage, we prefer to wait and see how McCullough performs as a freshman before adding to his DraftExpress profile, which already features a scouting report.
#18, Malcolm Brogdon, 6-5, RS Junior, Shooting Guard, Virginia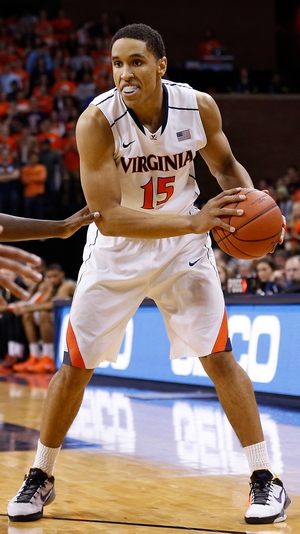 Josh Riddell
After sitting out and redshirting the 2012-2013 season to recover from foot surgery, Malcolm Brogdon burst onto the scene for his redshirt sophomore season, seeing a rise in minutes and production for a very balanced Virginia team that earned a #1 seed in the NCAA tournament by winning the ACC regular season and conference tournament, before falling in the Sweet Sixteen. With Joe Harris moving on to the NBA, Brogdon returns to the Cavaliers as the likely number one offensive weapon, which will be a good showcase for him to show his skills on an even larger scale.
Brogdon has been measured at 6'5", with a long wingspan that gives him a nice base for his physical tools. At around 220 pounds, Brogdon is strong for a player of his size but still has some room to add to his frame to help him as he drives the lane against bigger players. While he has nice size, the rest of his physical tools don't leap off the page, as he doesn't have elite speed or explosiveness. He may have trouble matching some of the elite athleticism you see at the shooting guard level in the NBA, so he will have to find other ways to prove himself to NBA scouts.
Brogdon demonstrated he could score in a variety of ways and will need to show he can continue to do so as the top option this season. He showed an impressive jump shot, hitting 37% of his three pointers. He is able to create space from his defender and is comfortable shooting out of catch and shoot situations (41.7% according to Synergy Sports Technology) or off the dribble (37.5% on 48 attempts). He moves well without the ball to get open and looked proficient cutting into space or using screens to his advantage.
His jump shooting last season is a marked increase from his freshman season, where he hit just 30.8% of his overall attempts according to Synergy Sports Technology. His improvement looks sustainable as he cleaned up his mechanics, especially his release, but will need to show he can shoot this well over a larger sample of more than just 118 attempts, as it is likely his most translatable skill, which will play a major role in determining whether he can carve out a niche at the NBA level.
Off dribble penetration, Brogdon showed flashes of potential but will need to show clear improvement to demonstrate he will be able to create off the dribble at the next level. He can use the dribble in a variety of ways to get the rim, but is just an average finisher around the rim, particularly with his left hand. Brogdon relies heavily on his strength to help him slash to the basket as Virginia's best shot-creator, doing a great job of bumping and dislodging defenders with his mature frame and crafty scoring instincts. There are major question marks regarding how this strategy will work in the NBA, where quickness is a far more coveted trait than pure strength.
This strategy isn't incredibly effective already at the college level, as Brogdon's 43% 2-point percentage is poor for a player at his position, and something NBA scouts will want to see improve to show he can make up for his average athleticism. Brogdon does a good job of keeping turnovers to a minimum, only coughing the ball up on 11% of his possessions, and is capable of finding the open man in drive and dish situations, even though he still has work to do on his passing ability to be considered more of a combo guard than a straight 2.
Defensively, it remains to be clear whether Brogdon can provide value at the next level. On one hand, he works hard and has a high IQ on the defensive end, always being in the right place. He has active, long arms and plays the passing lanes to the tune of 1.7 steals per 40 minutes pace adjusted. However, he may not have the athleticism to match up with other NBA level shooting guards on a nightly basis, as he will likely be at a disadvantage from a speed and quickness standpoint. To counteract this, Brogdon will have to continue to play at a high energy level at this end to make up for his athletic deficiencies and contribute on the defensive side.
Brogdon is a capable defensive rebounder as he grabbed 6.4 rebounds per 40 minutes pace adjusted,
one of the highest marks among shooting guards last season
. He attacks the defensive glass and uses his length and strength to rebound outside his area. He may not be called upon to fill this role at the next level but is a promising sign for what he can accomplish on defense and shows his commitment to this end of the court.
Looking ahead to this season, Brogdon has a great opportunity to lead Virginia to another successful season while showcasing his versatility to NBA scouts. He exceeded all expectations last season and certainly put himself on the map, but is yet to demonstrate one skill that he can definitively hang his hat on at the NBA level at this stage.
After sitting out a year due to injury, Brogdon is a year older than others in the junior class, turning 22 in December, the same age as many college seniors. He will be a player to keep an eye as Virginia works through its ACC schedule, as another strong season would help him demonstrate that he has the scoring instincts and basketball IQ to be considered a serious NBA prospect.
#19, Joel James, 6-10, Junior, Center, North Carolina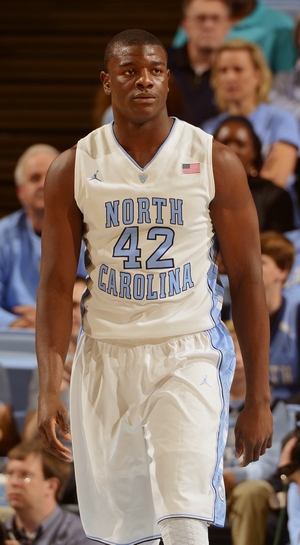 Matt Williams
A consensus top-60 recruit in high school, Joel James's freshman and sophomore seasons were mostly a learning process as his current career bests of 2.2 points and 2.8 rebounds per-game indicate.
Listed at 6'10 with a long wingspan and a chiseled 280 frame he's improved significantly since he tipped the scales around 300-pounds in high school days, James has tremendous size for the center position. He plays with nice energy, and has decent mobility, but isn't overly explosive, and still has room to improve his frame, even if he already looks the part of a NBA center.
Skill-wise, James is very limited at this stage as evidenced by his 39% shooting from the field as the fifth option every time he steps on the floor. He frequently looks rushed offensively, even when he's in ideal position to score, and lacks the touch and explosiveness to be a factor in the scoring column.
Among players in our top-100, James
ranks last
in points per-40 minutes pace adjusted and
next to last
in field goal percentage, edging only Kentucky's Andrew Harrison. That being said, we've seen big men in his mold in the past make significant strides over time as scorers, which leaves some room for optimism that James can develop into a serviceable offensive player down the road.
What makes James an attractive long-term project is what his size and intensity allow him to bring to the table on the glass. James
ranks third
in our top-100 pulling down 13 rebounds per-40 minutes pace adjusted, doing an outstanding job staying active, finding players to box out, moving bodies, and generally throwing his weight around inside. Despite James's lack of offensive skills, his rebounding appears to be NBA caliber.
The same can be said of James's defensive presence at times. He's not a prolific shot blocker, but can often be disruptive both helping his teammates and defending one-on-one simply by going straight up and absorbing contact into his chest. The biggest obstacle for James on this end of the floor has been staying out of foul trouble. He gets caught with his hand in the cookie jar when trying to block shots, especially rotating over to the weakside, and is still developing the discipline to make a consistent impact on this end of the floor, but he has some terrific possessions defensively and could emerge as a rock solid interior defender down the line.
Like many young, raw big men, the best thing you can say about James at this stage is that he has potential, as he clearly has a long way to go offensively and overall considering he played just 8.1 minutes per-game last year. His per-minute footprint on the glass leaves room for optimism about his potential productivity, but he'll need to stay out of foul trouble and relish his opportunities this season if he's going to solidify himself as more of a prospect than a project. Either way, his sheer size makes him an intriguing player for the next level, and one worth keeping an eye on as North Carolina looks to build on an up-and-down season.
#20, Olivier Hanlan, 6-4, Junior, PG/SG, Boston College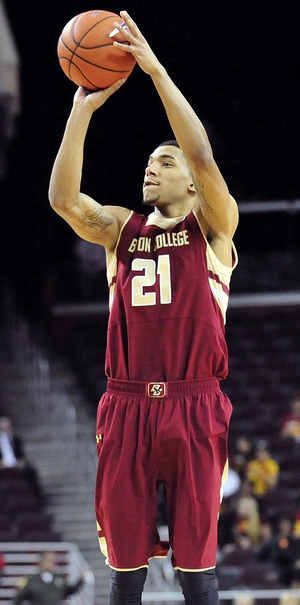 Matt Williams
Among the most productive guards in the ACC a year ago, Olivier Hanlan put together a strong individual season on paper as a sophomore averaging 18.6 points and 2.9 assists per-game, though Boston College finishing just 8-24 certainly put a damper on things. Despite earning All-ACC 3rd team honors, Hanlan still has plenty to prove to scouts as he enters his junior season.
Standing 6'3.5 with a 6'5 wingspan, Hanlan has decent size and good athleticism for a combo guard. The challenge for Hanlan moving forward is the same as it was a year ago, proving he can capably balance scoring the ball and getting his teammates involved at a high level.
There's no question that Hanlan has the prior part of that equation down to a science, as evidenced by the 22 points per-40 minutes pace adjusted he scored as a sophomore. A solid ball-handler with a knack for changing speeds and turning the corner at the college level, Hanlan is a dangerous scorer in transition, on the pick and roll, and when operating one-on-one. Finishing at a 60.1% clip around the rim and averaging nearly nine free throw attempts per-40, Hanlan's quick first step, body control and aggressiveness helped him carry the scoring load for Boston College all season.
Away from the basket, Hanlan took a step back as a sophomore, due in some part to just how heavy a burden he had to carry offensively. With nearly a third of his shot attempts in the half court coming from the perimeter, Hanlan's ability to make jumpers both off the catch, and from the midrange off the dribble, were tested, as defenses dialed in on keeping him in check. Knocking down a respectable 34.1% of his jump shots, down from 40.4% a year ago, Hanlan has nice mechanics, but increased defensive pressure and an at times questionable shot selection took a toll on his efficiency.
Despite his regression as a jump shooter, there's little questioning his ability to put the ball in the basket, considering he finished as the ACC's
third leading scorer
. His playmaking, however, leaves something to be desired. Averaging just 3.3 assists-per 40 minutes pace adjusted, Hanlan showed marginal improvement as a passer a year ago, and still doesn't turn the ball over a high rate for a player handling the ball as much as he does, but his best position at the next level is still a concern, given his size is much less impressive for a shooting guard, which appears to be the position he's most comfortable playing.
There's no doubt that Boston College's lack of scorers outside of Hanlan and Ryan Anderson, who transferred out of the program, have limited Hanlan's ability to showcase his playmaking ability, and it will be interesting to see what kind of opportunity new Head Coach Jim Christian's system will afford Hanlan to show his wares as a playmaker.
Hanlan's ability to become a more balanced offensive player is significant, as he remains just average defensively, even if he showed improvement as a sophomore. Looking a bit apathetic at times and unable to keep the ball in front of him as consistently as one would hope, Hanlan's intensity overall appeared improved from a year ago, though he still struggles with some lapses. His lack of length limits his ability to contest shooters and create turnovers, both of which raise some concerns about his potential on this end of the floor at the next level.
Despite his shortcomings, and the fact that he's the same age as many seniors, Hanlan ranks among the more productive guards in the junior class. If he can rebound from a down year from the perimeter and improve as a passer and defender, he could improve his standing in the eyes of scouts as a junior, making him a player to watch as he enters his first season under a new coach.
#21, Aaron Thomas, 6'5", Junior, Shooting Guard, Florida State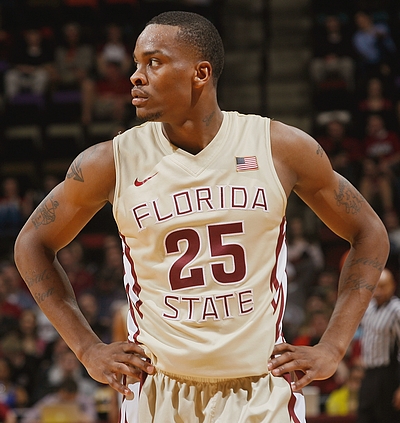 Derek Bodner
After spending his freshman season as a contributing role player, Aaron Thomas shouldered a much larger workload for the Florida State Seminoles during his sophomore season. Thomas, who saw his minutes jump from 18.6 to 31.6, led Florida State in scoring at 14.5 points per game, seeing his per minute scoring average jump from 12.7 points per 40 minutes to 18.4 when adjusted for pace.
This improved play was especially evident down the stretch, as Thomas averaged 18.4 points while shooting 37% from three point range during the 14 games immediately preceding his disappointing performance in Florida State's overtime loss to Minnesota in the NIT semifinals.
The biggest change in Thomas' game was from the perimeter. According to Synergy Sports, Thomas shot only 27.7% on jump shots during his freshman season. This figure jumped to a much more respectable 36.2% during his sophomore year, including 37.1% from three point range, a great improvement over the 22% he shot the previous season. Thomas, often described as having a great work ethic, saw significant jumps coming in both the catch and shoot situations as well as shooting off the dribble, and his shot mechanics looked more fluid this past season, eliminating some extra motion and a hitch in his release.
This increased shooting threat opened up more opportunities off the pick and roll. Thomas has good speed coming off the edge, and the combination of his quickness and threat shooting off the pick presented quite a bit of scoring opportunities for the second year guard. While Thomas still runs through bouts of inconsistency with his jump shot, the drastic improvement he showed in only one season is a good sign when projecting his game going forward.
Thomas is a solid ball handler on the perimeter, although he can still work to improve this part of his game, as he can occasionally struggle to maintain control in tight spaces. Still, he's comfortable driving in either direction, with a good enough handle to change direction with relative ease. His ball-handling, shooting, and quickness allow him some success in getting into the paint.
Once there, though, Thomas had struggles finishing. According to Synergy Sports, Thomas shot only 47.5% on finishes around the basket, a below average mark. It was also well below the 57.8% he shot as a freshman, which could be a combination of his increased work load and a little bit of variance. He has good elevation around the hoop, fairly impressive body control, and solid touch, with a strong upper body that should allow him to play through contact down the line. He does seem to have slightly more confidence with his right hand than his left, and if he could continue to develop his off hand a bit it should help him become a more diversified scorer down low. He also shows flashes of an in-between game with a solid floater, although he can tend to rely on this a little too much at times.
Thomas also gets a considerable amount of his offense, over 25% according to Synergy Sports, in transition. While Florida State hasn't been a very fast-paced team under Leonard Hamilton, Thomas' quickness in the open court generates quite a few chances for him in this regard. At 2 steals per 40 minutes pace adjusted, Thomas' ability as a ball thief helps ignite the break, and he has the athleticism to fill a lane, is quick with the ball in his hands when pushing the basketball up the court himself, and can hit the occasional three point shot as a trailer. Overall, this is the part of the game where his athleticism and quickness really shine.
On the defensive side of the ball, Thomas uses his physical profile well. Standing 6'5" with long arms, good lateral quickness and ability to change direction, Thomas has the tools to be a good defender. He does a good job moving his feet to deny dribble penetration, using his quickness and length to close off driving lanes. Just as importantly, he remains focused and maintains a high effort level, and stays in a good defensive stance that allows him to make the most of his physical tools. One area that he could look to improve is anticipating and fighting through pick and rolls, as he can struggle at times to get around the pick.
Aaron Thomas improved his overall production dramatically during his sophomore season at Florida State, highlighted by his drastically improved efficiency from the perimeter. With a good physical profile, solid athleticism, and the ability to be a plus defender, Thomas could carve out a role for himself if he continues to show that the improvement he made on his jump shot is something that can be relied upon. Still, there's not much that Thomas absolutely excels in, coming in more as a jack of all trades rather than having a bankable skill that makes him unique, and the fact that he turns 23 in less than six weeks, making him one of the oldest juniors in our database, is certainly not ideal. Whether he can develop one translatable skill, such as being a knockdown standstill shooter, could determine how easily NBA decision makers see him filling a role at the next level.