We conclude our coverage of the top NBA prospects in the Big Ten with scouting reports on players ranked 16-20 in the conference:
James Blackmon
,
Nigel Hayes
,
Gabe Olaseni
,
Rayvonte Rice
and
Derrick Walton
.
The Top 20 NBA Draft Prospects in the Pac-12 Conference
The Top 20 NBA Draft Prospects in the Big 12 Conference
The Top 10 NBA Draft Prospects in the AAC Conference
The Top 22 NBA Draft Prospects in the SEC Conference
The Top 10 NBA Draft Prospects in the Big East Conference
Top NBA Prospects in the Big Ten, Part 1:
(#1) Sam Dekker (Scouting Video)
Top NBA Prospects in the Big Ten, Part 2
(#2) Caris LeVert (Scouting Video)
Top NBA Prospects in the Big Ten, Part 3
(#3) Frank Kaminsky (Scouting Video)
Top NBA Prospects in the Big Ten, Part 4
(#4) Terran Petteway
(#5) Branden Dawson
(#6) A.J. Hammons
(#7) Yogi Ferrell
Top NBA Prospects in the Big Ten, Part 5
(#8) Zak Irvin
(#9) D'Angelo Russell
(#10) Shannon Scott
(#11) Sam Thompson
Top NBA Prospects in the Big Ten, Part 6
(#12) Dez Wells
(#13) Aaron White
(#14) Troy Williams
(#15) Amir Williams
#16, James Blackmon, 6-3, Freshman, Shooting Guard, Indiana
Without the benefit of extensive high school footage, we prefer to wait and see how Blackmon performs as a freshman before adding to his
DraftExpress profile
, which already features a scouting report and interview video.
#17, Nigel Hayes, 6-7 ½, Sophomore, Power Forward, Wisconsin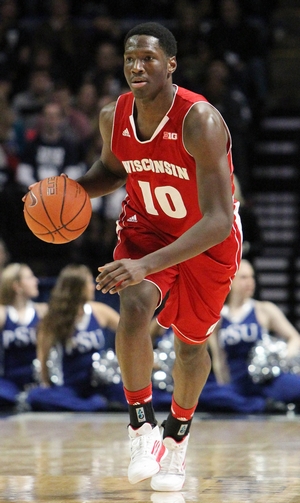 Matt Williams
Ranked as the 83rd best prospect in the class of 2013 by ESPN, easily the highest among recruiting services that year, Nigel Hayes put together a terrific freshman season, exceeding even the most optimistic projections for his first year in the NCAA. The Toledo, Ohio native averaged 7.7 points and 2.8 rebounds in just 17.4 minutes per-game, carving out a significant role for a talented Wisconsin team that was an Aaron Harrison three-pointer away from playing for a National Championship last March.
Hayes' success in earning playing time as a freshman was certainly aided by his physical maturity. Recruited as a defensive end like his brother, former Ohio State player Kenny Hayes, before ultimately choosing to pursue basketball at the college level, the Whitmer HS (OH) product combines just-decent size standing 6'7.5 in shoes with a 7'2 wingspan and a powerful 235-pound frame. Possessing good mobility and quickness for his size, Hayes is a physically imposing college power forward, though he lacks size significantly for his position from a NBA perspective.
More-so than almost any player in the country, Hayes did look to impose his will on the game offensively. Using a higher percentage of Wisconsin's possessions when he was on the floor than any player on Bo Ryan's roster, Hayes played a unique role for the Badgers offensively considering he played less than 20 minutes per-game. More than 50% of his possessions came in one-on-one situations in the perimeter or the post, a distinction usually reserved for a prolific post scorer or a dominant inside-outside weapon, not a freshman four-man who lacks 3-point range.
Some of Hayes's massive usage in one-on-one situations is systematic, but it is also rooted in how well his skill level compliments his physical tools. By no means is Hayes a glamorous offensive player, but his ability to put the ball on the floor with both hands, combined with a strong first step, strong lower body, and solid footwork under the rim make him difficult for most collegiate forwards to handle when operating with his back to the basket or facing up in the midrange.
A bit turnover prone due to just how often he looks to bully his way inside, Hayes proves fairly effective finishing around the rim. He doesn't have outstanding touch, but his ability to create angles and absorb contact helped him shoot a solid 55% in post-up and finishing situations, the large majority of which he created on his own. Shooting 67% off cuts according to Synergy Sports Technology, Hayes's finishing numbers bely his actual consistency due to the degree of difficulty of the shots attempts at the rim relative to the average player.
Away from the rim, Hayes is a capable, but inefficient jump shooter. Sinking 24 of his 60 jump shots a year ago, his 40% shooting away from the rim reflects his ability to knock down jump shots when facing up or spotting up in the midrange, but his below average 0.8 points per jump shot shows how his lack of three-point range limits the impact of this part of his game. Shooting just 59% from the free throw line, Hayes has plenty of room to grow as a shooter, but his quick, albeit somewhat rigid, shooting stroke appears to have the potential to be a tool for him long-term.
Aside from his scoring ability, Hayes's rebounding ability doesn't really jump off the page, especially defensively. His 2.2 offensive rebounds per-40 minutes pace-adjusted and his 4.3 defensive rebounds per-40 minutes pace-adjusted would both rank among the lowest marks among power forwards in top-100 if Hayes's name was in that mix. Though some of that is due to the contributions Wisconsin gets from its guards on the glass, scouts will be keeping an eye on Hayes's impact on the glass as he begins to assume a larger role in the coming seasons.
Despite his short comings tracking down rebounds, Hayes was a surprisingly productive defender ranking among the 20 players in the country and one of only two freshmen who averaged over 1.2 blocks and 1.9 steals per-40 minutes pace adjusted last season. His combination of length and lateral quickness are fairly impressive, and although he was prone to some freshman mistakes, his knack for using his hands and being physical inside leave plenty of room for optimism about his future on this end of the floor, even if they did play into the 6 fouls he committed per-40 minutes pace adjusted.
With Sam Dekker and Frank Kaminsky returning to Wisconsin, this season will be an interesting one for Hayes. He isn't likely to see his offensive role grow as much as many of his peers in the sophomore class, but he is likely to once again be a significant factor for one of the nation's elite teams when he's on the floor. Hayes's lack of size and poor rebounding numbers are obvious concerns, but there's no doubt he has some interesting tools to work with and was among the most pleasant surprises in the freshman class a year ago.
#18, Gabe Olaseni, 6-10, Senior, Center, Iowa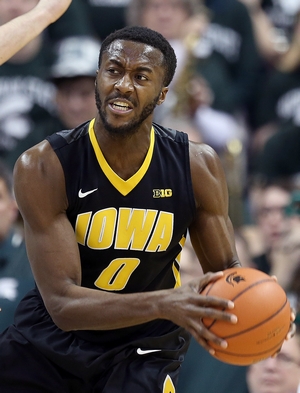 Jonathan Givony
A converted soccer goalie, who only started playing basketball at age 14 in his home country of England after a massive seven inch growth spurt, Gabe Olaseni was considered somewhat of a reach for Iowa when they plucked him out of Sunrise Christian Academy in April of 2011, after most of their other recruiting options had dried out.
He didn't do much to dispel that notion as a freshman, playing just 90 total minutes all season, before finally entering the rotation in earnest as a sophomore, seeing just under 11 minutes per game, averaging 2.7 points and 2.6 rebounds per contest.
Olaseni's junior year was a major breakthrough, as although he saw only 17 minutes per game in Iowa's crowded frontcourt, he posted very impressive per-40 minute averages of 11.3 rebounds and 3 blocks. Olaseni established himself as a legit rim-protector and one of the best offensive rebounders in the Big Ten, providing Iowa with major energy off the bench and being a real difference maker in some crucial in-conference victories.
While still somewhat underdeveloped physically, despite turning 23 at the end of this calendar year, Olaseni has nice tools for a big man, standing around 6-10, with a reported 7-3 wingspan, and excellent athletic ability. He runs the floor like a man possessed, with long, powerful strides that regularly help him beat opposing big men up the court, and has very nice overall mobility and agility, including a very quick second jump.
Not a major factor in Iowa's offensive game-plan, the biggest portion of Olaseni's touches came via the offensive glass, where he ranked third among all collegiate basketball prospects last year by hauling down an impressive six offensive boards per-40 minutes. Olaseni's long wingspan, quick second (and third) jump, and outstanding energy level give him a major advantage here, and he regularly uses his length to get his hands on loose balls deep inside the paint.
He's also somewhat of a target off cuts and pick and roll finishes, as he has very quick feet to set screens on the perimeter and then dive to the rim with terrific purpose. Olaseni is a good, but not great finisher at this stage, as his lack of strength and raw technique makes it difficult for him to convert plays in traffic in the ultra-physical Big Ten. He shows some flashes of ability at times with a raw jump-hook over his left shoulder, but isn't much of a threat to score with his back to the basket due to his average frame and skill-level.
Olaseni's quickness and intensity level helps him draw a huge number of fouls relative to his minimal usage, as he got to the free throw line nearly seven times per-40 minutes last year, and hit 73% of his attempts once there, making him a very efficient offensive player. While he's improved as a free throw shooter, his shooting range doesn't extend very far outside the paint, as he only hit a handful of mid-range jumpers last season, sporting a bit of a hitch at the top of his release and just average overall touch.
Where Olaseni is most useful at this stage is on the defensive end, where his length, mobility and intensity level helps him make a solid impact in the variety of defenses Coach Fran McCaffrey likes to throw out, particularly in their zone. He contests shots very well both inside the paint and on the perimeter, and acts as a legit rim protector by averaging 3 blocks per-40 minutes, the second best figure in the Big Ten. His quickness is a nice asset to have on the pick and roll, where he can step out and hedge and recover nicely, and sometimes still make plays at the rim even when the ball is pushed inside on a slip.
Olaseni's lack of strength allows stronger big men to overpower him inside the paint at times, and he struggles somewhat stepping outside the paint and staying in front of opponents who can attack him off the dribble. He's a little bit of a tweener in that regard, as he lacks some height and bulk for the center position at the highest levels, but might look like a bit of a fish out of water trying to guard perimeter oriented power forwards full time. Olaseni is just an average defensive rebounder on top of that, pulling down 5.9 caroms per-40 on that end of the floor.
Olaseni is a late-bloomer, only seeing his first consistent action this past season as a 22-year old junior who is still somewhat raw on both ends of the floor, which certainly isn't ideal from an NBA standpoint. With that said, his length, athleticism and intensity level are coveted traits scouts look for in role-playing big men, which makes him someone teams will certainly want to look closer as he finishes off his college career.
With 7-foot Iowa native and former Top-50 recruit Adam Woodbury still in the fold and going into his junior year, it's unlikely Olaseni will see his minutes grow substantially from last year. It will be interesting to see what kind of progress he's able to make this season, as teams will be wondering just how much upside he still has left considering his advanced age, even if he's relatively new to the game still.
#19, Rayvonte Rice, 6-4, Senior, Shooting Guard, Illinois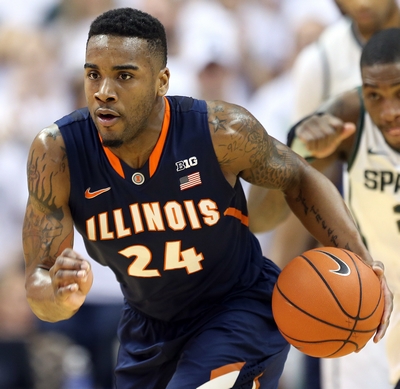 Jonathan Givony
After spending his first two seasons at Drake, where he was named to the Missouri Valley All-Conference Second Team as a sophomore, Rayvonte Rice decided to return to his hometown of Champaign by transferring to Illinois, and was named to the Big Ten All-Conference Honorable Mention team this past season. Rice was not recruited by former Illinois coach Bruce Weber, but was pursued by John Groce at his previous job at Ohio, which helped seal the deal in favor of the hometown school.
Rice is slightly undersized for a shooting guard at 6-4, but makes up for that somewhat with a chiseled 230 pound frame, a long wingspan, and big hands. Athletically, he's not a high flyer, but is extremely powerful with his style of play, which helps him tremendously on both ends of the floor.
Illinois' go-to guy last season, Rice saw a significant amount of time with the ball in his hands, with 46% of his offense coming via the pick and roll or in isolation situations according to Synergy Sports Technology. His 28% usage rate was one of the highest among BCS-conference guards, as Illinois possessed little in the way of shot-creating prowess besides him to score effectively in the competitive Big Ten.
A powerful slasher in both the half-court and in transition, Rice has a strong, quick first step driving either left or right, not needing a screen in order to create his own shot effectively. He's a good ball-handler who can operate at different speeds and has low, long and rangy strides, doing a good job creating separation by knowing how to use his body effectively to keep his defender off balance.
Once inside the paint, Rice has good body control and the strength needed to finish plays or get to the free throw line, showing good touch off the glass with either hand, and the ability to handle contact effectively, despite not being incredibly explosive. He was especially good in the open court, making 66% of his field goal attempts in transition situations, while also drawing fouls on 25% of his possessions.
Rice's propensity for overpowering defenders, and the lack of alternative shot-creators on Illinois' roster made him somewhat single-minded in his approach at times, leading to plenty of difficult shots inside the paint that hampered his percentages.
Despite the fact that he handled the ball a good amount for Illinois, few would mistake Rice for being a point guard, as he dished out a paltry 2 assists per-40 minutes last season. To his credit, he turns the ball remarkably infrequently relative to his usage, generating a turnover on just 9.5% of his possessions, one of the lowest rates in college basketball for a featured scorer at the BCS-conference level.
In spite of that, NBA scouts would probably like to see Rice improve his ability to make teammates better when playing alongside better talent, as his court vision appears to be average at best at the moment.
With that said, the part of Rice's game that needs the most work from an NBA standpoint is clearly his outside shot. He made just 27% of his jumpers last season, a very poor rate, and was just as ineffective with his feet set as he was shooting off the dribble.
His shooting mechanics leave a lot to be desired, as they are very inconsistent, sometimes solid, and occasionally very poor, as he tends to contort his body at times, getting too much elevation on his jumper and releasing the ball on the way down.
Shot-selection is obviously a major culprit here as well, as Rice attempts far more off-balance, contested shots early in the offense than you would expect considering his percentages, clearly overestimating his shot-making prowess at times.
Becoming more consistent with his mechanics could help, but simply taking better shots would likely go a long ways in helping his percentages. Rice made 46 3-pointers last season, showing that he's not a non-shooter, but he obviously has a ways to go to make this a consistent part of his game, which will be a major key for him at the professional level when he's forced to play a smaller role than he did his first three seasons of college basketball.
Although offense was a major struggle for Illinois last season (177th nationally KenPom), they were one of best defensive teams in college basketball (11th KenPom). Rice showed a lot of versatility on this end of the floor, sliding between the 2-4 spots thanks to his terrific combination of length and strength, which makes him a major asset on this end of the floor at the college level.
Rice's long wingspan helps him contest shots successfully on the perimeter, making him very effective on closeouts. His strong frame aids him in navigating his way through screens as well.
Rice has good instincts on this end of the floor, which shows up in his ability to get in the passing lanes effectively, where he averaged an impressive 2.2 steals per-40 minutes pace adjusted. He also rebounds extremely well for a player his size, at 7.3 per-40p, as he's extremely physical.
Fatigue can be an issue that shows up on the defensive end at times, as Rice has a tendency to lose his focus late in games, and become susceptible to biting on pump fakes and getting blown by off the dribble. With his length and strength, he has the potential to be a very strong defender at the pro level if he puts his mind to it.
With another strong season, Rice will certainly get some looks from the NBA level, particularly if he can help the Illini get back to the NCAA Tournament. Players who can create their own shot aren't that easy to come by, and Rice has strong potential on the defensive end as well. His average size, coupled with his low percentages from beyond the arc are hurting his draft stock at the moment, and the fact that he'll be a fifth year senior doesn't help matters much either (even if he's around the same age as most fourth year players).
#20, Derrick Walton, 6-1, Sophomore, PG, Michigan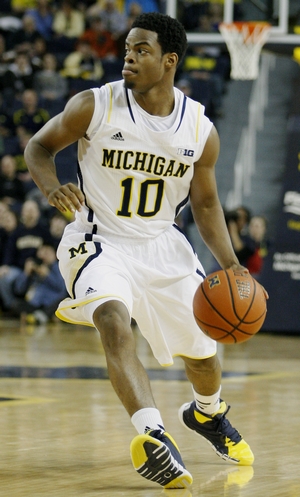 Josh Riddell
Derrick Walton was asked to fill the big shoes of Trey Burke as a freshman and he did a solid job from day one, helping Michigan get to the Elite Eight before falling to Kentucky. Walton provided 12.6 points and 4.5 assists per 40 minutes pace adjusted, while providing a steady presence at the point guard spot, and now returns as the second most experienced player in terms of minutes played last season, hoping to help Michigan on another NCAA tournament run.
Physically, Walton doesn't have any exciting features but has solid attributes across the board. He was last measured at 6'1" with an average wingspan and solid size, at 185 pounds, to fill out his frame. He is quick with the ball but not overly fast to help him speed past the opposition off the dribble. Due to his average speed with the ball and his lack of explosiveness, he is prone to getting his shot blocked at the rim, as he has no tools to get his shot off close to the rim at this time.
Michigan had plenty of offensive weapons last season, so Walton was not asked to take on a heavy offensive load and found himself playing off the ball a good portion of the time in the halfcourt. With Nik Stauskas and Glenn Robinson III moving on, it will be interesting to see how Walton's role expands this season and how he will lead the offense in more of a featured role.
Walton showed that he was a great shooter when he was playing off the ball, shooting 41% on 105 three point attempts,
one of the best marks for point guards last season
. He has a quick release and has strong height on his release for his size, which helps him get his shot off over the defender. While many of his shots came in catch and shoot situations, in a limited sample of shots off the dribble, he performed well, shooting 39.5%. This will be a valuable skill for him from the point guard position and will be interesting to see whether he can maintain these averages this season with added defensive attention.
As a point guard, Walton didn't have a high assist total due to playing off the ball frequently, averaging just 4.5 assists per 40 minutes pace adjusted,
a low mark among point guards
. However, this also helped him keep turnovers down, committing just 2.4 per 40 minutes pace adjusted as he didn't force anything when he did have the ball. This lead to a 1.41 pure point rating by Walton in his freshman year. Walton showed that he is willing and able to find the open man and should see a jump in his assist totals if he is asked to play on the ball more often this season.
Walton didn't create much for himself offensively, which led to few attempts in the paint. In fact, he took only 33 shots around the rim, making 51.5%, and five floaters, making none, according to Synergy Sports Technology. He didn't probe the defense off the dribble on a regular basis, as most of the offense was created by others. Now that Walton should have a larger role in the offense, his ability to create off the dribble and finish in the paint will be something to watch. His physical tools suggest he develop a useful floater or runner to get the attempt over the rim protectors.
Defensively, Walton struggled a bit due to his combination of size and physical tools. Defenders were able to shoot over him and he doesn't have the quickest lateral movement, which allows faster guards to drive past him. He was at a size disadvantage most of the year and blocked only one shot in his freshman season. His physical tools don't project him to be a strong defender, so Walton will need to make sure he works hard on this end while knowing proper fundamentals and positioning to provide as much value as he can.
It will be interesting to see whether Walton adds any skills to his offensive repertoire and becomes more assertive looking for his own shot this season. Stauskas and Robinson III have left for the NBA and while Caris LeVert and Zak Irvin return, Walton may be asked to do more offensively. With a bigger offensive role, his NBA draft future will begin to clear up, as we see how he handles a larger role as a point guard.
It's a little too early to make any predictions about Walton's future draft stock, as we will want to see what he can do over a larger sample of games and with more on his shoulders. NBA teams are constantly searching for solid backup point guards and Walton has the opportunity to demonstrate he can fit that mold, which will definitely help him catch the eyes of NBA teams as he progresses through his collegiate career.