We complete our coverage of the top NBA prospects in the AAC with scouting reports on players ranked 6-10 in the conference:
Will Cummings
,
Markus Kennedy
,
Keith Frazier
,
L.J. Rose
and
James Woodard
.
The Top 20 NBA Draft Prospects in the Pac-12 Conference
The Top 20 NBA Draft Prospects in the Big 12 Conference
Top NBA Prospects in the AAC, Part 1
(#1) Amida Brimah (Scouting Video)
Top NBA Prospects in the AAC, Part 2

(#2) Austin Nichols
(#3) Nick King
(#4) Shaq Goodwin
(#5) Ryan Boatright
#6, Will Cummings, 6-2, Senior, Point Guard, Temple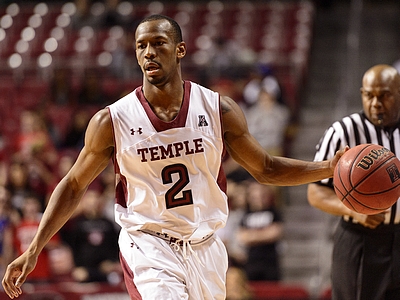 Jonathan Givony
After playing a minor role in his first two years at Temple, Will Cummings broke out in a major way as a junior, averaging 16.8 points and 4.6 assists per game, both good for sixth best in the American Conference.
The intrigue around Cummings begins with his excellent combination of physical tools. He has good size at 6-2, solid length, and a decent frame that should fill out nicely in time. More importantly, he's one of the quickest guards you'll find in college basketball, showing tremendous end to end speed, and the ability to play above the rim with ease.
Cummings is at his best in transition, where his speed and excellent body control allow him to change gears and push the ball up the floor in the blink of an eye.
He's also a capable creator in the half-court, though, as he's able to blow by opponents from a standstill driving either left or right and regularly gets right into the teeth of the defense. He shows the ability to operate at different speeds, which gives him nice potential on the pick and roll, an area he's not all that proficient in at the moment, but could become a dangerous weapon as his skill-level, frame and knowledge of the game improves.
While Cummings can create his own shot and into the paint virtually at will, he's not a good enough finisher at this stage to fully take advantage of that at the moment. Although he takes nearly five shots per game inside the paint, he converts just 50% of these lay-up and floater attempts, a below average rate at best. Getting stronger should help, as would improving his left hand and doing a better job of drawing and finishing through contact around the rim. Cummings got to the free throw line at a solid rate (6.9 times per-40 pace adjusted) last season, but he probably can get there even more frequently as a senior.
Improving his outside shot would likely help Cummings become an even more dangerous slasher, as currently opposing defenses like to sag off him, since they don't really fear his jumper. Cummings is not a non-shooter by any stretch, as he has solid shooting mechanics, made over one 3-pointer per game last season and hit a respectable 36% of his catch and shoot jumpers. Where he struggles is pulling up off the dribble, as he converted just 27% of his attempts in these situations. Being able to punish defenses consistently for going under on screens would benefit him greatly.
Cummings improved quite a bit as a facilitator as a junior, upping all of his passing metrics substantially and posting a solid 2/1 assist to turnover ratio and 2.24 PPR. He still has room to grow here, though, as despite the fact that he makes some solid passes in drive and dish situations, he's not the most creative or natural playmaker and facilitator just yet. He has a tendency to dribble with his head down, and the timing and accuracy of his passes isn't always there just yet. To Cummings' credit, he does a good job not turning the ball over too frequently, which is a good place to start.
Temple had a historically bad season defensively last year, posting an abysmal 109 defensive efficiency rating, according to Ken Pomeroy. This was the worst defensive team head coach Fran Dunphy has had in the 13 years KenPom has data for. In AAC play, Temple was even worse, posting a 114.5 defensive efficiency rating, last in the conference.
Cummings certainly played a role in that. He doesn't have great fundamentals here and rarely seems to putting full effort into his work on this side of the floor. He often looks to be going half-speed, being very upright in his stance and not closing out on shooters with any real urgency, sometimes not even getting a hand up. Getting stronger will likely help, for example fighting through screens, something Cummings does very nonchalantly, but the lack of intensity he shows here is a major red flag.
Cummings has solid physical tools—size, length and very nice quickness, so technically there's no reason he can't be at least an average player here. That's something Temple will certainly need him to be to bounce back from the very disappointing season they are just coming off of, going just 4-14 in conference play and missing the NCAA Tournament for the first time in seven years.
Despite generating very little buzz on the national level at the moment, there's a lot to like about Cummings' long-term potential. Speed is a major factor in today's NBA, and Cummings has that in spades, which will make him a prospect NBA teams will have to look at in his senior year. Athleticism isn't everything, though, as players like Deonte Burton can tell you. It will be interesting to see how Cummings improves as a senior and whether he's able to lead Temple back to respectability.
#7, Markus Kennedy, 6-9, Junior, PF/C, Villanova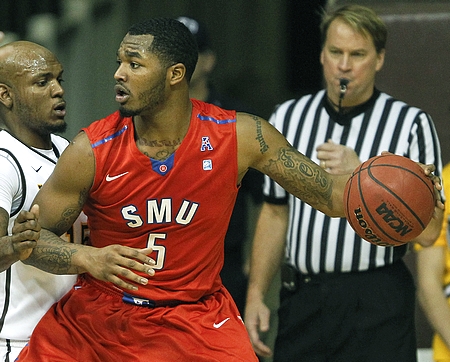 Markus Kennedy
Markus Kennedy's basketball career has been somewhat of an odyssey thus far. After playing for five different high schools (one technically a prep school), he's now going into his third year of college basketball at his second school after transferring from Villanova to SMU.
Kennedy was worth the wait for Larry Brown and SMU, as he was named to the AAC's All-Conference second team after pumping in 20 points, 11 rebounds, 2.6 assists, 2.5 steals and 1.9 blocks per-40 minutes as a sophomore, and helped the team make the NIT Final Four after being surprisingly snubbed by the NCAA Tournament committee.
Kennedy weighed in at 268 pounds at the LeBron James Camp in 2009, but elected to transform his body during his redshirt year after leaving Villanova, now being listed at 245, and looking far better conditioned as well.
The focal point of SMU's offense in his 25 minutes of action per game, Kennedy saw the biggest share of his offense with his back to the basket, where he draws fouls prolifically thanks to his strong frame, but hits just 44% of his field goal attempts in these situations. Kennedy is somewhat of a throwback in his style of play, being decidedly below the rim, but using an array of shot-fakes, spins and fancy footwork to get his shot off with either hand. His strong frame allows him to establish deep post-position, and his soft hands make him a very reliable target for his guards to throw the ball to inside the post.
Kennedy is also a good passer, doing an excellent job of reading the floor and finding teammates from both the high and low post. He has a high basketball IQ and a solid understanding of the game, something head coach Larry Brown looked to utilize more and more as the season moved on.
Kennedy has a nice feel for scoring inside in general in terms of his instincts, body control and touch, even if his lack of athleticism makes it difficult for him to score over length at times around the basket, something that will likely become more of an issue in the NBA, where big men are far more gifted physically than in the AAC.
More of an undersized center than a true power forward, Kennedy rarely strays very far outside the paint for scoring opportunities, taking less than one jump-shot per game last season and hitting just 26% of his attempts. Considering the fact that he shot just 59% from the free throw line, Kennedy's jump-shot still has a long ways to go before it can be considered a major weapon, something he'll likely need in his arsenal to carve out a niche at the NBA level.
Defense is another area that Kennedy still has work to do to. He plays the 5 primarily for SMU, but is a few inches small for that spot from an NBA standpoint. He has good, but not great length to compensate for that, and as mentioned is not exceptionally athletic either. Bigger players are able to shoot over the top of him fairly easily, and he doesn't appear to have great lateral quickness stepping out to the perimeter. His intensity level leaves something to be desired as well, but to his credit, he does show terrific instincts and anticipation skills jumping into the passing lanes, where he comes up with an outstanding 2.5 steals per-40 minutes. No other college big men posted such a high steal rate last season besides Mitch McGary, who only played 197 minutes.
Kennedy's nose for the ball also translates to the work he puts in on the glass, where he posted a very solid 11.4 rebounds per-40 minutes, thanks to his strong frame, excellent hands and timing.
Kennedy is undoubtedly an extremely productive and effective college player, but it's difficult to project exactly what type of role he might play coming off the bench for an NBA team at this stage, as he doesn't fit into too many traditional molds. There's still time for him, though, as despite the fact that he's already 23 years old, he still has two years of college eligibility left. It will be interesting to see how many minutes he sees next season playing alongside 6-11 center Yanick Moreira, who is coming off a very strong showing in the FIBA World Cup after only playing 14 minutes per game last season. The two could form a very strong frontcourt if they show that they can play together effectively on both ends of the floor, something that would help Kennedy's prospects seeing reps at the power forward spot.
#8, Keith Frazier, 6-5, Sophomore, Shooting Guard, SMU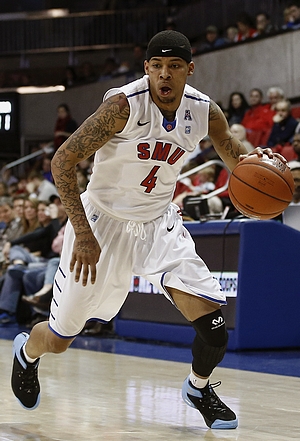 Matt Williams
A 2013 McDonald's All-American, Keith Frazier was a useful cog as a freshman for SMU, despite playing just under 15 minutes per-game. Averaging 5.4 points and 1.8 rebounds per-game while shooting a shade under 40% from beyond the arc, Frazier provided valuable floor spacing for Larry Brown's Mustangs.
Standing 6'6 with just a 6'6 wingspan, Frazier has solid, but not spectacular size for a shooting guard prospect and still has plenty of room to get stronger. He is a fairly fluid, impressive athlete, flashing the ability to finish lobs acrobatically and beat his man off the dribble with his first step.
Frazier's main contributions offensively came as a jump shooter, as he flashed the ability to knock down shots with terrific consistency with his feet set. A whopping 88.3% of Frazier's field goal attempts in the half court were jump shots, of which he connected on 35.5% according to Synergy Sports Technology. That number is a bit misleading however, as Frazier shot an outstanding 42.3% with his feet set, but a poor 24.3% off the dribble, as he looks rushed when pulling up. Shooting the ball with terrific mechanics despite turning his lower body more than the average player when he elevates, Frazier is a great spot-up threat who is still developing the rest of his offensive arsenal.
When Frazier did get opportunities to finish at the rim, he showed terrific explosiveness, but his ability to get to the rim off the bounce in one-on-one situations and on the pick and roll remain very much a work in progress. Though Frazier's shot selection can be ambitious at times, he makes some solid passes to find the open man in SMU's offense. He may not have been overwhelmingly efficient, scoring .911 points per possession a year ago, but there's certainly plenty of room for optimism with regards to Frazier's offensive game moving forward.
Defensively, Frazier is not quite as impressive. He didn't bring much to the table as a rebounder and gets lost off the ball from time-to-time, but isn't indifferent on this end of the floor either. Frazier's size and athleticism give him some upside as a defender to go along with a decent motor. Even if his length if just average, he should improve on this end as he matures, something that should earn him more playing time.
Looking ahead, Keith Frazier will once again provide a long-distance threat for what should be a deep, balanced, and talented SMU roster during his sophomore season. Whether the Kimball product is able to up his usage significant remains to be seen, but an incremental season of growth as a slasher and defender, even in a small role, would help his standing from a NBA perspective.
#9, L.J. Rose, 6-3, Junior, Point Guard, Houston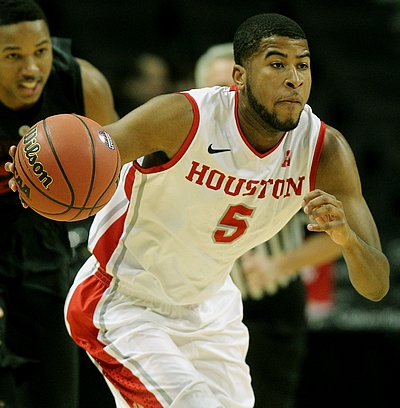 Josh Riddell
The
73rd ranked recruit according to the RSCI
in 2012, L.J. Rose appeared in 33 games as a freshman for Baylor University before obtaining a waiver to play immediately after transferring to the University of Houston. He was a key component for a Cougar team in its first season in the AAC and will once again be a crucial member of a team that was shaken up in a major way when Kelvin Sampson replaced James Dickey as head coach this summer.
Measured at 6'3" with an impressive 6'7" wingspan, Rose has excellent size for a point guard. However, none of his other physical tools are that impressive, as he possesses neither exciting speed, explosiveness or strength to complement his size.
Rose was an outstanding creator for the Cougars last season, as his 7.6 assists per 40 minutes pace adjusted
ranked eighth among all college players last season
. He is creative with the ball in his hands and can deliver the ball to his teammates, putting them in scoring position. While he is capable of making the difficult pass through the defense, this can get him in trouble as he sometimes tries to force the ball through an opening that isn't there, which led to Rose posting a relatively high 23% turnover percentage last season. While Rose's overall passing metrics are still good, with a
pure point rating of 4.61
, he still has room to grow as a decision maker which will help cut down on turnovers.
After attempting just eight three pointers in his freshman season at Baylor, Rose saw an uptick in his three point attempts (63 last season) but there still isn't enough of a sample size to make a determination about his long term prospects as a shooter. Rose did shoot well in his limited attempts, making 41.3% of his three point attempts and 37.6% of his 85 total jump shots according to Synergy Sports Technology. Rose is very solid with his feet set, but struggles when asked to shoot off the dribble, as he has trouble with settling himself to get off a good attempt. Rose showed some nice fundamentals on his jump shots so the potential for him to be a capable shooter is clear, he just needs to show it over a larger sample, starting in his junior season.
While Rose is a very solid passer, he's not much of a scorer inside the arc, hitting a very poor 39% of his 2-pointers last season, one of the lowest rates among all college prospects. His lack of athleticism is a factor here, as he's simply not a very good finisher around the basket, as is his tendency to rely on floaters, which made up nearly half of his overall field goal attempts inside the paint, and are by nature a low percentage shot. He struggles to score efficiently in transition, and was not very effective on the pick and roll last season.
On the defensive side, Rose hasn't been able to utilize his size and length,
blocking just two shots last season
, both in the same game. His lack of lateral quickness will be a detriment, as he often gets beat off the dribble by quicker guards. It will be interesting to see if he can develop at all on the defensive end in his junior season by working on his knowledge of proper positioning and rotations, focusing on the fundamentals of defense and putting in a more concerted effort on that end.
After missing five games in December and January last season, Rose will be looking to make a bigger impact in his second season at Houston. His size, length and passing ability at the point guard position make him an interesting prospect and someone to watch to see how he develops in his junior season.
#10, James Woodard, 6'3", Junior, SG, Tulsa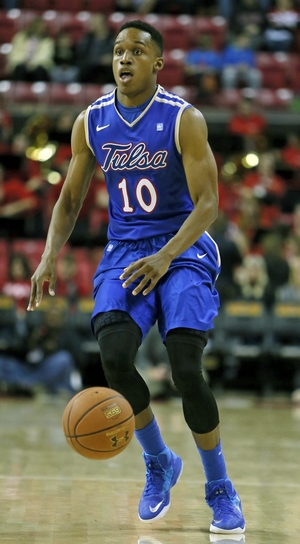 Derek Bodner
James Woodard arrived at Tulsa and made an immediate contribution for the Golden Hurricanes, playing nearly 30 minutes per night during his freshman season and giving them a dynamic offensive option that new head coach Danny Manning sorely needed, especially after they lost Rashad Smith only four games into the 2012-13 season.
Still, despite his successful freshman season, Woodard struggled with consistency on his jump shot, shooting only 27.7% from three point range and 42.9% from the field overall. His overall form and mechanics looked sound on his shot, and an improvement seemed to be only a matter of time if he put in the work and repetitions needed to build muscle memory.
That improvement came in a big way during Woodard's sophomore season, where he shot 38.7% from three (on nearly 5 attempts per game), bumping his true shooting percentage from 52.2% to a healthy 58.1%. He was virtually automatic in catch and shoot situations, generating 1.339 points per possession in these situations, per Synergy Sports Technology. He does a very good job on his pre-shot footwork, creating a perfect pocket before he receives the ball, with a picture perfect release, and a good extension and follow through, all of which allows him to get good looks at the basket even without a great deal of space or time to execute the shot.
He also shows an ability to shoot off the dribble, particularly coming off the pick and roll when going to his left. One area that he can stand to improve upon is he sometimes doesn't step into the shot perfectly, which doesn't impact his accuracy as much as it does the quickness of his release, creating an extra step in the shooting process. With a slight improvement in his footwork, and also becoming more comfortable handling the basketball in space with his right hand, this could become a very big part of Woodard's game going forward.
The other area where Woodard's shooting comes into play is coming off screens, something that he showed an increasing comfort level in doing this past season. He does an excellent job running tight off a screen, and gets himself in good position to go up with the shot immediately. Overall, he connected on 58.1% of his shots coming off of a screen, yielding an excellent 1.314 points per possession, which ranks in the top 10% of college basketball.
Woodard shows some potential off the dribble. He receives considerable attention on the perimeter due to his shooting ability, and this attention opens up some driving lanes for him, and he has a good enough first step to take advantage with some frequency. His full potential in this regard is not yet realized, however, mostly due to his relatively pedestrian ball handling ability, particularly with his right hand, which is pretty underdeveloped at this time.
Once in the lane, Woodard has a strong upper body that allows him to absorb contact. He's only an average athlete in terms of explosion around the hoop, though, and his finishing ability may always be limited because of that, particularly at the next level. His limited right hand also comes into play here, as his touch around the hoop with his off-hand isn't fully developed yet, and he'll frequently attempt to finish with his dominant left hand, even if the angle isn't necessarily ideal.
While Woodard isn't a particularly great passer and doesn't project to be a high level shot creator for his teammates, he did a much better job of limiting his turnovers during his sophomore season, cutting his turnover rate down from 19.2% to an excellent 10.9%. Part of this is due to role, as he was asked to create less for other players and was able to focus on what he excels at, but he also made better decisions with the basketball, and kept himself out of risky drives to the hoop with limited outlet valves.
On the defensive side of the ball, Woodard generally gives good effort and is attentive, and has the strength to defend the shooting guard position, although at 6'3" with a 6'5" wingspan, his height will present some problems at the next level. He can also do a better job fighting through screens and picks, as he will frequently struggle to stay with his man. He does do a good job on the defensive glass, collecting 5.2 defensive rebounds per 40 minutes pace adjusted, a good mark for a shooting guard. This, combined with his ability as a shooter, opens up some scoring opportunities as a trailer on the fast break.
With the departure of Danny Manning to Wake Forest after only two seasons at Tulsa, which included their only NCAA tournament appearance in the past decade, the Golden Hurricanes will be on their third coach in four seasons, and exactly how Frank Haith incorporates Woodard into his offense will be interesting to watch.
The progress Woodard made last season in his jump shot was dramatic, and a skill set that many NBA clubs could find valuable. Still, the number of undersized shooting guards who are lights out catch and shoot jump shooters isn't long, and Woodard will have to make progress in his ball-handling and shot creation abilities in order to separate himself from the pack.