We continue our coverage on the top NBA draft prospects in the Big East with part five, players ranked 6-10:
Trevon Bluiett
,
Justin Patton
,
Luke Fischer
,
Isaiah Whitehead
and
Daniel Ochefu
.
---
More DX Conference Preseason Previews:
-The Top 20 NBA Draft Prospects in the Pac-12
---
-Top NBA Prospects in the Big East, Part One
(#1) Kris Dunn (Scouting Video)
-Top NBA Prospects in the Big East, Part Two
#2) Henry Ellenson (Scouting Video)
-Top NBA Prospects in the Big East, Part Three

(#3) Jalen Brunson (Scouting Video)
-Top NBA Prospects in the Big East, Part Four
(#4) Josh Hart
(#5) Isaiah Copeland
---
#6, Trevon Blueitt, 6-6, Sophomore, SG/SF, Xavier
Matt Williams
The #37 recruit in his high school class according to the RSCI, Trevon Bluiett was a significant get for Xavier, as the most highly touted recruit to land on campus since Drew Lavender in 2005.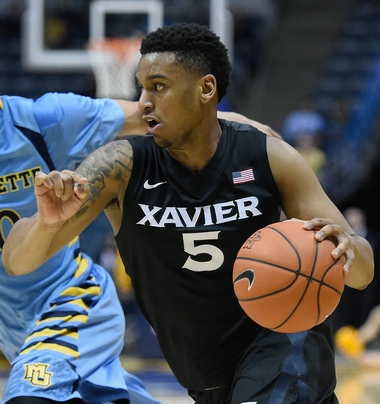 Standing 6-6 with tremendous length and a strong 215-pound frame that still has room for improvement, Bluiett has nice size for a swingman. He doesn't have great explosiveness or lateral quickness at this stage, so it will be interesting to see how his body and overall athleticism progresses in the coming seasons.
Stepping into a prominent role from the jump for the Musketeers, Bluiett averaged 18 points per game over the first five games of the year. Acclimating quickly to the college game, the Park Tudor (IN) product finished as the team's second leading scorer behind Matt Stainbrook, solidifying himself as the cornerstone of the Xavier program for the foreseeable future. He ultimately ended the season averaging an impressive 11 points, 4.2 rebounds and 1.9 assists over 28.4 minutes per game.
Despite his strong play throughout the year, Bluiett struggled at times as well, notably falling into a significant slump averaging only 5.7 points and 3.1 rebounds per game in March, while shooting 30% from inside the arc and 23% from deep over 27.7 minutes of action in 7 games.
Playing primarily off the ball, at both the small forward and stretch power forward positions, but also seeing opportunities to create for himself and others off the dribble, Bluiett was asked to do a little of everything in Xavier's offense. A bit under half of his field goal attempts were threes as he did most of his scoring from the perimeter, but he also drew fouls at a terrific rate on the occasions he did attack the rim.
Despite his relative inexperience, Bluiett has already proven to be a jack-of-trades thanks to his combination of skill, intelligence, and competitiveness. Making 35% of his set shots and 41% of his pull-up jumpers, the 19 year old does not have great mechanics as a shooter, but was reliable up until the end of the season nonetheless. Lacking great quickness and ball handling ability, Bluiett is strong with the ball and decisive when he puts it on the floor. Shooting an above average 54% around the basket, his lack of explosiveness hurts his finishing ability, but he isn't afraid to initiate contact.
More than just a scorer, Bluiett is a crafty passer on the wing. He wasn't a very prolific shot creator a year ago, but his 1.39:1 assist-to-turnover ratio is representative of his vision and sound decision-making. He forces up some shots, but seldom tries to do too much as a passer.
Defensively, Bluiett's lack of athleticism was a concern at times last season. He isn't particularly quick on his feet at this stage, which makes it difficult for him to stay in front of more athletic wings. His strength helped him hold his own at times, and his motor improved as the year went on, but he'll have something to prove in the coming seasons. A solid, but not impressive rebounder, Bluiett's length can be an asset to him at times as well, but he'll need to trim down his frame and continue working on his footspeed if he's going to improve his defensive potential.
One of the more mature prospects in the freshman class, Trevon Bluiett has plenty of room to grow as a college player, but already figures to be one of the more productive players in the Big East as Xavier looks to return to the NCAA Tournament without Dee Davis and Matt Stainbrook. If he can improve his frame and emerge as a more efficient shooter and defender, he could develop into a promising roleplaying prospect for NBA scouts. Given he's just a sophomore, he'll have plenty of time to make that jump.
#7, Justin Patton, 6-11, Freshman, PF/C, Creighton
Without the benefit of extensive high school footage, we prefer to wait and see how Patton performs as a freshman before adding to his DraftExpress profile.
#8, Luke Fischer, 6'11", Junior, PF/C, Marquette
Derek Bodner
Luke Fischer arrived at Indiana as part of a highly-touted recruiting class, joined by Noah Vonleh, Troy Williams, and Stanford Robinson, all top-100 recruits in their own right.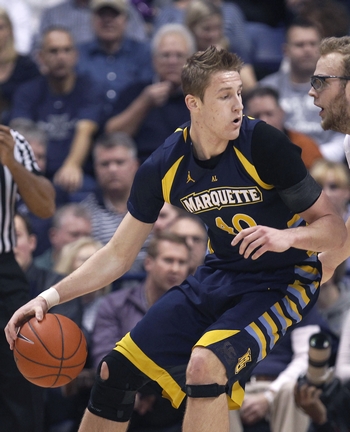 Fischer never really lived up to that promise, however, as a shoulder injury before the season started, combined with the emergence of Vonleh, limited Fischer's opportunities. Fischer's Indiana career ended almost before it began, as he very quickly elected to transfer to Marquette, and back to his hometown state of Wisconsin, midway through his freshman season, after only 130 minutes in a Hoosiers uniform.
After seeing little playing time at Indiana, averaging 2.8 points and 2.1 rebounds in 10 minutes per game with the Hoosiers, Fischer made an immediate impact with the Golden Eagles upon becoming eligible in mid-December, chipping in 19 points, 9 rebounds, and 5 blocked shots in the first game he was eligible to play for Marquette. While the Golden Eagles struggled to a 13-19 record under rookie head coach Steve Wojciechowski, their first losing season since joining the Big East in 2005, the emergence of Fischer, who finished the season averaging 11 points, 4.8 rebounds, and 2.2 blocks per game in over 29 minutes per night, gave Marquette some much-needed size up front.
On the offensive side of the court, Marquette used the 6'11" Fischer with his back to the basket quite a bit, as post-ups made up nearly 50% of his half-court field goal attempts, according to Synergy Sports Technology. Fischer doesn't have an incredibly diverse set of moves in the post, with almost all of his attempts coming off of simple hook shots, with an ability to make shots over either shoulder. He sometimes flashes other moves, such as a drop step move that he uses at times to attack the basket, but he can sometimes appear like he's out of his comfort zone, and can look rushed.
That being said, while Fischer's post game is fairly limited, what he does he does relatively well. He establishes good position down low, and has enough strength in his still-developing core and upper body to hold his ground and play through contact. He positions himself well and does a good job of sealing off his defender to give him a clear angle at the basket, and gets good elevation on his hook shots, making it tough to block.
The rest of Fischer's offensive game comes mostly off of hustle points, including offensive rebounds, cuts to the basket, and in transition. Fischer is a quick, fluid athlete, who can beat his man up and down the court on most nights, and he uses this to his advantage in transition. He also has good hands, soft touch and elevates quickly around the basket, making him a threat cutting to the basket.
One area where Fischer is clearly going to have to diversify down the line is in his perimeter skill set, as he flashed virtually nothing away from the basket for Marquette. Synergy Sports logged a grand total of three jump shots and nine isolation possessions for Fischer on the season. Fischer does have a fairly quick first step and long strides, so if he could force his man to defend him further from the basket it could open up the possibility of assuming a larger role in the half-court offense down the line.
On the defensive end, Fischer makes an impact as a shot blocker, swatting 3.0 blocks per 40 minutes, pace adjusted. Fischer rotates well for Marquette, who plays a lot of zone. Fischer was the only player over 6'7" in size for Marquette last season, and his ability to rotate over and alter shots was critical for their defense. Fischer does a good job of using his good timing and plus length to alter shots, although he will still bite on the occasional pump fake.
The rest of Fischer's defensive game is a work in progress, although he has some tools he can develop. On the perimeter he shows the ability to move his feet laterally well enough to defend the pick and roll, even if he wasn't asked to do so all that much for Marquette last season. Standing 6'11", with relatively long arms and a developing upper body, Fischer also has the tools to make an impact defending the post, although he can at times be too upright defensively, and can get dislodged more often than he should because of that.
One area where Fischer will need to improve is on the defensive glass, as he hauled in only 4.3 defensive rebounds per 40 minutes, pace adjusted, and with a defensive rebounding rate of only 12.8%, both very poor numbers for a center. Some of this is no doubt influenced by his role with Marquette, as he's frequently playing a zone surrounded by 4 perimeter players, and thus regularly the team's only shot blocker and post defender. The overall scheme and roster construction left Marquette a really bad defensive rebounding team. Despite that, Fischer needs to find a way to make a more consistent impact on the defensive glass, both for his own draft stock and for Marquette's chances at success.
Luke Fischer has a combination of size, athleticism, hustle, and ability to alter shots at the rim that gives him some intrigue as a prospect. While his hook shot in the post will likely remain his go-to move offensively, he'll need to diversify his offensive game quite a bit to really cement himself as a prospect at the next level.
#9, Isaiah Whitehead, 6'4, Shooting Guard, Seton Hall, Sophomore
Kyle Nelson
Isaiah Whitehead finished high school as a McDonald's All-American and the 11th best recruit in the class of 2014. 11 games into his freshman season at Seton Hall, the freshman combo-guard was a key player in Seton Hall's 9-2 start. Then, Whitehead missed the next nine games with a
stress fracture in his right foot
and struggled to regain his early season form upon his return. Making matters worse,
rumors
emerged
that he was at the
center
of Seton Hall's chemistry issues that prematurely ended what looked to be a promising season and resulted in multiple transfers. With last season in the rear-view mirror, Seton Hall is Isaiah Whitehead's team to lead, and scouts will be watching to see how far the talented combo-guard can take the young Pirates.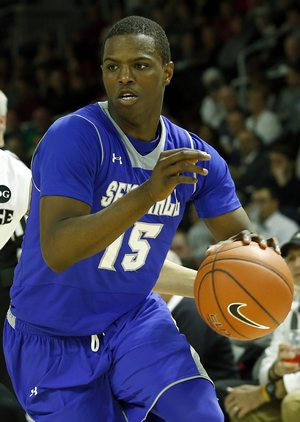 At 6'4 with a 6'5.5 wingspan and a 210-pound frame, Whitehead has solid size for a point guard position, but has an average frame for a shooting guard. While not a particularly explosive athlete, Whitehead shows an intriguing combination of quickness off the dribble and body control, although he still has a long ways to go to learn how to utilize that in an efficient manner.
On the offensive end of the floor, Whitehead averaged 17.0 points per 40 minutes pace adjusted while seeing 21.2% of Seton Hall's possessions, but he did so shooting an abysmal 38.2% from 2-point range, and 35% for 3. Furthermore, he struggled mightily down the stretch, posting single figure scoring numbers in four of his last 10 games. Only two players in our extensive historical database (Josh Selby and Andrew Harrison) have ever been drafted after posting such a low 2P%, so Whitehead will have to improve that significantly to give himself a chance at developing into a NBA player.
In terms of his NBA prospects, Whitehead showed glimmers of promise operating out of the pick-and-roll. He looked particularly good at utilizing screens, showcasing his quick first step, above average ball-handling skills, and solid instincts to create space for himself. When he looked to score, he showed glimpses of ability pulling up off of the dribble, stepping back for a deep jumper, and taking the ball to the rim.
The issue, here, is the absolute mediocre efficiency in which Whitehead was able to score as a freshman. He struggled badly finishing around the basket, and was a below average jump shooter for the frequency in which he looked to hoist up shots. While he demonstrated solid body control and made the occasional acrobatic layup, his average size, explosiveness, length, and questionable decision-making ability limited his effectiveness as a scorer inside the paint, converting just 42% of his looks inside the paint, one of the worst rates among draft prospects. As a sophomore, he must also get to the free throw line at a higher rate, and find a way to become a better finisher and decision maker in traffic.
Whitehead's struggles offensively weren't restricted to his ability to convert inside the paint. He made just 30% of his overall jump shots as well. While his shot selection is undoubtedly poor, his inconsistent shooting mechanics don't help much either. Whitehead struggles to find his rhythm as a spot-up shooter and his balance and variable release point complicate his otherwise intriguing ability to create shots off of the dribble. While Whitehead had little trouble creating his own shot as a freshman, scouts will be watching to see if he can become a more effective and efficient scorer as a sophomore.
Whether or not Whitehead can develop as a point guard also remains to be seen. On the one hand, he averaged 5.0 assists per 40 minutes pace adjusted and frequently demonstrated solid court vision and instincts as a distributor, off of the dribble and out of the pick-and-roll. On the other hand, he must refine his overall instincts considerably. In particular, Whitehead never looked comfortable as primary ball handler and his frequent tunnel vision and tendency to force passes in Seton Hall's half court offense contributed towards his standing as one of the most turnover prone players in our database.
While Whitehead's offense left scouts with plenty of questions, he made up for his inconsistency with a decent effort on the defensive end of the floor. While his awareness, attentiveness and fundamentals all can stand to improve, he showed to be a solid defender when matched up in one on one situations, due to his effort, intensity, and his willingness to use his body to his advantage, even though his combination of lateral quickness and length looks average with an eye toward the NBA. He appears to have good instincts on this end of the floor, though, forcing turnovers at a solid rate, and should be able to develop nicely in this area if his conditioning improves.
While Whitehead's freshman season went about as poorly as he could have imagined from both an individual and team perspective, he still has some things to work with long term with his impressive scoring instincts, body control, creativity and defensive potential. Already turning 21 towards the end of the season, and thus being a year or more older than many NCAA sophomores, scouts will closely monitor the kind of year he has, particularly if he proves capable of taking a big step forward as a sophomore. While his physical profile may limit his ceiling at the next level, his skill set distinguishes him as one of college basketball's most versatile combo-guards and scouts will be watching to see if can maintain his productivity with improved efficiency and decision making as a sophomore. As the likely focal point of Seton Hall's offense, Isaiah Whitehead should have plenty of opportunities to prove that he is still worthy of consideration as an NBA player.
#10, Daniel Ochefu, 6-11, Senior, Center, Villanova
Jacob Eisenberg
Villanova is coming off one of its most successful regular seasons in program history, winning the Big East and earning a top seed in the NCAA tournament. The year ended on a sour note, however, as the team was upset by N.C. State in the Round of 32.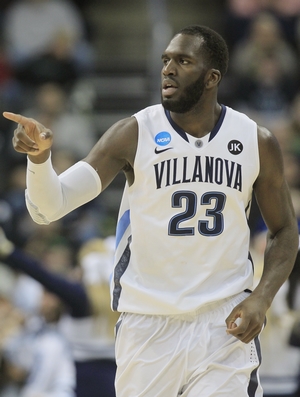 Now returning for his senior season, Ochefu hopes to put last season's disappointing exit behind him and help a reloaded Villanova squad return to elite positioning in the Big East.
Long and with a superb motor, Ochefu in in many ways fits the mold of the NBA's new wave of defensive minded centers who are agile enough to clean the glass, while maintaining strong rim protection inside. At 6-11, and with a 7-3 wingspan, Ochefu is perfectly sized to play center in the NBA. He may be a bit slender at 245 pounds, and isn't the most explosive big man around, but few big men at the college level play harder than he does.
Ochefu has big hands and is generally comfortable catching low entry feeds on the offensive end, although he's not immune to bobbling the occasional pass. He is extremely limited spatially on the offensive end, however, attempting just four shots away from the hoop all season. With that being said, he's capable of finishing offensively thanks to his excellent length, and has improved his footwork and ability to operate with his back to the basket substantially in the past few years– an interesting nugget of versatility for a defensive-minded player.
Although he's relatively agile for a big man and as long as they come in the Big East, just 3.8% of Ochefu's offensive possessions came in transition. Ochefu's incredibly short strides and poor flexibility make it difficult for him to beat opposing big men down the court, and he does not always quite have the coordination needed to catch the ball running in full stride, often being called for travelling violations, even though he's improved substantially in this area over the last few years.
All but a handful of Ochefu's possessions came around the basket on offense last season. And while he's not particularly graceful, and very right hand-dominant, he's developed his touch around the hoop quite a bit, shooting 124-for-190 (65.2%) on the season on half-court looks inside the paint.
Though Ochefu is extremely efficient on field goal opportunities, his overall offensive efficiency is reduced by his tendency to overstep his responsibilities in an effort to become a playmaker in the offense. To his credit, he identifies his targets on the court exceptionally well for a big man – lending to the idea that he could potentially help facilitate an offense from the post (for the season, Villanova teammates shot 15-for-27 on three pointers that were attempted directly off of Ochefu double-team pass outs from the post.
Still, Ochefu's passing ability needs considerable work. He rarely hits his targets in their shooting pocket and tends to throw his passes from his stomach, which both telegraphs the pass and makes it deflectable for shorter defenders. Ochefu's passes were intercepted, deflected, or just sailed out bounds on a somewhat regular basis. He turned the ball over on 21.3% of his possessions and sported a 0.83 Assist to Turnover ratio.
Ochefu is a phenomenal rebounder, as evidenced by his 14.1 rebounds per-40 minutes. He grabbed 21.4% of all available rebounds when he was on the floor last season, ranking him fourth among all NCAA Seniors in that category and he was responsible for about 25% of Villanova's total rebounds for the year. This will definitely be his calling card as a NBA prospect, and one he can definitely hang his hat on moving forward. Ochefu was a mediocre rebounder as a freshman (9.3 per-40), and improved quite a bit between his sophomore (11.1) and junior seasons, showing just how much his coordination and awareness has gotten better since arriving on campus.
Defensively, Ochefu is a mixed bag. On one hand he sports a strong frame, long arms, and plays with a superb intensity level. On the other hand, he lacks serious flexibility in his knees and hips, struggling badly to step outside the paint and get into a strong defensive stance, which makes him susceptible to being burned off the dribble by quicker players. This limits the options Villanova has at its disposal in terms of guarding the pick and roll, with the team mostly logging to sag off opponents and have Ochefu stay home to protect the rim. This is a very effective strategy at the college level, and one Villanova found a great deal of success with during the regular season.
Once extremely foul prone, Ochefu has made significant strides on the defensive end and had some very impressive moments at times last year. His combination of length, energy and a rapidly improving basketball IQ can make him a real difference maker at the college level on this end of the floor. Still, he'll have to improve his flexibility and also get significantly stronger in the lower body, as it's not rare to see him giving up deep post position and backed down by stronger players.
Overall, it will be an important year for Ochefu to demonstrate progress offensively. A 21.8% turnover rate simply will not cut it in the NBA for a big man. With his size, length and above average mobility, he's got all the physical tools to take his talents to the NBA. Scouts will want to see just how much more he still has to develop, as he's made some huge strides since arriving at Villanova, and another big jumper as a senior could put him firmly on their radar screens.