Josh Riddell
After an up and down freshman season that saw his team miss all postseason competition,
Isaiah Whitehead
bounced back with a much more impressive sophomore campaign, leading his team to a nine win turnaround and the Big East Conference Tournament championship before falling to Gonzaga in the opening round of the NCAA Tournament. He got into much better shape, made some key improvements to his game in the off-season and looked much more like a NBA prospect in his second year, which helped him make the decision to leave school early and declare for the NBA Draft.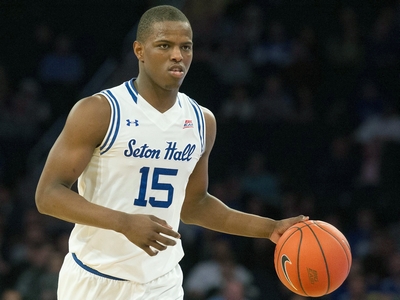 Measured at just below 6'5" with an impressive 6'9" wingspan (which is more than three inches greater than our last measurement from 2013) and a filled out 210 pound frame at the NBA Draft Combine, Whitehead has ample size and length to defend shooting guards, but plays on the ball so much that he will likely see quite a few minutes at point guard as well. He doesn't overwhelm the opposition with his physical attributes, as he is not an exceptional athlete, but he uses a mixture of basketball instincts and aggressiveness to make plays.
An impressive scorer at 21.9 points per 40 minutes pace adjusted as a sophomore, Whitehead has struggled with his efficiency throughout his two collegiate seasons. Although his 52% true shooting percentage as a sophomore is actually a more efficient mark than his abysmal 48% true shooting mark during his freshman season, it still rates
fifth worst among all players in our top 100 prospect rankings
. He had free reign to run the offense as a sophomore, which led to some impressive scoring performances, but some equally poor stretches of reckless decision making.
Always considered a combo guard from early on in his career, Whitehead is best attacking with the ball in his hands. Full of confidence offensively, he thinks he can score against anyone at any time. He will push the ball in transition, run pick and rolls and look to beat his defender in isolation. He can break the defense down with his ball skills by using a combination of fakes and hesitation moves, paired with strong ball-handling ability, but he doesn't have an elite first step to get past his defender, which means he has to stagnate the offense at times to get to his spots.
Whitehead makes a heavy living on mid-range pull-up jumpers off pick and rolls or isolation opportunities, which is a difficult way to make a living, but he's able to do far better than most. Lacking the quickness to consistently get past the defense in these situations, he usually has to fall back on step-back jumpers and floaters over the rim protector once he gets inside the arc. While he did increase his accuracy on these shots last season from 29.6% to 38.6% these are still extremely difficult shots to make, and represent a large portion of his total field goal attempts (almost 30%) according to Synergy Sports Technology. This contributed to his mediocre 39% two point field goal percentage, which would make him just the
fourth player in our database with a two point percentage below 40%
in the year they were drafted.
One area where he has improved is his ability to attack the basket, although he still has a ways to go with this skill set. He's still more likely to pull-up then get into the paint, but he's become more aggressive attacking the rim and has improved his ability to finish on runners (32.8%) and shots around the rim (44.2%) according to Synergy Sports Technology. He still ranks well below average in these categories compared to other NBA prospects, though.
That's because when he does get all the way to the rim, he doesn't have great explosiveness to convert his attempts, but he is aggressive with the ball and puts pressure on the defense as they try to stop him. He got to the free line for an impressive
7.0 attempts per 40 minutes pace adjusted
and since he can convert these at a 76% clip, he really helps himself put points on the board when he can't directly finish his drives.
Possessing terrific basketball instincts, Whitehead has shown the willingness to find the open man, although he has room to improve in this aspect of his game as well. He puts a lot of zip on the ball, with some tricky no-look passes, but they aren't always the most accurate passes. While he averages 6.1 assists per 40 minutes pace adjusted, he also turns the ball over 4.2 times and has a
negative 0.44 pure point rating
. While he certainly has the ability to find his teammates when he draws the defense, he isn't yet a reliable offensive creator because of his inability to put his teammates in scoring position.
Whitehead also improved as a spot-up shooter although he still prefers to shoot in rhythm off the dribble, with a much higher sample of jumpers off the dribble than off the catch. Even so, he showed he can add some production working off the ball, converting 35.2% of his catch and shoot opportunities according to Synergy Sports Technology. He will need to improve his mechanics, with his shot being a little flat from time to time, but being willing to work off screens or spot-ups will help his offensive profile, as this will be a way he can contribute without the ball in his hands.
Defensively, Whitehead is somewhat of a mixed bag. He had a reputation for being highly indifferent on this end of the floor for most of his career, and this continued to show at times during his sophomore year, even if he got into better shape and seemed to put more focus in, which helped a lot. Whitehead can actually wreak havoc on his opponent when he is locked in by pressuring the ball, moving his feet well on the perimeter and using his length to make plays. He has the toughness and length to be able to defend either guard spots, even if can be a little too focused on the transition to offense which can cause his focus and energy to lag at times.
He has a unique combination of defensive stats, contributing 1.7 blocks, 1.4 steals as well as 3.7 defensive rebounds per 40 minutes pace adjusted. While he will need to improve his fundamentals and intensity level to reach his full potential in this area, he shows the potential to develop into a useful defensive player if he continues to focus on this aspect of his game.
The 21 year old Whitehead has his faults offensively and is still a frustrating prospect despite his improvements in his sophomore season. He is still prone to some wild shot selection and doesn't have the efficiency to overcome these decisions. That said, he could turn into a nice microwave combo guard scorer in the right situation as he is able to create his own shot off the dribble in the halfcourt. If a team can unlock his full potential and find a way to fit him into a structured offense, he could provide some nice sparks as a scorer and playmaker as he continues to shake his bad habits and buys into more of a team concept.