We continue our coverage of the top NBA prospects in the Big Ten with scouting reports on players ranked 4-7 in the conference:
Terran Petteway
,
Branden Dawson
,
A.J. Hammons
and
Yogi Ferrell
.
The Top 20 NBA Draft Prospects in the Pac-12 Conference
The Top 20 NBA Draft Prospects in the Big 12 Conference
The Top 10 NBA Draft Prospects in the AAC Conference
The Top 22 NBA Draft Prospects in the SEC Conference
The Top 10 NBA Draft Prospects in the Big East Conference
Top NBA Prospects in the Big Ten, Part 1:
(#1) Sam Dekker (Scouting Video)
Top NBA Prospects in the Big Ten, Part 2
(#2) Caris LeVert (Scouting Video)
Top NBA Prospects in the Big Ten, Part 3
(#3) Frank Kaminsky (Scouting Video)
#4, Terran Petteway, 6-6, Junior, SG/SF, Nebraska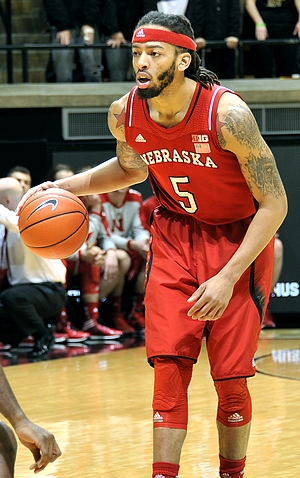 Jonathan Givony
After scoring just 3 points in 13 minutes per game as a freshman at Texas Tech (8-23 record), not many people expected Terran Petteway to emerge as a First Team All-Big Ten player after transferring to Nebraska.
Petteway used his redshirt season to his advantage, adding significant strength to his 6-6 frame, while improving his skill-level.
Petteway became a true go-to guy for Nebraska last season--his 32.5% usage rate ranked in the top-10 among collegiate prospects--as he was regularly asked to bring the ball up the floor and get the team into their offense.
One of the most prolific pick and roll players in the NCAA, Petteway loves to operate with the ball in his hands and shows nice ability to create his own shot. Shifty and fluid, Petteway is an aggressive ball-handler who operates at different speeds and does a very good job of initiating contact and drawing fouls. He averages over eight free throw attempts per-40 minutes, and knocks down 82% of those shots once there.
That helps mask the fact that Petteway is not an overly efficient offensive player in the half-court, converting just 48% of his 2-point attempts and 33% of his 3s. He relies very heavily on pull-range jumpers as a source of production, and as effective as he is in this area relative to other players (he makes 41% of his off the dribble attempts), this can be a difficult way to make a living at times.
Not exceptionally strong or explosive, Petteway is just an average finisher around the basket, converting a poor 46% of his attempts inside the paint. His aggressive style of play leads him to take a lot of very difficult looks, something that happens to him on the perimeter as well, where his shot-selection can be very questionable at times. He's not a great passer for someone who handles the ball as much as he does on top of that, posting a poor .59 assist to turnover ratio and -5.34 PPR, both of which rank dead last among returning guard or wing players in our Top-100 prospect rankings.
NBA teams will need to try and decipher how much of Petteway's struggles in these areas are a product of poor decision making, and how much is due to a lack of other viable scoring options on the roster. Nebraska had the third worst offense in the Big 10 last year according to KenPom, and while Petteway certainly does not have a low basketball IQ, his tunnel vision and propensity for bombing away at all costs certainly didn't help matters.
Outside shooting is another area NBA teams will want to see Petteway improve in. He made a very poor 30% of his catch and shoot jumpers last season, which is not ideal considering how much his offensive role is likely to be scaled back once he's surrounded with better players. Players like Petteway need to be reliable in catch and shoot situations, and while he really didn't see that many attempts with his feet set last season (60, compared with 113 off the dribble), he didn't inspire much confidence in this area as a sophomore. It will be interesting to see how he evolves in this area.
While Nebraska was not a great offensive team last season, the same cannot be said for their play defensively, where they ranked #2 in the conference according to KenPom.
Petteway is a very good defender when he's dialed in, using his strong size and long 6-10 wingspan to stay in front of opponents and contest shots effectively. He's a smart, physical player who knows the opposing scouting report and does a very good job of knowing where to be and how to anticipate.
Off the ball, Petteway is prone to some lapses, which may be partially a product of how heavy a role he was forced to shoulder offensively. He tends to fall asleep at times in his stance, losing his focus and allowing himself to get screened off the ball. When things get serious and the team needs a stop, though, he shows nice aggressiveness and will even come up with some impressive blocks at times thanks to his solid timing and anticipation skills.
Petteway is somewhat of a unique prospect, a little-known, under-recruited player who didn't blossom until he was 21 seeing his first real action of college basketball in an enormous offensive role. He had a wildly successful season last year, helping Nebraska reach the NCAA Tournament for the first time since 1998, and it will be very interesting to see how he builds on his success as a junior. Petteway is a year old for his class due to his transfer year, turning 22 tomorrow, so this will be a very important season for him.
#5, Branden Dawson, 6-6, Senior, Small Forward, Michigan State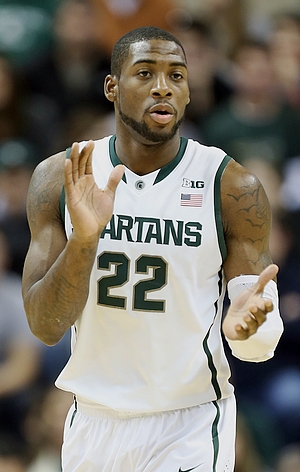 Josh Riddell
Branden Dawson returns to Michigan State for his senior season looking to end his collegiate career on a high note, and finally reach the potential he's flashed since his high school days. With the Spartans losing graduated seniors Adrien Payne and Keith Appling, as well as NBA Draft early entry Gary Harris, and on paper fielding one of their least talented teams in some time, Dawson will definitely be asked to be a major part of the Michigan State rotation and help lead them back to the NCAA tournament.
The key for Dawson in his senior season is to show he can be a perimeter player at the next level. He currently plays primarily close to the basket but doesn't project to fit such a role in the NBA based on his physical tools. In his collegiate career, he has only attempted nine total three pointers, making none of them. It's difficult to find even a single instance in the past 20 years of a wing player who didn't make a single 3-pointer in three seasons of college basketball who ended up getting drafted. He doesn't need to be a lights out three point shooter, but will need to show he is capable playing away from the basket, as this is where he will be slotted in most NBA rotations.
Dawson clearly possesses the physical tools of a NBA player, measured at 6'6" with a long wingspan (measured at 6'9" in 2010) with excellent strength to accompany his length. To go along with his NBA ready frame, he has excellent agility and explosiveness and moves up and down the floor with ease. He punctuates many of his finishes around the rim with powerful dunks, as he uses his length and explosiveness to rise above the defense impressively.
Getting most of his offense in transition, off cuts and putbacks of offensive rebounds, Dawson does not look to create his own shot but is great at finishing the chances provided to him. Many of his field goal attempts came around the rim and Dawson excelled at finishing against bigger players, as he shot 69.3% on 114 attempts according to Synergy Sports Technology, which placed him 18th in the nation among all players with at least 100 attempts. His ability to finish at the rim should be able to replicated against NBA defenders, but he will need to find other ways to score as he risks damaging his team's spacing if his offense doesn't need to be respected outside the paint.
One of the biggest areas of improvement for Dawson this year from a NBA Draft perspective is his jump shooting. He has never been a prolific jump shooter and shot just 28.6% on 21 attempts last season. His fundamentals need some tweaking and he often looks hurried on his jump shots, which puts him off-balance.
He did not look comfortable with the ball in his hands for extended periods of time, either leading the transition opportunity or trying to create in the half court. He struggled putting the ball on the floor, which slows his ability to create offense. This, along with his inability to hit jump shots, really limits his offensive ceiling. Dawson hasn't improved either of these areas during his time at Michigan State and these skills will be crucial for him to succeed at the next level.
Dawson continues to be one of the best offensive rebounders from the small forward position, as his 4.2 rebounds per 40 minutes pace adjusted
ranked third among SFs last season
. This represents a slight uptick from his 3.3 offensive rebounds per 40 minutes pace adjusted his sophomore season and back in line with the 4.2 per 40 minutes pace adjusted from his freshman season.
Defensively, Dawson has the potential to be a major asset at the next level, as his combination of size, length and agility work together nicely. He can defend either wing spot and has the lateral quickness to slow dribble penetration and the length to contest jump shots. His
1.8 steals
and
1.3 blocks
per 40 minutes pace adjusted were both near the top of all SFs in our database and a unique production, as only 28 players accomplished these same averages last season. He doesn't shy away from the defensive glass, as his 7.6 defensive rebounds per 40 minutes pace adjusted
ranked fourth among SFs last season
.
Dawson has had his development slowed by injury, as he missed the tail end of his freshman season due to a torn ACL, meaning his off season had to be spent rehabbing instead of improving, before missing nine games last season due to a broken hand. He will hope to remain healthy all season, allowing him to show off his skill set and any off-season improvements for NBA teams. With the attrition from last year's Elite Eight team, Dawson will need to become a more consistent offensive contributor while shouldering a bigger role offensively, especially scoring from the perimeter, will make him even more attractive to NBA teams.
This is a big year for Dawson, as he hopes to show his offensive skills have caught up to his physical tools and defensive potential, making him a more attractive draft prospect. His lack of true position hurts him, as he looks like a perimeter player playing mainly close to the rim. While the skills and potential Dawson has previously demonstrated should be enough to get him many long looks from the NBA, both in the short and long term, if he can show he has become a more complete player by being more comfortable offensively on the perimeter, he should see his stock continue to rise as the season progresses.
#6, A.J. Hammons, 7-0, Junior, Center, Purdue
#7, Yogi Ferrell, 5-11, Junior, Point Guard, Indiana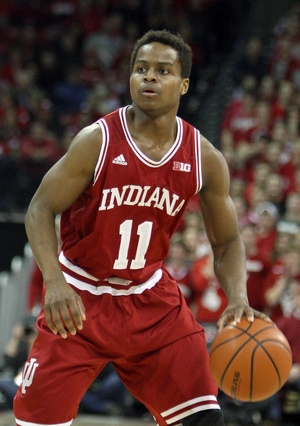 Matt Williams
After averaging 7.6 points and 4.1 assists per-game for the Cody Zeller-led 2013 Indiana Hoosiers, Yogi Ferrell assumed the role of first option as a sophomore as Tom Crean's program endured a difficult rebuilding year. Finishing the year 17-15, Ferrell was a bright spot in an at times dismal season, averaging 17.3 points while shooting 40% from beyond the arc and solidifying himself as one of the most prolific scorers in the Big Ten.
Standing 5'11 with average length, Ferrell's size is likely to remain the biggest knock against him as his career progresses, though he has packed on some muscle and possesses the type of quickness common among players his size who have made it work at the NBA level in the past.
Much more-so than in his high school days, Ferrell now compensates for his lack of size with a knack for scoring efficiently over the top of the defense. The Park Tudor (IN) product had always been a capable shot maker, but the 32% he shot on jumpers as a freshman was a reflection of where he was as a shooter coming out of the prep ranks. Knocking down 39% of his jump shots this past year, Ferrell's confidence and the consistency of his release are both much improved, even if his shot selection often still leaves something to be desired.
That improvement was a significant plus for Indiana's offense a year ago as the Hoosiers relied heavily on Ferrell all season. Among the 1,560 players in the NCAA who played more than 300 minutes last year, Ferrell's 87.1% increase in points per-40 minutes pace adjusted from the previous season ranked 29th, an truly impressive feat given Ferrell played 1012 minutes. Combining the shiftiness with the ball he displayed as a freshman with his improved shooting, Ferrell's ability to push the tempo and score effectively on the pick and roll kept Indiana in a number of games this season, though Tom Crean seemed dismayed at some of the shots Ferrell attempted at times.
Despite the impressive campaign Ferrell put together as a scorer, he still has some rough edges to round out offensively. His size limits his finishing ability, as he shot just 52.1% around the rim in the half court, but he doesn't have an overwhelmingly consistent floater at this point either. His playmaking numbers also suffered as a result of Indiana's need for him to score, as his pure point rating fell from 2.24 to -.05, which ranks among the worst marks for a point guard in our top-100. With the ball likely in his hands non-stop once again this year, it will be interesting to see how Ferrell balances his responsibilities as a facilitator and scorer as a junior.
Defensively, Ferrell's lack of size is an obvious concern looking towards the NBA level. He plays with solid energy and can hang with many of the guards he encounters in the college game, but looks outmatched against stronger backcourt players, especially those with similar quickness. His lack of length makes it difficult for him to contest shots effectively, and he doesn't create many turnovers
ranking
3rd last among point guards in our top-100 in steals per-40 minutes pace-adjusted.
Likely to find himself discussed among the most dynamic guards in the country, Yogi Ferrell enters his junior season solid momentum. If he's able to become a more efficient scorer, and shows that his style of play can contribute to winning, he could put himself in terrific position to get drafted this or next year. His combination of quickness, ball-handling ability, and shooting are impressive, and if he can mix in improved point guard play and better numbers around the basket, he could help his perception among NBA scouts.