Top NBA Prospects in the Big Ten, Part 4: Prospects #4-7
October 8, 2014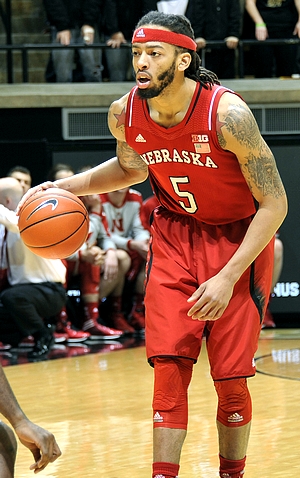 US Presswire
Jonathan Givony
After scoring just 3 points in 13 minutes per game as a freshman at Texas Tech (8-23 record), not many people expected Terran Petteway to emerge as a First Team All-Big Ten player after transferring to Nebraska.
Petteway used his redshirt season to his advantage, adding significant strength to his 6-6 frame, while improving his skill-level.
Petteway became a true go-to guy for Nebraska last season--his 32.5% usage rate ranked in the top-10 among collegiate prospects--as he was regularly asked to bring the ball up the floor and get the team into their offense.
One of the most prolific pick and roll players in the NCAA, Petteway loves to operate with the ball in his hands and shows nice ability to create his own shot. Shifty and fluid, Petteway is an aggressive ball-handler who operates at different speeds and does a very good job of initiating contact and drawing fouls. He averages over eight free throw attempts per-40 minutes, and knocks down 82% of those shots once there.
That helps mask the fact that Petteway is not an overly efficient offensive player in the half-court, converting just 48% of his 2-point attempts and 33% of his 3s. He relies very heavily on pull-range jumpers as a source of production, and as effective as he is in this area relative to other players (he makes 41% of his off the dribble attempts), this can be a difficult way to make a living at times.
Not exceptionally strong or explosive, Petteway is just an average finisher around the basket, converting a poor 46% of his attempts inside the paint. His aggressive style of play leads him to take a lot of very difficult looks, something that happens to him on the perimeter as well, where his shot-selection can be very questionable at times. He's not a great passer for someone who handles the ball as much as he does on top of that, posting a poor .59 assist to turnover ratio and -5.34 PPR, both of which rank dead last among returning guard or wing players in our Top-100 prospect rankings.
NBA teams will need to try and decipher how much of Petteway's struggles in these areas are a product of poor decision making, and how much is due to a lack of other viable scoring options on the roster. Nebraska had the third worst offense in the Big 10 last year according to KenPom, and while Petteway certainly does not have a low basketball IQ, his tunnel vision and propensity for bombing away at all costs certainly didn't help matters.
Outside shooting is another area NBA teams will want to see Petteway improve in. He made a very poor 30% of his catch and shoot jumpers last season, which is not ideal considering how much his offensive role is likely to be scaled back once he's surrounded with better players. Players like Petteway need to be reliable in catch and shoot situations, and while he really didn't see that many attempts with his feet set last season (60, compared with 113 off the dribble), he didn't inspire much confidence in this area as a sophomore. It will be interesting to see how he evolves in this area.
While Nebraska was not a great offensive team last season, the same cannot be said for their play defensively, where they ranked #2 in the conference according to KenPom.
Petteway is a very good defender when he's dialed in, using his strong size and long 6-10 wingspan to stay in front of opponents and contest shots effectively. He's a smart, physical player who knows the opposing scouting report and does a very good job of knowing where to be and how to anticipate.
Off the ball, Petteway is prone to some lapses, which may be partially a product of how heavy a role he was forced to shoulder offensively. He tends to fall asleep at times in his stance, losing his focus and allowing himself to get screened off the ball. When things get serious and the team needs a stop, though, he shows nice aggressiveness and will even come up with some impressive blocks at times thanks to his solid timing and anticipation skills.
Petteway is somewhat of a unique prospect, a little-known, under-recruited player who didn't blossom until he was 21 seeing his first real action of college basketball in an enormous offensive role. He had a wildly successful season last year, helping Nebraska reach the NCAA Tournament for the first time since 1998, and it will be very interesting to see how he builds on his success as a junior. Petteway is a year old for his class due to his transfer year, turning 22 tomorrow, so this will be a very important season for him.
[
Read Full Article
]