Bryce Cotton entered his junior season as an anonymous player at Providence, but has emerged as one of the best scorers in the Big East. How far can his terrific shooting stroke and excellent overall scoring instincts take him?
-Trending Prospects: C.J. Wilcox
-Trending Prospects: Isaiah Canaan
-Trending Prospects: Jahii Carson
-Trending Prospects: Chris Obekpa
-Trending Prospects: Jordan Bachynski
-Trending Prospects: Arsalan Kazemi
-Trending Prospects: Cory Jefferson
-Trending Prospects: Anthony Marshall
-Trending Prospects: Carrick Felix
-Trending Prospects: Solomon Hill
-Trending Prospects: Spencer Dinwiddie, Seth Curry, Rodney Williams
-Trending Prospects: Kelly Olynyk, Laurence Bowers, Elias Harris, Juvonte Reddic
Bryce Cotton, 6'1", Junior, PG, Providence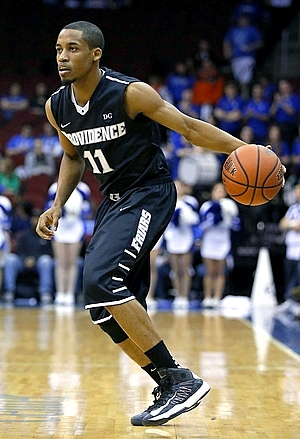 Derek Bodner
Arriving at Providence as mostly a set shooter,
Bryce Cotton
has gone a long ways in diversifying his offensive game over the past two seasons. Now the focal point of the Friars' offensive attack, Cotton has increased his scoring average from 14.8 points per 40 minutes pace adjusted as a sophomore to 22.2, while seeing a large spike in his efficiency, up to 62% true shooting percentage, which is
one of the top marks for a point guard prospect
in our database.
According to Synergy Sports Technology, the 6'1" guard produced upwards of 85% of his offense off of spot-up opportunities, in transition, and off of cuts to the basket his freshman season. That number has now dropped to 37.5%, as Cotton has been asked to create more of his offense and assume a larger role in the Providence offense.
Cotton's primary asset is still his jumper, which accounts for over 75% of his shot-attempts in the half-court. He sports excellent form and gets very good elevation on his jump shot, with range well out beyond the collegiate three point line. Cotton now attempts 8.8 three point attempts per 40 minutes pace adjusted, which represents roughly 40% of his field goal attempts and over 50% of the three point attempts the Providence team attempts.
Much more of a standstill shooter his first two years, Cotton now is a major threat coming off screens as well. He does a good job constantly moving when he's off the ball, running off baseline screens and freeing himself up. He does a good job of getting his shot off quickly, with good body control coming off the screen and good balance on his shot.
Cotton is also a prolific scorer off the dribble, something he didn't do much of during his earlier years. According to Synergy, Cotton attempted 61 jump shots during his freshman year, 57 of which were in catch and shoot situations. Pull-up jumpers now represent roughly 12% of his offense, most of which come in pick and roll situations. Cotton's balance coming to a stop is once again solid, and he displays solid mechanics shooting off the dribble. As he continues to get more repetitions in, this should continue to be a staple of his game.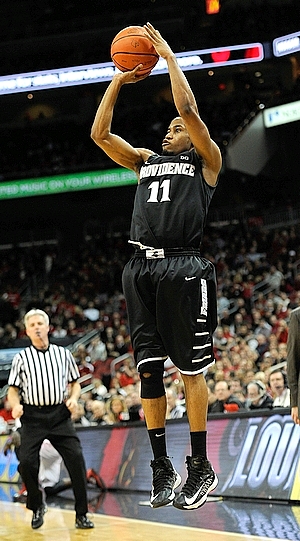 Not a top end athlete, Cotton is quick with the ball and changes direction well, utilizing an excellent pump fake to get defenders in the air to draw fouls. Cotton has good touch around the hoop and an array of floaters, but isn't all that explosive of an athlete and at times struggles finishing over length and through contact. That being said, Cotton does a very good job of drawing contact and getting to the line, as 6.9 free throw attempts for 40 minutes pace adjusted is a very good figure for a point guard, particularly rare for one who shoots as many three pointers as he does. The diversity of the shots available to him in the lane and his willingness to draw contact and go to the line help offset his physical limitations somewhat.
While his 3.2 assists per 40 minutes pace adjusted can be partially explained by Providence's overall lack of scoring options outside of Cotton, he does not appear to be a very instinctive passer, with relatively mediocre court vision, recognition, and ability to control tempo. The threat he provides scoring off the pick and roll gives him some opportunities to create offense for teammates, but he is by and large not able to capitalize on the attention his receives, and this will be a major question mark for him moving forward, as his size limits his ability to play off the ball. The graduation of teammate
Vincent Council
this spring could give Cotton more of an opportunity to show he can run a team next season, even if current freshman
Kris Dunn
will surely at least need to share ball-handling responsibilities. On the positive side, Cotton turns the ball over very infrequently, with his 1.9 turnovers per 40 minutes pace adjusted being one of the better marks for point guards in our database, particularly for one who carries as much of the scoring load as Cotton does.
Defensively, Providence plays a zone with some regularity, which while it helps mask some of Cotton's physical deficiencies, does present a concern when projecting to the next level. Cotton gives consistent effort on the defensive end and moves his feet laterally fairly well, and does a good job of fighting through screens despite not being the strongest physically. His overall size, length, and average athleticism will likely render him physically overmatched at the next level, and he will obviously be limited to defending the point guard spot.
With the defensive concerns and his lack of experience running an offense, the situation Cotton comes into may be more important than most when determining whether he could stick on a NBA roster. With Council graduating and the learning curve Cotton has shown to date--only being 21 during the entirety of what would be his senior season—he certainly will be a prospect to keep an eye on next season, as his ability to shoot from the perimeter is a valuable skill set to build off of.