Scouting Report by Walker Beeken. Video Analysis by Mike Schmitz
After establishing himself as one of the top mid major players in the country in his sophomore and junior seasons at South Dakota State,
Nate Wolters
made the most of his final chance to impress NBA scouts as a senior. The 6'4" point guard continued to score at a high rate while improving his efficiency as he earned Summit League Player of the Year honors and led his team to their second consecutive NCAA tournament appearance.
Video Analysis
More Video Scouting Reports
While Wolters has certainly earned plenty of fans for his play over the last couple seasons, his NBA potential is still up for debate. The level of competition in the Summit league makes it more difficult to judge how his game might translate to the NBA level, and he doesn't have the prototypical physical profile. He does have excellent size for an NBA point guard prospect, but he lacks great length (6'3.5" wingspan) and strength, and he doesn't have the speed or explosiveness that scouts would generally like to see at the point guard position.
His physical limitations cause the most concern on the defensive end, where he plays intelligently and shows good toughness and instincts, but he lacks the ideal lateral quickness to stay in front of NBA guards. He defended pretty well at the Summit League level and even held his own defensively in big outings against New Mexico and Michigan, but NBA teams will certainly want to put his lateral quickness to the test in workouts over the next couple months to get a better gauge for how he'll be able to defend against quicker guards in space.
On the offensive end, Wolters proved to be one of the most productive players in all of college basketball as a senior, displaying an impressive all around skill set, as his combination of ballhandling skills, scoring instincts, and feel for the game made him very difficult to defend at the college level.
He has an excellent command of the ball and plays at a great pace, always seeming to be under control and rarely forcing the issue, despite the large amount of creating responsibility he shouldered for the Jackrabbits. He keeps his head up and sees the floor and shows very good vision and passing instincts, never hesitating to make the smart, simple pass to the open man.
Running the point for South Dakota State, Wolters carried a heavy load of the offense, as almost 60% of his offensive possessions came in isolations or as the ballhandler in pick-and-roll sets in his senior season. While not the most explosive player off the bounce, Wolters has a deceptively quick first step and is excellent at changing speeds and getting his defender on his heels, while also using the threat of his jump shot to open up opportunities to drive to the basket.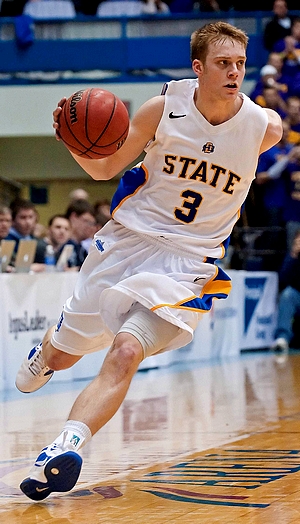 Wolters does a great of utilitizing his size and craftiness to score inside the arc, connecting on an impressive 53% of his 2-pointers on the season. He does a nice job using floaters driving either direction, and he attacks the basket and gets to the free throw line at a high rate, where he knocked down 82% of his attempts as a senior.
Perhaps the most encouraging sign of Wolters' senior season was the improvement of his perimeter jump shot. After shooting 36% and 41% from 3-point range in his first two seasons at South Dakota State, he struggled with his jumper as a junior, only connecting on 24% of his 3's. As a senior, Wolters made 38% of his attempts from behind the arc, on a career-high of over five attempts per game.
Wolters does have a bit of an unconventional release, but he gets it off fairly quickly off the catch and can create separation and fluidly shoot it off the dribble as well. He does a very nice job using hesitation dribbles to get his defender on his heels, and he has an effective step-back jumper as well, as he does an excellent job of keeping his dribble alive and always making himself an offensive threat.
Wolters should be an interesting player to follow over throughout the predraft process, as he certainly has some qualities that could boost his stock as he's extremely skilled and has an excellent feel for the game. He'll have plenty of opportunities to compete against NBA level athletes up until draft day, and NBA teams will surely be watching closely to see how he does staying in front of quicker point guards, as well as how does offensively trying to create off the dribble against longer, more athletic defenders. If he's able to alleviate some concerns in those areas and show that he can shoot the ball consistently from the NBA 3-point range, Wolters should have a good chance to get drafted next month, and potentially even hear his name called in the first round.