Chris Obekpa has established himself as arguably the best shot-blocker in college basketball already as a freshman. How does the rest of his game grade out and what type of NBA prospect is he right now?
-Trending Prospects: Jordan Bachynski
-Trending Prospects: Arsalan Kazemi
-Trending Prospects: Cory Jefferson
-Trending Prospects: Anthony Marshall
-Trending Prospects: Carrick Felix
-Trending Prospects: Solomon Hill
-Trending Prospects: Spencer Dinwiddie, Seth Curry, Rodney Williams
-Trending Prospects: Kelly Olynyk, Laurence Bowers, Elias Harris, Juvonte Reddic
Chris Obekpa, 6'9, Freshman, Center, St. John's
Matt Williams
The 62nd ranked recruit in the 2012 high school class according to the RSCI,
Chris Obekpa
has played a key role in Head Coach Steve Lavin's three man frontcourt rotation as a freshman. Seeing steady playing time at the center position for the 14-8 Red Storm, he is putting together a historic campaign as the Red Storm's rim protector.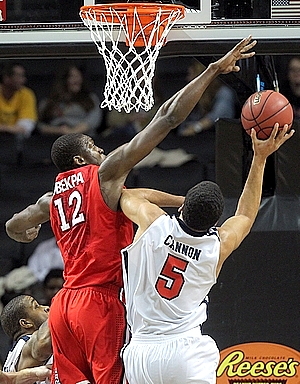 Hailing from Nigeria, Obekpa gained exposure playing for the U16 Nigerian national team and attending the 2010 Basketball Without Borders event in South Africa before moving to the Centereach, New York to attend Our Savior New American for the 2010-2011 school year. Earning invitations to the
LeBron James
Skills Academy, Nike Global Challenge, and the All-American Classic, his ability to use his impressive length and leaping ability have been a major factor in his success at the prep level and have earned him immediate playing time for St. John's.
Standing 6'9 with a 7'4 wingspan, Obekpa has physical tools similar to those of Bucks center
Larry Sanders
at the same point in his career. Possessing solid mobility, good vertical explosiveness, and a 222-pound frame with plenty of room for growth, Obekpa looks the part of a NBA big man.
At this stage in his career, those tools manifest themselves most frequently on the defensive end, where he ranks among the most prolific NCAA freshmen shot blockers in the
last decade
, as shown in the chart below. Possessing exceptional timing and a good motor to go along with his wingspan and leaping ability, Obekpa is an intimidating presence on the defensive end. He stays out of foul trouble surprisingly well for a young shot blocker for the most part, averaging just 3.7 fouls per-40 minutes pace adjusted thanks to his knack for going straight up on the shot and not jumping into would be scorers.
At this point, Obekpa does his best work helping his teammates rotating over form the weakside and staying active in the middle of the Red Storm zone. He remains raw as an individual defender, not looking comfortable defending one-on-one away from the rim and getting beat by stronger post players when he gives them a bit too much room to operate in an effort to keep them away from his body so he can elevate to block their shot.
Similarly, the 19 year-old's presence on the glass also leaves something to be desired, as his 8.5 rebound per-40 minute pace adjusted is well below average for a player with his physical tools. Lacking the same instincts he shows as a shot blocker when crashing the boards and possessing just average hands, he shows plenty of flashes of potential as a rebounder when pulling down caroms in traffic, but is not a consistent factor on the glass. This separates him significantly from
Larry Sanders
and other shot-blockers in his mold, which is something NBA scouts will surely want to see him improve on before he's able to consider beginning his professional career.
As Obekpa gains experience and his frame matures, his ability to become a more complete defensive player and consistent rebounder will be a significant determinant of his long-term success. His shot blocking ability will likely always be his calling card, but he can make himself more valuable at the next level by developing the skills to complement his strengths and make the most of his length and athleticism.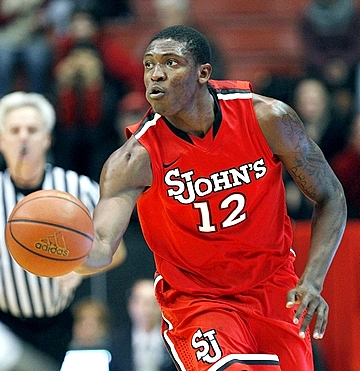 On the offensive end, Obekpa is as limited a player as you'll find seeing significant minutes at the BCS conference level. He's a surprisingly good passer, but is never more than a fifth option for St. John's offensive, does not have the skill level to be a threat to score at a high rate at or away from the rim, and is without a means to create his own shot. Shooting just 41% from the field and a sub-par 50% in finishing situations while scoring 5.4 points per-40 minutes pace adjusted, Obekpa's production is a representation of how raw he is as a scorer. He currently ranks as the
third least prolific per-minute scorer
of any BCS conference player seeing over 20 minutes per game, averaging a paltry 5.4 points for every 40 minutes he's on the floor.
Attempting a surprising number of jump shots for a player who shoots just 25% of his jump shots and 28% of his free throws, the first order of business for Obekpa will be to develop his touch in the paint and footwork so he can more effectively take advantage of the shots his teammates create for him.
Despite his shortcomings,
Chris Obekpa
is the biggest reason St John's leads the nation in shot blocking and has been one of the keys factors to their success in Big East play. He has one clearly defined NBA skill and plenty of upside, but his improvement in other areas over the coming seasons will be crucial to his career trajectory. With rumblings that he could be considering declaring for the 2013 draft, the question becomes what environment his development will be fostered in, and whether a team would be patient enough to wait a couple of years and see if the other parts of his game can be developed enough to allow him to see playing time in a NBA game.