Erick Green is leading the nation in scoring. How does his game project to the NBA?
---
-Trending Prospects: Shabazz Napier
-Trending Prospects: DeShaun Thomas
-Trending Prospects: Ryan Broekhoff
-Trending Prospects: Kenny Kadji
-Trending Prospects: Dwight Powell
-Trending Prospects: Zeke Marshall
-Trending Prospects: Jack Cooley
-Trending Prospects: Bryce Cotton
-Trending Prospects: C.J. Wilcox
-Trending Prospects: Isaiah Canaan
-Trending Prospects: Jahii Carson
-Trending Prospects: Chris Obekpa
-Trending Prospects: Jordan Bachynski
-Trending Prospects: Arsalan Kazemi
-Trending Prospects: Cory Jefferson
-Trending Prospects: Anthony Marshall
---
Erick Green, 6'3, Senior, Point Guard/Shooting Guard, Virginia Tech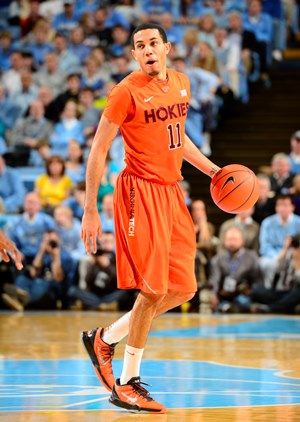 Matt Williams
Last time we checked in our
Erick Green
a little under a year ago, he was coming off a strong junior season that saw him pick up where
Malcolm Delaney
left off as Virginia Tech's leading scorer. Despite the departure of Head Coach Seth Greenberg and the Hokies' struggles in ACC play (3-12 thus far, last place), Green has been among the most improved players in the country and ranks as the nation's
top scorer by a significant margin
.
Standing 6'3 with a thin, wiry frame and near 6'7 wingspan, Green is a natural scorer who can put points on the board in bunches with his pull-up jump shot and ability to get to the free throw line, but has also shown improvement as a distributor this season, particularly in the pick and roll. Fitting the mold of a modern, up-tempo, scoring point guard, the senior's skills have been tested on a nightly basis this season as his team's first option, primary ball-handler, and end-all, be-all solution on the offensive end.
Green's offensive game is predicated on his ability to make shots from the perimeter. Some 73% of his shots in the half court are jumpers, the large majority of which come off the dribble. Shooting the ball with a quick, high release that is difficult to block because of how high he elevates and how far back he cocks the ball, Green has a knack for creating separation for his shot with his quick first step, sharp crossovers, and hesitation moves. Connecting on 41% of his pull ups, Green is capable of creating his own shot when the shot-clock is running down and hitting difficult, off-balance leaners from the midrange. According to Synergy Sports Technology, as of the time of this report, no prospect in college basketball had hit more off the dribble jumpers (65) than Green has in 27 games thus far.
He also proves to be an effective spot-up and off screen threat. Having knocked down 40% of his catch and shoot jump shots this season according to Synergy Sports Technology, the Virginia native doesn't get many opportunities to shoot with his feet set due to the amount of defensive attention he receives in the ACC every night, but he's improved his range and consistency dramatically since arriving in Blacksburg. He takes 2 ½ times more pull-ups than spot-ups, though, which makes his relatively strong shooting percentages all the more impressive. It's easier to see his ability to run off screens effectively (42.4% FG%, 1.24 PPP) become more of a weapon on a team with more scoring options for example.
Green is not as effective when he's creating his own shot slashing to the rim. He is a good ball-handler and is very adept at using ball-screens, but doesn't have the elite explosiveness or strength to regularly generate high percentage shots in one-on-one situations around the basket, or finish through contact in traffic. Shooting an unimpressive 48% around the rim, Green compensates with feathery touch on his floater and by getting to the line more than any other guard in our database per-40 minutes pace-adjusted. There are legitimate questions about whether he'd be able to translate that to the pro level, though, which is something teams will want to take a closer look at in private workout settings.
As a floor general, Green is at his best as a distributor in transition or on the pick and roll, where his speed, high basketball IQ, elite pull-up jump-shot and aggressive mentality allow him to put constant pressure on the defense. Though he is more comfortable looking for his own shot, and isn't a dynamic playmaker off the bounce, he is quite unselfish and shows good vision and a high basketball IQ running the pick and roll or handling the constant swarm of defenders usually thrown at him. Facing defenses geared towards slowing him every single night, Green's scoring efficiency, and near 2/1 assist-to-turnover ratio are very impressive.
A capable defender at the college level, Green plays with good intensity and fundamentals, but his lack of size and strength raise some concerns about his ability to defend opposing guards at the next level. He'll likely need to be matched up with opposing point guards to be most effective in the NBA, but may be more comfortable with an additional ball-handler alongside of him offensively, at least early on in his career. This could make his defensive integration into a playoff-bound team slightly more complicated, but considering he'll likely be asked to come off the bench, probably isn't a deal-breaker for him. Nevertheless, there's no question he'll have to add strength and show he can at least hold his own in the NBA defensively if he's to carve out a niche long-term.
Having one of the best individual seasons of any guard in college basketball, Green will be one of the better senior prospects available in the 2013 draft. He has some limitations as a finisher around the rim and defender, but his productivity as a shooter/scorer and efficiency as a passer will no doubt pique the interest of NBA teams. It's difficult to find too many guards these days who have size, speed, perimeter shooting ability and can operate effectively on the pick and roll, so Green's elite scoring instincts certainly deserve a close look.