Jordan Bachynski is one of the biggest players in the NCAA, and also one of the most improved. Does he have what it takes to make it onto a NBA roster?
-Trending Prospects: Arsalan Kazemi
-Trending Prospects: Cory Jefferson
-Trending Prospects: Anthony Marshall
-Trending Prospects: Carrick Felix
-Trending Prospects: Solomon Hill
-Trending Prospects: Spencer Dinwiddie, Seth Curry, Rodney Williams
-Trending Prospects: Kelly Olynyk, Laurence Bowers, Elias Harris, Juvonte Reddic
Jordan Bachynski, 7'2, Center, Arizona State, Junior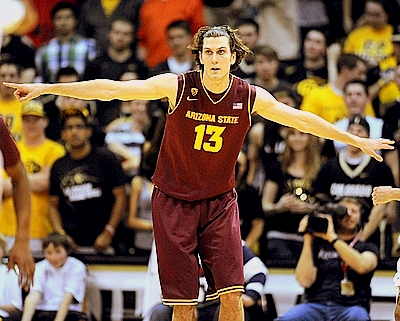 Kyle Nelson
Junior center
Jordan Bachynski
has hardly had a conventional college career, enrolling as a freshman at Arizona State at age 21 after spending two years in Florida on a Mormon mission. Bachynski was not a very well-known recruit after playing most of his high school career in Canada and being hampered by
a serious ankle injury
when he finally did move to the States to attend Findlay Prep. The story of how he ended up electing to sign at Arizona State over the likes of UConn, Oregon State, UNLV and others is one of the more unique you'll encounter.
Bachynski was a role player during his first two years on one of the NCAA's worst high major teams. A lot changed over the summer, as Arizona State sits just one game out of first place in the PAC-12, and Bachynski is posting career highs in nearly every statistical category while logging four double-doubles and one triple-double. In the wake of a 22 point, 15 rebound, and 6 block performance during Arizona State's 78-60 drubbing of UCLA, NBA scouts are no longer wondering whether he is a PAC-12 caliber player, but rather, the question has become: is
Jordan Bachynski
a legitimate NBA prospect?
At 7'2 with
a 7'4 wingspan
and a solid 248 pound-frame, Bachynski has excellent size for the center position at the next level, though he must continue to add more muscle to his frame. Furthermore, he is an above average athlete for his size, running the floor well with solid mobility and explosiveness around the basket. His physical profile alone is intriguing from a scout's perspective, as he looks to be physically and athletically capable of playing at the next level.
While Bachynski has been a relatively unknown commodity thus far in his career on the offensive end, he has emerged as a competent, albeit inconsistent, post scorer as a junior, to the tune of 14.8 points per 40 minutes pace adjusted, looking proficient scoring both in the post and out of the pick-and-roll.
Bachynski shows good hands and much improved footwork along with soft touch around the basket, evidenced in his career high 60.5% FG%. Though his post repertoire is still fairly basic, he now looks comfortable attempting hook shots with his left hand, as well as a variety of up-and-unders, scoop shots, and simple spin moves. While he still has a tendency to look mechanical in his movements, his instincts are much improved compared to where he was as a freshman, particularly his patience in the post, his willingness to use the glass, and the fact that he goes straight up after receiving the ball around the basket.
That being said, Bachynski must continue to get stronger as he sometimes struggles to carve out space, hold his position, and finish with authority against smaller post players. Similarly, smaller players have little trouble ripping the ball out of his hands when he brings it down or puts it on the floor. Along these lines, improving his ball-handling ability and further developing his right hand will allow him to be more efficient at this level and more useful at the next. Finally and perhaps most importantly, continuing to build upon his success operating out of the pick-and-roll will be essential to his NBA prospects, as he shows perhaps his best potential as an offensive player with the timing and finishing ability he displays here.
On the defensive end Bachynski has improved as a rebounder – posting a career high 10.4 rebounds per 40 minutes pace adjusted – and he has blossomed into an elite shot blocker. Despite playing fewer minutes than
Jeff Withey
and
Nerlens Noel
, his 4.1 blocks per game ranks fourth among prospects in our database and his 6.0 per 40 minutes pace adjusted establishes him as
the second most prolific shot blocker in our database
.
With that said, he is not a particularly focused post defender, often biting on pump fakes and getting out of position and occasionally losing track of his man, leading to easy looks around the basket. Furthermore, he struggles to close out on shooters and lacks ideal lateral quickness to defend both perimeter oriented big men and the pick-and-roll. Therefore, while he is an excellent defensive presence inside, there remain significant question marks as to whether he can hold his own here in the NBA.
Bachynski's NBA prospects are still somewhat up in the air. For one, scouts will have to determine to what extent the 23-year-old junior can continue to develop considering his advanced age. Though he has not played nearly as much organized basketball as his age suggests due to spending five years in high school and his LDS mission, he will be a 25-year-old NBA rookie should he elect to stay at Arizona State through his senior year. Furthermore, his jaw-dropping performance at UCLA has so far proved to be an exception rather than the rule, as he has struggled against frontcourts with NBA-caliber size and athleticism, particularly in match-ups against the likes of Arizona, Oregon, USC, Washington, and Creighton.
That being said, there is quite a bit to like about Bachynski and his developmental trajectory, combined with what seem to be excellent intangibles and a solid work ethic, suggests that he will continue to improve. Mobile 7'2 centers who can block shots and finish around the basket will always attract NBA scouts' attention; so, if he can become more consistent, as well as prove that he can contribute offensively and defend his position consistently against NBA caliber players, then his stock will rise accordingly. What is clear, though, is that the 7'2 junior is no longer flying under the radar and will have every opportunity to realize his potential as a prospect at Arizona State.