Scouting reports on eight of the prospects seen at adidas Nations that haven't been covered on DraftExpress prior:
Chol Marial
,
Deng Gak
,
Makai Ashton-Langford
,
Chris Smith
,
Thomas Allen
,
Nathan Mensah
,
Onyeka Okongwu
and
Jericho Sims
.
Also see the following article for a report on the top ten performers at the camp statistically.
Chol Marial, 7' 2", Center, 17.7 years old, South Sudan, Class of 2018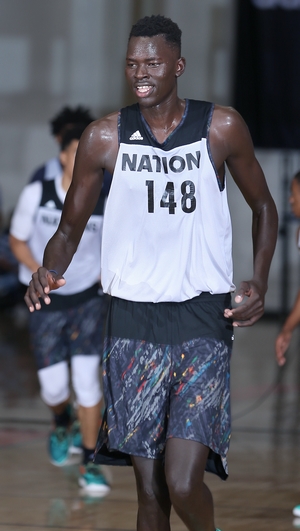 Strengths
-Has exceptional size and length. Around 7'2 or taller. Reportedly measured a 7'10 wingspan
-Very skinny but has a decent frame that should fill out in time with proper work
-Extremely mobile. Runs the court well. Quick off his feet. Covers ground fluidly
-Highly skilled for a big man his age
-Has outstanding touch around the basket. Finishes with both hands. Length allows him to finish from extreme vantage points. Releases his hook shots on the way down, making it difficult to guard and giving him a huge advantage when combined with his touch
-Can make a mid-range jumper with impressive mechanics and touch. Excellent free throw shooter
-Shows nice footwork and body control in the paint. Executes impressive spin moves.
-Has huge potential defensively as a rim protector with his exceptional length and ability to cover ground. Has a chance to be a game-changing defensive presence as he gains strength, experience and coaching.
-Shows good timing as a shot-blocker
-Has some physicality and competitiveness to him, despite his lack of strength
Weaknesses
-Frame is still a long ways away. Very narrow in the lower body in particular. Will take him years to add enough strength to compete against older and stronger players
-Still figuring out what his limitations are. Forces the issue at times offensively. Not a great passer. Tends to move the ball as a last resort.
-Lack of strength makes it difficult to gain deep post position. Will settle for high degree of difficulty looks regardless
-Lacks a degree of explosiveness from a standstill, partially due to a lack of strength as his body is filling out. Doesn't know how to handle contact at the moment
-Still trying to figure out how to make the most of his tremendous combination of length and mobility defensively. Very long legs and high hips make it difficult for him to bend his knees and get into a stance on the perimeter. Will get blown by off the dribble at times by smaller and more skilled big men.
-Rebounding numbers are fairly lackluster everywhere he's been. Career 8.2 per-40. Goes after rebounds with one hand. Lets loose balls fly right over his head. Doesn't show great awareness or instincts when it comes to tracking the ball. Gets boxed out relatively easy on the defensive glass
Outlook
A native of South Sudan, Marial was discovered at the 2013 Basketball Without Borders in South Africa. Marial made his way to the US in 2014 to finish out middle school at West Oaks Academy in Orlando, before starting high school in Connecticut at Cheshire Academy. Did not have a great camp in the first three days, struggling with the physicality and strength of the older players, but then put on an absolute show in front of a national TV audience in the third place game, with 18 points, 9 rebounds and 3 blocks, many of which came on exhilarating plays. Still has three years of high school left as a member of the 2019 class, despite the fact that he would turn 21 prior to his first game in college if he decided to stay on that track.
Deng Gak, 6' 10", Center, 18.2 years old, Australia, Class of 2017
Strengths
-A legit 6'10. Possibly taller. Seems to have grown since the last time we saw him
-Very skinny at the moment, but has a frame that is well proportioned and should fill out in the long term
-Long arms and big standing reach
-Quick off his feet. Can play above the rim with his length reach
-Raw offensively, but drops glimpses of intriguing potential that could be harnessed into more than that long term, especially with his face-up game
-Has a high release point on his jumper and sound shooting mechanics. Will make an occasional mid-range jumper with soft touch
-Shows the ability to put the ball on the ground in a straight line from the high post
-Uses both hands around the basket effectively
-Has some footwork in the post
-Doesn't always know what he's doing, but can move his feet and cover ground defensively
-Can contest shots on the perimeter
Weaknesses
-Frame is still very thin, which affects him significantly on both ends of the floor
-Doesn't handle contact that well inside the paint at the moment. Struggles to finish through contact around the rim. Not always strong with the ball. Hands are average. Gets balls stripped from him too easily
-Lacks a degree of toughness and explosiveness as a finisher in traffic. Partially due to his lack of strength
-Doesn't always know his limitations offensively. Decision making can be questionable. Has an 12/39 assist to turnover ratio in 29 games in the DX database
-Doesn't protect the rim at a high rate right now. Has blocked just 14 shots in 387 minutes in the DX database (one every 27 minutes).
-Doesn't have great fundamentals or awareness defensively
-Will get overpowered or run over by stronger players in the post or on the perimeter. Can improve his stance
-Motor comes and goes. Reaches aimlessly. Takes himself out of plays. Still figuring out the nuances of being a good defender.
-A project on both ends of the floor
Outlook
Born in Cairo, Deng Gak is a raw 18-year old South Sudanese big man (via Sydney, Australia) who has made significant strides every time we've seen him the past two years. Still at an early stage of his development skill-wise and physically, but has huge potential to continue to grow based on the flashes he shows. Getting recruited at the highest levels of college basketball, and for good reason.
Makai Ashton-Langford, 6' 2", Point Guard, 17.8 years old, USA, Class of 2017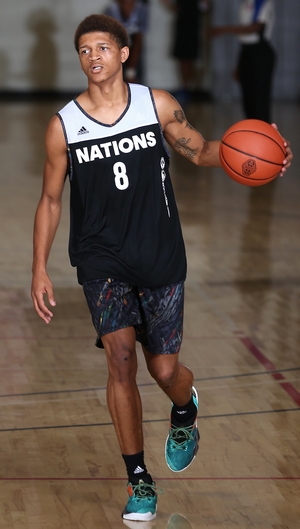 Strengths
-Nice physical profile for a lead guard—good size and frame at 6' 2" 185 lbs. Long arms, big hands.
-Smooth athlete who can change speeds with force. Dynamic in transition. Uses basic crossovers that are set up by crisp footwork. Impressive body control. Plays a herky-jerky style predicated on keeping the defense off balance. Mixes in advanced combo moves.
-Does most of his damage in the paint – 6.6 FTA per 40. Can get to the rim without a ball screen versus average defenders. Likes to drive hard left. Can use his frame to keep smaller defenders on his hip.
-Inconsistent touch but he's capable of finishing with floaters before getting to the back line of the defense. Tools allow him to finish from different angles in traffic. Willing to use either hand at the rim.
-Shows occasional flashes as a passer out of ball screens or drive and dish/kick situations.
-Not a threat to make jumpers consistently at this stage, but his shot isn't broken. Should be able to improve in time. Can create space off the dribble.
-Has the tools to be an excellent on ball defender. Quick hands and feet with the frame to contain penetration. 2.2 steals per 40 minutes. Can play with more consistent intensity on that end but the potential is certainly there.
Weaknesses
-Had very little positive impact playing a small role on a loaded Team Harden – 2.0 PER in 12 minutes a game on 4 of-12 shooting and 0-of-5 from the free throw line.
­-More combo than point guard at this stage. Plays a wild brand of basketball. Score first lead guard who gets tunnel vision while on the move. Throws a lot of jump passes. Kills his dribble regularly, especially when he's met by a secondary defender. Forces up wild floaters. Can improve his approach significantly.
-Needs a lot of possessions to get into a rhythm and score efficiently. Doesn't give you a ton if he's not playing on the ball.
-Really struggles to make shots from the perimeter consistently allowing defenders to sag off and take away the drive, which baits him into even more tough shots than he already takes. Super inconsistent mechanics. Gets too cute with fadeaways, leg kicks and big body turns. Doesn't always finish his shot with a hard snap of the wrist. 25.3% from three on 83 attempts over 72 games in our database.
-Can improve his shot creation versus high level defenders. While fairly advanced, his handle can get a bit high and loose at times versus pressure. Kills his dribble, pivots around inside the arc and either takes a tough shot or gives it up.
-Doesn't always finish at the level his tools would suggest. Can improve the touch on his floater. Has some good ideas around the rim with speed finishes or inside hand finishes, but he's not all that adept at converting versus high-level length and athleticism consistently.
-Defensive effort comes and goes. Offense fuels his defensive effort. Doesn't always sit down a stance or move his feet like he's capable of. Can take a lot more pride in stopping his man.
Outlook
Despite a forgettable Adidas Nations, there's still quite a bit to like about Ashton-Langford's blend of physical tools, penetrating ability, defensive potential and somewhat improvable shooting stroke. Ashton-Langford is certainly a high major guard who could eventually develop into a legitimate NBA prospect. With that said, the Worcester, Massachusetts native still has a long way to go in terms of his feel for the game, decision making, shooting stroke and defensive intensity. Simply put, Ashton-Langford needs to learn how to play, especially as a lead guard, and if he's able to do that, he becomes much more than an occasional bucket getter who should, in theory, be able to lock up.
Chris Smith, 6' 7", Combo Forward, 16.6 years old, USA, Class of 2018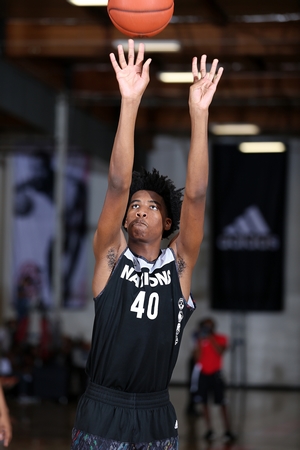 Strengths
-Nice physical profile for a 16-year-old combo forward at 6' 7" with a solid frame and decent length.
-Super fluid. Moves like a wing with and without the ball. Quick off the floor. Can finish above the rim in space.
-Shows a lot of potential offensively. Smooth, mechanically sound stroke. Comfortable ball handler who can play at different speeds, get low to the ground on drives and get to his jumper off the bounce. Has floaters.
-Very comfortable attacking closeouts and putting it down in a straight line. Prefers to drive left. Crisp footwork and sharp timing.
-Moves his feet well on the perimeter defensively when he's engaged. Has the tools to make plays off the ball – 1.7 steals and 1.3 blocks per 40 minutes at Adidas Nations.
-High upside overall given his combination of age, tools and skill level
Weaknesses
-Very talented but hasn't quite found where he's most effective against top competition. Shows potential in a lot of areas but isn't great in one particularly – can handle impressively for his size but gets loose with it versus pressure.
-Can make shots from the perimeter but it didn't translate consistently at Nations (1-for-8 from three).
-Nice frame but doesn't have huge shoulders. Young but a little on the light side – gets knocked off balance on his way to the rim, negating a lot of his drives.
-Right hand dominant around the rim. Takes a lot of tough floaters. Can do a better job handling contact in the paint.
-More fluid than freaky explosive
-Not a very comfortable passer. Doesn't see the floor all that well. Looking to score rather than distribute. Two assists and 11 turnovers in 100 minutes at Adidas Nations. Will settle for deep threes early in the shot clock.
-Bites on fakes guarding the post. Goes for steals.
-Shows potential on the glass but can get tougher and more physical on the interior. Too upright guarding the perimeter. Can improve his defensive IQ and fundamentals.
Outlook
The 16-year-old forward is a high-level recruit who should end up having his choice of top-level tools when it's all said and done. As are most players his age, Smith is still putting it all together and working to figure out where on the floor he adds the most value. With that said, it's hard to find players with his tools, fluidity, and impressive skill level. Whether he's able to develop into a full time wing or grow, get tougher and become more of a perimeter four man, Smith is an extremely intriguing talent for both colleges and NBA scouting departments to track moving forward.
Thomas Allen, 6' 0", Combo Guard, 17.7 years old, USA, Class of 2017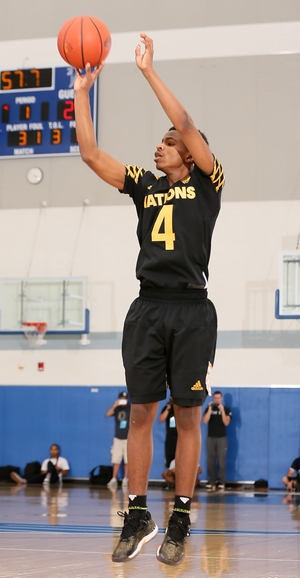 Strengths
-Prolific and efficient scorer. Scored 65 points in 65 minutes at Nations, mostly coming off the bench looking to put the ball in the hoop. Did it efficiently (65% TS%) after doing the same on the adidas Gauntlet circuit (33 points per-40, 63% TS%)
-Big time shot maker. Arguably the best shooter at the camp. Has deep range on his jumper. Quick release. Lethal off the dribble. Doesn't hesitate for an instant to fire up if left open, and sees very good results. Throws the ball in the basket from awkward angles with tremendous instincts and balance
-Shows nice range and touch on his floaters. Converts them from outside the paint even
-Will occasionally make a nice pass showing some vision and acumen, particularly in transition or in drive and dish situations
Weaknesses
-Small and skinny. Looks about 6'0, with a very narrow frame and average length at best.
-More of a severely undersized SG than a combo or a PG at this stage. Looking first and foremost to score whenever he has the ball in his hands.
-Dribbles with his head down and forces up tough looks (which he can make at this level). Split second late with his reads, even when he is trying to facilitate
-Everything is a jumper. Almost never gets all the way to the rim. Doesn't get to the free throw line at all (35 attempts in 563 minutes in DX database)
-Lackluster defender. Displays a low intensity level on this end of the floor. Stands straight up. Doesn't fight over screens. Doesn't make an effort to slide his feet or close out on shooters. Loses his man off the ball.
Outlook
Big time scoring guard who has put points up on the board everywhere he's played. Has tremendous shot-making instincts. Needs to continue to round out the rest of his game, but his shooting ability is already drawing serious looks from the highest levels of college basketball. Transferring to Brewster Academy next season.
Nathan Mensah, 6' 10 ½", Center, 18.3 years old, Ghana, Class of 2018
Strengths
-Skinny, but has a good frame that is well proportioned and has potential to fill out in the long term.
-Measured 6'9 without shoes with a gigantic 7'4 wingspan. Appears to have a big standing reach
-Very mobile. Quick off his feet. Bouncy. Barely has to jump to dunk thanks to his reach. Sprints the floor with purpose
-Can knock down a mid-range jumper with decent mechanics and touch. Will toss in an occasional turnaround jumper.
-Has soft touch from the free throw line. Shooting 71% on 38 attempts in our database
-Length allows him to be a significant presence on the offensive glass. Competes with a high motor for rebounds. Pursues loose balls with a purpose. Not afraid to throw his body around
-Averaging 14.1 rebounds per-40 in minutes logged in our database
-Has more potential defensively than he's displaying right now. Combination of mobility, length and activity level is hard to find. Should be able to improve as he learns the game and adds polish
-Plays with a good spirit. Makes the extra pass. Competitive. Raw, but wants to play the right way
Weaknesses
-Body is at an early stage of development. Very skinny, which affects him significantly on both ends of the floor
-Limited offensively. Footwork isn't great. Often settles for the first shot he finds. Doesn't always catch the ball cleanly.
-Basketball IQ, understanding of the game is still a work in progress. Doesn't always know his limitations
-Doesn't handle contact well around the basket. Lower body a major work in progress
-Not as good of a defender as you might hope. Only averaging .5 steals and 1.8 blocks per-40 minutes in 381 minutes of game-time we have logged in our database.
-Should be entering his freshman year of college age wise, but instead has two more years of high school
Outlook
Discovered at the 2014 Basketball Without Borders in South Africa, after just having started to play basketball, Mensah was late to the game, but has made significant strides every time we've seen him over the past year. Other players at this camp were further ahead of him in terms of skill-level and polish, but he has the potential to make up ground quickly in the next few years thanks to his tools, intensity level and raw talent.
Onyeka Okongwu, 6' 9", Power Forward/Center, 15.6 years old, USA, Class of 2019
Strengths
-Outstanding frame for a 15-year-old. Strong legs and upper body that still has room to grow. Big hands, super long arms. Big standing reach.
-Impressive agility for his size. Mobile running the floor. Excellent coordination on spin moves. Dodges help defenders with side steps. Quick off of his feet.
-Shows potential as a pick and roll finisher. Light on his feet diving to the rim. Solid hands. Not afraid of physicality on offense. Can finish above the rim in space.
-Decent foundation as a post scorer for his age – 1.1 points per possession in 16 Adidas Gauntlet games. Can inside pivot, face up, spin and finish on post ups. Fairly crisp footwork for his age, loves spin moves. Able to finish touch shots around the rim.
-Not a stretch big but has nice touch on short-range jumpers. Should be able to extend his range in time. Ball comes out cleanly with solid rotation.
-Crashes the offensive glass at a decent rate, especially when going after his own misses.
-Impressive defensive potential given his mobility, frame and length. Shows flashes of toughness and competitiveness. Does a nice job of staying down on fakes. Has the footwork to step out and defend the perimeter as he gains experience. Moves well laterally.
-Legitimate rim protector potential thanks to his tools and timing – 2.4 blocks per 40 minutes. Excellent verticality around the rim. Super long arms. Recovers quickly if beat on the perimeter. Can stand his ground on the block and alter shots as a primary defender.
-Good instincts in the passing lanes – 1.2 steals per 40 minutes.
Weaknesses
-More long and mobile than freaky explosive.
-Still quite raw offensively – 10.8 points per 40 minutes in 16 games in the DraftExpress database. Moves on the block aren't that instinctual. Very reliant on right hand jump hooks and push shots. Super right hand dominant in the paint.
-Poor lower body mechanics on his jumper. Shoots a complete set shot without a ton of fluidity to it despite decent touch and wrist action.
-Doesn't have a great feel for the game at this stage – 0.8 assists per 40 minutes in 16 games in the DraftExpress database. Forces up predetermined shots out of the post. Doesn't see the floor all that well.
-Lacks perimeter skills. Can improve his ability to play dribble handoff and put it down in a straight line. More of a 6' 9" center at this stage.
-Impressive potential and timing on defense but isn't all that comfortable stepping away from the rim with regularity. Slow to get out to stretch bigs. Doesn't fully sit down in a stance on the perimeter. Likes to reach.
-Not quite the rebounder he could be – 8.8 per 40 minutes. A bit more focused on blocking shots or contesting jumpers and leaking out.
-Motor comes and goes a little bit at the AAU level. Doesn't always run the floor as hard as he could.
Outlook
Just 15, Okongwu proved to be one of the more intriguing long-term prospects at the camp thanks to his physical tools, defensive potential and flashes of offensive skill. Okongwu emerged on the national scene while playing a key role as a rim protector and finisher for an undefeated Chino Hills High School team that was led by highly touted point guard Lonzo Ball. Okongwu put together a solid Adidas Nations considering his age and should eventually develop into one of the top big man prospects in the 2019 high school class. From an NBA perspective, Okongwu is most certainly worth tracking as he should develop into a tremendous interior and perimeter defender while he continues to hone his offensive skill set. All in all Okongwu is a high level prospect that coaches and NBA scouts alike will certainly have to keep an eye on.
Jericho Sims, 6' 9", Center, 17.7 years old, USA, Class of 2017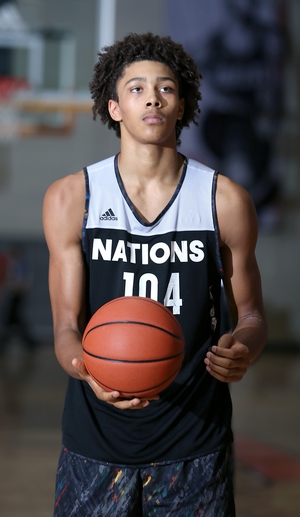 Strengths
-Projectable frame, big hands. Long arms. Proportionate upper and lower body. Should end up with a strong frame in time.
-Outstanding fluidity for a player his size. Gets up and down the floor quickly. Super light on his feet.
-Explosive leaper who doesn't need time and space to load up. Finishes above the rim with ease. Catches lobs regularly. Good in drop off situations.
-Not overly skilled offensively but his fluidity allows him to put it down from the perimeter at times. Gets low to the ground. Fairly crisp footwork.
-Budding offensive game inside of 15 feet - 65.2 2P% according to our database.
-Uses floaters regularly in the paint. Drops in right handed jump hooks and push shots despite the fact that he shoots jumpers (very rarely) with his left hand. Will make an occasional short-range turnaround jumper. Can finish with either hand. Leaping ability allows him to rise up over the top of his defender in 1-on-1 scoring situations.
-Fairly active on the glass – 10.5 rebounds per 40 minutes in 15 games in our DraftExpress database. Good instincts on the offensive boards. Plays pretty hard overall. Knows how to find a body on the defensive glass and has the quick leaping ability to rebound in traffic.
-Fluidity, length and quick leaping ability allow him to make plays defensively – 1.0 steals and 1.7 blocks per 40. Can improve his fundamentals and toughness but the tools are certainly there to make an impact. Quick twitch. Should develop into a good perimeter defender as he gains more experience.
-Although not the most physical player, he competes and plays hard more often than not.
Weaknesses
-A tad short for a center prospect at 6' 9". Projectable frame but isn't overly wide or bulky up top right now.
-Will take wild floaters from the elbows. Feel for the game isn't great. 0.7 assists per 40 minutes in 15 games in our DraftExpress database. A bit too sped up.
-Spot shooting mechanics need a complete overhaul. Super low release. Shoots a left-handed push shot although the majority of the shots he takes in the paint are with his right hand. Shoots it different almost every time.
-Not all that strong with the ball on the interior. Can get a little bit tougher. Gets pushed around at times. Can show more fight.
-Struggles a bit defending stronger bigs on the interior. Nice frame that will continue to fill out but he's not exactly a bruiser at this stage. Gives up paint touches.
-Jumpy on defense. Bites on slight head fakes too often.
-Doesn't quite have the size or body to defend centers consistently and lacks the fundamentals to guard on the perimeter at this stage. A bit too upright, doesn't always react to the initial move.
-Timing and instincts off the ball can improve.
-Can make more of a concerted effort to find a body on the defensive glass rather than just relying on his athleticism.
-Gets down on himself at times
Outlook
The 17-year-old Savage, Minnesota native wasn't overly productive at Adidas Nations and doesn't quite have a go-to skill at this stage but his frame, fluidity, explosiveness and occasional touch inside the paint are enough to make him worth tracking as he continues to develop. Players who can move and jump like Sims at his size don't grow on trees and he should be a very effective college player who could eventually have a shot at the NBA down the road if he's able to add more offensive skill and improve his feel for the game.