Thomas Allen, 6' 0", Combo Guard, 17.7 years old, USA, Class of 2017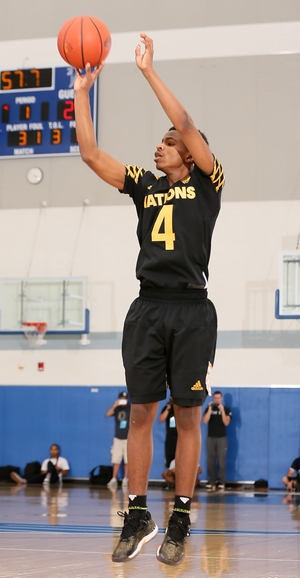 Strengths
-Prolific and efficient scorer. Scored 65 points in 65 minutes at Nations, mostly coming off the bench looking to put the ball in the hoop. Did it efficiently (65% TS%) after doing the same on the adidas Gauntlet circuit (33 points per-40, 63% TS%)
-Big time shot maker. Arguably the best shooter at the camp. Has deep range on his jumper. Quick release. Lethal off the dribble. Doesn't hesitate for an instant to fire up if left open, and sees very good results. Throws the ball in the basket from awkward angles with tremendous instincts and balance
-Shows nice range and touch on his floaters. Converts them from outside the paint even
-Will occasionally make a nice pass showing some vision and acumen, particularly in transition or in drive and dish situations
Weaknesses
-Small and skinny. Looks about 6'0, with a very narrow frame and average length at best.
-More of a severely undersized SG than a combo or a PG at this stage. Looking first and foremost to score whenever he has the ball in his hands.
-Dribbles with his head down and forces up tough looks (which he can make at this level). Split second late with his reads, even when he is trying to facilitate
-Everything is a jumper. Almost never gets all the way to the rim. Doesn't get to the free throw line at all (35 attempts in 563 minutes in DX database)
-Lackluster defender. Displays a low intensity level on this end of the floor. Stands straight up. Doesn't fight over screens. Doesn't make an effort to slide his feet or close out on shooters. Loses his man off the ball.
Outlook
Big time scoring guard who has put points up on the board everywhere he's played. Has tremendous shot-making instincts. Needs to continue to round out the rest of his game, but his shooting ability is already drawing serious looks from the highest levels of college basketball. Transferring to Brewster Academy next season.