Aaron White
Recent Tweets
All Tweets
DraftExpress: With the #49 pick the Washington Wizards take Aaron White from Iowa. He will get stashed in Europe. DX profile http://t.co/6LvalfYnDh
2015-06-25 23:51:38
DraftExpress: Top NBA Prospects in the Big Ten, 16-20: http://t.co/M82XO0sT - Derrick Nix, Tim Hardaway Jr, Jared Berggren, Devyn Marble and Aaron White
2012-09-15 02:28:48
Team: TX A&M Corpus Christi
Physicals
Positions
Misc
H: 5' 9"
W: 185 lbs
Bday: 09/25/1984
(31 Years Old)

Current: G
NBA:
Possible:

High School:
Hometown: Milan, MI




Basic Per Game Statistics

- Comprehensive Stats - Statistical Top 25s
| Year | League | Name | GP | Min | Pts | FG | FGA | FG% | 2Pt | 2PtA | 2P% | 3Pt | 3PtA | 3P% | FTM | FTA | FT% | Off | Def | TOT | Asts | Stls | Blks | TOs | PFs |
| --- | --- | --- | --- | --- | --- | --- | --- | --- | --- | --- | --- | --- | --- | --- | --- | --- | --- | --- | --- | --- | --- | --- | --- | --- | --- |
| 2005/06 | NCAA | Aaron White | 28 | 25.3 | 10.4 | 3.6 | 7.7 | 46.3 | 1.3 | 2.7 | 48.7 | 2.3 | 5.0 | 45.0 | 1.0 | 1.3 | 77.1 | 0.3 | 1.8 | 2.1 | 2.7 | 1.6 | 0.1 | 1.5 | 2.3 |

Player Page&nbsp&nbsp| Player Stats | Related Articles&nbsp&nbsp| Add to My Draft Express&nbsp
&nbsp
Aaron White Updated NBA Draft Scouting Report
June 5, 2015
Matt Kamalsky

A player we've evaluated a number of times over the last few seasons, Aaron White's collegiate career came to an end at the hands of the Gonzaga Bulldogs in the first weekend of the NCAA Tournament. Emerging as an immediate contributor as a freshman, White saved his best for last, turning in his most productive and efficient season en route to being named to the Big 10 All-Conference 1st Team.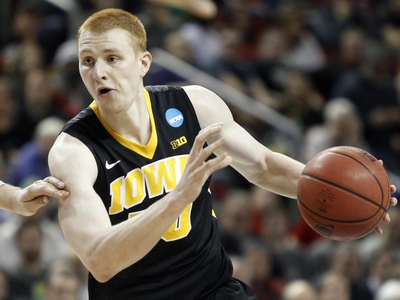 US Presswire



A productive scorer each of the seasons at the college level, White had a breakout campaign by his standards offensively. Scoring between 17.2 to 18.1 points per-40 minutes pace adjusted in his first three seasons in Iowa City, White poured in an impressive 21 as a senior. Though his trademark efficiency dipped slightly, White remained one of the most efficient volume scorers in the college game. Of the 523 Division I players that used over 400 possessions last season, White ranked sixth in scoring efficiency at 1.151 points per possession according to Synergy Sports Technology, edging Frank Kaminsky for the top spot in the Big Ten.

White's efficiency, as it has throughout his career, is the result of his terrific energy, outstanding hands, solid athleticism, and knack for filling lanes both in transition and the half court. A very coordinated, and extremely springy big man, White exceled at finishing cuts and fast break opportunities, which comprised over 40% of his offensive possessions.

More than just a finisher, White made his impact felt in a variety of ways at the college level. Able to attack the basket in a straight line, beat slower forwards off the bounce, exploit mismatches in the post, and knock down shots from the perimeter, White is a jack of all trades scorer, even though he doesn't create one-on-one particularly frequently. He's adept at getting to the line, drawing a tremendous 9 free throws per-40 minutes pace adjusted to rank first among power forwards in our top-100. On top of that, he's a smart passer who makes the simple play and values the ball, as his tiny 1.5 turnover per-40 minutes pace adjusted suggests.

Despite his prolific play offensively this season, White still has room to grow in a few different areas. Though he shot 36% from 3 this season, he did so while only making 21 total attempts from beyond the arc, and questions remain about his ability to grow into a perimeter threat who can stretch the floor at the next level. An 82% foul shooter, White has had confidence issues with his shot at times in his collegiate career, but has a framework that could serve him well down the road, something he will certainly need to do much more frequently than he did for Iowa.

Defensively, White does his best work playing the passing lanes, coming up with an impressive 1.7 steals per 40 minutes pace adjusted. He's an intense and engaged defender, but his 6'11.5 wingspan and 222-pound frame leave him susceptible to strong post scorers, lanky finesse fours, and render him a below average rebounder and shot blocker relative to his peers. He gets out of position at times when defending off the ball as well. White would be best suited to defend stretch fours at the next level, or potentially more limited small forwards, as his foot speed is his most useful asset on that end of the floor. His ability to defend more interior oriented scorers and talented shot creators remains a concern.

Though he lacks great strength, length, and defensive potential, White's outstanding offensive efficiency, ability to score without having the ball in his hands constantly, and potential as a shooter should get him plenty of looks in the second round. If he can offset what he lacks defensively with what he can do on the offensive end, he could carve out a role in time. If not, he's a fantastic prospect for the European game.

[Read Full Article]

---
Aaron White Interview
May 17, 2015
Iowa senior forward Aaron White talks about his preparation for the 2015 NBA Draft.


---
More Pre-Draft Interviews/Workout Videos
-Justin Anderson Workout Video
-Rakeem Christmas Workout Video
-Robert Upshaw Workout Video
-Rakeem Christmasn Workout Video
-Myles Turner Workout Video
-Satnam Singh Interview
-Satnam Singh Workout Video
-Alan Williams Interview
-Stanley Johnson Interview
-Kelly Oubre Interview
-Frank Kaminsky Interview
-Chris Walker Interview
-Chris Walker Workout Video
-Cameron Payne Workout Video
-Cameron Payne Interview
[Read Full Article]

---
2015 NCAA Tournament: First Weekend NBA Prospect Breakdown
March 16, 2015
Iowa senior Aaron White has always been one of the most efficient offensive players in college basketball, doing yeoman's work in transition and finishing explosively around the basket off lobs. But he's started to expand his game more frequently out to the perimeter as of late, making nine 3-pointers in the past six games, which is much needed considering his average frame standing 6-9. He'll likely never be considered a great defender with that body type, but his ability to make shots makes him far more intriguing considering how athletic he is, so continuing to do so for as long as he can will help him make a late push towards possibly getting drafted. He's got the right matchups to do so against Davidson and then likely Gonzaga should both teams advance.

[Read Full Article]

---
Top NBA Prospects in the Big Ten, Part 6: Prospects #12-15
October 13, 2014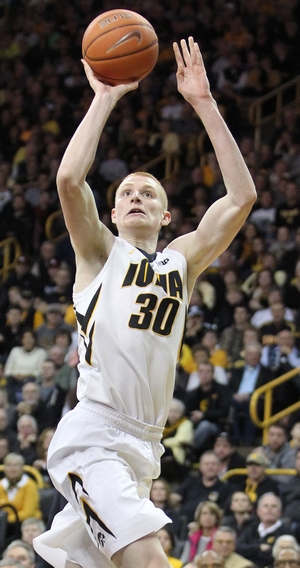 US Presswire



Jonathan Givony

Not very highly regarded coming out of high school, Aaron White has nevertheless been an All-Conference player since stepping foot on campus at Iowa, winning Big Ten All-Conference 3rd Team honors as a sophomore and junior after being named to the All-Freshman team after his debut campaign.

Showing a very unique style of play, White's offensive production has remained relatively steady over the past three years, scoring between 17.2 to 18.1 points per-40. While his usage rate has dropped off every year since he was a freshman, he's in turn established himself as one of the most efficient players in all of college basketball, posting a gaudy 66% True Shooting percentage, which would rate first overall among all returning college basketball players in our Top-100 prospect rankings.

Part of White's efficiency stems from his ability to score in transition, where he's one of the most prolific big men in the NCAA, getting out in the open floor almost three times per game, and scoring an outstanding 1.4 points per possession while shooting 73% from the field in these situations.

A very good athlete at 6-9, White runs the floor extremely well, sprinting the court with excellent speed and regularly beating opposing big men for easy baskets. He's also capable of grabbing a rebounding and igniting the break on his own, showing strong ball-handling skills and the ability to make good decisions.

Only three power forwards in our Top-100 rankings posted a positive assist to turnover ratio last year, and White would be the fourth if he was considered as such. He's a very creative and unselfish passer who can dish the ball off in a variety of situations, be it on post-entries, on drive and kicks, passing ahead in transition, or simply making a smart read within the flow of the offense.

In addition to giving him the freedom to grab a rebound and ignite the break, his coaching staff also uses him quite a bit from the high post area in the half-court, where he shows nice versatility. He can put the ball on the floor and create his own shot nicely, showing a solid first step, and gets to the free throw line at a strong clip, where he makes 80% of his attempts.

White doesn't need the ball in his hands to be very effective, as he does a great job moving off the ball and is a regular target for lob plays, using his mobility and the quickness in which he gets off his feet to play above the rim impressively. He finishes an excellent 62% of his attempts around the basket, part of the reason his 2-point percentages have always been extremely high, last season posting a career high 63% from inside the arc, which would rank third among all returning power forward prospects.

One area that White hasn't developed in as much as he may have needed to is as a jump-shooter. He made 17 3-pointers as a freshman, which left plenty of room for optimism, but only hit a career-low eight 3-pointers last season on just 26% accuracy, taking less than half the number of threes as he did the year before. Considering White's body type, it appears unlikely that he'd be able to find the same type of success inside the paint in the NBA as he does at the college level, which makes it imperative that he extend the range on his jump-shot. While he doesn't have bad shooting mechanics by any stretch, he only made 31% of his jumpers with his feet set last year, which is a number NBA scouts will want to see rise significantly in order to project him as a stretch power forward like he'll almost certainly need to be to carve out a niche in the League.

With that said, the biggest thing holding White back from being considered a better NBA prospect is his defense. He has a very frail frame that hasn't shown great improvement since arriving at Iowa, to go along with an unimpressive 6-9 wingspan (as measured at the Nike Skills Academy this summer).

White isn't strong enough to stop bigger and stronger power forwards from establishing deep post-position and backing him down, and struggles equally stepping away from the basket and trying to stay in front of versatile power forwards. White gets beaten off the bounce too frequently, having a difficult time getting in a low stance and moving his feet to contain dribble penetration. His awareness off the ball isn't great at the same time, as he gets lost in space too often and has a bad habit for gambling excessively for steals or biting on pump-fakes.

Iowa had one of the best (#5 KenPom) offenses in college basketball last season, but struggled badly trying to stop anyone on the other end of the floor (#120 KenPom), something White played no small role in unfortunately. At 222 pounds, with his short wingspan, it's not clear just how much upside he has defensively, so he'll have to do whatever he can to try and mask that with better intensity and focus moving forward.

On a similar note, White is just an average rebounder, with his 2.3 offensive rebounds per-40 minutes pace adjusted ranking third worst among the 16 returning power forwards in our Top-100 prospect rankings. His defensive rebounding rate was fairly poor in his first two years at Iowa, but improved quite a bit last season, from 5.2 to 6.7 per-40 pace adjusted, something scouts will continue to keep close tabs on.

Aaron White is clearly one of the best power forwards in college basketball this upcoming season, and has some very interesting characteristics that could make him a solid pro prospect as well in the eyes of many NBA scouts if he can iron out some of the weaker parts of his game. Showing better potential as a floor spacer and as an all-around defender will go a long way in helping him improve his cause, as will showing he can play a bigger role offensively in a winning situation while Iowa attempts to replace the production of Devyn Marble, who is now in the NBA.

[Read Full Article]

---
Top NBA Draft Prospects in the Big Ten, Part Five (#16-20)
September 15, 2012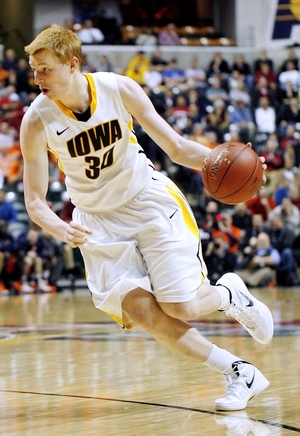 US Presswire



Derek Bodner

Not a highly touted recruit out of high school, Aaron White made the most of his freshman year at Iowa. White was named to the Big Ten All-Freshman team as he helped the Hawkeyes bounce back from 10 and 11 win seasons the previous two years to post an 18-17 season and make a short run in the NIT.

White started off the season fairly slow, averaging 7.4 points per game over his first 10 games. His conditioning looked to improve as the season went on and his play picked up accordingly, culminating in an NIT run where he averaged 23.5 points per game and 9.5 rebounds per game in 33 minutes.

White measures in at 6'8", which is undersized for a player who at this stage looks to project almost exclusively as a power forward. Showing a frame that should fill out in time, along with long arms, and intriguing fluidity and agility, White has some solid tools to work with from a physical standpoint. He runs the floor well and is able to finish with authority on the move, even though it looks like he would be well served to add some lower body strength to help him make better use of his talent on both ends of the floor.

White gets a good portion of his offense from hustle plays. He shows a consistently outstanding effort level on both ends of the court and gets rewarded by way of transition baskets, offensive rebounds, and cuts to the basket. White is relatively fast in transition and has good hands, making him a solid target to fill a lane on the fast break. He's a very active offensive rebounder, and is able to gather control of the ball quickly, wasting little time and chance for defenders to gather themselves.

White shows potential as a jump shooter, and his form out to 15-17 feet looks solid and consistent. It begins to break down the further away from the basket he gets, and he has had some trouble extending that out to collegiate three point range, shooting just 27.9% on the season from beyond the arc. Since nearly 75% of his jump shots have come from three point range according to Synergy Sports Technology, that has overall left him fairly inefficient as a jump shooter, but the potential is there if he is able to extend his range out a few more feet.

White looks comfortable putting the ball on the floor, particularly with his left hand. He has neither the first step nor the advanced ball handling moves to create much offense for himself in the half-court, but if his perimeter jump shot becomes more reliable he is able to put one or two dribbles together to make a defender pay for an over-aggressive close out.

As a finisher around the rim, White has solid touch and is good in open spaces, but at times struggles to finish through contact or over taller defenders. He also struggles to establish deep post position, and doesn't look all that comfortable on the block when he gets there. He does have a right handed hook that he uses successfully on occasion but would need to add some lower body strength to establish position to post-up with regularity, even at the collegiate level. With that said, he has a quick second bounce and is regularly able to play above the rim in the open court, so there is plenty of hope that he can continue to improve his scoring ability in the half-court as he continues to develop.

On the defensive side of the ball, White has some hurdles to overcome if he wants to see court time in the NBA. His overall technique looks solid and the effort is there, but he doesn't move his feet very well laterally and as such will struggle to defend face-up 4's against the pick and roll. His lack of lower body strength is once again readily evident when defending post-up players, and the combination of allowing deep position and not having the size to alter shots is a major concern when projecting him to the next level.

Aaron White exceeded expectations last year and has put himself on the map of NBA executives with his strong freshman season. If he can extend his range, and continue to improve his frame and overall skill-level, White can increase his role in the Hawkeyes offensive scheme and garner more consideration from decision makers at the next level. Right now he looks like a sure bet to develop into one of the more productive big men in the Big Ten conference in the next year or two, but it will take some more time to learn just how big his upside is long term.

[Read Full Article]

---