Matt Williams
Adam Hanga
is one of the lesser known international prospects in this draft. Playing his entire career in his native Hungary to this point, Hanga has garnered attention for his play with the Hungarian National Team and generated some buzz after showcasing his game in front of scouts at the EuroCamp a few weeks ago.
Standing a shade under 6'7 with a below average 6-7 ½ wingspan, Hanga has good height for a perimeter player at the NBA level, and matches it with impressive athleticism for a European prospect. He has very good straight-line speed, a quick first step, and adequate leaping ability. His sub-200 pound frame does not limit him in the Hungarian League, but will be an area of interest if and when he makes the transition to the NBA and begins matching up with stronger players defensively and take contact offensively.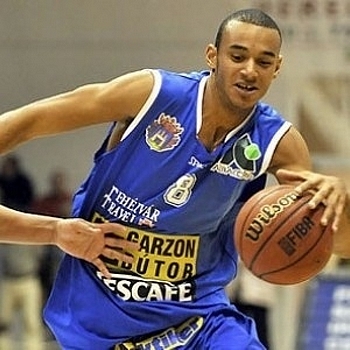 Hanga's physical tools made him a dominant figure in the Hungarian League, where he essentially gave Albacomp an additional import-level talent. Seldom facing an athlete up to his standards in domestic play, Hanga was at his best around the basket and out in transition since he could get to the rim essentially whenever he wanted to and turn on the jets and win a footrace in the open floor virtually at will. On top of that, he shows very nice touch in the paint, even knocking down an occasional high-arcing floater with the defense collapses around him.
Seldom needing to change directions with the ball when he drives into the paint in the Hungarian League, Hanga does not appear to be very shifty off the dribble. He does do a decent job changing gears as he breaks down his defender to slash to the rim, but likes to keep things fairly linear, something he may have to change when he faces off with more athletic defenders for the road. He'll also need to become more adept at drawing fouls and finishing through contact, as he struggles at times when challenged in the paint, and only averaged one free throw attempt for every 11 minutes he spent on the court.
Away from the basket, Hanga is capable of knocking down shots from beyond the arc, but lacks some consistency in his perimeter footwork and mechanics. His follow-through is consistent, but he will force some off-balance shots from time to time, varying his release and rhythm slightly when he has more or less time than expected out on the perimeter. His midrange game is still a work in progress at this point in his career, since up until this point, his level of competition hasn't required him to develop one.
When Hanga isn't looking to score, he does a nice job setting up his teammates in Hungarian League, but does not show a tremendous feel for the game against better competition. Though he's not a pure point guard by any stretch of the imagination, at 6'7, Hanga has some experience as a primary ball-handler. His ability to distort Hungarian defenses at will allows him to make easy passes to wide-open cutters and rack up assists, but when he can't simply turn the corner and draw an additional defender, he isn't a dynamic playmaker.
Defensively, Hanga has the quickness to be able to capably defend his position at the NBA-level, but hasn't faced off against too many NBA-caliber scorers in his career. His size and rangy stride makes him a factor in the passing lanes, and he shows very solid lateral quickness. If he continues improving his frame, he could have all the makings of a highly versatile defender down the road, although his lack of length does put him at a disadvantage.
At this point, the Hungarian swingman is not a surefire draft pick, but his situation is intriguing. He recently signed a multi-year deal with Assignia Manresa of the ACB, making a ready-made candidate for a team looking to draft-and-stash a prospect with their second round pick. On top of not having to bring him over immediately, any team picking him would get to monitor his ability to deal with the significant jump in competition he'll face next season, giving them a point of reference should they debate adding him to their roster.
A supremely high-usage player at the level he played it, Hanga likely would have been better served leaving his home nation a few years ago and gain experience as a roleplayer, as he's going to have to adjust to a different role while he's learning to play the game at a higher-level simultaneous, which will certainly be a challenge. Despite being 22 years old, Hanga is a largely untested talent, and even if he isn't selected, he's a player teams will be keeping an eye on him since his inexperience, coupled with his size and athleticism, give him a degree of upside they don't often see from automatically eligibly international players.