On day two in Treviso, the morning drill sessions were much more chippy and intense than day one and the stands filled up a whole lot faster. The buzz around the camp reached a fever pitch today, as the realization of the urgency involved in this three day setting began to set in.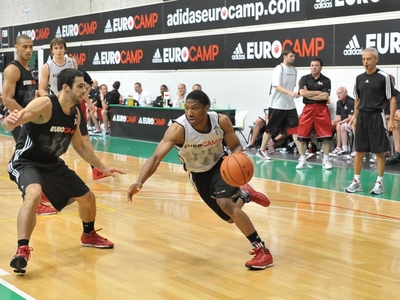 Not only did NBA star
Dwight Howard
make an appearance on behalf of adidas, but so did some prospects whose arrival was initially in doubt for various reasons.
adidas EuroCamp Report: Day One
Davis Bertans
and
Jonas Valanciunas
both arrived. Bertans, whose team, Union Olimpija, was eliminated in the Slovenian league playoffs last night, came to Treviso today to work out for talent evaluators and then play in the EuroCamp All-star game. Valanciunas landed from Vilnius, here only to interview with NBA teams.
Tomas Satoransky
yet again stood out, duplicating his performance from yesterday with an aggressive first half of the day and a fatigued second half. Satoransky looked absolutely fantastic in the first game of day two scoring 18 points on an uber-efficient 7/8 shooting.
He also added 6 rebounds and got onlookers talking about what a solid camp this is shaping up to be for him. In the final game of the day, the All-star game, Satoransky only mustered 4 points on 1/5 shooting, but that didn't dissuade anyone of his future as a legit NBA draft prospect, potentially a 2012 first round pick. He's been impressive enough thus far in the mornings to warrant a little rest in the afternoons.
We spoke with Satoransky about his performance at the adidas Eurocamp this year, as well as in 2009 and 2010, and what his thoughts are on potentially playing in the NBA at some point.
On day two, the hot shooters from day one cooled considerably.
Andreja Milutinovic
shot 2/14 from three on the day and Rasmus Larsen, who'd shot well in his limited opportunities, played 15 scoreless minutes missing his only two attempts. The youngest prospect in the camp finally looked his age, although many are still high on his long term upside.
David Jelinek
was stroking the ball really well today, finishing the late game with 16 points on 7/11 shooting. He had 14 points on 5/12 shooting in the early game sinking 50% of his 3s. It didn't matter if he had a hand in his face or if he was stepping back – the ball hit nothing but net on most makes.
The second game of the day was between the Serbia U19 team, who played yesterday, and the Croatia U19 team. This game actually captured the attention of all talent evaluators in the building despite being a blowout victory for Croatia. The reason being the outstanding opportunity to evaluate an entirely new crop of prospects that otherwise would have been extremely difficult to scout individually.
Mario Hezonja
stole the show with breathtaking athleticism and a silky smooth fluidity, elevating repeatedly around the rim for some explosive dunks, and knocking down shots from the perimeter. Many NBA people were calling him the best player at the camp at the ripe age of 16 (born 1995)—going up against players two and three years older than him. We had already had a chance to scout Hezonja in person on two opportunities this year in Charlotte at the Jordan Brand Classic and at the Nike International Junior Tournament in Barcelona, and we could only nod our heads in agreement as scouts praised his precocious talent.
Meanwhile, Boris Barac – the brother of former NBAer and current Spanish ACB league player
Stanko Barac
– a 6'9" 1992er, could not miss. From three-point land Barac went 6/6 for a whopping 32 points. That is easily the most a player has scored in any running clock game in this camp to date. Barac went 13/19 overall and also nabbed 5 boards. Needless to say, he acquainted himself quite well with the NBA scouts in attendance. We'll need to see today if his performance was an accurate reflection of talent-level or just a game for the ages.
Dogus Balbay
and
Adam Hanga
were two other EuroCampers that left feeling good about themselves today.
Scouts love Balbay's energy-level, defensive effort and enthusiasm, and all mentioned how good of a teammate he was cheering on his fellow campers from the bench. He may not have swayed the tide on his NBA prospects just yet, but surely made himself some money with all the high-level European executives that were in attendance. To take the next step in his career, Balbay will need to become a better shooter and all-around scorer, but his performance here in Treviso was very positive.
Hanga has a great body and a solid motor. He had 16 points in both the earlier game and the All-star games and showed a propensity for getting to the free throw line consistently, something he struggled to do earlier in his career. In the early game he also grabbed 4 steals. His defense was solid throughout the day.

Standing 6-6 without shoes, albeit with a mediocre 6-7 wingspan, Hanga has very good size and athleticism for a wing player, along with nice versatility. He still appears to have upside despite being NBA draft-eligible this year, and could be a player a team decides to roll the dice on somewhere in the second round to see how he develops over the next few years in Europe. He recently signed a multi-year contract with Manresa in the ACB, so he'll be a great position to garner experience against very high-level competition.
Some surprises of the camp? Today was the day of the big man.
Augusto Cesar Lima
, who came in here with plenty of hype but had been having a very underwhelming camp, blew up in the All-star game in the evening producing on both ends with a stat line reading 20 points on 8/8 shooting, 12 rebounds, 6 steals and 2 blocks. Throughout the game, Lima showed quick hands and a knack for finishing on the put-back. His body, length and athleticism put him in a different class of prospect compared with most big men here in Treviso, and the fact that he saw solid playing time in the ACB this year has obviously helped him a great deal. Lima's feel for the game, skill-level and occasionally his motor leaves something to be desired at times, but he's capable of making a significant impact on the game when dialed in thanks to his outstanding physical tools. We'll see how he continues to produce in day three.
Although the box score doesn't quite reflect it,
Sarra Camara
's play throughout the day was much more consistent than Lima's. Camara showed legit NBA physical tools and did a great job today despite the rough season he had playing in France this year. Camara was active, played within himself and finished with his own double-double of 15 points on 7/9 shooting, 10 boards and 2 blocks. In the earlier game, Camara had 9 points, 7 rebounds and 1 block.
At 6-9, with a 7-1 wingspan and solid athleticism, Camara looks the part of an NBA power forward, even if his skill-level is still catching up with the rest of his game.
Camara had been showing adeptness at rebounding and blocking shots since the start of camp, but in the All-star game he scored on put-backs and basket cuts alike. It was a very positive sign for him since he is so good on the offensive glass – if he could convert those into points that would make his value skyrocket.
As we mentioned earlier,
Davis Bertans
appeared today in Treviso after a tough playoff loss last night.
In the afternoon, he worked out for the evaluators at the camp and it was by far the best workout the camp saw. If you'll recall, Biyombo and Monteijunas worked out yesterday and struggled badly. Monteijunas will work out again on day three.
Kenny Atkinson of the New York Knicks ran the workout and you could tell the difference in format when the workout was run by an experienced NBA assistant coach alongside other players, as opposed to the other one-on-zero settings that so ill-suited the players.
Atkinson ran Bertans, his brother
Dairis Bertans
and
Janis Strelnieks
through drills exhibiting Bertans' impressive size, skill-level and athleticism. He looked very agile running the court for a 6-10 player and showed a very smooth jumper. He also dunked with ease, his wrist appearing well above the rim when he flushed the ball.
All-in-all, Bertans left talent evaluators giddy for the evening All-star game as word was spreading he would play.
Alas, he did play and he looked rather pedestrian in the five-on-five setting. He finished with 7 points on a paltry 3/13 shooting display that included a missed dunk and having gotten blocked twice. He also had a couple unsightly turnovers.
When all is said and done Bertans probably broke even today. He's one of the youngest prospects at the camp at age 18 and clearly one of the most talented. Unless he finds a NBA team that will guarantee selecting him in the first round by the early-entry pullout deadline (4:59 EST, June 13th) he will withdraw his name from the draft and try again next year or beyond.
Considering the excellent situation he's in in Slovenia, and the fact that he'll be playing with the Latvian U-19 national team in the World Championships in his hometown of Riga this July, Bertans is right not to be in any rush to stay in the draft unless he finds a perfect situation for his long-term development.
In the same vein, Lucas "Bebe" Nogueira sat out today's game action, due to a minor injury that he wanted to make sure heals before joining the Brazilian national team. Most NBA teams in the gym are assuming that Nogueira has decided to withdraw from the draft, although a member of his agency, Aylton Tesch, told us on the morning of the 13th that "no final decision has been made."
Tomorrow will reveal some answers to the questions swirling around the camp at the moment and there's sure to be a lot more intrigue on the horizon, so stay tuned here at DraftExpress.com and we'll keep you up on the latest from Treviso.