Derek Bodner
Adonys Henriquez established himself early on for UCF, starting from day one of his freshman season—likely part of the reason he decided to commit to the hometown team to begin with. While Henriquez struggled with consistency throughout the year, he established himself as one of the best shooters in the conference, connecting on 39.4% of his 165 three point attempts during his freshman season.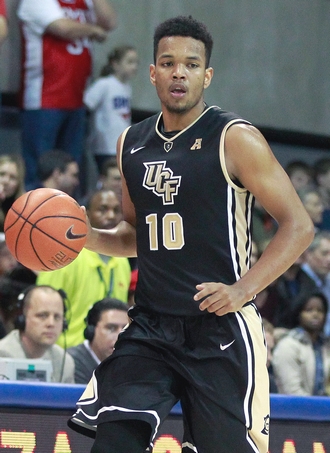 That perimeter shot is the basis of standing as a prospect, and it's a very legitimate weapon in his arsenal. Henriquez is particularly proficient off the catch, where he connected on 42.2% of his catch and shoot opportunities. He was able to generate 1.243 points per possession in these situations, which ranked in the top 15% of college basketball, according to Synergy Sports Technology. This was particularly impressive because Henriquez rarely got a ton of space on the perimeter, as UCF was overmatched offensively on most nights and lacked high-level shot creators to generate open looks.
Henriquez has picture-perfect form on his jumper, with a short, compact shooting motion, excellent follow through, and minimal extra motion. Most importantly, Henriquez can repeat his mechanics to a T attempt after attempt, yielding impressively consistent results. Henriquez also gets excellent elevation on his shot, and possesses NBA three point range right now. Shot Analytics logged 50 attempts for Henriquez last season that were at least 25 feet in length, and he connected on an impressive 42% of those attempts.
Henriquez has similarly excellent form and footwork when shooting off screens, although he didn't do this with nearly the same frequency that he did when stationed in the corner. Still, this is an area of his game that you expect he could utilize more down the line, and something that could become a real staple of his game down the road.
Henriquez also shows some ability to shoot off the pick and roll, although bouts of inconsistency can creep up here and there. If anything, he's likely held back here by his limited threat as a slasher, as defenders can overplay his shot and limit his opportunities. Henriquez's ball handling is underdeveloped at this stage of his career, and he doesn't possess an incredible burst when turning the corner.
The same limitations come into play when Henriquez attempts to create off the dribble in isolation situations, as he doesn't have the first step to blow by his man with regularity, and lacks the advanced ball handling moves to counter that with pure creativity and misdirection. At this point, the majority of his attempts at the rim come off cuts to the basket or when attacking closeouts. When Henriquez does get into the paint, he has pretty good body control and touch around the rim, but he's held back by average explosive ability around the hoop, and doesn't look to have full confidence finishing with his off hand.
On the defensive side of the court, Henriquez has good length for his position, measured at 6'7" (although listed at 6'6" by UCF) in shoes and with a 6'9" wingspan. He moves his feet relatively well on the perimeter, although he can get caught upright and off balance at times. He also tends to close out a little bit too aggressively, giving his man a clear lane to the basket.
Henriquez doesn't tend to make much of an impact in other areas, as he averaged only 2.8 rebounds, 0.7 assists, and 0.2 blocks per 40 minutes, pace adjusted. In all, while Henriquez has some tools to develop into a passable defender, he's not yet realized that potential with consistent production on that end of the court.
Adonys Henriquez has a very legitimate NBA skill in his three point shot, with a quick release and deep NBA three point range which has a definite impact on spreading out a defense. Without elite level athleticism, Henriquez is going to have to live in the margins and round out the rest of his game to really make the most of his ability, as right now he struggles to make an impact when his shot isn't falling. If Henriquez can improve in some of these areas, such as improving his ball handling and becoming a better, more consistent defender, he could garner serious attention from pro scouts down the line.