We conclude our coverage on the top NBA draft prospects in the AAC with part two, players ranked 6-10:
Dedric Lawson
,
Steve Enoch
,
Adonys Henriquez
,
B.J. Tyson
and
Shaquille Harrison
.
---
More DX Conference Preseason Previews:
-The Top 20 NBA Draft Prospects in the Pac-12
-The Top 20 NBA Draft Prospects in the Big East
-The Top 15 NBA Draft Prospects in the Big 12
-The Top 20 NBA Draft Prospects in the SEC
---
Top NBA Draft Prospects in the AAC, Part One
(#1) Amida Brimah
(#2) Jalen Adams
(#3) Troy Caupain
(#4) Daniel Hamilton
(#5) Octavius Ellis
---
#6, Dedric Lawson, 6-8, SF/PF, Freshman, Memphis
Without the benefit of extensive high school footage, we prefer to wait and see how Lawson performs as a freshman before adding to his DraftExpress profile.
#7, Steve Enoch, 6-10, PF/C, Freshman, UConn
Without the benefit of extensive high school footage, we prefer to wait and see how Enoch performs as a freshman before adding to his DraftExpress profile.
#8, Adonys Henriquez, 6'7", Sophomore, SG/SF, UCF
Derek Bodner
Adonys Henriquez established himself early on for UCF, starting from day one of his freshman season—likely part of the reason he decided to commit to the hometown team to begin with. While Henriquez struggled with consistency throughout the year, he established himself as one of the best shooters in the conference, connecting on 39.4% of his 165 three point attempts during his freshman season.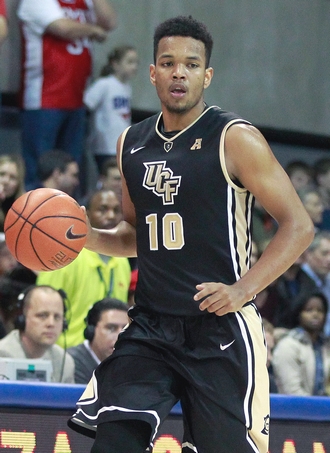 That perimeter shot is the basis of standing as a prospect, and it's a very legitimate weapon in his arsenal. Henriquez is particularly proficient off the catch, where he connected on 42.2% of his catch and shoot opportunities. He was able to generate 1.243 points per possession in these situations, which ranked in the top 15% of college basketball, according to Synergy Sports Technology. This was particularly impressive because Henriquez rarely got a ton of space on the perimeter, as UCF was overmatched offensively on most nights and lacked high-level shot creators to generate open looks.
Henriquez has picture-perfect form on his jumper, with a short, compact shooting motion, excellent follow through, and minimal extra motion. Most importantly, Henriquez can repeat his mechanics to a T attempt after attempt, yielding impressively consistent results. Henriquez also gets excellent elevation on his shot, and possesses NBA three point range right now. Shot Analytics logged 50 attempts for Henriquez last season that were at least 25 feet in length, and he connected on an impressive 42% of those attempts.
Henriquez has similarly excellent form and footwork when shooting off screens, although he didn't do this with nearly the same frequency that he did when stationed in the corner. Still, this is an area of his game that you expect he could utilize more down the line, and something that could become a real staple of his game down the road.
Henriquez also shows some ability to shoot off the pick and roll, although bouts of inconsistency can creep up here and there. If anything, he's likely held back here by his limited threat as a slasher, as defenders can overplay his shot and limit his opportunities. Henriquez's ball handling is underdeveloped at this stage of his career, and he doesn't possess an incredible burst when turning the corner.
The same limitations come into play when Henriquez attempts to create off the dribble in isolation situations, as he doesn't have the first step to blow by his man with regularity, and lacks the advanced ball handling moves to counter that with pure creativity and misdirection. At this point, the majority of his attempts at the rim come off cuts to the basket or when attacking closeouts. When Henriquez does get into the paint, he has pretty good body control and touch around the rim, but he's held back by average explosive ability around the hoop, and doesn't look to have full confidence finishing with his off hand.
On the defensive side of the court, Henriquez has good length for his position, measured at 6'7" (although listed at 6'6" by UCF) in shoes and with a 6'9" wingspan. He moves his feet relatively well on the perimeter, although he can get caught upright and off balance at times. He also tends to close out a little bit too aggressively, giving his man a clear lane to the basket.
Henriquez doesn't tend to make much of an impact in other areas, as he averaged only 2.8 rebounds, 0.7 assists, and 0.2 blocks per 40 minutes, pace adjusted. In all, while Henriquez has some tools to develop into a passable defender, he's not yet realized that potential with consistent production on that end of the court.
Adonys Henriquez has a very legitimate NBA skill in his three point shot, with a quick release and deep NBA three point range which has a definite impact on spreading out a defense. Without elite level athleticism, Henriquez is going to have to live in the margins and round out the rest of his game to really make the most of his ability, as right now he struggles to make an impact when his shot isn't falling. If Henriquez can improve in some of these areas, such as improving his ball handling and becoming a better, more consistent defender, he could garner serious attention from pro scouts down the line.
#9, B.J. Tyson, 6-3, PG/SG, Sophomore, East Carolina
Jacob Eisenberg
After moving from Conference USA to the AAC in 2014, the East Carolina Pirates struggled with the jump in competition. One bright spot in an otherwise forgettable 14-19 campaign came in the form of freshman combo guard B.J. Tyson, who led the team in points, field goal percentage and free throw attempts.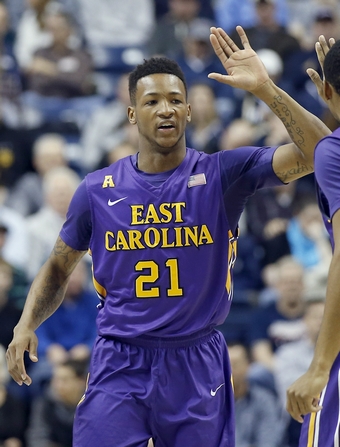 Offensively, Tyson is a gifted scorer. Despite not starting a single game as a freshman, Tyson led his team in total points (12.5 per game) and carried the Pirates with an impressive 19.9 points per 40 minutes, which ranked sixth best among all freshman prospects. Tyson is a deceptive lefty with advanced ball handling skills and phenomenal footwork, both of which enable him to get to the rim at ease.
Tyson has a quick first step and shows dexterity with both hands around the basket. In general, he's at his best when he puts the ball on the ground and drives to the hoop. Tyson averaged 7.7 free throws per 40 minutes as a freshman, third best among all freshman prospects, and converted on 71.4% of his attempts once there.
While Tyson gets into the paint frequently– whether off the dribble or playing off ball – he's not the most efficient scorer once he's there. Per Synergy Sports Technology, Tyson converted on 55-of-128 (42.9%) of his shots inside the paint as a freshman. His ability to get to the free throw line nullifies this concern somewhat, but that won't be easy to do against higher level competition, so improving his finishing ability will be something scouts want to see him do as he matures and gains experience.
Outside of the paint, Tyson's offense is somewhat limited. He is a work-in-progress from the perimeter, hitting on just 19-of-59 (32.2%) of his three pointers as a freshman. When defenders are near, his slow release forces him to rush and release low-arcing line drives. Tyson also has a bad habit of attempting jump shots from just within the three-point line, which are generally not very efficient looks even for the most gifted of scorers. With time and space, however, Tyson has a nice arc on his shot and actually looks capable of becoming a consistent floor spacer if he can ever speed up his release (Tyson hit 40% of his 15 unguarded catch-and-shoot jump shot attempts last season). He also shows promise as an off the dribble shooter, which is something that can be honed into a more polished weapon as he continues to see more offense playing on the ball.
For that to happen, Tyson's court awareness will need to improve, especially since right now he's essentially a combo guard trapped in a point guard's body. He averaged just 2.3 assists per 40 minutes, and posted a -2.71 pure point ratio as a freshman. While he's a bullet in the open floor and converted on a strong 64.8% (46-of-71) of his transition opportunities, he showed tunnel vision on the break and would surely benefit from developing his instincts as a floor general.
It's somewhat difficult to evaluate Tyson's defense at this point, considering East Carolina's dedication to the zone. To his credit, Tyson does have an active crouch when he is tasked with defending on ball and has the speed and quickness to stay in front of his opponent. Tyson's closeout speed on shooters is adequate, but he did appear confused or lost with where his responsibilities lied within the zone at times, and he did not force a huge amount of turnovers either at just 1.1 steals per-40.
Tyson will catch NBA teams' radars because his scoring instincts and ability to get to the free throw line. He still has a lot of work to do to improve his all-around offensive game. As a sophomore, he'll need to demonstrate a better court awareness by increasing his assists while lowering his turnovers. Most importantly, however, Tyson has to show improvements with his perimeter shot. Regardless, with a year of experience under his belt, he should take a big leap as a sophomore.
#10, Shaquille Harrison, 6-4, Senior, PG/SG, Tulsa
Josh Riddell
A three year starter at Tulsa despite being an unheralded recruit coming out of high school, Shaquille Harrison has been an integral part of a Hurricanes squad that has made a postseason tournament in all three of his seasons. Now a senior, Harrison will look to lead the team back to the NCAA tournament, while raising his NBA draft stock in the process.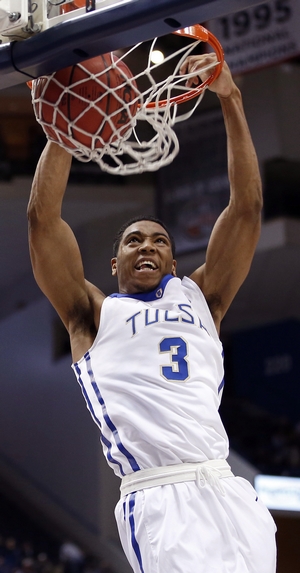 Harrison was a high-usage player, using 28% of his team's possessions in conference play, but was just average from an efficiency standpoint with a true shooting percentage of 50%. He's a productive player at 16.5 points, 6.5 rebounds and 4.7 assists per 40 minutes pace adjusted as he is asked to do a lot of things on the floor for his team.
At 6'4", Harrison has nice size for a combo guard, although his overall package of athletic tools aren't overwhelmingly impressive. He has long arms, but a very skinny frame at around 190 pounds. He will need to improve his overall strength level to compete with NBA players and hold up over an 82 game season. He has above average speed and explosiveness that allows him to make nice plays in transition or above the rim at times, but doesn't dominate opponents in the AAC athletically.
The majority of his possessions come out of pick and rolls, and if he can improve as a facilitator, NBA teams will get a clearer picture of how he fits into their offense. He is a crafty slasher who can turn the corner off the screen and get to the rim with nice timing and footwork, but doesn't always have the quickness or advanced ball-handling skills needed to shed his defender, which leads to contested shots in the paint. This is true of isolation situations as well, as he just doesn't have the dribbling skills at this point to navigate through traffic for a clean look. Harrison took the 17th most shots of any players in college basketball at the rim, according to Synergy Sports Technology, but made just 48.6% of these attempts. With his smaller frame, he will have to develop better touch on his floater to score consistently over the defense once he gets into the paint.
Harrison isn't yet a great creator out of ball screens, and while he displays vision to find his open teammates, he doesn't deliver accurate passes to put them in position to score. This leads to a pure point rating of 0.18,
one of the lowest among AAC point guards last season
. In such a high usage role, his shot selection can suffer as much of the offensive burden is placed on him, so if he can improve as a distributor, it will help both Tulsa's offense and his draft stock.
Harrison can also play off the ball, as he can run off screens and drive at open space after ball movement, but the fact that he isn't a great shooter and doesn't have great size limits his potential to play alongside another point guard. He has shot just 22.5% on three point attempts for his career, and while his form isn't completely broken, he will need a major overhaul and a confidence injection to become a more consistent shooter. At this point in his career, he is more comfortable with the ball in his hands, but will need to show better potential as a playmaker to be trusted to run a NBA offense.
On the defensive side, Harrison has some potential to be a pest, but may struggle to be a lockdown defender. He moves well laterally to stay in front of dribble penetration and harasses the ball handler. This combined with his wingspan and ability to jump passing lanes leads to an impressive 2.5 steals per 40 minutes pace adjusted.
He does need to improve on some defensive principles, as he struggles with tunnel vision when guarding the ball, which causes him to run into screens, taking him out of the play. He gambles a little too much for steals, finding himself out of position on his own man or to rotate to help his teammates and doesn't appear to have a high basketball IQ.
Harrison has some potential to be a microwave scorer off the bench but will need to show some improvements in his senior season to be recognized as a viable draft prospect. On a veteran Tulsa team, with the top seven contributors entering their senior season, Harrison will have to show he can run the offense efficiently and balance his own scoring while getting his teammates involved. Harrison will be one of the best scorers in the AAC and rounding out his playmaking skills and perimeter shooting ability could help put him on the NBA map.