2008 Albert Schweitzer Tournament: Watered Down Mannheim
April 2, 2008
Andreas Person officiated as the go-to player for the Swedish team, despite being a 1991-born player. A pretty athletic 6-2 point guard, Person flows on the court making everything look easy. He's an elegant player, easy going, indeed a bit cold playing the game. A nice ball-handler, he can beat his opponents off the dribble on a regular basis going both ways and get to the basket showing very nice footwork and body control in the air, using both hands around the rim and being even able to finish through contact. Not a very prolific shooter, he looks inconsistent from the three-point line.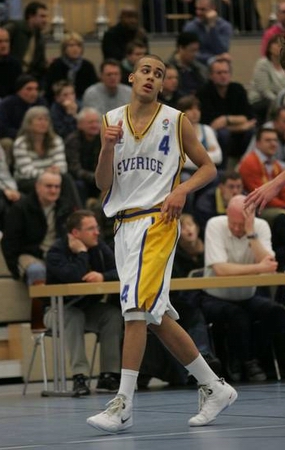 Photo: AST.Basketball.de
Person can find open teammates, especially off slashing plays, but he didn't look like much of a distributor. Indeed he would often just take the ball up-court, pass it to a wing player and forget about the play. From time to time he would also over-dribble with no clear purpose in his actions. Actually, his decision making looks questionable, and you would like to see more leadership out of him while playing the game. He doesn't seem to care about defense at all, and ended up raising flags about his character and competitiveness.
[
Read Full Article
]
adidas Nations Basketball Experience Notebook (Day 3+4), Part Two
August 8, 2007
Bearing a resemblance to Tony Parker, it was easy to see where that comparison came from early on in the camp. Thatís not really a fair association, though, not to the 6-2 Swedish 16-year old from Sallen BasketóAndreas Person--and definitely not to the French NBA Finals MVP from San Antonio.

There are some reasons to be intrigued by Personís potential, though, even if his development could still go in many different directions at this point. Heís a quick guy with good instincts on the offensive end, a nice pullup jumper he can go to from mid-range, and a pretty little floater he likes to use in the lane. He likes to push the ball up the floor and can beat guys off the dribble with a solid first step, and plays the pick and roll pretty well. Physically he still needs to mature, and his shooting mechanics donít extend very far beyond 18 feet before they start getting shaky. His point guard skills are still a work in progress as well, but heís extremely young and still has plenty of time to work on this part of his game. Weíll keep monitoring his progress over the next few years.
[
Read Full Article
]