Scouting the Draft-Eligible International Prospects (Part Two)
May 17, 2012
Matt Kamalsky

After a breakout season with Paris-Levallois and declaring for the 2011 NBA Draft, Andrew Alibcy returned to France to play in Pro A and the EuroCup for BCM Gravelines Dunkerque this season. Facing stronger competition, Albicy has continued his solid play, but has also shown more defined strengths and weaknesses and areas of improvement in his second season as a starting point guard at the professional level.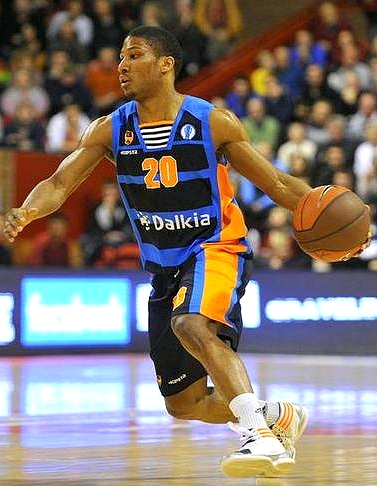 Zuma
Those strengths and weaknesses remain rooted in his lack of size. Measured just 5-9 without shoes at the adidas EuroCamp, Albicy has nice lateral quickness and can keep defenders honest with his ability to change gears in the half-court, but lacks the incredible blow by quickness you expect from a NBA prospect at his size and is not a terribly explosive leaper.
Last season, Albicy found the touch on his floater down the stretch, and his improvement inside the arc has continued this season. Able to turn the corner on the pick and roll and get into the paint, Albicy can finish plays from the mid-post with a crafty teardrop, sometimes showing good body control double-pumping to keep defenders off balance and making circus shots in impressive fashion. He still struggles to score over rotating big men and gets out of control at times, but is better taking advantage of his opportunities inside the arc, shooting 54.9% from two-point range after shooting just 44.1% last season.
Another reason Albicy has improved his shooting percentage inside the arc stems from a shift in his shot selection. Seldom taking the contested, off-balance, dribble 17-footers he so often attempted last season, Albicy prefers to simply pull up from beyond the arc in a pinch. Though this has hurt his shooting from deep on the whole, Albicy is still making 42% of his catch and shoot jump shots according to Synergy Sports Technology (as opposed to 30% off the dribble), even if his size hurts his ability to create good looks for himself from the perimeter late in the shot clock or when defenders do a good job staying in front of him.
As a passer, Albicy is at his best running the pick and roll out on the perimeter and using his speed to create angles for himself to find cutters from the outside in. He shows impressive court vision with the way he attacks the defense with his passing rather than his dribble and generally wreaks all sorts of havoc with his ability to make defenses rotate.
As we noted in our last report, Albicy struggles when he tries to create for his teammates from the inside out. When big men make effective rotations to meet his dribble penetration, his lack of size makes it difficult for him to get the ball back out to the perimeter. Albicy attempts to compensate by making and looking for any opening to get the ball back out to the perimeter, but his inability to deal with collapsing defenses is the main reason his assist to turnover ratio has dipped from 2.1 to 1.6 this season.
Albicy's biggest contributions at this level of competition often come on the defensive end, where his lateral speed, quick hands, and consistent intensity are an issue for opposing ball-handlers. Often getting a tip and stealing the ball only after making a second and third effort to pick his man's pocket, Albicy creates turnovers and takes the ball coast to coast at an impressive rate. His size limits his ability to contest shots and fight through screens, but his ability to apply pressure in the backcourt is a significant plus.
Playing seven games for the French Senior National Team at Eurobasket 2011, and leading the best team in Pro A this season, Albicy is a promising international prospect thanks to his defensive prowess, catch and shoot ability, and knack for finding the open man. The development of his floaters has alleviated his struggles from the midrange to some degree, but Albicy still has room to grow on the offensive end as a shooter and decision maker. Automatically eligible for the 2012 NBA Draft, the Sevres native is one of the more interesting point guards among this year's crop of international prospects, even if he might need to have a better adidas EuroCamp showing than he did last June to boost his stock solidly into the second round.
[
Read Full Article
]
European Roundup: Kulagin Coming On In Russia
January 7, 2011
Matt Kamalsky

Generously listed at 5'10, Andrew Albicy was a catalyst for France's U20 European Championship run. The diminutive lead guard did a fine job orchestrating his team's office, and even saw some action playing for the French Senior National Team in this year's World Championships in Istanbul. After declaring himself eligible for last season's NBA draft before withdrawing, Albicy has had a breakout year of sorts in Pro A, showing a mature game, but still faces an uphill battle to legitimize his draft stock.

A solid passer and shooter, Alciby's size is easily his biggest drawback as a prospect. He has solid speed and quickness, but isn't a blur or quite on the same level as the likes of Earl Boykins and Nate Robinson, raising some questions about his potential to play in the NBA. He's already making waves in France this season for Paris-Levallois, averaging 11 points and 4 assists per- contest, but he's also starting to deal with the obstacles associated with being an undersized point guard in the professional game.

Albicy is shooting a mediocre 40.2% from the field this season, but converts an incredibly poor 31.7% of his attempts from inside the arc. Struggling badly to finish around the rim, looking a bit off of control at times, and lacking the consistent tear-drops and floaters that would allow him to produce amongst the trees, Alibcy has compensated by shooting the lights out from beyond the arc, getting to the line at a nice rate in LNB play, and doing his best not to venture inside too frequently. Quick enough to create some separation off the dribble; Albicy struggles to use that to create easy shots for himself on the professional level.

A somewhat streaky catch and shoot threat, Albicy gets great elevation on his jumper and has a quick release, allowing him to get it off regularly despite his size. He has a very nice pull-up jumper too, even though his shot selection leaves a bit to be desired at times. Capable of much more in terms of scoring efficiency, Alibicy's ability to crack down on his forced attempts from just inside the arc and become more versatile in the lane will be key to his development and the impact he can make in the European game.

As a point guard, Albicy does a nice job controlling the tempo of the game, won't compound his mistakes, posts a good assist-to-turnover ratio for a young player (2.22), and doesn't hesitate to pull the ball out to reset his team's offense if he doesn't like what he sees. A fairly heady passer, Albicy does a nice job threading the needle through traffic from time to time, but his size hurts his ability to pass out of traffic and he is more of a steady facilitator than a dominant playmaker.

Defensively, Albicy is capable of applying ball pressure the length of the floor and creating easy opportunities for himself with his quick hands. Clearly limited in his ability to contest shots, Albicy is a scrappy defender, but is susceptible to bigger guards in the post and midrange and would likely be deemed a liability at the NBA level.

Though Albicy is undersized, his talent shouldn't be understated. Competing for the French National Team at the tender age of 20 is a tremendous step that few prospects get the chance to make. His game may not be tailored to success on the NBA level due to his lack of size, but he is a mature player for his age and will be productive on a high level for a long time.
[
Read Full Article
]