Our second article taking a look at this year's crop of draft-eligible international prospects continues with
Kostas Papanikolaou
,
Andrew Albicy
and
Tomislav Zubcic
.
-
Scouting the Draft-Eligible International Prospects (Part One) Nihad Djedovic, Leon Radosevic, David Jelinek
Kostas Papanikolaou, 6'8, Small Forward, Olympiakos
Matt Williams
A productive role-player for the
Greek National team
and European powerhouse Olympiakos,
Kostas Papanikolaou
has been a steady contributor at the EuroLeague level for two years. After a tremendous showing this past week at the Euroleague Final Four in Istanbul, making all five of his 3-pointers and scoring a Euroleague career-high 18 points in the championship game victory, Papanikolaou's stock has risen to the point that it wouldn't be surprising at all to see a team take a shot on him in the second round on draft night.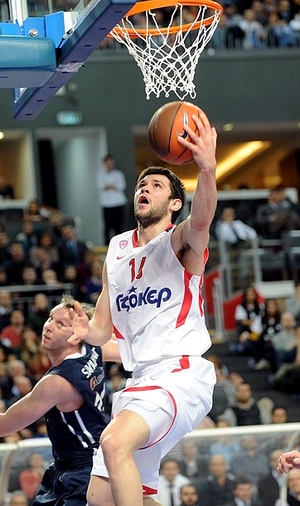 An average athlete with an excellent feel for the game, good fundamentals, and terrific maturity, Papanikolaou's profile may not jump off the page on first glance, but his size, defensive prowess, experience and productivity at the highest levels of European basketball make him one of the most intriguing 1990-born international prospects automatically eligible for the 2012 NBA Draft.
Standing 6'8 with a solid frame, Papanikolaou has excellent size for a NBA small forward, though he sees time at both forward spots for the Euroleague champions Olympiacos. He runs the floor with purpose, and is able to play above the rim when he has a head of steam, but is otherwise an average athlete. He isn't explosive from a stand-still and his limited agility makes it difficult for him to create his own shot in one-on-one situations, but his non-stop motor and willingness to initiate contact allow him to make some plays by virtue of his physical tools in the European game.
On the offensive end, Papanikolaou spends most of his time out on the perimeter, even if quite a few of his possessions end at the rim as a result of his off-ball movement. Not a terribly assertive scorer, Papanikolaou functions as a complementary player, seldom forcing the issue and making smart reads playing off his teammates. He's turned the ball over just 30 times so far this year in nearly 1000 minutes, about once for every 40 Euroleague minutes he plays.
Nearly half of Papanikolaou's touches come in spot-up situations according to Synergy Sports Technology, and the lefty has been a sporadic catch and shoot player in recent seasons. He is the definition of a rhythm shooter, seldom making a contested shot or a long jumper that he doesn't simply step into, but he's knocked down 39% of his catch and shoot jumpers this season. Showing a quick release and solid shooting mechanics, he's been a little streaky at times this year, making just 34% of his 3-pointers on the season. Considering how heavily his contributions offensively revolve around this part of his game, he'll need to continue improving his consistency to reach his full potential in the European game or otherwise, but his showing this past weekend at the Final Four was clearly a major and very visible step forward.
Apart from his touches as a spot-up shooter, most of Papanikolaou's shots come right at the rim. He isn't adept at creating his own shot, and is only a decent ball-handler, even if he does occasionally push the ball up the floor himself or beat his man and get to the rim with a straight-line drive. Extremely active off the ball, Papanikolaou proves to be a capable finisher at the rim, using his body well and showing good touch. He struggles to finish over and around athletic shot-blockers, but gets the job done in the paint at this level with timing and smarts, converting 60% of his field goal attempts inside the arc.
Defensively, Papanikolaou is rock solid at the Euroleague level. By no means is he a lock down defender, but he competes every possession, always boxes out, makes some plays in the passing lanes thanks to his anticipation, and does a terrific job pestering his man off the ball. Spending time defending both forward spots, Papaniolaou is better suited to defend the three, as his lack of size and tremendous physical strength can be a challenge for him in the post. His average lateral quickness may render him slightly less effective at the NBA level, but his fundamentals and basketball IQ would surely help him hold his own against better athletes. He's also a solid rebounder, particularly on the offensive end due to his activity level.
One of the most mature and polished players in this year's group of automatically eligible international prospects, Papanikolaou is by no means a glamorous player. He may not be an aggressive enough scorer for certain NBA coaches, but his size, defensive prowess, ability to accept and fill an important role, knack for playing low-mistake basketball, and reputation as a winner at every level he's played at make him one of the most intriguing role-playing prospects available in the second round.
Andrew Albicy, 5'10, Point Guard, BCM Gravelines Dunkerque
Matt Williams
After a breakout season with Paris-Levallois and declaring for the 2011 NBA Draft, Andrew Alibcy returned to France to play in Pro A and the EuroCup for BCM Gravelines Dunkerque this season. Facing stronger competition, Albicy has continued his solid play, but has also shown more defined strengths and weaknesses and areas of improvement in his second season as a starting point guard at the professional level.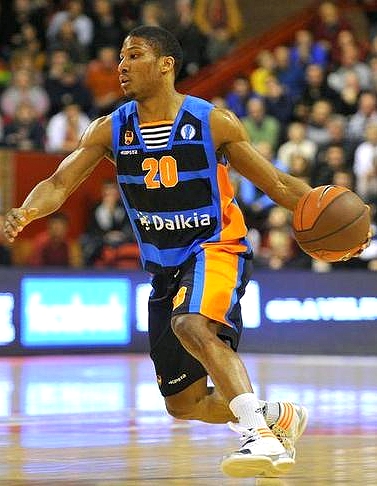 Those strengths and weaknesses remain rooted in his lack of size. Measured just 5-9 without shoes at the adidas EuroCamp, Albicy has nice lateral quickness and can keep defenders honest with his ability to change gears in the half-court, but lacks the incredible blow by quickness you expect from a NBA prospect at his size and is not a terribly explosive leaper.
Last season, Albicy found the touch on his floater down the stretch, and his improvement inside the arc has continued this season. Able to turn the corner on the pick and roll and get into the paint, Albicy can finish plays from the mid-post with a crafty teardrop, sometimes showing good body control double-pumping to keep defenders off balance and making circus shots in impressive fashion. He still struggles to score over rotating big men and gets out of control at times, but is better taking advantage of his opportunities inside the arc, shooting 54.9% from two-point range after shooting just 44.1% last season.
Another reason Albicy has improved his shooting percentage inside the arc stems from a shift in his shot selection. Seldom taking the contested, off-balance, dribble 17-footers he so often attempted last season, Albicy prefers to simply pull up from beyond the arc in a pinch. Though this has hurt his shooting from deep on the whole, Albicy is still making 42% of his catch and shoot jump shots according to Synergy Sports Technology (as opposed to 30% off the dribble), even if his size hurts his ability to create good looks for himself from the perimeter late in the shot clock or when defenders do a good job staying in front of him.
As a passer, Albicy is at his best running the pick and roll out on the perimeter and using his speed to create angles for himself to find cutters from the outside in. He shows impressive court vision with the way he attacks the defense with his passing rather than his dribble and generally wreaks all sorts of havoc with his ability to make defenses rotate.
As we noted in our last report, Albicy struggles when he tries to create for his teammates from the inside out. When big men make effective rotations to meet his dribble penetration, his lack of size makes it difficult for him to get the ball back out to the perimeter. Albicy attempts to compensate by making and looking for any opening to get the ball back out to the perimeter, but his inability to deal with collapsing defenses is the main reason his assist to turnover ratio has dipped from 2.1 to 1.6 this season.
Albicy's biggest contributions at this level of competition often come on the defensive end, where his lateral speed, quick hands, and consistent intensity are an issue for opposing ball-handlers. Often getting a tip and stealing the ball only after making a second and third effort to pick his man's pocket, Albicy creates turnovers and takes the ball coast to coast at an impressive rate. His size limits his ability to contest shots and fight through screens, but his ability to apply pressure in the backcourt is a significant plus.
Playing seven games for the French Senior National Team at Eurobasket 2011, and leading the best team in Pro A this season, Albicy is a promising international prospect thanks to his defensive prowess, catch and shoot ability, and knack for finding the open man. The development of his floaters has alleviated his struggles from the midrange to some degree, but Albicy still has room to grow on the offensive end as a shooter and decision maker. Automatically eligible for the 2012 NBA Draft, the Sevres native is one of the more interesting point guards among this year's crop of international prospects, even if he might need to have a better adidas EuroCamp showing than he did last June to boost his stock solidly into the second round.
Tomislav Zubcic, 6'11, Power Forward, Cibona Zagreb
Matt Williams
After having a breakout season of sorts last season as Zagreb relied on its younger players in the midst of serious financial struggles,
Tomislav Zubcic
has not played as significant a role for the club this season. Starting some games, but also coming off the bench for stretches as well, the Croatian forward has seen his playing time and usage decline. His strengths and weaknesses remain largely unchanged, as he is yet to achieve the mismatch potential that caught our eye for the first time some six years ago.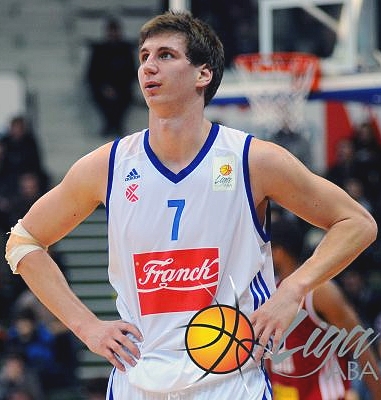 At 6'11, Zubcic's size has always been a big part of his upside, especially when he would push the ball up the floor and take slower defenders off the dribble at the junior level. The Croatian forward has added some weight to his frame over time, but remains somewhat skinny. He does not have a big wingspan relative to his size, and is not explosive, but is a long strider and moves fluidly for a big man.
Zubcic's intrigue at this juncture of his career stems from his spot-up scoring ability. After playing a much more versatile role last year, more than half of his shots have come in catch and shoot situations from the perimeter. A reliable shooter with time, space, and his feet set, Zubcic can draw opposing big men away from the basket. He struggles to knock down shots under defensive pressure and needs to improve his consistency from the perimeter to reach his full potential, but sports a fairly smooth release for a near 7'footer and range out to the international 3-point line.
Unfortunately he's only managed to knock down 28% of the 3-pointers he's attempted this season in all the various leagues he's played in, which is likely one of the major reasons he's had a difficult time finding a consistent role offensively.
As an interior scorer, Zubcic shows soft touch and good hands. He's a solid, albeit unspectacular, finisher, only finishing plays above the rim when he has space to gather himself. He's capable of putting the ball on the floor for one to two dribbles to attack the basket in a straight line, but is still developing his polish and toughness to be an effective slasher.
The same can be said for his back to the basket game, as he tends to shy away from contact in the post, but is able to finish some of his touches with a soft right handed hook shot. He has not developed a polished post repertoire at this point, which is not surprising considering how much time he spent out on the perimeter early in his career, and needs to get stronger and do a better job drawing contact around the rim, but his skill level shines through at times.
On the whole, Zubcic is still a ways away from being a finished product offensively. He is a smart player and a solid passer, but is not always aggressive or consistent enough to contribute at a high level in any one particular area.
Defensively, Zubcic spends quite a bit of time defending the perimeter, even playing at the top of Cibona's 2-3 zone on the few occasions they throw something different at opposing offenses. Gambling aggressively in the passing lanes and sometimes pushing the ball up the floor himself, Zubcic lacks the lateral quickness and strength to be a great individual defender. His ability to maximize his frame, be more physical, and improve as a rebounder will be the keys to his development on this end of the floor.
After an impressive showing at the 2009 Nike Hoop Summit, Zubcic was at one time a potential early entrant for the NBA Draft. He seemed to be on the brink of turning the corner in his development last season, but has had large bouts of inefficiency this year, and is barely seeing more than 10 minutes per game in the weak Croatian league as of late.
Now automatically eligible for the draft, Zubcic remains a prospect with some intriguing tools, but may have worn out the extent of his upside with his lack of improvement over the last few years.