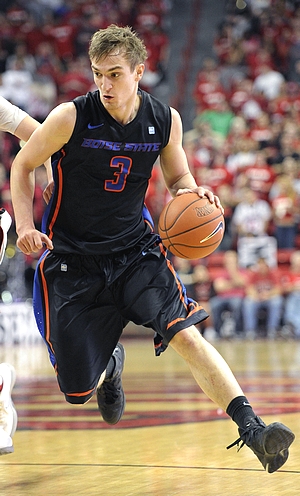 Jonathan Givony
The #1 scorer in the Mountain West Conference at 18.8 points per game in-conference play, Anthony Drmic has proven to be a steal for Boise State, helping them make their first NCAA Tournament performance since 2008. Now moving into his junior season, NBA scouts will want to see if Drmic can take his game to another level and become a more versatile all-around player, while leading Boise State back to the NCAA Tournament.
Drmic has good size for the wing at 6-6 and nearly 200 pounds, but is just an average athlete by NBA standards.
He gets most of his offense as a cog in Boise State's highly efficient offense, spacing the floor in transition and in the half-court, and coming off screens. Over 50% of his field goal attempts last season came from beyond the arc, and he's extremely reliable with his feet set, knocking down 43% of his catch and shoot jumpers, being especially effective in the corners.
Highly aggressive looking for openings, Drmic has a quick release and consistent mechanics, always being ready to fire away if given the opportunity. He shoots a flat-footed jumper, so he can struggle at times when the defense does a good job of closing out aggressively on him. His shot-selection is solid, though, and he moves intelligently off the ball, as he'll regularly punish opponents for overplaying his jump-shot by making timely cuts to the rim for easy baskets.
Not as prolific or effective shooting off the dribble, Drmic makes just 35% of his pull-up jumpers. He doesn't get any real separation from his defender on his pull-up attempts, which is something he'll likely need to work on as his career moves on.
Seeing heavy minutes at as a floor spacing power forward, Boise State utilized Drmic a decent amount in pick and roll and isolation situations on the perimeter last season. He's somewhat of a mixed bag here, as his scoring instincts, strength and solid feel for the game can allow him to make some plays in the lane bullying his way to the basket or finding the open man. His lack of athleticism and creativity as a ball-handler can lead to dead-ends as well, though, particularly when forced to finish with his weaker left hand.
Drmic possesses an average first step, and is not particularly explosive around the basket, so it's unlikely that he'd be asked to shoulder a huge amount of ball-handling responsibility at the NBA level, but he's also not a one dimensional player. He does a good job of attacking closeouts aggressively and is capable of getting to the rim going downhill off a dribble-handoff, finishing a very solid 59% of his opportunities inside the paint last season.
Tough, smart, unselfish and highly competitive, Drmic is a stereotypical Australian basketball player in many ways, as he brings a no-nonsense attitude to the way he approaches the game, which he very much needs playing out of position in the highly physical Mountain West Conference.
Defensively, Drmic is just average at this stage. He does not possess great lateral quickness, as he struggles to contain dribble penetration on the perimeter and has a difficult time fighting through screens. Playing heavy minutes at power forward, he gets posted up a fair amount, where he loves to bait referees into calling offensive fouls by embellishing contact. Boise State played a good amount of zone last season because of their lack of size, but with two more big men joining the rotation in Edmunds Dukulis and Nick Duncan, Drmic might see more time on the wing, which will be interesting to evaluate.
Drmic's production as a sophomore jumps off the page immediately, as 6-6 players with high-level shooting ability are certain to get looks from all levels of professional basketball A year older than most of his class, turning 22 in February, it will be interesting to see what kind of strides Drmic is able to make this year, as he would likely be considered a very interesting prospect if he were able to improve his perimeter defense and become just a little more versatile offensively.