We continue our coverage of the top returning NBA prospects in the non-BCS conferences with scouting reports of prospects ranked #21-25:
Anthony Drmic
,
R.J. Hunter
,
Jerrelle Benimon
,
Siyani Chambers
and
Tyler Haws
.
Incoming freshmen have been excluded from these previews, as we'd like to wait and see what they have to offer on the NCAA level before we come to any long-term conclusions.
-
Top 30 NBA Draft Prospects in the ACC
-
Top 15 NBA Draft Prospects in the Big Ten
-
Top 10 NBA Draft Prospects in the Big 12
-
Top 15 NBA Draft Prospects in the Pac-12
-
Top 15 NBA Draft Prospects in the Big East
-
Top 15 NBA Draft Prospects in the SEC
-
Top 15 NBA Draft Prospects in the AAC
-
Top NBA Prospects in the Non-BCS Conferences, Part One
(#1) Przemek Karnowski
(#2) Khem Birch
(#3) Deonte Burton
(#4) Juvonte Reddic
(#5) Alec Brown
-
Top NBA Prospects in the Non-BCS Conferences, Part Two: (#6-10)
(#6) Elfrid Payton
(#7) Cleanthony Early
(#8) Winston Shepard
(#9) Alan Williams
(#10) Josh Davis
-
Top NBA Prospects in the Non-BCS Conferences, Part Three
(#11) Javon McCrea
(#12) Kendall Williams
(#13) Kevin Pangos
(#14) Briante Weber
(#15) Ronald Roberts
-
Top NBA Prospects in the Non-BCS Conferences, Part Four
(#16) Alex Kirk
(#17) D'Andre Wright
(#18) Davion Berry
(#19) Kendrick Perry
(#20) Adjehi Baru
#21, Anthony Drmic, 6-6, Junior, SG/SF, Boise State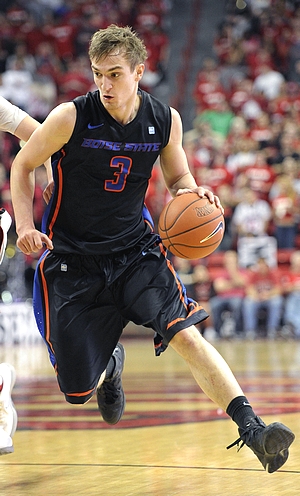 Jonathan Givony
The #1 scorer in the Mountain West Conference at 18.8 points per game in-conference play, Anthony Drmic has proven to be a steal for Boise State, helping them make their first NCAA Tournament performance since 2008. Now moving into his junior season, NBA scouts will want to see if Drmic can take his game to another level and become a more versatile all-around player, while leading Boise State back to the NCAA Tournament.
Drmic has good size for the wing at 6-6 and nearly 200 pounds, but is just an average athlete by NBA standards.
He gets most of his offense as a cog in Boise State's highly efficient offense, spacing the floor in transition and in the half-court, and coming off screens. Over 50% of his field goal attempts last season came from beyond the arc, and he's extremely reliable with his feet set, knocking down 43% of his catch and shoot jumpers, being especially effective in the corners.
Highly aggressive looking for openings, Drmic has a quick release and consistent mechanics, always being ready to fire away if given the opportunity. He shoots a flat-footed jumper, so he can struggle at times when the defense does a good job of closing out aggressively on him. His shot-selection is solid, though, and he moves intelligently off the ball, as he'll regularly punish opponents for overplaying his jump-shot by making timely cuts to the rim for easy baskets.
Not as prolific or effective shooting off the dribble, Drmic makes just 35% of his pull-up jumpers. He doesn't get any real separation from his defender on his pull-up attempts, which is something he'll likely need to work on as his career moves on.
Seeing heavy minutes at as a floor spacing power forward, Boise State utilized Drmic a decent amount in pick and roll and isolation situations on the perimeter last season. He's somewhat of a mixed bag here, as his scoring instincts, strength and solid feel for the game can allow him to make some plays in the lane bullying his way to the basket or finding the open man. His lack of athleticism and creativity as a ball-handler can lead to dead-ends as well, though, particularly when forced to finish with his weaker left hand.
Drmic possesses an average first step, and is not particularly explosive around the basket, so it's unlikely that he'd be asked to shoulder a huge amount of ball-handling responsibility at the NBA level, but he's also not a one dimensional player. He does a good job of attacking closeouts aggressively and is capable of getting to the rim going downhill off a dribble-handoff, finishing a very solid 59% of his opportunities inside the paint last season.
Tough, smart, unselfish and highly competitive, Drmic is a stereotypical Australian basketball player in many ways, as he brings a no-nonsense attitude to the way he approaches the game, which he very much needs playing out of position in the highly physical Mountain West Conference.
Defensively, Drmic is just average at this stage. He does not possess great lateral quickness, as he struggles to contain dribble penetration on the perimeter and has a difficult time fighting through screens. Playing heavy minutes at power forward, he gets posted up a fair amount, where he loves to bait referees into calling offensive fouls by embellishing contact. Boise State played a good amount of zone last season because of their lack of size, but with two more big men joining the rotation in Edmunds Dukulis and Nick Duncan, Drmic might see more time on the wing, which will be interesting to evaluate.
Drmic's production as a sophomore jumps off the page immediately, as 6-6 players with high-level shooting ability are certain to get looks from all levels of professional basketball A year older than most of his class, turning 22 in February, it will be interesting to see what kind of strides Drmic is able to make this year, as he would likely be considered a very interesting prospect if he were able to improve his perimeter defense and become just a little more versatile offensively.
#22, R.J. Hunter, 6'5, Guard/Forward, Georgia State, Sophomore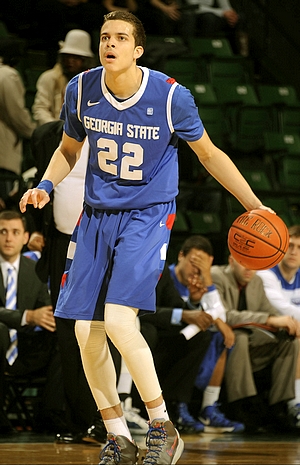 Kyle Nelson
R.J. Hunter left high major offers on the table to
play for his father at Georgia State University
, but few expected him to emerge as his team's best player and the Colonial Athletic Association's Rookie of the Year, all while being named to the All-CAA First Team.
Hunter struggled in games against Duke (10 points on 4/11 FG) and BYU (7 points on 2/9 FG) early on, showing that he has a lot of room to grow against high-level competition, despite his impressive freshman season. Now a sophomore, Hunter is no longer flying under the radar and NBA scouts will be watching to see if he is capable of taking the next step in his development as a prospect.
At 6'5 and 185-pounds, Hunter has average physical tools for a NBA shooting guard, as he lacks ideal length, strength and explosiveness. Yet, while he is not a standout athlete, he possesses deceptive quickness, showing solid agility off the dribble and body control in transition.
Yet, Hunter is best known at this point in time for his scoring ability, averaging 20 points per-40 and ranking as the
the fifth most prolific freshman in our database last season
, while using 25% of Georgia State's overall offensive possessions. He played a significant role and showcased impressive versatility as a shot creator at this stage in his development.
Ultimately, however, 73.2% of his overall field goal attempts were jump shots, of which he made a solid, though unspectacular 37%. When coupled with his 36% 3P%, it would seem as though he is a decidedly average jump shooter. Yet, a closer look reveals that Hunter made 39% of his catch-and-shoot. In these situations, he shows fluid mechanics, solid elevation, and a quick release with range out to the NBA three point line.
Hunter's lack of efficiency stems from his propensity for taking off the dribble jumpers, something he's capable of doing with reasonable effectiveness, showing the capacity to create space for step back and pull up jump shots both inside and outside of the arc. While his ball-handling ability is far from elite, he has a few moves, particularly a crossover and step back, which are particularly helpful for him to create shots off the dribble, where he makes a decent 35% of these attempts.
Furthermore, he is a very adept shot creator out of the pick-and-roll, both for himself and his teammates. As a shooter, he does a very good job of using his size and savvy to see over screens, either hoisting up a long jumper or attacking the lane off of the dribble. Perhaps most impressive about Hunter's freshman season was the fact that he played under control, showing solid patience and shot selection, as well as instincts as a distributor. While nobody will mistake him for a point guard, his abilities as a shot creator out of the pick-and-roll is another intriguing aspect of his versatile skill set.
While he lacks ideal quickness and does not get to the line at a standout rate (5.2 FTA per 40 minutes pace adjusted), he was reasonably effective when he did create scoring opportunities inside the paint, converting on an impressive 59.7% of his overall attempts around the basket. Likewise, he was solid in transition, compensating for his average athleticism by weaving in and out of defenders on his way to the basket while always being a threat to launch a floater or pull up for a mid-range jumper.
On the defensive end, Hunter shows some solid tools and undeniable limitations in Georgia State's 2-3 zone. The biggest issue here is his combination of average lateral quickness and length, which will undoubtedly result in issues against better competition. That being said, he does a good job of staying aggressive and remaining involved on plays even after he is beaten, crashing passing lanes (2.1 steals per 40 minutes pace adjusted), hustling on the boards (6.1 rebounds per 40 minutes pace adjusted), and even blocking one shot per 40 minutes pace adjusted.
On the other hand, he is not the most fundamentally sound defender, either. He often finds himself out of position, getting sucked into the lane chasing steals and has a tendency to struggle to close out on perimeter shooters as a result. He also misses his fair share of rotations, as well, though it is worth pointing out that Georgia State's team defense, in general, left much to be desired.
It is worth repeating, however, that Hunter is still young and has already shown quite a bit in a starring role during his freshman season. Unfortunately, for the second straight year, he will have few opportunities to prove himself against elite competition in Georgia State's weak out of conference schedule. Even so, Georgia State should be a contender in the Sun Belt Conference championship right away, and the conference features some solid backcourts that will test Hunter on both ends of the floor.
The addition of well-traveled point guard transfer Ryan Harrow should also help Hunter's case, allowing him to play exclusively off of the ball while providing yet another scoring option in Georgia State's perimeter attack. Nevertheless, R.J. Hunter is still probably a ways away from hearing his name mentioned as an immediate NBA prospect, even though another standout season will ensure that, at the very least, he stays on scouts' radars.
#23, Jerrelle Benimon, 6'8", Senior, PF, Towson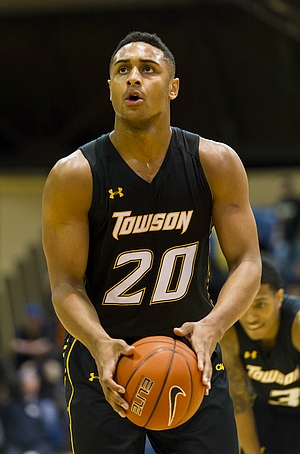 Derek Bodner
After playing a small role in his two seasons at Georgetown, 6'8" power forward Jerrelle Benimon transferred to Towson after his sophomore season, instantly becoming the focal point of the Tigers offensive system.
The transition to Towson's much more matchup predicated offensive system paid immediate dividends for Benimon, who averaged17.4 points and 11.3 rebounds in over 36 minutes per night during his breakout junior season. It also helped Towson turn around a team that went 1-31 the previous season, as they finished the 2012-13 campaign a very respectable 18-13, which placed them second in the Colonial Athletic Association, although they were disqualified from the CAA tournament due to low academic progress rate scores.
Benimon presents an intriguing combination of inside scoring, perimeter shooting, ball handling and bulk that is hard to defend against at the collegiate level. Benimon is equally as willing to bang down low as he is to shoot from the perimeter, and it's this dual threat that makes him such a tough cover for the defenses he's going up against.
According to Synergy Sports Technology, post-up opportunities accounted for over 15% of Benimon's offense, although his 0.788 points per possession resulted in just an average level of efficiency. Benimon has good touch down low with either hand, solid footwork, a quick spin move and a willingness to lower his shoulder and dislodge his defender. This also tends to lead to Benimon drawing fouls, with his 7.3 free throw attempts per 40 minutes pace adjusted a good figure, which helps Benimon maintain his efficiency even when his shot isn't falling. His major limiting factor in this facet of his game is his explosiveness around the rim, as he's fairly average from an athletic standpoint, and combined with his below average length presents some struggles finishing against length.
As a jump shooter, Benimon shows excellent form and good touch from the perimeter, particularly in catch and shoot situations or when using one or two rhythm dribbles to his left in order to setup his jump shot. He struggles a bit pulling up off the dribble, but considering his likely role at the next level, this isn't much of a concern. He's overall effective from either the collegiate three point line or from midrange, especially from the baseline.
This confidence in his jump shot could open up several things in the future. One area where Benimon wasn't used all that frequently at Towson but could see become a source of offense down the line is as a pick and pop threat, as he primarily prefers to roll to the basket. That being said, the area of his game that benefits the most from his perimeter shooting ability is as a face-up threat.
Already established as a threat from the perimeter, along with his comfort in putting the ball on the floor with either hand, Benimon is capable of generating offense off the dribble despite not having a great first step or overwhelming ability to elevate in the lane. His ability as a finisher once in the lane is once against similar to his profile in the post, as he shows good touch and body control, but his overall lack of explosiveness makes finishing harder due to his athletic profile.
The rest of his half-court offense comes mostly off offensive rebounds and cuts to the basket, where he uses his size, strength, and soft hands to his advantage. Benimon's 3.6 offensive rebounds per 40 minutes pace adjusted is right around average for a big man, and he does a fair job of converting these opportunities around the hoop. He also moves well without the ball and does a good job of finding seams in the defense.
One other area where Benimon gets a considerable amount of his offense is in transition, something not usually expected for a power forward who is not a particularly great run-jump athlete. Benimon is very comfortable grabbing a defensive rebound and pushing it himself in transition, although his success rate in doing this can be hit or miss at times. He has the ball handling ability to make this work, and forcing his defender to defend him full court is something that could pay dividends, both in his ability to get past his man and also in how it can free up the rest of the players in transition. That being said, Benimon can at times get caught trying to do too much, frequently winding up in a turnover or a broken play.
The first area of impact that Benimon makes on the defensive side of the ball is on the defensive glass, where his 8.6 defensive rebounds per 40 minutes pace adjusted and his 23.7% defensive rebounding rate are both excellent numbers. Benimon does a good job of using his size and strength, along with good technique and a feel for how to track the ball on the glass. His physical profile also benefits him when defending the post, as his lower body strength helps him hold his ground when he's properly engaged, and he does a good job of lowering his center of gravity and holding his ground, although he does at times wait too long to engage his man and can give up position before his opponent receives the ball. His athletic limitations show up more on the perimeter, where he can struggle to change direction at times. He does an okay job of making up for this at the collegiate level with proper spacing, but this is definitely a concern going forward as he defends against guards who are more comfortable shooting off the pick.
After his transfer from Georgetown and his first taste of major minutes at the collegiate level, Jerrelle Benimon did a good job of elevating his game and provided a huge infusion to the Towson program. While Benimon's physical limitations will likely always be a question, the combination of his inside-out game should keep him on the radar, particularly if Towson is able to make the NCAA Tournament after having their postseason ban lifted.
#24, Siyani Chambers, 6-0, Point Guard, Sophomore, Harvard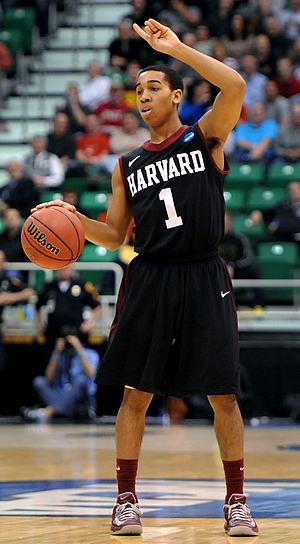 Joe Treutlein
There may not have been a freshman in the entire country who meant more to his team than Siyani Chambers last season, who impressively led his team in minutes at a staggering 37.9 per game. Chambers was the consummate floor general for the Crimson, helping lead them to an NCAA Tournament berth and a first-round upset win over 3-seed New Mexico, and he will have good chance to build on his superb freshman campaign this season.
Standing 6'1 with just a passable 6'2 wingspan, Siyani Chambers is not a player who is going to blow anyone away physically, sporting a build resembling Stephen Curry's, only minus a few inches. He doesn't have blazing speed or elite explosiveness either, though he does sport good quickness with the ball and is adept at making use of the tools he does have at his disposal.
On the offensive end, Chambers is mature well beyond his years, having a superb feel for the game, especially in terms of running his team's offense. He always keeps his head up, both in transition and the halfcourt, and shows very good vision and decision-making with the ball in his hands. He creates a lot of plays for both himself and others operating out of the pick-and-roll, which is the area of the game he looks most comfortable, being capable of making the full array of passes, both to his roll man and to his other teammates. He also gets a decent share of his 5.7 assists per game off drive-and-dishes, post entry passes, and flow-of-the-offense passes on the perimeter, being a very complete point guard in terms of passing and game management skills.
Chambers is also impressive with his perimeter scoring ability, being an excellent shooter, specifically in catch-and-shoot situations. He shot 41.2% from three-point range despite taking a large portion of his shots pulling up off the dribble, and he saw over one third of his field goal attempts overall come from behind the arc, being a very perimeter-oriented player stylistically. Chambers is excellent pulling up in space, and does a pretty good job doing so off pick-and-rolls, but he isn't the best at creating space for himself in pure isolation half court situations due to his lack of explosiveness.
Unfortunately for Chambers, while he has a set of very well-defined strengths as highlighted above, the same can be said about his corresponding weaknesses, starting with his ability to score around the basket. With his lack of size, strength, vertical explosiveness, and elite separation ability, Chambers struggles to create and finish for himself on shot attempts around the basket, having trouble finishing even over Ivy League competition at times. Of the 185 half-court shot attempts Synergy Sports Technology tracked for Chambers on the season, just 38 of them came in the immediate basket area, and he finished with a sub-par 1.1 points per shot on those looks, not an impressive mark against the competition he faced with such a limited sample size.
To Chambers' credit, he's very aware of his strengths and weaknesses as a player, and doesn't force the issue going to the basket often, as evidenced by the few attempts he took there on the year. He also complements his inside game with an excellent array of runners and floaters in the lane, but these are by nature less efficient shots than lay-ups at the rim, which explains his unimpressive 44.8% two-point percentage.
Chambers' limitations seemed more pronounced in games he played against high level competition last season, as he posted weak shooting lines against most of the high-major schools he faced, including 1-for-5 against UConn, 2-for-15 against Cal, 2-for-8 against Memphis, and 2-for-8 against Arizona. His problems extended to the passing game as well, as he had 10 games with 5+ turnovers last season, and coughed the ball up on 25% of his overall possessions, a very high rate. Chambers will have plenty more opportunities to play against high level competition during his time at Harvard, and it will be interesting to see if these trends continue or if he's able to adapt as he gains experience.
Chambers' biggest concerns projecting to the next level, however, likely lie on the defensive end, where despite having excellent effort level and fundamentals, he just isn't very effective as a man-to-man defender. Chambers does a good job moving his feet and staying in front of his man against most competition he faces, but the opposition often finds it fairly easy to shoot over him from both the perimeter and inside. He's also prone to getting beat off the dribble against higher level competition, and will likely always be at a disadvantage on this end of the floor.
Looking forward, Chambers is an exceptionally smart and productive player who still has plenty of room for growth at just 19 years old, but some of his more prominent weaknesses will likely prove tough to overcome. Given his physical limitations, being a consistently effective inside scorer likely will never be in the cards for him, so continuing to improve on his strengths of perimeter shooting and mid-range floaters/runners is probably his best path to take. While he's a very good shooter for any level of basketball already, he will likely need to be even better still to have a chance at the NBA, and it would make him a much more effective and difficult to game-plan for college player in the meantime as well.
#25, Tyler Haws, 6'5, Redshirt Junior, Shooting Guard, BYU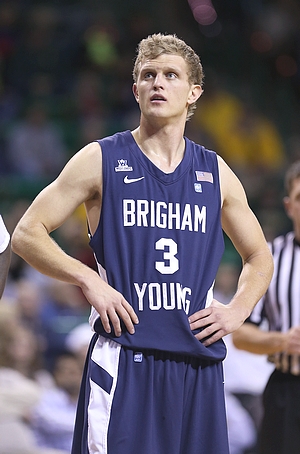 Matt Williams
A two time Mr. Utah Basketball winner and fringe top-150 recruit in the class of 2009 coming out of perennial power Lone Peak HS (UT), Tyler Haws committed to BYU in lieu of a number of quality BCS offers. The third leading scorer on a 2010 BYU team that won 30 games as a freshman, Haws spent the subsequent two years serving a LDS mission in the Philippines. Returning to Provo last season, he immediately emerged as the team's top option and leading scorer as a 21 year old sophomore, averaging 21.7 points per-game and earning a spot on the All-WCC first team for his efforts.
Standing 6'5 with average length and an average frame, Haws possesses decent size for a shooting guard. A middle-of-the-road athlete at the college level, Haws has good quickness and plays with a great motor, but isn't very explosiveness and doesn't have ideal physical tools for a NBA player.
Offensively, Haws more than compensates for his lack of elite athleticism at the college level with a well-rounded offensive game. Scoring an impressive 23.4 points per-40 minutes pace-adjusted last season, second best in the WCC after Kelly Olynyk, Haws did a little bit of everything for BYU last season.
Doing the majority of his damage with his jump shot in the half-court, Haws is a terrific shooter. He's a reliable set shooter with a quick release. While his 38% from beyond the arc on 3.1 attempts per-game is impressive, it is his ability to turn on a dime and hit a shot working off a screen, dribble to space and hit a 15-footer under duress, and hit shots consistently after a rip through or jab that makes him so prolific at the college level. Knocking down a phenomenal 53% of his jump shots inside of 17 feet, Haws is a difficult player to guard at the college level due to the variety and efficiency of his midrange game. He's so effective from that range that he gets a couple of post touches per-game, utilizing a turnaround jumper to score one-on-one.
When Haws attacks the rim, he does so with purpose, finishing at a respectable 59% rate and getting to the line for six free throw attempts per-game. An opportunistic cutter and finisher in transition, he isn't a threat to make a highlight reel play at the rim, but has a reliable floater, will use his body to shield the ball and isn't tentative to attack defenders, even if his lack of explosiveness makes it difficult for him to convert at times.
Seldom running the pick and roll or operating one-on-one, Haws plays a fairly unique role for a player who scores as much as he does, as he spends very little time creating shots for himself or others off the dribble. The focal point of the Cougars' half court sets, his role is predicated in working through the Cougars half court sets, finding space, and making quick decisions with the ball from the midrange. This is a major departure from the role of the Jimmer Fredette, who saw nearly 50% of his possessions in isolation or pick and roll situations as a senior.
Defensively, Haws plays with solid energy and can hold his own by virtue of his tenacity, but is a step slow closing out and denying dribble penetration at times. His ability to defend his position at the next level is a question mark, as his physical limitations are a concern on this end of the floor.
Heading into his junior season, Haws is one of the more unique players in college basketball. Two years older than many of his peers, he's a highly productive scorer in an extremely structured system that plays to his strengths as a midrange scorer. Though he doesn't fit the tradition profile of a NBA shooting guard, his productivity is hard to ignore, and there's little doubt that he will get looks from teams by the time he's finished at BYU.