Team: NON-NBA College Team: UNICS
Physicals
Positions
Salary
Misc
H: 6' 7"
W: 205 lbs
Bday: 04/23/1986
(29 Years Old)

Current: PG/SG/SF
NBA: PG/SG
Possible: PG/SG/SF

Agent: Eric Fleisher

High School:
Hometown: Saint Petersburg, Russia




Basic Per Game Statistics

- Comprehensive Stats - Statistical Top 25s
| Year | League | Name | GP | Min | Pts | FG | FGA | FG% | 2Pt | 2PtA | 2P% | 3Pt | 3PtA | 3P% | FTM | FTA | FT% | Off | Def | TOT | Asts | Stls | Blks | TOs | PFs |
| --- | --- | --- | --- | --- | --- | --- | --- | --- | --- | --- | --- | --- | --- | --- | --- | --- | --- | --- | --- | --- | --- | --- | --- | --- | --- |
| 2015/16 | Eurocup | Anton Ponkrashov | 7 | 17.7 | 3.3 | 0.9 | 3.9 | 22.2 | 0.6 | 2.0 | 28.6 | 0.3 | 1.9 | 15.4 | 1.3 | 1.4 | 90.0 | 0.1 | 2.3 | 2.4 | 2.9 | 0.7 | 0.1 | 1.4 | 1.4 |

Player Page&nbsp&nbsp| Player Stats | Mock Draft History | Related Articles&nbsp&nbsp| Add to My Draft Express&nbsp
&nbsp
2008 Reebok Eurocamp in Treviso, Days Three and Four
June 10, 2008
Ponkrashov played better in the last two days than he did in the first two, but the final impression remains fairly murky regarding his NBA potential. He didnít seem very prepared mentally or physically for what he wanted to show here, often forgetting to display his usually excellent playmaking abilities, which is what made him a draft prospect to begin with. He played a bit selfishly at times and made some poor passes when he did move the ball around, leading to turnovers.

Ponkrashovís shot was falling for him at a much better rate here to close off the camp, going 5/9 over his last two games. Itís not the prettiest jumper youíll find, but it went in for him at a decent rate both in the games and especially in the drills, where he led everyone by hitting 75 of 100 attempts.

Considering his limited physical tools and the fact that he just hasnít gotten that much better over the last three years, thereís a chance that Ponkrashov could go undrafted, although someone could definitely take a stab at him in the late second round.

[Read Full Article]

---
2008 Reebok Eurocamp in Treviso, Day One
June 8, 2008
Two years ago he rocked here in Treviso, emerging as the best player in the Camp. Last year he had some up and downs, leaving a disappointing feeling. The opener of this Eurocamp edition is only solidifying the downwards trend heís suffering at this particular event. Looking tentative, Anton seems like he always doubts about which option to take. Probably part of the reason why is that, at this point, everyone has figured him out, particularly his great limitations finishing with his right hand, so he struggles playing a leading role that requires to attack the basket. Add in his inconsistency with his jumper, either from long or mid-range distances, and you can understand why he probably has second thoughts about what to do in too many plays. Actually, he ended up looking frustrated. Itís not all lost, though, as he still has three more days to reverse the initial impression.

[Read Full Article]

---
Roundup: Exploding De Colo
February 7, 2008
Loaned from CSKA to Khimki, Ponkrashov is finally finding regular playing time to display his game at a high level. Indeed, Khimki is a very strong squad, head-and-shoulders the second best team in the powerful Russian League, tied with Pamesa Valencia leading their ULEB Cup group, and enjoying a deep and talented roster (with some familiar names for the American fan such as Maciej Lampe, Daniel Ewing or Pat Burke). Itís not like Anton has taken a huge step back in terms of the competitiveness he faces.

Precisely this past week, Ponkrashov faced the team that owns his rights, CSKA, delivering 17 points, 3 rebounds and 2 assists that left Khimki on the verge of stunning the Russian powerhouse. Itís not his most typical performance, as Anton is more of a pass-first point guard. Averaging 4.4 assists per game between the Russian Superleague and the ULEB Cup, heís a guy with notable ability to find the open man, effective in the pick and roll, prolific with kick-out passes, and who takes advantage of his size to better see the court and execute his passes over his rivals.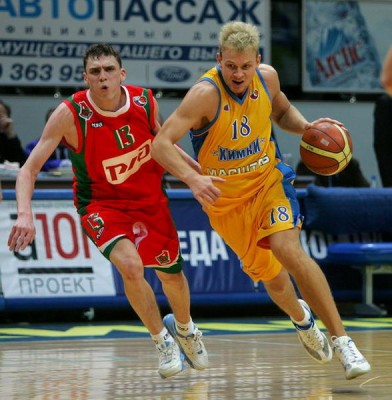 Photo: Khimki


At 6-7 and strongly built, heís obviously not an orthodox playmaker. On the other hand, heís not very athletic, particularly in terms of his leaping ability (highly underwhelming). Still, he can move his feet pretty fast, and he can even challenge smaller guards on defense, showing nice lateral quickness.

Back to the offense, one of the reasons why Ponkrashov is not a very prolific scorer is the fact that heís extremely left-handed when it comes to putting the ball in the net. When he goes right, he almost always passes the ball, even forcing the delivery, unless heís completely open. Everybody knows it, and heís constantly invited by his defenders to attack with his off hand. Actually, in the game against CSKA he executed a successful slashing move from the right side, took the steps for a wide open layup and, when it came to release the ball, he awkwardly used his left hand despite having last touched the floor with his left foot and having his right knee elevated.

In the end, many of his points come off jumpers that he can take off the dribble. Heís coming up inconsistent shooting from the three-point line, but looks pretty reliable from mid-range distances.

Although generally displaying a nice level this season, Ponkrashov still shows up tentative at times. He doesnít completely trust his scoring skills, which might affect to some degree the aggressiveness he displays running the offense, and therefore, his effectiveness there. Anyway, itís just a matter of gaining maturity, confidence and experience.

[Read Full Article]

---
2007 RBK Eurocamp: Day Four
June 14, 2007
After the impact he caused in last year's EuroCamp here in Treviso, this edition, even if decently solid, has been slightly disappointing for him. His last day wasn't his best, perhaps being a bit burned out going for the second double-header in consecutive days. He couldn't find his teammates as easily as in previous days, wasn't that effective looking for the basket, either with jumpers or in transition, and he even lost a bit of poise unnecessarily over-dribbling the ball. Perhaps the most obvious conclusions we have learned here about his game is how he suffers matching up against bigger defenders that don't allow him to use as comfortably the size differential he usually enjoys, as Ponkrashov sees the court and passes the ball usually above his rivals.

Over the course of the week it was pretty obvious that the Russian point guard was lacking focus, causing him to get extremely frustrated with himself, which only usually made things worse. Itís not clear whether he is suffering from rustiness after not having gotten that much playing time this past season (even if he was certainly a rotation player), or whether it was the pressure of playing in front of the NBA scouts that really got to him. What is certain is that he definitely turned the ball over too much, and forced his 3-point shot excessively.

[Read Full Article]

---
2007 RBK Eurocamp: Day Three
June 12, 2007
Ponkrashov had one very good first game going up against a fellow Eurocamp team, and then one awful game matching up against the U20 Italian National Team a few hours later. Like many guys that did 2+ hours of drills in the morning and then two full games in the afternoon, fatigue had to play a role in the way he looked down the stretch.

Ponkrashov showed off his full capabilities as a big point guard in the first game, doing a terrific job getting everyone involved. He made crisp passes around the perimeter to find open shooters spotting up on the wing, and also got to the basket despite his underwhelming first step to force rotations and then find the holes in the defense. Ponkrashov is not the most explosive guy finishing around the basket, but he was able to knock down a couple of shots from mid-range or from behind the arc today. He also utilized his size nicely on one occasion to post up a smaller guard and then kiss the ball off the glass.

In the second game Ponkrashov clearly suffered matching up against a similarly big guard in Daniel Hackett who did not allow him to survey over the top of the defenses the way he is usually accustomed to. He looked tired and very frustrated, visibly disappointed in himself everytime he went to the bench. There are still plenty of question marks amongst the scouts we spoke to regarding whether he has the athleticism or perimeter shooting skills to find himself a true position in the NBA, although there is no doubt that heís clearly one of the most talented guys here, especially in terms of his feel for the game.

[Read Full Article]

---
2007 RBK Eurocamp: Day One
June 10, 2007
While Mbemba shouldn't be prescribed for anyone suffering from heart problems, Ponkrashov is a much more heady guy, usually taking good decisions and getting the job done with significantly fewer mistakes.

He wasn't at his best in the first day he spent in the camp, but still delivered stretches of great basketball. A guy with his ball-handling skills, strength, size and court vision, always comes up with a solution, whether using his body to overpower smaller defenders in his drives, the court vision to find the open man, the size to easily pass over his match-ups and even his nice stroke to fire off-the-dribble whenever his defender doesn't stay honest.

It's interesting to note that Ponkrashov actually suffered a lot more to deliver his stuff when he was matched-up against forwards such as Giorgos Printezis and Kaloyan Ivanov, as he couldn't rely on his strength and size as easily. Actually, he eventually lost his cool and forced a few plays. Still nothing serious for a guy that is again proving to be the best playmaker in the camp.

[Read Full Article]

---
Euroleague Final Four: Player Watch
May 14, 2007
This was a very forgettable performance by Ponkrashov. Coach Messina barely played him at all in the semifinal against Unicaja (only 15 seconds), but trusted him some minutes during the final. Although his stat-line is completely empty, he committed one huge mistake when he passed up on a wide open shot with very little time left in the shot clock to pass a defended teammate, which ultimately resulted in a turnover. He was benched soon after. Anton is still a very young player with little experience in big settings, and he will certainly gain self-confidence with time.

[Read Full Article]

---
Roundup: Splitter Returning to Form
March 6, 2007
Anton Ponkrashov managed to dish out a whopping 14 assists (a career-high, as far as we know) in CSKAís blow-out victory over Sibirtelekom-Lokomotiv. He only needed 27 minutes on court to reach that impressive figure, truly amazing in international basketball. But there was more, as he scored 17 points with no field goals missed, while he rounded out his performance with 4 rebounds and 2 steals. Ponkrashov is just a terrific playmaker who suffers from CSKAís depth and demanding level to get more consistent playing time, particularly if we talk about the Euroleague.

[Read Full Article]

---
Euroleague Prospects: Stock Neutral
February 18, 2007
In a fine rookie season so far, Ponkrashov has been exactly what everyone was expecting him to be. He is a nice contributor with a lot of room of improvement in most fields of his game. Given the limited opportunities that most Russian youngsters get (especially when it comes to playing for such a strong team as CSKA Moscow), we can easily conclude that Anton has fared pretty well during the regular season.

A team-first combo guard, with excellent size and very good use of his body, Ponkrashov has managed to play in 11 of CSKA's 14 games up to now. He played alongside both Theo Papaloukas and J.R. Holden, spending most of his time in the off-guard position, but acting like a second point guard quite often. He seems to have worked on his decision making, cutting down his turnovers in the process, and it's obvious that he has been constantly improving his all-around game, especially since he has become a key player for CSKA in the Russian Superleague games. His averages may be hiding part of the truth, as in the Euroleague games, his contribution is limited and he is taking less shots due to the opponents' higher level and his lack of importance in the team hierarchy. However, Anton is doing all the little things in the more or less 14 minutes that he stays on the court and -- most importantly -- he is doing them well.

His slashing skills seem a bit improved right now and his finishing abilities are just getting better. He moves really well without the ball and is a pretty good ball handler. He is surprisingly strong and has a fairly good first step, especially when he starts slashing from the left side, but he doesn't feel equally comfortable otherwise. Creating his own shot and finishing with his right has already been mentioned as a weakness and he needs to further work on that field of his game in order to increase his so far limited offensive varieties. He has a decent jumper and is a quick shooter behind the arc, although he is not equally efficient shooting off the dribble (something that doesn't happen so often anyway). His basketball IQ was always notable and his ability to take advantage of his teammates explain us why he is such a well regarded young perimeter player right now in the European scene. A hustler and -- once again -- a scrappy type of player, he has plenty of room to improve over the next year or two, as soon as he improves his footwork and learns how to use his hands better on defense. A lack of experience and his fairly average athletic ability may become more obvious in the next stages.

With the top-16 arriving and CSKA being in a manageable group, Ponkrashov may still see some good minutes, especially since experienced wing player David Vanterpool will be sitting out with an injury. After all, the really tough games for the Euroelague champions won't be coming before the top-8 round and -- as soon as Anton keeps improving -- it is proven that coach Etore Messina will give him the appropriate playing time.

[Read Full Article]

---
Euroleague Preview: NBA Draft Prospects (The
October 27, 2006
Everything is going rather fast for the young Anton Ponkrashov. Virtually unknown a couple of years ago, heís now playing for one of the biggest European powerhouses and is expected to see regular playing time, even in the Euroleague. It shouldnít come as a surprise given the limited depth of CSKAís perimeter and the relative maturity that Ponkrashov enjoys despite being a 1986 kid.

Anton will surely take advantage of CSKAís perimeter versatility, because heís not a typical player. Standing 6-7, heís a true playmaker on the offensive end, but still doesnít make the cut defensively against quick points given his average athleticism. However, with the very quick combo-guard J.R. Holden, the small shooter Trajan Langdon and Theodoros Papaloukas (a kind of superstar version of Ponkrashov himself), all organized by the privileged basketball mind of coach Ettore Messina, Ponkrashov can find a place.

Weíre talking about a very talented player, a skilled guy who plays with poise and coolness. Heís a pass-first guard, and a pretty nice one indeed, even sometimes to a fault, eventually wasting some good scoring opportunities to instead feed his teammates. A nice ball-handler, heís a very left-handed player when it comes to putting the ball in the net, and actually doesnít feel comfortable at all driving with his right unless its to pass, which makes him quite predictable. Even using his left hand, he still doesnít take full advantage of his size to finish his layups (like his teammate Papaloukas does, for example). He has a promising shooting stroke that already shows nice range and some consistency, although itís still improvable. All in all, heís not much of a scorer at this point.

What Ponkrashov can bring to the table right off the bat is nice decision making. Heís a smart guy with good experience already in the increasingly demanding Russian SuperLeague. Heís also an intense player that tries to make up for his athletic shortcomings by delivering very nice effort. Still, even if weíll surely see him on the court in the Euroleague, we shouldnít expect him to have any significant impact given that he plays for one of the top two title contenders.

[Read Full Article]

---
A Look Back At The U-20 European Championships (Part One)
September 20, 2006
He was the clear-cut leader for the disappointing Russians, having a hard time trying to make things happen on his own on a team that struggled with the absences of Korolev (in the NBA summer leagues) and Shabalkin (who could only play two games). He did show some of his repertoire, particularly his excellent passing abilities, but struggled a little bit with his perimeter shooting. He also suffered while being defended by smaller and quicker opponents, as well as showed once again a concerning lack of athleticism. Still a terrific player, but would his skills translate well to the NBA?

[Read Full Article]

---
RBK Treviso Eurocamp 2006: The Final Cut
June 15, 2006
Whenever you go to a youth competition (or a camp, for the matter), you hope to find that kind of unique and especial player who reminds you why you love this game. Under our eyes, Anton Ponkrashov went from very good to extremely special here.

After the debacle against Croatia, it was hard to believe in a victory for the camp squad against Italy. But the addition of Ponkrashov was probably one of the biggest difference makers of the so-called Reebok All Stars (besides Italy's own weakness). Suddenly, a bunch of players who had been together for only four days were playing like a real team, benefiting immensely from the impressive passing ability and decision making of the Russian wonder. It was one good decision after another. And he performed an unbelievable array of passes, off the dribble in slashing moves, feeding a cutter, feeding the post, taking the ball out to the arc, coast-to-coast, side-to-side, one-handed, two-handed, straight, bounce passes, over the head, with back-spin, behind the back,... In the words of an NBA scout, watching Ponkrashov in a game equals to a passing clinic.

It's all about mind and execution. Anton visualizes the pass incredibly fast and has the ability to get it done no matter how difficult the situation is. For example, when he's under pressure or double-teamed, he creates separation between himself and his defenders to release a long two-handed pass over his head and over his rivals that always goes to the right place (usually an open man on the other side of the offense). Besides, he's not a ball-hog that just dribbles and dribbles until finding a chance to exhibit themselves in the pass. When Ponkrashov slashes, which he does very well, it's with a defined purpose that will likely mean an advantage for his team.

If I didn't know the guy at all and someone asked me which position does he play just looking at his physical set, I would say power forward. He's that strong and has such a wide frame. But it works for him because he's surprisingly quick and just takes advantage of his strength and size to make things easier. As we said the first day of the camp, he will suffer against quicker guards, but he has been stubbornly proving us that he's not a bad defender, being intense on the ball, moving his feet remarkably quick and wisely using his superior length to come away with some steals. This final day wasn't his best when it comes to shooting the ball, but he has showed us that he's a reliable guy with nice range in his jumper.

It's difficult not to feel skeptical about how well a guy like Ponkrashov can translate his game to such an athletic league as the NBA. He's a heavy-footed player when it comes to getting off the ground, and after all, very few big point guards become really successful. Still, with his skills, strength, intensity and smartness, we shouldn't rule out at all that he makes it to the first round in the following years.

[Read Full Article]

---
RBK Treviso Eurocamp 2006: A First Look
June 12, 2006
Ponkrashov was billed in advance as one of the most interesting players to see in the camp. He has had his coming out party last summer by playing a decisive role in Russiaís triumph in the U-20 European Championships, and he even made it to the Senior National Team for the 2005 Eurobasket. This last season, he earned major playing time in the Russian SuperLeague with Spartak St. Petersburg.

Anyway, contrary to Marquinhos, Ponkrasov is a real playmaker in spite of his 6-7 size (listed here as 6-8 with shoes), and his body that looks like that of a forwardís. He sees the court really well, easily being the best passer of the camp, at least from what the competition allows the players to show. In the end, with everybody constantly going up and down the court, and offenses lasting a few seconds, itís hard to evaluate the playersí ability to distribute the ball and set the proper game rhythm. So for Anton, much more than distributing the ball, it has been a matter of delivering the definitive pass, where he has succeeded by showing excellent court vision and timing dishing the ball, both in the set offense and in transition.

Ponkrashov is a quicker player than his physical build would suggest. He has a surprisingly mature and quite strong body, with broad shoulders, more like what power forwards show at these early ages (heís only 20 years old after all). His lateral defensive movement is not bad, but still he suffers staying in front of quick guards, even if he delivers pretty good intensity. Also, his size doesnít help him to handle the ball comfortably whenever heís defended by a small, quick and aggressive player, although he rarely gives up the ball.

Left handed, Anton looked a bit predictable when he slashed to the hoop. Driving to the left, chances are he will try to finish himself with a long layup; if he drives to the right, he usually settles for either a reverse move to regain his left or a pass. His perimeter shooting looked reliable, even off the dribble, rounding quite an intriguing skill set.

[Read Full Article]

---
Eurobasket (Men's European Championships) Preview: Group A
September 7, 2005
Russia seems to be a team that is willing to give a chance to itís youngsters at the moment. More than a means to jumpstart this young Russianís career, it could just be a necessity due to a lack of talented players at his position that this country has been lacking lately. Despite the impression you might get through the NBA draft, Russia is producing few competitive players at the top international level in terms of quantity, many times failing to fulfill the potential of its promising prospects. In this situation, and after a pretty good performance at the U-20 European Championship, Anton Ponkrashov might have benefited from a spot in the final roster. Thereís only 13 players left on the Russian squad, and heís still one of them, which should immediately raise the eyebrows of NBA scouts looking over the rosters and help his cause as an NBA draft prospect.

Ponkrashov is a poised guard, a player who always looks under control. While still far from being a pure point guard, he successfully played that position in the U-20 European Championships squad this summer, helping his team win the tournament on their home floor. This should speak volumes about his maturity on the court, and itís a big reason for his presence in the senior National Team. Of course he has some very useful skills. Heís a nice ball-handler even if heís not extremely quick with the ball in his hands. Heís also a rather good passer, taking advantage of his good size in the backcourt. While not being a prolific scorer, Ponkrashov enjoys a pretty good perimeter touch. His athleticism is not particularly remarkable, though, probably lacking a degree of quickness. Besides, heís not the most intense player in the world, which becomes evident on defense, particularly team-wise, although he does a decent job with his individual assignments. Even if his potential is not outstanding, he could become a very nice player at least at the European level. Anyway, if Anton makes the final roster, heís not expected to see meaningful playing time, therefore not having any kind of decisive role on the team. Despite Russiaís problems at the point guard position, heís probably not ready to play there at the senior level. However, the current preparation stage and the trip to Belgrade could be quite a good experience for a player as young as him.

[Read Full Article]

---