Artem Klimenko
Recent Tweets
All Tweets
DraftExpress: Notable Undrafted 3 Artem Klimenko Cristiano Felicio Ioannis Papapetrou Akil Mitchell Keith Appling Andre Dawkins Eric Moreland
2014-06-27 00:11:58
DraftExpress: Best players still available Russ Smith Vasa Micic Artem Klimenko Patric Young Cristiano Felicio
2014-06-26 23:36:12
DraftExpress: Artem Klimenko will keep his name in the draft according to his Russian agent @igorrubin.
2014-06-16 08:10:12
DraftExpress: #adidasEuroCamp Hustle award: Paul Lacombe. Best defender: Artem Klimenko
2012-06-12 03:43:22
Team: Saratov
Physicals
Positions
Salary
Misc
H: 7' 1"
W: 228 lbs
Bday: 01/10/1994
(21 Years Old)

Current: C
NBA: C
Possible: C

Agent: Bill McCandless

High School:
Hometown: Saratov, Russia

Predraft Measurements
| Year | Source | Height w/o Shoes | Height w/shoes | Weight | Wingspan | Standing Reach | Body Fat | No Step Vert | Max Vert |
| --- | --- | --- | --- | --- | --- | --- | --- | --- | --- |
| 2012 | Eurocamp | 6' 11.5" | 7' 0.75" | 228 | 7' 4" | 9' 4" | NA | 24.5 | 28.0 |



Basic Per Game Statistics

- Comprehensive Stats - Statistical Top 25s
| Year | League | Name | GP | Min | Pts | FG | FGA | FG% | 2Pt | 2PtA | 2P% | 3Pt | 3PtA | 3P% | FTM | FTA | FT% | Off | Def | TOT | Asts | Stls | Blks | TOs | PFs |
| --- | --- | --- | --- | --- | --- | --- | --- | --- | --- | --- | --- | --- | --- | --- | --- | --- | --- | --- | --- | --- | --- | --- | --- | --- | --- |
| 2015/16 | Eurocup | Artem Klimenko | 5 | 18.4 | 11.4 | 3.8 | 6.2 | 61.3 | 3.8 | 6.2 | 61.3 | 0.0 | 0.0 | &nbsp | 3.8 | 4.6 | 82.6 | 2.2 | 1.0 | 3.2 | 1.6 | 0.0 | 0.2 | 1.4 | 3.6 |

Player Page&nbsp&nbsp| Player Stats | Mock Draft History | Related Articles&nbsp&nbsp| Add to My Draft Express&nbsp
&nbsp
Artem Klimenko Scouting Report and Video Breakdown
April 8, 2014
Scouting Report by Jonathan Givony. Video Breakdown by Mike Schmitz

Artem Klimenko is a long, mobile 7-footer who could be a sleeper international prospect in this year's draft class. Completely off the radar screen playing in the Russian second division, he already announced his intentions to enter the draft and will participate in private workouts and possibly the adidas EuroCamp. How good of a prospect is he, and is he worth taking a flyer on in the first round?
---
-Tyler Ennis Scouting Report and Video Breakdown
-Rodney Hood Scouting Report and Video Breakdown
-Doug McDermott Scouting Report and Video Breakdown
-Andrew Wiggins Scouting Report and Video Breakdown
-Elfrid Payton Scouting Report and Video Breakdown
-Marcus Smart Scouting Report and Video Breakdown
-NBA Draft Prospect of the Week: C.J. Wilcox (Video Scouting Report)
-NBA Draft Prospect of the Week: T.J. Warren (Video Scouting Report)
-NBA Draft Prospect of the Week: A.J. Hammons (Video Scouting Report)
-NBA Draft Prospect of the Week: K.J. McDaniels (Video Scouting Report)
-NBA Draft Prospect of the Week: Deonte Burton (Video Scouting Report)
-NBA Draft Prospect of the Week: Noah Vonleh (Video Scouting Report)
-NBA Draft Prospect of the Week: Nik Stauskas (Video Scouting Report)
-NBA Draft Prospect of the Week: Aaron Gordon (Video Scouting Report)
-NBA Draft Prospect of the Week: Clint Capela (Video Scouting Report)
-NBA Draft Prospect of the Week: Thanasis Antetokounmpo (Video Scouting Report)
-NBA Draft Prospect of the Week: Shabazz Napier (Video Scouting Report)
-NBA Draft Prospect of the Week: Bogdan Bogdanovic (Video Scouting Report)
-NBA Draft Prospect of the Week: Joel Embiid (Video Scouting Report)
-NBA Draft Prospect of the Week: Julius Randle (Video Scouting Report)
-NBA Draft Prospect of the Week: Jabari Parker (Video Scouting Report)
-Revisiting Giannis Antetokounmpo (Video Scouting Report)
-Revisiting Damian Lillard (Video Scouting Report)
-Revisiting Nikola Mirotic (Video Scouting Report)
-Revisiting Alexis Ajinca (Video Scouting Report)
---


Klimenko's biggest appeal as a prospect starts with his very impressive physical tools, which put him in a rare and highly coveted class of big men. He has excellent size, having measured just a hair under 7-feet without shoes in at the adidas EuroCamp in 2012, to go along with a superb 7-4 wingspan and 9-4 standing reach. His frame is underdeveloped at the moment but shows serious promise, as he shouldn't have any issue seemingly topping out at 250-260 pounds with a proper strength and conditioning regimen.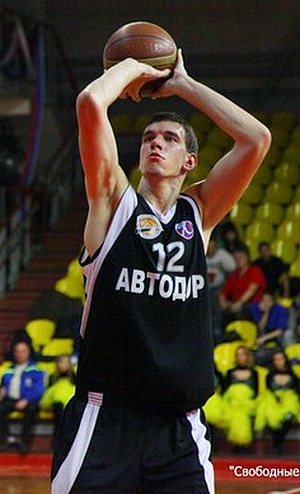 fn-volga.ru



On top of that, Klimenko is extremely mobile for his size, as he runs the floor like a deer and is capable of playing above the rim thanks to his solid leaping ability.

Offensively, Klimenko gets solid production (15 points in 24 minutes per game, 57% 2P%) in the mediocre Russian second division, but can't be considered a very skilled player at this point in time, as he's not someone you can really throw the ball to inside the post and ask him to go to work. His best source of offense comes in transition, on the offensive glass or moving off the ball, where his mobility, length and soft hands allow him to be a factor as a finisher around the rim. It's impressive to see him beating opposing big men down the floor with his excellent straight-line speed, and even though he's not an amazing leaper, his wingspan and quick jump helps him convert opportunities inside the paint at a very solid clip. His quickness allows him to beat opposing big men to the spot and be a presence on the offensive glass. He is averaging 2.4 offensive rebounds in 24 minutes this season.

Klimenko also shows some flashes as a mid-range jump-shooter, something his team likes to showcase at times. He can hit a 15-17 footer with solid mechanics and good touch, and also converted 74% of his numerous free throw attempts on the season, which is impressive at his size.

Klimenko's mobility extends to the defensive end, where he shows nice potential stepping outside of the paint and hedging screens, especially for a player his size.

On the downside, Klimenko still appears to be in a relatively early stage of his development, as his basketball IQ is average and he makes some fairly questionable decisions at times on the floor. He doesn't always know his limitations seemingly, and gets taken advantage of a little more than you'd hope defensively when going up against older, more experienced big men, giving up deep post position, getting scored on inside, and not showing great awareness for what's happening on the court. He isn't a soft player and shows solid activity when he's motivated to impose his will, but he just doesn't have a lot of experience and his motor tends to run hot and cold at times, particularly when he's not getting as many offensive touches as he likes.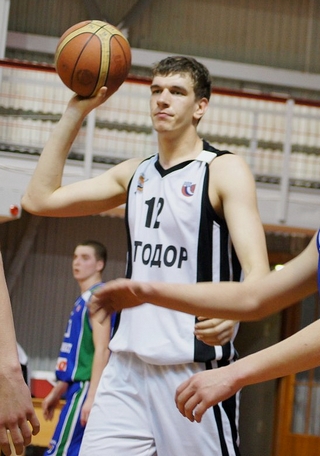 avtodor-inform.livejournal.com



Perhaps where this shows up the most is on the defensive glass, where Klimenko is just average, posting 4.6 defensive rebounds in 24 minutes, which is not great considering the level of competition he plays at. He doesn't go out of his area very often and just doesn't show great instincts pursuing loose balls, something he'll clearly have to do to make it in the NBA considering his average skill-level offensively.

Something that NBA teams might be leery about, which Klimenko really can't control, is their overall comfort level with Russian prospects. The track record of Russian players in the NBA is incredibly poor, as there are really only two success stories (Andrei Kirilenko, and to a lesser extent Timofey Mozgov) you can point to in the last 23 years since the dissolution of the Soviet Union in 1991. Russian basketball players don't have a great reputation outside of their country, as there are significant concerns about their mentality and approach and whether they'll be able to make the transition to playing in the NBA. It should be noted however, that Klimenko was actually born and raised in the Ukraine, even if he's been in Russia for the past few years and will compete for their national team if and when he gets called up to play at that level.

Teams will want to do thorough background work on Klimenko, as there are some occasional red flags that show up on film on occasion. He displays poor body language at times when he doesn't get the ball, pouting and refusing to hustle back on defense, and he'll go through stretches where he looks to cut corners and his intensity leaves something to be desired.

Watching game-tape from the Russian second division probably won't help matters much, as it's not the most competitive setting you'll find, something that certainly plays a part in the ho-hum intensity he displays on occasion. Only entering the draft for the first time this year, with the option to become eligible again in 2015 and 2016 if he desires, Klimenko might elect to move to a higher level of competition next season to show that he can continue to produce against more talented big men.

In the meantime, Klimenko will reportedly come to the States once his season is over (his team just finished the regular season and are the #1 seed in the playoffs), and will conduct private workouts and possibly attend the adidas EuroCamp in June before deciding whether to stay in the draft on June 16th.

It's not out of the question that a NBA team picking in the 20-40 range of the draft might decide to convince him to keep his name in and select him, as there is no doubt that he has legit talent. Mobile 7-footers with his frame and reach certainly don't grow on trees, and with his offensive rebounding proficiency, finishing ability, and budding defensive prowess, he appears to have excellent potential to develop into a solid backup center, at the very least, in the right setting.

We've taken a more visual look at his strengths and weaknesses thanks to game film from Russia (including one Cup game against Euroleague squad Khimki) in the following video scouting report, courtesy of Mike Schmitz.



All of our video scouting reports this season can be found here.

[Read Full Article]

---
adidas EUROCAMP Day Three
June 13, 2012
-Artem Klimenko is one of the youngest players in attendance, but the 1994-born center had a nice showing nonetheless. His length and size make him an intimidating interior presence on the defensive end, and he has a frame that should develop in time as well as a competitive streak. Combine those traits, and you have one of the more impressive young center prospects in Europe. Klimenko played in the third division of Russia this season with Avtodor Saratov, and will remain with the club next season, which will allow him to see quite a bit of playing time, but won't afford him chances to match up against quality competition.

[Read Full Article]

---