NBA Draft Prospect of the Week: Bogdan Bogdanovic
December 26, 2013
Serbian wing Bogdan Bogdanovic is in the midst of a breakout season in his draft-eligible year. He's strung together a series of impressive performances in the Euroleague and Adriatic League with Partizan Belgrade, and played a crucial role on the Serbian National Team this past summer at the European Championships in Slovenia.

---
-NBA Draft Prospect of the Week: Joel Embiid (Video Scouting Report)
-NBA Draft Prospect of the Week: Julius Randle (Video Scouting Report)
-NBA Draft Prospect of the Week: Jabari Parker (Video Scouting Report)
-Revisiting Nikola Mirotic (Video Scouting Report)
-Revisiting Alexis Ajinca (Video Scouting Report)
---
Bogdanovic has taken advantage of an injury to Partizan's starting point guard,
Leo Westermann
, to take on a much more prominent role in his team's offense as a primary ball-handler and facilitator. He's showcasing impressive versatility, leading the team in points, assists, blocks and usage, all while shooting 40% from 3-point range thus far.
Partizan has advanced to the Euroleague Top-16, which will only give Bogdanovic added exposure against some of the top teams in the world outside of the NBA, such as Real Madrid, CSKA Moscow and others.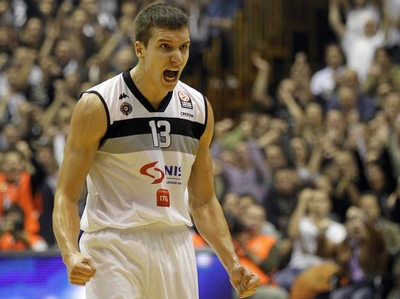 sportklub.rs
Despite possessing a comfortable buyout in his contract, only time will tell what path Bogdanovic will decide to go down eventually--be it an elite Euroleague team, or the NBA. In the meantime, there's little doubt that he's emerged as the most intriguing 1992-born draft-eligible prospect in European basketball, which, barring complications revolving around his ambiguous future NBA status, should make him a viable target for teams picking in the late first and early second round.
Playing on European basketball's biggest platforms has given us ample opportunity to evaluate Bogdanovic's very distinct strengths and weaknesses as a prospect, which we've done in the following video scouting report courtesy of Mike Schmitz.
All of our video scouting reports this season can be found
here
.
[
Read Full Article
]
Nike International Junior Tournament in Paris: Top Prospects
May 17, 2010
Bogdan Bogdanovic is not an FMP product per se (he was being showcased in Paris after dominating the U-18 Serbian playoffs), but he used this opportunity to open some eyes.

The first thing that stands out about Bogdanovic is how incredibly long he is. He looks like he has a wingspan of someone 3-4 inches taller than him. It appears that he was used primarily as a post player in the past but is obviously making a full conversion out to the wing. He's a solid athlete with a good feel for the game, a very confident and aggressive player with nice scoring instincts.

Bogdanovic has a pretty versatile offensive game. He can create his own shot going either left or right and make shots from the perimeter, even if his release needs to get quicker and more consistent. He can score with his back to the basket a bit and showed signs of an emerging mid-range game, especially with the game-winning baseline jumper he hit against Malaga to secure FMP a spot in the finals. He wasn't fully integrated into the team and, at times, took his showcasing quite literally. He was a little too hungry looking for his own shot, forcing some bad ones and making tough drives.

Bogdanovic may have the best potential on defense, even if he is far from reaching his full potential in that area. His outstanding wingspan, solid toughness and aggressive mentality could allow him to develop into a real perimeter stopper if he puts his mind to it. Doing so would help him to earn minutes more quickly at the senior level, which is always an issue in Europe with young players. He already showed flashes in this area with his ability to crash the glass, get in passing lanes and come up with the occasional block.

He's still early in his development (and clearly has a long way to go), but there's a lot to like about Bogdanovic thus far.
[
Read Full Article
]