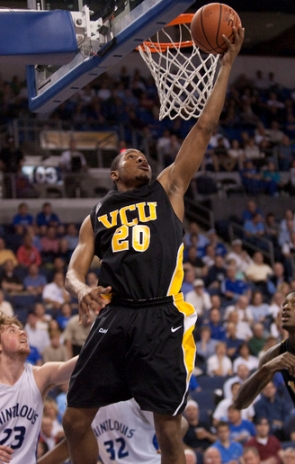 Matt Williams
Few players in college basketball boosted their NBA prospects as significantly as
Bradford Burgess
did during last year's post season. Lightly recruited as a high school senior coming out of Benedictine High School in Virginia, Burgess opted to attend VCU, located only a few miles away from the school's gym.
Though Burgess was not an immediate star for the Rams, he saw significant playing time as a freshman and has improved steadily in each of his seasons with the standout mid-major program. With the departures of Joey Rodriguez and
Jamie Skeen
opening up opportunities for him on the offensive end and a summer experience at the
Kevin Durant
Skills Academy, Burgess will be looked upon to pick up the slack in his final year in Richmond. A remarkably efficient role-player at this juncture, Burgess already has a number of potentially valuable skills, but improvement in a few key areas could boost his perception among scouts considerably for the second straight season.
Standing 6'6 with a frame that he's clearly worked on since his freshman year, Burgess has good size for a wing at the NBA level. His long arms allow him to play bigger and make an impact in the passing lanes on the defensive end. Burgess is not a high flier, nor does he has true blow-by quickness, but he's a decent athlete by NBA standards similar to Marquette standout
Jimmy Butler
who maximizes the athleticism he does have by showing an impressively relentless commitment to running the floor in transition and playing scrappy defense.
Burgess's offensive game is characterized first and foremost by his efficiency from the perimeter. According to Synergy Sports Technology, Burgess connected on an outstanding 45.4% of his catch and shoot attempts from the perimeter as a junior. His prolific shooting is thanks in large part to his extremely sound mechanics that seldom waiver in the slightest, even when he is well defended. At this juncture, Burgess already has the potential to stretch the floor at the NBA level and knock down the ever important corner three, and while he didn't shoot many deep three-pointers last season, he has the framework to become a threat from beyond the NBA line.
While Burgess is an excellent spot-up threat, he has plenty of room to grow as a shot creator and midrange scorer, as evidenced by his paltry 42% 2-point conversion rate. Burgess attempted just 17 pull-up jump shots last season, and though part of his limited sample from the midrange is due to his commitment to playing his role offensively and not forcing things, his ability to show that he can create his own shot and aggressiveness on the offensive end are worth keeping an eye on. Burgess does not show off much in the way of advanced ball handling ability, though he does manage to get to the rim pretty consistently when he does put the ball on the deck. In the long-term he would benefit from being a threat to knock down one-dribble jump shots and make simple moves to create his own shot to use his ability to stretch the floor to his advantage.
Although Burgess doesn't create many shots at the rim for himself, he still managed to make an impact at the basket on the offensive end. Extremely energetic in transition and half court sets alike, Burgess's length and ability to fill lanes made him a common target of dump passes last season. Whether he was setting a screen in the pick and roll, running the give-and-go out of one of Shaka Smart's sets, or getting up the floor off of a missed shot, Burgess does a great job putting himself in the right place at the right time, embracing contact at the rim, and finishing the play.
Defensively, Burgess shows a solid understanding of the fundamentals and does what is asked of him within VCU's concept. His lateral quickness it not off the charts, but the rising senior doesn't give up anything easy, shows some versatility when defending the post, and rebounds the ball at a good rate for a wing. Burgess uses his length well to play the passing lane and block the occasional shots around the rim in the college game, but long term it would be nice to see him add some muscle to his frame to improve his ability to matchup with the more talented, athletic wings he'd be asked to guard at the NBA level and leave his feet less frequently when closing out shooters
Though Burgess is not an elite player in any one category, his combination and size, shooting ability, and team-first gives him intriguing role-player potential. If he can improve his ability to score inside the arc, he could emerge as one of the more interesting mid-major wing prospects in the country. Considering the trajectory of his career, it would not be at all surprising to see him step up once again for Shaka Smart's Rams.