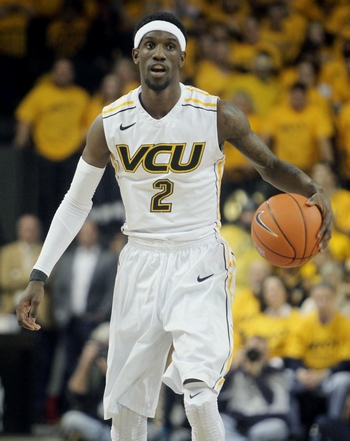 Josh Riddell
After losing starting point guard Darius Theus to graduation, VCU turned to Briante Weber to step into the leading role last season, seeing his minutes increase from 20.9 per game to 28.9 per game. Weber returns to VCU for his senior year looking to lead the Rams to the NCAA tournament for the fifth straight year, while cementing his status as a NBA draft prospect. Weber will have to sit out the regular season opener due to
an off-court incident,
but will be a key player for the Rams when he returns.
Even though Weber saw his playing time increase last season, he remained the same high-energy, ball-hawking defending point guard he was when he was on the court for fewer minutes. Although his steals per 40 minutes pace adjusted decreased slightly from 5.0 to 4.5, he
remained the national leader
in this category among qualified players. Part of the reason Weber was able to play only 20 minutes his sophomore season was foul trouble, but he managed to cut down his fouls from 4.2 to 3.2 per 40 minutes pace adjusted, allowing him to stay on the floor longer.
Weber's defensive ability comes from his unique combination of height, length and quickness for a point guard. At 6'2", 165 pounds with great length and speed, Weber is able to harass his opponent on the defensive end, using his quick hands and feet to pressure the ball handler and deflect passes, which makes it difficult for the opposing offense to flow. He parlayed these skills into the A-10 Defensive Player of the Year award for the second year in a row. He has a high motor to complement his athletic tools, which provides a strong base for his potential as a NBA guard.
While Weber is a defensive star, he needs to improve his scoring ability to show he is capable of not being considered an offensive liability at the NBA level. His physical tools give him potential to be a slashing guard, but he really struggles to score efficiently in the half-court.
Weber uses his speed well both in transition opportunities and half court sets to probe the defense and find openings, but isn't always able to take advantage of these opportunities as he converted just 45% of his field goal attempts inside the paint in the half-court according to Synergy Sports Technology, and 46% in transition situations.
Weber lacks strength in a significant way, as he possesses a narrow frame that makes it difficult for him to convert on the many attempts he creates inside the paint with his terrific quickness. He doesn't have great touch around the basket either, often just throwing up wild attempts inside the paint that don't even draw iron, which is something he'll have to work hard to improve on as he isn't good enough in other areas to compensate for being a sub-50% 2-point shooter his entire career at VCU so far.
His three point shooting needs even more work, as he shot just 24.4% on 41 attempts last season, after hitting 18 of 76 attempts the two seasons prior. Only a handful of guards the past few years have been drafted shooting such a mediocre percentage from beyond the arc.
Weber's poor shooting allows defenses to sag off him, which limits his penetration opportunities and hurts his overall offensive value. He won't need to become a deadly shooter, but starting to show an improved form will help him show he has the potential to be a floor spacer on the offensive end and open up room for himself and his teammates. He's been an excellent free throw shooter his entire career at VCU (career 78%), so perhaps showing some marginal improvement here could help convince scouts there's something to work with down the road.
While Weber struggles as a scorer, he has shown he is a willing and capable passer by finding his teammates when he breaks down the defense with his speed and delivering passes that allow his teammates to take advantage of the open space. He is an extremely unselfish and creative passer, whipping the ball ahead in transition and utilizing both sides of the floor impressively, showing very nice potential in this area. He averaged 5.0 assists per 40 minutes pace adjusted while taking care of the ball, averaging just
2.4 turnovers per 40 minutes pace adjusted
. This leads to a pure point rating of 2.45 which ranks
fourth among point guards among our top 100 prospects
.
Weber has done a great job going from being a player
without a single Division I scholarship offer
as a high school senior to a legit NBA prospect four years later. He's undoubtedly a late bloomer physically and skill-wise, but must show some improvement on the offensive end in his final season of college basketball. While he will not need to be a go-to offensive player, being able to draw the attention of defenses will make him a more complete player and allow NBA teams to see he can run a unit. Weber has a great mix of physical tools and showing improvement on the offensive end should cement his status as a draft prospect.