We continue our coverage of the top NBA draft prospects in the non-BCS conferences with scouting reports on players ranked 6-9:
Ron Baker
,
Fred VanVleet
,
Keifer Sykes
and
Briante Weber
.
The Top 20 NBA Draft Prospects in the Pac-12 Conference
The Top 20 NBA Draft Prospects in the Big 12 Conference
The Top 10 NBA Draft Prospects in the AAC Conference
The Top 22 NBA Draft Prospects in the SEC Conference
The Top 10 NBA Draft Prospects in the Big East Conference
The Top 20 NBA Draft Prospects in the Big Ten Conference
The Top 26 NBA Draft Prospects in the ACC Conference
Top NBA Prospects in the Non-BCS Conferences, Part One
(#1) R.J. Hunter (Scouting Video)
Top NBA Prospects in the Non-BCS Conferences, Part Two
(#2) Rashad Vaughn (Scouting Video)
Top NBA Prospects in the Non-BCS Conferences, Part Three
(#3) Domantas Sabonis (Scouting Video)
Top NBA Prospects in the Non-BCS Conferences, Part Four
(#4) Shawn Long (Scouting Video)
Top NBA Prospects in the Non-BCS Conferences, Part Five
(#5) E.C. Matthews (Scouting Video)
#6, Ron Baker, 6-4, Junior, PG/SG, Wichita State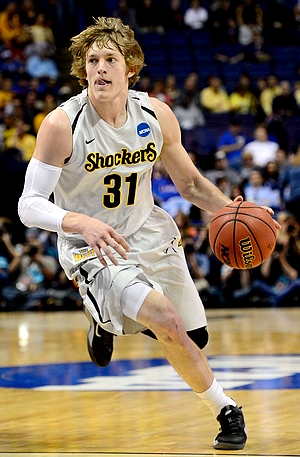 Jonathan Givony
A sparsely recruited player coming out of a small high school in rural Western Kansas (South Dakota State, Arkansas-Little Rock, Division II and Junior College were his best options according to reports), Ron Baker committed to Wichita State late in the game, and only after agreeing to pay his own tuition as a walk-on and redshirt his freshman year. A three-sport athlete in high school (he was also a short-stop and quarterback), Baker hit a late growth spurt that steered him towards basketball, which looks like a pretty smart decision at this point.
Baker's second year at Wichita State was derailed somewhat by a stress fracture he suffered in December of 2012, which forced him to miss six weeks right in the heart of the Shockers' regular season. He came back in time for the Missouri Valley Conference Tournament, though, and played a major part in Wichita State's eventual run to the NCAA Final Four, scoring 16 points and making some monumental 3-pointers to knock off #1 seed Gonzaga along the way.
Baker's third year at Wichita State (as a redshirt sophomore) was his big breakthrough, emerging as a First Team All-Missouri Valley Conference performer after his team won their first 35 games of the season, only to get upset by eventual NCAA Tournament Finalists Kentucky in the Round of 32. Baker made a name for himself as one of the best shooting guards in the country, showcasing outstanding versatility and efficiency for Gregg Marshall's highly disciplined and competitive squad.
Baker has average size for a shooting guard at 6-4 in shoes (measured at the Lebron James Academy this summer), but compensates for that somewhat with a solid 6-8 ½ wingspan and a strong 222 pound frame.
He is not the most prolific scorer around (17.9 points per-40), but plays extremely efficient (62% TS%) basketball on a team that likes to share the ball and didn't ask too much from any one player last season, besides their star power forward Cleanthony Early (the #34 pick in last year's draft).
Baker's most consistent weapon offensively is his jump-shot, with 57% of his field goal attempts coming from beyond the arc last season, of which he made a very solid 38%. He has excellent shooting mechanics, with great balance and a quick and compact release, making him extremely reliable with his feet set, where he knocks down 43% of his attempts in catch and shoot situations. It's not hard to see him developing into a very consistent stand-still shooter at the NBA level, even if scouts would likely want to see him improve on the 37% he's shot from 3-point range in his college career thus far, in his junior season.
Baker is far a one-dimensional shooter at the college level, as he sees a good amount of responsibility in pick and roll situations as the secondary ball-handler next to Fred VanVleet. While he does not possess an overwhelmingly quick first step, Baker is a solid ball-handler who operates at different speeds and can create his own shot effectively at the college level when called upon. He is a very good shooter off the dribble, hitting an excellent 40% of his pull-up jumpers last season, and can attack the basket nicely in closeout situations, relying on his terrific timing and footwork, rather than on pure athleticism.
Baker doesn't get inside the paint in the half-court all that often (just twice a game last season according to Synergy), but is solid when he does, as he's extremely crafty with his finishes and shows excellent touch around the rim. He draws fouls at a decent rate, and makes 85% of his free throw attempts once there.
Besides being highly skilled, part of the reason for Baker's success is how smart a basketball player he is. He's extremely mature for someone who only has 53 games of Division I experience underneath his belt, as he knows his limitations, is extremely poised, plays at his own pace, has a very good temperament and has no problem staying within himself and not forcing the issue. He executes Wichita State's disciplined offense very well, as he's extremely unselfish, and shows great chemistry with starting point guard Fred VanVleet.
Baker is an excellent passer, moving the ball crisply and without hesitation, often not needing a single dribble to find the open man impressively. He swings the ball to open shooters, is a terrific post-entry passer, regularly pushes it ahead in transition, and makes very intelligent bounce passes to cutters and rollers on the pick and roll. Baker generates an assist on an impressive 27% of his possessions, a mark that many point guards would be happy to post, which leaves some room for optimism regarding his ability to play a combo guard role at the next level.
With that said, there are some question marks regarding how Baker's shot-creating ability will translate to higher-level competition. He doesn't have a great first step by NBA standards, and seems to struggle already when dealing with length inside the paint. He's neither a prolific, nor efficient option in transition (48% FG% SST), and also is rarely asked operate in isolation situations (33% FG%, under 1 possession per game), preferring the type of slow-paced style of play that seems to work a lot better in college than in the NBA. Scouts will be watching his matchups closely this season with the likes of Memphis, Utah, Alabama and New Mexico State, to see how Baker fares against longer and more athletic competition than he normally faces in the Missouri Valley Conference.
Just as important will be Baker's performance on the defensive end, which is what will likely decide whether he's able to carve out a niche in the NBA or not. Baker lacks great size for his position, and often looks very upright trying to stay in front of opponents on the perimeter. His lateral quickness isn't great, and he can get overpowered rather easily by stronger matchups.
To his credit, Baker plays with a high intensity level, and seems to have some potential here thanks to his length, smarts and competitive nature. Baker has excellent instincts and anticipation skills in the passing lanes, getting nearly two steals per-40 minutes pace adjusted, a very good mark. He is active and attentive trying to contest shots on the perimeter, and plays on a team that was outstanding operating in tandem as a defensive unit. Even when Baker gets caught flat-footed and is blown-by on the perimeter, there is usually someone there to rotate and help get a stop. Things will be different in the NBA with a significantly better spaced floor and teams looking to isolate him regularly, so he'll need to keep gaining experience and strength and do a better job of staying in front of opponents.
The same age as many college seniors, turning 22 in March, due to his redshirt season, this will be an important year for Baker to show he can continue his upward trajectory. After an outstanding sophomore season, NBA teams will be scouting him heavily every game, and it will be interesting to see what kind of improvement he can show.
#7, Fred VanVleet, 6-0, Junior, Point Guard, Wichita State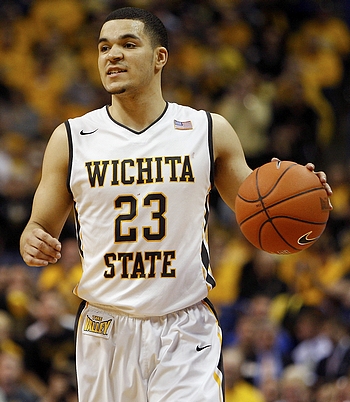 Matt Williams
Averaging 11.6 points, 3.8 rebounds, and 5.3 assists per-game as a sophomore at Wichita State last season, Fred VanVleet's played a key role in the Shocker's 35-0 start as the steady hand steering one of the nation's elite offensive units. Invited to the Nike Point Guard Skills Academy and CP3 Elite Guard Camp this summer, the 3rd team All-American was nothing short of tremendous last season, emerging from relative obscurity after backing up Malcolm Armstead as a freshman to solidify himself as one of the top point guards in college basketball, planting himself firmly on the radar of NBA scouts in the process.
At 6'0 with a 6'1.5 wingspan, VanVleet's lacks great size, length, and explosiveness for a point guard, but he is a strong, fluid athlete with good ball-handling ability who can keep defenders off balance with his crossover and knack for changing speeds off the bounce. Despite being ranked late as a Top-100 player the high school class of 2012 by Dave Telep at ESPN (but not by anyone else), VanVleet was largely under-recruited out of Auburn HS (IL) for most of his high school career. He isn't the type of player who stands out on first glance, and will face questions about his size and athleticism when he looks to make the jump to the NBA, but it became impossible to ignore the pre-season All-American's ability to play brutally efficient, low-mistake basketball at the point guard position last season.
Averaging 16.2 minutes per-game as a freshman, The Rockford native stepped into a feature role from the start of his sophomore year as the primary ball-handler, and thrived when asked to be the main facilitator for the deep, versatile, and talented group Wichita State put on the floor in 2014.
Ranking
second
in assist per-40 minutes pace adjusted and
first
in pure point rating among top-100 prospects, VanVleet is one of the top distributors in college basketball. Posting a 6.6 assist-to-turnover ratio in transition, VanVleet combines excellent ball-handling ability with terrific pace, patience and vision. Seemingly never forcing the issue and possessing an excellent command of Gregg Marshall's offense, the 20 year old plays with a unique maturity and poise considering this was just his first season playing significant minutes at the college level.
More than just a passer, VanVleet also emerged as an efficient scorer last season as well. That efficiency starts with his terrific perimeter jumper. Shooting the ball with a smooth, compact release that looks effortless at times, VanVleet knocked down a tremendous 44% of his catch and shoot jump shots and 46% of his pull up jumpers a year. Though he only attempted 90 three-pointers in 35 games, VanVleet appears to have the ability to keep defenders honest out on the perimeter and also make them pay when he finds space in the midrange.
Though the junior ranks 1st among point guards in our top-100 in points per-play, he isn't without his flaws as a scorer. He does a nice job probing the defense with his dribble and absorbs contact well thanks to his near 200-pound frame, but his 57% shooting around the rim is only above average, as he struggles to finish among the trees when they take away his angle to the glass. Possessing just average explosiveness, VanVleet is not the type of point guard who will come down the lane and put anyone on a poster, and while he isn't a bad finisher by any means, he'll face a challenge when he makes the jump to the next level where the length and leaping ability of the big men he'll find will dwarf what he saw on a nightly basis in the MVC last year.
Averaging only 15 points per-40 minutes pace adjusted a year ago, VanVleet's lack of prolificacy as a scorer could be looked at as a weakness relative to his peer group, but it is more a reflection of his unselfishness and the tremendous balance Wichita State found offensively a year ago. With the team's leading scorer, Cleanthony Early, making the jump to the NBA, it will be interesting to see just how much of the scoring load VanVleet shoulders this season and what if any toll it takes on his efficiency.
One of the most unique attributes of VanVleet's game is his rebounding ability for a player his height. Pulling down 4.9 boards per-40 minutes paces adjusted, VanVleet is not a game-changing rebounder, which isn't a slight considering the minor contributions most players his size tend to make in that area, but he isn't afraid to mix it up inside, will try to box out big men from time to time, and will compete for the ball in traffic.
VanVleet has terrific defensive fundamentals on the whole, doing a nice job closing out shooters, keeping his feet active, and playing with consistent intensity. Though the small guard isn't a freak athlete, he does possess impressive quickness and can be a pest when opposing guards are loose with their handle away from the rim. His height limits his ability to contest shots, especially in the paint, but he won't give up on plays when his man gets a step on him and is aggressive with his hands going after the ball before his man can get into his shooting motion around the rim.
One of the most interesting stories among prospects in the junior class given his year-long rise to national prominence, Fred VanVleet has established himself as a viable draft prospect. The track record for guards his size at the NBA level is not great, but VanVleet's exceptional maturity and efficiency as both a scorer and a passer certainly puts him on strong footing in the eyes of scouts. He'll be a player to watch closely this season as he'll have the opportunity to grow his reputation on the heels of the national attention Wichita State will receive after what they accomplished last year, as he aims to help fill Cleanthony Early's shoes and fuel the Shockers to another successful season.
#8, Keifer Sykes, 5'11", Senior, Point Guard, Wisconsin-Green Bay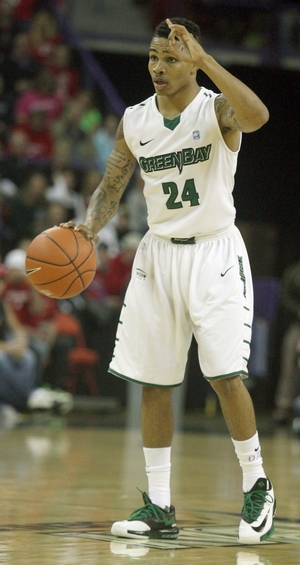 Derek Bodner
Keifer Sykes arrived on Wisconsin-Green Bay's campus as a 17-year old and made an immediate impact his freshman season, playing 29 minutes per night for the Phoenix. Sykes has seen his role grow over the years, shouldering more and more of the offensive workload for Green Bay, while rounding himself into a dynamic offensive option.
Green Bay's season ended in disappointment last March, as the team lost in the first round of the Horizon League conference tournament to 7-9 Milwaukee, despite going 14-2 in conference play. Sykes (reportedly nursing an ankle injury) and Alec Brown picked the wrong day to have an off-game, as the two combined to shoot 7-26 in a heartbreaking loss that sent them to the NIT. Nevertheless, Sykes had an outstanding season, being named conference player of the year.
Sykes scored a career best 23 points per 40 minutes pace adjusted last season for Green Bay, while doing so at a career-best 57.3% true shooting percentage. Sykes has shown steady progression in both of those numbers over the years, from 15.2 points per 40 minutes pace adjusted on 50.8% true shooting percentage as a freshman, to 18.6 points on 54.7%, finally to 23 points per 40 pace adjusted and 57.3% true shooting as a junior. The continued progress he has shown as his game has matured has been a good sign for his future progress.
Sykes saw a big jump in his effectiveness as a jump shooter during his sophomore season, connecting on 43.1% of his 2.1 three point attempts per game. That progress did not carry over to his junior season, however, as he connected on just 30.9% of his 3.2 three point attempts per game.
It would be easy to explain this as an increase in scoring load, but his shooting off the dribble – which is where you would normally see the impacts of added burden – actually got better, and took up less of his offense. According to Synergy Sports Technology, jump shots off the dribble accounted for 27.6% of his half court possessions as a sophomore, where he connected at only 29.2%. As a junior, jumpers off the dribble accounted for only 25.9% of his half court possessions, with his efficiency increasing to a much more respectable 38.2%.
It was mostly in catch and shoot situations where Sykes was not able to replicate the performance he had during his sophomore season. That's not to say he was terrible, as he was still more efficient in these situations than 55% of players charted. Still, it was a far cry from the 93rd percentile he ranked in as a sophomore.
He shows solid form as a jump shooter, with a good, repeatable follow-through and a quick release, which he'll need to get shots off over the longer defenders he'll face at the next level. His form off the dribble is good as well, as he does a good job of getting his feet set when pulling up off the dribble, with an exceptional step back jumper as a major weapon in his arsenal.
Sykes is a tremendous athlete, highly explosive and very quick with the ball in his hands, aided by a very tight and in-control dribble, that allows him to get into the paint, both in isolation situations and when turning the corner off the pick and roll, where his improved threat as a shooter off the pick makes him even more of a threat. Once in the paint, Sykes does a good job of finding the open man when the defense rotates over, although he can at times come off a little over-aggressive and out of control, something he's done a good job of dialing back over the years.
Decision making and shot-selection were serious issues for Sykes early on in his career, but he's really improved at learning how to cut back on turnovers and knowing how to balance his scoring and passing ability.
Sykes is excellent in the open court thanks to his tremendous speed and aggressiveness, being very proficient at getting his team shots in the early offense, either by driving into the paint or kicking the ball out to the open man.
As a scorer in the paint, Sykes is somewhat limited by his physical profile, standing only 5'11" and without an incredible wingspan to make up for it. Sykes does have good body control and touch around the hoop, along with excellent leaping ability for somebody of his size, with the ability to catch a defender by surprise with his propensity for playing above the rim—even being on the receiving end of lob-plays at times. Despite his size, he was able to convert an excellent 60% of his field goal attempts around the basket last season, although that number fell to 54% when taking into account his floaters as well.
Sykes has a wiry frame, but would benefit from adding more upper body strength to endure the physical game he'll face when driving in the paint at the next level. He's also not as effective driving left, preferring to get back to his right hand and being somewhat turnover prone when being unable to do so.
On the defensive side of the court, Sykes' physical profile is the first thing you notice. While he can play good pressure defense at times, his lack of size, average wingspan, and thin frame will be tough to overcome at the next level, especially since he can look somewhat apathetic at times on this end of the floor. He gets lost off the ball a fair amount and tends to reach unnecessarily for steals. He can also struggle to fight through picks, and must do a better job of anticipating and avoiding screens. This will be an area teams will want to study very closely in private workout settings, in order to gauge how much his size will affect his ability to hold his own at the NBA level defensively.
Overall, Keifer Sykes has continued to make progress as an all-around player, increasing his scoring load, efficiency, and ability to setup his teammates, while doing a better job of keeping his turnovers in check. His improvement shooting off the dribble was a key for him last season, and whether or not he can maintain that level of efficiency going forward will be something to keep an eye on, as he could see a lot of time in pick and rolls at the next level. While Sykes will always be at a disadvantage due to his physical profile, he shows many of the skills teams covets from the point guard position as well as the type of athleticism that could help him earn a serious look in the draft next summer.
#9, Briante Weber, 6-2, Senior, Point Guard, VCU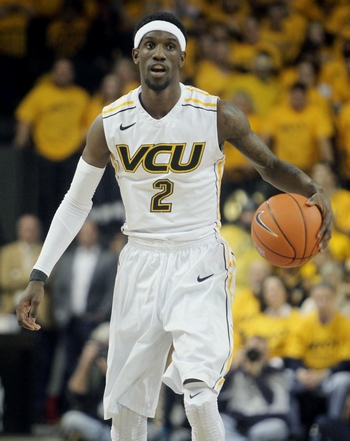 Josh Riddell
After losing starting point guard Darius Theus to graduation, VCU turned to Briante Weber to step into the leading role last season, seeing his minutes increase from 20.9 per game to 28.9 per game. Weber returns to VCU for his senior year looking to lead the Rams to the NCAA tournament for the fifth straight year, while cementing his status as a NBA draft prospect. Weber will have to sit out the regular season opener due to
an off-court incident,
but will be a key player for the Rams when he returns.
Even though Weber saw his playing time increase last season, he remained the same high-energy, ball-hawking defending point guard he was when he was on the court for fewer minutes. Although his steals per 40 minutes pace adjusted decreased slightly from 5.0 to 4.5, he
remained the national leader
in this category among qualified players. Part of the reason Weber was able to play only 20 minutes his sophomore season was foul trouble, but he managed to cut down his fouls from 4.2 to 3.2 per 40 minutes pace adjusted, allowing him to stay on the floor longer.
Weber's defensive ability comes from his unique combination of height, length and quickness for a point guard. At 6'2", 165 pounds with great length and speed, Weber is able to harass his opponent on the defensive end, using his quick hands and feet to pressure the ball handler and deflect passes, which makes it difficult for the opposing offense to flow. He parlayed these skills into the A-10 Defensive Player of the Year award for the second year in a row. He has a high motor to complement his athletic tools, which provides a strong base for his potential as a NBA guard.
While Weber is a defensive star, he needs to improve his scoring ability to show he is capable of not being considered an offensive liability at the NBA level. His physical tools give him potential to be a slashing guard, but he really struggles to score efficiently in the half-court.
Weber uses his speed well both in transition opportunities and half court sets to probe the defense and find openings, but isn't always able to take advantage of these opportunities as he converted just 45% of his field goal attempts inside the paint in the half-court according to Synergy Sports Technology, and 46% in transition situations.
Weber lacks strength in a significant way, as he possesses a narrow frame that makes it difficult for him to convert on the many attempts he creates inside the paint with his terrific quickness. He doesn't have great touch around the basket either, often just throwing up wild attempts inside the paint that don't even draw iron, which is something he'll have to work hard to improve on as he isn't good enough in other areas to compensate for being a sub-50% 2-point shooter his entire career at VCU so far.
His three point shooting needs even more work, as he shot just 24.4% on 41 attempts last season, after hitting 18 of 76 attempts the two seasons prior. Only a handful of guards the past few years have been drafted shooting such a mediocre percentage from beyond the arc.
Weber's poor shooting allows defenses to sag off him, which limits his penetration opportunities and hurts his overall offensive value. He won't need to become a deadly shooter, but starting to show an improved form will help him show he has the potential to be a floor spacer on the offensive end and open up room for himself and his teammates. He's been an excellent free throw shooter his entire career at VCU (career 78%), so perhaps showing some marginal improvement here could help convince scouts there's something to work with down the road.
While Weber struggles as a scorer, he has shown he is a willing and capable passer by finding his teammates when he breaks down the defense with his speed and delivering passes that allow his teammates to take advantage of the open space. He is an extremely unselfish and creative passer, whipping the ball ahead in transition and utilizing both sides of the floor impressively, showing very nice potential in this area. He averaged 5.0 assists per 40 minutes pace adjusted while taking care of the ball, averaging just
2.4 turnovers per 40 minutes pace adjusted
. This leads to a pure point rating of 2.45 which ranks
fourth among point guards among our top 100 prospects
.
Weber has done a great job going from being a player
without a single Division I scholarship offer
as a high school senior to a legit NBA prospect four years later. He's undoubtedly a late bloomer physically and skill-wise, but must show some improvement on the offensive end in his final season of college basketball. While he will not need to be a go-to offensive player, being able to draw the attention of defenses will make him a more complete player and allow NBA teams to see he can run a unit. Weber has a great mix of physical tools and showing improvement on the offensive end should cement his status as a draft prospect.