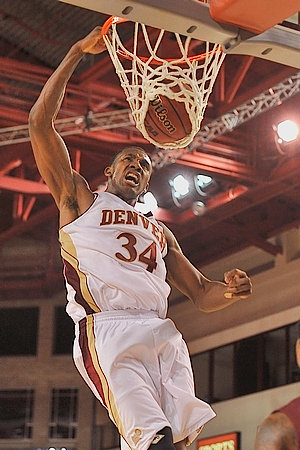 Jonathan Givony
An underrecruited high school player who's only other scholarship offer came from NJIT, Chris Udofia has been a contributor from day one for Denver, posting extremely versatile stat-lines while seeing his team migrate between the Sun Belt, WAC and now the Summit league.
Any evaluation of Udofia's strengths and weaknesses should take into account the system he's operating in. Coach Joe Scott's teams have traditionally been one of the slowest paced offenses in college basketball dating back to his Air Force and Princeton teams a decade ago, and at 58.8 possessions per game (second lowest tempo in the NCAA), last season was no exception.
The tallest player in their main rotation, despite standing just 6-6, Udofia saw most of his minutes at the center position, even if Denver's Princeton-style offense allowed him to spend plenty of time on the perimeter, often as a facilitator from the high post.
Udofia brings intriguing physical attributes to the table, as he has an exceptionally long wingspan (reportedly around 7-feet) and outstanding athletic ability to compliment his lean 6-6 frame. He has good quickness and plays above the rim with ease, which could help him make the transition to playing on the perimeter full-time, something he'd almost certainly have to do at the pro level.
Udofia is utilized in a variety of ways, be it as a cutter, a roll-man, a post-option, or simply a floor spacer—constantly probing, screening, flashing to open spaces and reading the defense while his team grinds out each possession. He is one of the best passing big men in college basketball, averaging nearly 5 assists per-40 minutes pace adjusted (a team high), and has been an extremely efficient play his entire career, shooting 56% inside the arc and 34% outside it last season.
With time and space, Udofia is capable of knocking down an open jump-shot, something opposing defenses seemed happy to concede to him at times last season. He made 23 of the 67 3-pointers he attempted last season in 32 games, a very small sample, but clearly has work to do with this part of his game judging by his slow release, his 29 total makes in two previous years, and the fact that he made just 66% of his free throw attempts. Udofia is strictly a flat-footed shooter with his feet set, not possessing any type of off the dribble jumper in his arsenal at this stage.
As a ball-handler, Udofia is mostly a straight-line driver, capable of attacking opposing big men with an extremely quick first step en route to simple forays to the basket. He finishes very well around the rim, sometimes in highlight reel fashion thanks to his excellent length and leaping ability, converting a terrific 64% of his non-post-up attempts around the basket in the half-court.
As he continues to transition to playing on the wing, Udofia will need to become a better ball-handler and overall shot-creator from the perimeter in the half-court. He doesn't possess much in the ways of advanced moves, struggling to change speeds or directions with the ball if his initial move is cut off, something that will become more pronounced in faster-paced offenses with a 24 second shot clock.
Defensively, Udofia is highly productive, averaging 2.3 steals and 3.3 blocks per-40 minutes pace adjusted, being one of
just four players
in the last twelve seasons of college basketball to accomplish such a feat. His long arms, quick feet, excellent timing and overall athleticism give him a lot of versatility on this end of the floor, which leaves plenty of room for optimism regarding how he might develop down the road.
Playing the center position at 6-6 and 200 pounds, Udofia is a major target for opposing teams to post-up, something he sees mixed results with for obvious reasons. He has a difficult time keeping stronger players off the block, even if his length allows him to do a solid job of contesting shots and deflecting post-entry passes from behind.
On the perimeter, Udofia lacks some experience, at times not doing a great job of getting low to the ground in his stance and containing dribble penetration. Nevertheless, his physical tools and instincts help him compensate for his shortcomings here at this level of competition, and it's not hard to seeing him develop into an effective option as he gets stronger and gains more experience.
Udofia is a surprisingly average rebounder considering his physical attributes and the way he fills up other parts of the boxscore, particularly on the offensive end where he's never averaged more than 2.3 offensive rebounds per-40 minutes pace adjusted. Some of this might have to do with Denver's style of play, as his coach's teams have never put a huge emphasis on this part of the game.
Udofia is a player that NBA teams will likely want to see in different settings outside of Denver's system during the NBA pre-draft process, as his role at the professional level would likely be radically different in terms of his position, role and style of play. Udofia will likely need to improve his perimeter skill-set significantly to play on the wing at the professional level full time, something could take a few years and might have to happen in a place like the NBA Development League. Not turning 22 until next July, Udofia is one of the youngest seniors in college basketball, so time is definitely on his side, and if he doesn't make it initially, he's worth monitoring the next few years to see how he's progressing.