We continue our coverage of the top returning NBA prospects in the non-BCS conferences with scouting reports of prospects ranked #26-30:
Chris Udofia
,
Treveon Graham
,
Derrick Marks
,
Troy Huff
and
Malcolm Miller
.
Incoming freshmen have been excluded from these previews, as we'd like to wait and see what they have to offer on the NCAA level before we come to any long-term conclusions.
-
Top 30 NBA Draft Prospects in the ACC
-
Top 15 NBA Draft Prospects in the Big Ten
-
Top 10 NBA Draft Prospects in the Big 12
-
Top 15 NBA Draft Prospects in the Pac-12
-
Top 15 NBA Draft Prospects in the Big East
-
Top 15 NBA Draft Prospects in the SEC
-
Top 15 NBA Draft Prospects in the AAC
-
Top NBA Prospects in the Non-BCS Conferences, Part One
(#1) Przemek Karnowski
(#2) Khem Birch
(#3) Deonte Burton
(#4) Juvonte Reddic
(#5) Alec Brown
-
Top NBA Prospects in the Non-BCS Conferences, Part Two: (#6-10)
(#6) Elfrid Payton
(#7) Cleanthony Early
(#8) Winston Shepard
(#9) Alan Williams
(#10) Josh Davis
-
Top NBA Prospects in the Non-BCS Conferences, Part Three
(#11) Javon McCrea
(#12) Kendall Williams
(#13) Kevin Pangos
(#14) Briante Weber
(#15) Ronald Roberts
-
Top NBA Prospects in the Non-BCS Conferences, Part Four
(#16) Alex Kirk
(#17) D'Andre Wright
(#18) Davion Berry
(#19) Kendrick Perry
(#20) Adjehi Baru
-
Top NBA Prospects in the Non-BCS Conferences, Part Five
(#21) Anthony Drmic
(#22) R.J. Hunter
(#23) Jerrelle Benimon
(#24) Siyani Chambers
(#25) Tyler Haws
#26, Chris Udofia, 6-6, Senior, Power Forward, Denver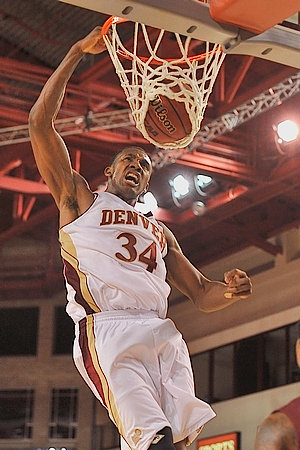 Jonathan Givony
An underrecruited high school player who's only other scholarship offer came from NJIT, Chris Udofia has been a contributor from day one for Denver, posting extremely versatile stat-lines while seeing his team migrate between the Sun Belt, WAC and now the Summit league.
Any evaluation of Udofia's strengths and weaknesses should take into account the system he's operating in. Coach Joe Scott's teams have traditionally been one of the slowest paced offenses in college basketball dating back to his Air Force and Princeton teams a decade ago, and at 58.8 possessions per game (second lowest tempo in the NCAA), last season was no exception.
The tallest player in their main rotation, despite standing just 6-6, Udofia saw most of his minutes at the center position, even if Denver's Princeton-style offense allowed him to spend plenty of time on the perimeter, often as a facilitator from the high post.
Udofia brings intriguing physical attributes to the table, as he has an exceptionally long wingspan (reportedly around 7-feet) and outstanding athletic ability to compliment his lean 6-6 frame. He has good quickness and plays above the rim with ease, which could help him make the transition to playing on the perimeter full-time, something he'd almost certainly have to do at the pro level.
Udofia is utilized in a variety of ways, be it as a cutter, a roll-man, a post-option, or simply a floor spacer—constantly probing, screening, flashing to open spaces and reading the defense while his team grinds out each possession. He is one of the best passing big men in college basketball, averaging nearly 5 assists per-40 minutes pace adjusted (a team high), and has been an extremely efficient play his entire career, shooting 56% inside the arc and 34% outside it last season.
With time and space, Udofia is capable of knocking down an open jump-shot, something opposing defenses seemed happy to concede to him at times last season. He made 23 of the 67 3-pointers he attempted last season in 32 games, a very small sample, but clearly has work to do with this part of his game judging by his slow release, his 29 total makes in two previous years, and the fact that he made just 66% of his free throw attempts. Udofia is strictly a flat-footed shooter with his feet set, not possessing any type of off the dribble jumper in his arsenal at this stage.
As a ball-handler, Udofia is mostly a straight-line driver, capable of attacking opposing big men with an extremely quick first step en route to simple forays to the basket. He finishes very well around the rim, sometimes in highlight reel fashion thanks to his excellent length and leaping ability, converting a terrific 64% of his non-post-up attempts around the basket in the half-court.
As he continues to transition to playing on the wing, Udofia will need to become a better ball-handler and overall shot-creator from the perimeter in the half-court. He doesn't possess much in the ways of advanced moves, struggling to change speeds or directions with the ball if his initial move is cut off, something that will become more pronounced in faster-paced offenses with a 24 second shot clock.
Defensively, Udofia is highly productive, averaging 2.3 steals and 3.3 blocks per-40 minutes pace adjusted, being one of
just four players
in the last twelve seasons of college basketball to accomplish such a feat. His long arms, quick feet, excellent timing and overall athleticism give him a lot of versatility on this end of the floor, which leaves plenty of room for optimism regarding how he might develop down the road.
Playing the center position at 6-6 and 200 pounds, Udofia is a major target for opposing teams to post-up, something he sees mixed results with for obvious reasons. He has a difficult time keeping stronger players off the block, even if his length allows him to do a solid job of contesting shots and deflecting post-entry passes from behind.
On the perimeter, Udofia lacks some experience, at times not doing a great job of getting low to the ground in his stance and containing dribble penetration. Nevertheless, his physical tools and instincts help him compensate for his shortcomings here at this level of competition, and it's not hard to seeing him develop into an effective option as he gets stronger and gains more experience.
Udofia is a surprisingly average rebounder considering his physical attributes and the way he fills up other parts of the boxscore, particularly on the offensive end where he's never averaged more than 2.3 offensive rebounds per-40 minutes pace adjusted. Some of this might have to do with Denver's style of play, as his coach's teams have never put a huge emphasis on this part of the game.
Udofia is a player that NBA teams will likely want to see in different settings outside of Denver's system during the NBA pre-draft process, as his role at the professional level would likely be radically different in terms of his position, role and style of play. Udofia will likely need to improve his perimeter skill-set significantly to play on the wing at the professional level full time, something could take a few years and might have to happen in a place like the NBA Development League. Not turning 22 until next July, Udofia is one of the youngest seniors in college basketball, so time is definitely on his side, and if he doesn't make it initially, he's worth monitoring the next few years to see how he's progressing.
#27, Treveon Graham, 6-6, Junior, SF/PF, VCU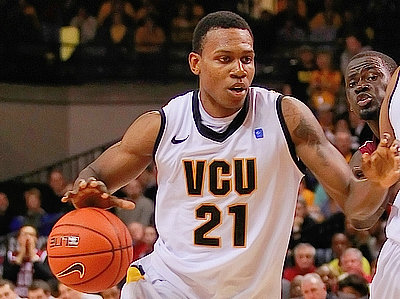 Jonathan Givony
A lightly recruited high school player who got only one other college offer--from Cleveland State, Treveon Graham has been an ultra-aggressive scorer from the moment he stepped on the floor for VCU. After putting up gaudy per-minute scoring lines as a freshman, he established himself as one of the best overall scorers in the A-10 as a sophomore, while helping his team make the conference championship game.
While VCU's season ended in the NCAA Tournament Round of 32 at the hands of eventual finalists Michigan, the team returns a large part of its core from last season and is being projected as a top-15 team in many national polls as the favorites to win Conference USA. Now a junior, Graham will need to take the next step in his development to help Shaka Smart make another deep run in March.
Despite standing somewhere between 6-5 and 6-6, Graham plays the power forward position primarily for VCU. He is a major key in their pressing, up-tempo style of play, as he's capable of being a real mismatch from the perimeter for opposing big men to handle, but is still strong and aggressive enough to handle himself inside capably.
Graham possesses a very strong frame, but is not an overly athletic prospect. He's largely a below the rim player, without great quickness or explosiveness, but makes up for it at the college level with his strength, smarts, savvy and scoring instincts.
Graham is a solid outside shooter, making 37% of his 3-point attempts last season, up from 31% the year before. He is decent with his feet set, prone to bouts of streakiness, but is pretty effective shooting the ball off the bounce, particularly in the mid-range area where he can create separation and just throw the ball in the basket thanks to his advanced scoring instincts.
Graham isn't asked to create his own shot in pure one on one situations very often, as he's not a great ball-handler and does not possess the quickest first step around. VCU instead likes to get him in motion off screens or running downhill in their dribble-drive motion sets, where he can bully his way to the basket using his superior strength and aggressiveness, drawing a large number of fouls in the process.
Graham is not a great finisher inside the paint when forced to deal with length in traffic, due to his average explosiveness and reluctance to use his off hand, which partially explains why he shot under 50% from 2-point range last season. With that said, he's savvy and aggressive enough to know how to use his body to get to the free throw line at the college level, and has a very effective runner and floater he can utilize from 4-8 feet away, a testament to his advanced scoring prowess.
Graham is an excellent offensive rebounder for his size, indeed ranking #1 in this category among wing prospects last season, even if that's misleading considering he spent most of his time at the 4. Still, he ranks in the top-10 in that category among all returning prospects in our top-100 rankings, as his length, strength, instincts and aggressiveness help him find a large number of extra possessions despite possessing just average size and athleticism.
Defensively is where Graham might have the biggest question marks to answer regarding his NBA potential. While he possesses good size, length and strength for a wing prospect, his lateral quickness is just average, and he frequently struggles to contain dribble penetration on the perimeter against collegiate forwards, something that will likely become even more pronounced if forced to move down a position or two, which he'll almost certainly have to do at 6-6.
A year young for his class, Graham has some very interesting characteristics with his length, strength and scoring instincts that all but assure him a bright career playing professional basketball. He'll have to shore up his perimeter skill-set and show he can defend NBA wing players if he's to prove he can do so in the NBA. Having just turned 20 two weeks ago, Graham is the same age as many sophomores like Kyle Anderson, Perry Ellis and Isaiah Austin and thus may still have more room to improve than your typical upperclassmen. NBA scouts will be watching to see what type of strides he makes, as he'll be on their radar screen all season playing for one of the most visible mid-major programs in college basketball.
#28, Derrick Marks, 6-3, Junior, SG, Boise State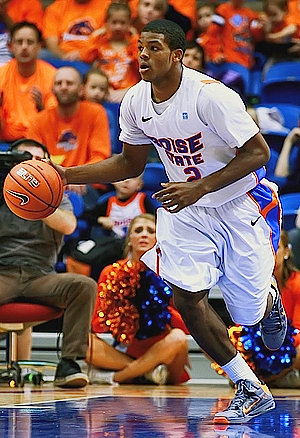 Josh Riddell
After failing to secure the school's first ever NCAA tournament win, dropping their opening round game to La Salle, Boise State returns the entire core of their team and will look to take advantage of having one of the most experienced teams in the nation to win their first tournament game in seven tries.
In his sophomore season, Derrick Marks saw a sharp increase in his offensive responsibility, as he doubled his field goal attempts from 6.4 per game to 12.3 per game, which subsequently rose his points per game average from 9.0 to 17.0. With his increased usage, Marks did see a slight drop in his two point field goal attempt percentage, as it slipped from 48.5% to 46.6%. Marks is a reliable scorer, putting up double digit points in 25 of Boise State's 32 games last year.
Measured at 6'3", 206 pounds, Marks will not wow scouts with his physical attributes. He has an average build with only decent speed and acceleration. He doesn't have tremendous explosiveness and because of this, he struggles to finish consistently in the paint at the Missouri Valley Conference level. Marks finds crafty ways to score for Boise State, but he may struggle to replicate this in the NBA against more athletic defenders.
Due to his lack of athleticism, Marks struggles to get to the rim off the dribble which causes him to settle for mid-range pull up jump shots. He does shoot well off the dribble, converting 44% on such shots according to Synergy Sports, as he is great at squaring to the rim and getting on balance for his attempts. Marks is able to offset some of his struggles of getting to the rim by possessing an excellent series of ball and shot fakes, which allows him to get to the line 7.6 times per 40 minutes pace adjusted
one of the top marks among shooting guards
last season.
With most of his attempts coming off the dribble, it would be nice to see how Marks can fare in catch and shoot opportunities this season. He only shot 52 3-point attempts last season, but he made 42.3% of that small sample, which shows he might be a useful shooter going forward, especially considering he has a fundamentally sound shooting form. However, most of these attempts came off the dribble and scouts will want to see whether he can find success spacing the floor and hitting open shots in catch and shoot situations as well. His tendency to dribble at least once before almost any shot will slow his development as a shooter, as defenders will have a much easier time closing out on him with this wasted action. This would be a nice piece to add this season to make him a more well-rounded offensive player.
Most of Marks' offense came out of the pick and roll, as he creates offense coming off screens, either a pull up mid range jump shot for himself or drawing the defense and finding his open teammate. He is careless with the ball when looking to create for his teammates, as his 4.5 turnovers per game ranked
3rd worst among shooting guards
. Marks needs to improve his decision making with the ball, which will make the offense flow smoother.
Defensively, Marks is a liability at this point in his career and will need to make some major leaps to become a serviceable defender going forward. Marks is already at a disadvantage due to his below average physical tools, and he compounds the issue with poor footwork and awareness. He often runs into screens or take poor routes around them due to having tunnel vision on his man and not recognizing the screen being set on him.
Marks pressures the ball well, which helps him force
2.4 steals per 40 minutes pace adjusted
. However, he has poor footwork when moving laterally which allows offensive players to easily beat him off the dribble. He can sometimes be lazy playing defense off the ball and teams will want to see him put forth better effort on this side of the court.
This season, scouts will want to see whether Marks has added anything to his offensive game to supplement his pull up mid-range game. While the defensive end of the court will not endear him to scouts, his potential to come off the bench and provide instant offense makes him a player to watch this season.
#29, Troy Huff, 6'5", Senior, Shooting Guard, North Dakota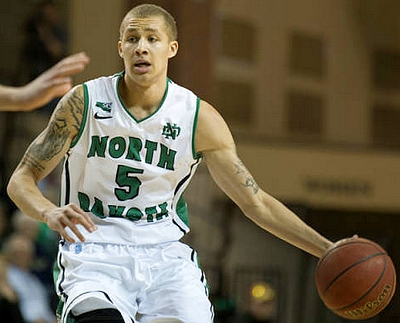 Derek Bodner
After somewhat of a down year offensively, North Dakota guard Troy Huff rebounded on a personal level, increasing his scoring average from 17.4 points per 40 minutes pace adjusted to a robust 23.5 (top-25 in the NCAA), while he continues to increase his minutes and his role within North Dakota's offense.
Standing 6'5", with a narrow frame, but very good athleticism, Huff does a number of things well, particularly on the offensive end. Huff is fairly quick in transition and gets good elevation in space, making him a threat in transition, where he gets nearly a quarter of his offense according to Synergy Sports Technology.
In the half court, Huff's biggest strength, or at least the one with the highest chance of translating to the next level, is shooting off the ball. Huff does a good job moving to find seams in the defense and spacing the floor, and is always ready to receive the pass and doesn't require much time to get the shot off. He gets good elevation and has a high release point on this shot, with good form on the majority of his shots, although he can at times rush shots, which leads to some breakdowns in balance and form. According to Synergy Sports Technology, Huff's 1.154 points per possession on catch and shoot opportunities ranks in the 77th percentile of college players, albeit in a fairly small sample size, mostly due to the role he plays within the North Dakota offense.
A good overall athlete, Huff is relatively quick with the ball in his hands and does a nice job changing pace and direction, with solid misdirection moves with either hand. This mostly manifests itself in pick and rolls, where Huff uses his ability to shoot off the dribble and ability to change direction with the basketball to generate scoring opportunities, both in the form of pull up jump shots and his most consistent form of dribble penetration.
Despite possessing solid ability to create his own shot, Huff struggles finishing at the rim, shooting only 48% in two point field goals and only 44% at the rim according to Synergy, yielding only 0.915 points per possession, which ranks in the bottom 25% in terms of efficiency. Huff lacks great strength and doesn't deal well with length and contact around the basket, which he'll have to improve on at the professional level, as he struggle to get to the free throw line at quite the same rate he does in college.
One area where Huff struggles to consistently generate offense is from isolation opportunities, as his 0.565 points per possession is very inefficient for a guard, especially considering the level of competition he went up against. While relatively quick, Huff lacks creativity as a ball-handler and struggles finishing in traffic as mentioned already. One thing that keeps his efficiency somewhat in check is his ability to draw fouls, particularly in transition, off isolations, and when cutting to the basket. Generating 7.1 free throw attempts per 40 minutes pace adjusted and a 37.4% free throw rate are both good numbers, although its overall impact is somewhat limited by the curiously low 66.2% he shot from the line, something that has been a recurring problem over his three year career at North Dakota.
Huff regressed somewhat as a passer last year, generating only 1.5 assists per 40 minutes pace adjusted, down from his already modest 2.7 the previous season. Huff has always been a shoot first player and somebody who never looked all that comfortable setting up his teammates, but the overall lack of offensive firepower on the North Dakota squad outside of Huff may have contributed to this somewhat. Still, this is something that Huff could concentrate more on as the focal point of the North Dakota offense.
The defensive side of the ball provides numerous challenges for Huff, even beyond the physical limitations he will see at the next level. Huff tends to like to play an aggressive, pressure style defense, but frequently doesn't have the food speed to keep up with his man on the perimeter, and the combination of his style of play and strength limitations leads to his man getting beyond the first layer of defense with alarming regularity. He also struggles to fight through screens and frequently fails to contest jump shots, a combination which leads to many question marks on this end of the court for somebody who will face a much different offensive role if he gets a chance to compete at the next level.
Stepping up and becoming the focal point of the North Dakota offense, Troy Huff successfully showed he could shoulder a larger offensive load at the collegiate level. That being said, it may be the further refinement of his off the ball skills – catch and shoot, shooting off of screens, cutting without the ball, defending his position – that determines his draft fate, as his role is likely to be vastly different than what it will have been his last two years at North Dakota.
#30, Malcolm Miller, 6'6, Guard/Forward, Southern, Senior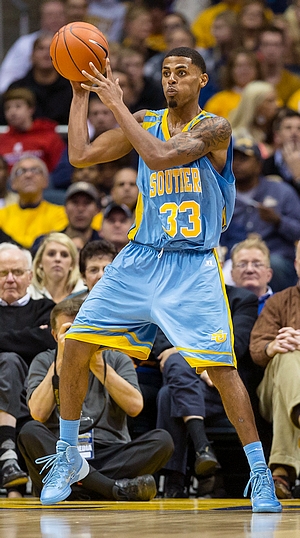 Kyle Nelson
Malcolm Miller's journey to Southern University was hardly typical. He passed up offers from high major programs out of high school
in order to stay closer to his son
, ultimately landing at South Plains Junior College. He once again attracted high major interest as a standout player for South Plains, where he played alongside of Ole Miss guard Marshall Henderson, but was kicked off the team for failing a drug test.
At the end of the day, only Southern University was willing to take a chance on Miller, and he did not let them down. After returning from a broken thumb, the 6'6 junior helped Southern upset Texas A&M, win the SWAC Tournament Championship, and scare Gonzaga in the first round of the NCAA Tournament on his way to being named both SWAC Newcomer of the Year and All-SWAC First Team. Now a senior, Miller is no longer flying under the radar and has emerged as the top NBA prospect in the SWAC thanks to his terrific shooting ability.
At 6'6 with a wiry 200-pound frame, Miller has solid size and length for both wing positions, even though he must continue to add muscle on to his lanky frame. Though Miller runs the floor well, he is not a particularly impressive athlete, lacking the quickness, agility, and explosiveness expected of wings at the next level.
Miller had a very impressive freshman season on the offensive end of the floor,
ranking 10th in our database in PER
while averaging 23.6 points per 40 minutes pace adjusted. Furthermore, he distinguished himself as one of the
most accurate perimeter shooters in college basketball
while ranking as one of the most efficient overall small forward prospects in our database. Yet, moving behind the very impressive numbers reveals the fact that he did not fare particularly well against high major competition outside of his 17 point performance against Texas A&M.
According to Synergy Sports Technology, 72.7% of his overall field goal attempts are jump shots. Miller is at his best in this area, making a tremendous 46% of his 9.4 three point field goal attempts per 40 minutes pace adjusted. While his mechanics are unconventional, he is a particularly formidable shooter with his feet set, equally effective spotting up, as a trailer in transition, or running off of screens.
Likewise, he showed the ability at the SWAC level to score from mid-range, and is able to use a crossover or step back to get space and launch a jumper from 15-20 feet. Against higher-level competition, however, his average ball-handling ability and struggles to use his left hand render him somewhat one-dimensional.
Miller was very effective as a finisher closer to the basket, making 60% of his overall attempts, but he rarely was able to take advantage of that last season. While he is basically limited to line drives to the rim, he has solid shooting touch and body control, which allows him to finish difficult looks at the SWAC level. He does not draw many fouls, however, and attempts only 3.8 free throws per 40 minutes pace adjusted, showing how limited he can be in this area. Somewhat tellingly, he struggles significantly more as a slasher against better competition, a combination of his shaky ball-handling skills and below average athleticism.
Miller's defensive abilities are a bit more difficult to evaluate. For one, he did not play that often against high major competition and, at times, he was asked to defend the power forward position. Although it's difficult to draw too many conclusions from the grainy footage against SWAC competition, Miller does seem to be a capable defender when he's dialed-in, yet his focus is not always there and his average lateral quickness and subpar fundamentals leaves him few options against better players. His 1.6 steals, 1.0 blocks, and 9.0 rebounds, all per 40 minutes pace adjusted represent the type of damage he can do on the defensive end, but it remains to be seen just how competitive he can be night-in-and-night-out against better players.
Looking forward to his senior season, Miller's prospects are more than a bit unclear. For one, it's difficult to see what he could provide an NBA roster outside of his perimeter shooting, as he's neither an adept shot creator nor standout defender. His lack of strength and average athletic profile may also hold him back against better competition. Early season games against #6 Arizona, #10 Florida, #17 Marquette, and #25 Baylor should help him to answer many of these questions, as he will have the opportunity to prove himself against some of the best perimeter players in college basketball. With a better out of conference schedule and in a much-improved SWAC, Miller should have plenty of chances as a senior to show scouts that he is worth serious draft consideration come spring.