Matt Williams
Declaring for the draft after his sophomore season at Florida,
Chris Walker
's two year college career was a rollercoaster ride. A former top-10 recruit, Walker missed half of his freshman year while the NCAA looked into his eligibility. Though he averaged only 1.9 points in 4.8 minutes over 18 games once he was cleared, the Florida native flirted with entering the 2014 NBA Draft before opting to return to school for his sophomore season. Suspended for the first two games of the year after reportedly failing a drug test, Walker averaged 4.7 points over 14.6 minutes per game for
Billy Donovan
playing sparingly, but declared for the draft anyway after the opportunity to return to Florida as a junior was taken off the table.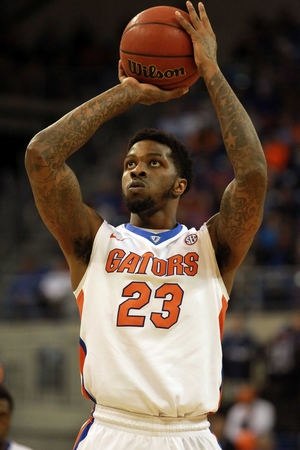 As much as Walker's collegiate career was a tumultuous one, his journey just to get that point was far tougher. Walker was abandoned by his parents as an infant, raised by his grandmother until she passed away when he was 11, and subsequently lived with a chronically-ill friend of his grandmother's through his improbable rise to prominence as an elite high school prospect at tiny Holmes County High School, despite struggling with his academics.
Despite his less than stellar production at Florida, its Walker's simply outstanding combination of length and athleticism that makes him an intriguing prospect, much like it made him a force at the prep level. Standing 6'8.75 without shoes, Walker isn't overly tall for a power forward, but he sports a 7'2.75 wingspan and is every bit as explosive as the 30.5 inch no step and 37 inch maximum vertical leap marks he registered at the 2015 NBA Combine.
Walker's best moments at the college level came when he was engaged and putting those tools to use on both ends of the floor. With 50% of his offensive possessions coming on cuts and put backs according to Synergy Sports Technology, Walker did the majority of his scoring in catch and finish situations last season. A target for lob and dump passes from penetrating guards, the sophomore big man shot a solid, but not spectacular 59.8% when finishing around the basket on the year. Able to effortlessly play above the rim, Walker struggled at times to finish in traffic and needs to continue adding muscle to his 208-pound frame, but also generated some material for his highlight reel when his teammates created an opening for him.
Defensively, Walker was also very effective in short bursts as a rim protector. Ranking
6th
in our top-100 in blocks per-40 minutes pace adjusted, Walker's length and athleticism made him an impactful defender for stretches defending both on and off the ball. Showing the ability to block shots with both hands, step out and hedge with terrific quickness on the pick and roll, and make an impact as a rebounder at points, Walker has very interesting defensive potential at both big men positions once he adds strength.
The challenge for Walker over his two year college career when he was able to see the floor was making his presence felt consistently. Ranking
last
in minutes per game among DX Top-100 prospects, Walker struggled with foul trouble, and even when he wasn't, often disappeared for stretches as he simply could not earn the confidence of his coaching stuff to get on the court on a regular basis.
Lacking great awareness and fundamentals defensively, Walker was able to get by largely on his athleticism and by flipping the switch when the situation called for it. His familiarity with Florida's defensive system improved a bit as a sophomore, but his understanding of when and how to rotate when defending off the ball is still a work in progress and he still tends to lose the sense of urgency that helps him impact that game for long stretches rendering him less than effective While all that limits Walker in the short term, it also puts into perspective just how big of an impact he could have as a defender if he gets stronger and reaches his potential on this end of the floor.
Offensively, Walker is extremely raw at this stage. A non-factor from the midrange with an extremely basic post repertoire, Walker's lack of polished skills on this end are a major concern in projecting him to the next level. Recording just 3 assists in 540 minutes at the college level, Walker played a tiny offensive role and didn't flash much playmaking ability or feel for the game when he did. Walker has spent the pre-draft process working out at IMG
(click through to watch workout video)
aiming to develop his offensive skill set in the hopes of impressing teams with his growth in private workouts. Though he shot 37% from the line over the course of his college career, he seems to have some potential as a jump shooter, something to watch for as he begins to focus on basketball full-time.
With fewer minutes than most one-and-done prospects under his belt, Walker lacks ideal experience or productivity. He put together a strong stretch of games in December, but couldn't maintain that momentum. A classic boom or bust prospect, Walker is the type of player a team could opt to take a flier on in the 2nd round in the hopes that they can put him in a situation where he can be put in a stable development environment and reap the rewards a few years down the road if he figures things out. The increasing prominence of the D-League and the one to one affiliate system could cause a team to roll the dice and see if they can get more out of the 20-year old than he was able to show at Florida. Otherwise he will be monitored closely the next few years regardless of where he ends up.