Matt Williams
After two very solid seasons as a member of the Nevada basketball program, which culminated in Mountain West Honorable Mention All-Conference honors during his sophomore year, Cole Huff opted to transfer to Creighton.  After sitting out the 2014-2015 season per NCAA rules, Huff returned to the floor for Greg McDermott's Bluejays last season, averaging 11.3 points and 5.1 rebounds per game.  Those numbers are very similar to those that Huff posted as a true sophomore, but he put them up playing 10 fewer minutes per game than he saw during his final season with the Wolfpack, showing marked improvement and solidifying himself as one of the top shooting forwards in the rising senior class.
Standing 6'8 with good length and a solid frame, Huff has nice size for a college forward to go along with decent footspeed and average explosiveness.  He spent the majority of his minutes at last season at the power forward spot, but figures to have some upside as a small forward at the next level if he can make some strides with his lateral quickness.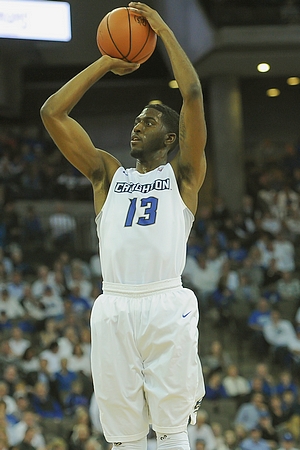 Huff's athleticism, however, doesn't factor all that prominently into how he makes an impact offensively.  Rather, its Huff's ability to knock down jump shots that makes him a capable and at times very prolific scorer.  The skilled forward hunts jump shots both in the half court and in transition, proving capable of making shots from the perimeter both off the catch and off the dribble with good consistency. Almost a third of his offense came in spot up situations last year, to go along with another quarter in transition, where the Campbell Hall HS (CA) product led the NCAA in points scored as a trailer according to Synergy Sports Technology.
Shooting the ball with somewhat funky mechanics with a lot of extra arm action, a very high release point, and a sometimes slow gather that has him releasing the ball on the way down, the Alameda, California native nonetheless proves to be one of the more dangerous shooting four-men in the college game.  Knocking down 38% of his attempts from beyond the arc on four-plus attempts per game, and 80% from the free throw line the last two years, Huff's shot may not always be pretty, and his misses tend to be more erratic that other comparably efficient shooters, but it is hard to argue with the results.
Doing a little bit of everything else for the Bluejays a year ago, Huff also flashes the ability to make shots out of the pick and pop, after using jab steps or quick step back moves in isolation situations, and even fading away in the post.  Seldom turning the ball over, but also not making many plays for others, Huff takes some tough shots, but seems to have a good feel for who he is as a player and how to play to his strengths.  Jump shots constituted 87% of Huff's attempts a year ago, and he made 41% of them.  He posted a number of high scoring games on the nights he was hot from the perimeter, but a number of quiet ones on the nights he struggled from beyond the arc as well.
Aside from his ability to make set shots and create a bit from the midrange, Huff's athleticism holds him back a bit as a penetrator and finisher.  He isn't the type of player who is going to break his man down off the dribble and create high percentage looks inside, nor is he particularly bouncy around the rim.  Shooting 47% in finishing situations in the half court last year, Huff can dunk the ball if he has space, but isn't always adept at finishing over length.
Defensively, Huff plays with good intensity.  His lack of size limits him as a rebounder and post defender in certain matchups, and he isn't immune to giving up dribble penetration to quicker players, but he generally does a nice job getting in a stance and moving his feet defending on the ball against comparably sized players, and rotating over to help when defending off the ball.  The big question for Huff at the next level will be who he defends most effectively, as it will likely determine what position he plays long term.  From an NBA perspective, he'll give up some size to many fours, and quickness to shot creating wings.  
The increasing emphasis placed on three-point shooting makes players like Cole Huff more intriguing for the next level than they might have been a decade ago. One of the top stretch fours in college hoops, Huff may not have massive upside given his lack of freakish physical tools and the fact that he turns 23 in March, but he does have the kind of role-player potential that will likely earn him some looks throughout the year and certainly a spot at the Portsmouth Invitational Tournament.  He figures to play a major role for Creighton this season as they look to get over the top and crack the field of 68 after making it to the quarterfinals of the NIT last season and losing only one player, rotation guard Jamal Milliken, to graduation.