We continue our coverage on the top NBA draft prospects in the Big East with part five, players ranked 9-13:
Marcus Derrickson
,
Luke Fischer
,
Cole Huff
,
Yankuba Sima
,
Kris Jenkins
.
Top NBA Draft Prospects in the Big East
(#1) Edmond Sumner

(Scouting Video)
(#2) Jessie Govan

(Scouting Video)
(#3) Josh Hart

(Scouting Video)
-Top NBA Prospects in the Big East, Part Four

(#4) Mikal Bridges
(#5) L.J. Peak
(#6) Isaac Copeland
(#7) Kelan Martin
(#8) Jalen Brunson
#9, Marcus Derrickson, 6'7", Sophomore, Small Forward, Georgetown
Derek Bodner
Georgetown was one of the more disappointing teams in college basketball last season, finishing with a 15-18 record on the year, the first losing season of John Thompson III's head coaching career.
While Georgetown's lack of team success cast a disappointing shadow on Derrickson's freshman season, the campaign did allow Derrickson to establish himself as a regular member of Thompson's frontcourt rotation, starting 27 out of 32 games for the Hoyas on the season with averages of 7.1 points and 4.5 rebounds per game.
Derrickson stands 6'8" in shoes with a 7'1" wingspan and a muscular, well-developed 250 pound frame. That kind of physical profile forms the basis for much of Derrickson's intrigue, and gives him the kind of defensive versatility that's become so heavily valued in the switch-heavy NBA, as he can more than hold his own physically at the power forward spot, especially with the way the league is trending towards smaller, more perimeter oriented players at the position.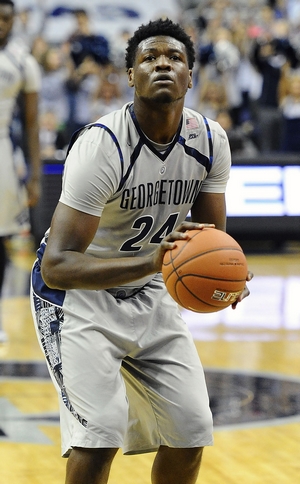 Offensively, Derrickson is mostly an off-the-ball player at this stage of his career, getting most of his scoring opportunities off of spot-up jump shots, cuts to the basket, rim running in transition and off of offensive rebounds, yielding just 12.9 points per 40 minutes, pace adjusted. Derrickson mostly plays within his role, with over 60% of his field goal attempts coming from three-point range.
That three-point shot is Derrickson's most consistent offensive weapon right now, as he connected on 37.6% of his 101 attempts last year, and Derrickson showed enough confidence in the shot to launch it with little hesitation. The release itself isn't all that quick, as he can at times look a little bit deliberate in his footwork stepping into the shot, which can slow him down and impact his consistency, but his overall mechanics look to be something he can build upon with increased focus and repetition down the line.
Where that still-developing footwork really comes into play is off the dribble and on the move, two areas where Derrickson hasn't shown any real comfort in shooting the ball just yet. Derrickson barely charted any attempts off the dribble during his freshman season, with Synergy Sports logging just ten total attempts when shooting off the dribble on the season, and they were anything but picturesque.
In fact, anything involving dribbling the basketball is a work in progress for the Maryland product so far. Despite having an intriguing physical profile from a size and strength perspective, Derrickson looks to be a below average athlete, especially if asked to play the small forward position. He's a mostly below-the-rim player with a below-average first step, problems which are compounded by rudimentary-at-best ball handling moves, which become an adventure on anything more complicated than straight line drives to the basket. This has led to a shooting percentage of just 45.5% on two-point field goal attempts, an over-reliance on a developing, but still somewhat inconsistent, three-point shot, and a limited role offensively.
Where Derrickson is a little bit more comfortable is moving off the ball. While Derrickson's lack of leaping ability around the rim still limits him somewhat in this regard, his physical strength allows him to play through contact, which he doesn't shy away from. He has good hands, relatively soft touch with either hand around the basket, and connected on 86.9% of his free-throw attempts when sent to the line, but his limited athleticism could limit his effectiveness at the next level.
On the defensive side of the court, Derrickson's size and strength are once again his calling cards, but he has only average lateral mobility and can struggle to change direction at times. Derrickson played mostly power forward at Georgetown, and with the preponderance of small-ball power forwards at the next level a career as an undersized power forward doesn't have the same negative stigma attached to it as it used to. Still, with how frequently NBA coaches ask their big men to switch nowadays, showing a little more defending the perimeter would make it easier for Derrickson to find a role at the next level, especially since he projects as so low-usage on the offensive side of the court.
Despite the athletic limitations, Derrickson's defensive fundamentals are solid. He gets in a pretty good defensive stance most of the time, gives consistent effort, fights through screens, rotates well defensively, and can block an occasional shot from the weakside. He collected just 5.5 defensive rebounds per 40 minutes, pace adjusted, but this was at least in part related to the presence of fellow big men Bradley Hayes and Jessie Govan in the rotation, both of whom are plus defensive rebounders in their own right. Despite Derrickson's relatively low output last year, with his size, strength, and motor, it's an area where he should be able to improve upon down the line.
Marcus Derrickson shows some of the traits of a potential role-player down the line, with intriguing size and strength, a developing outside shot, and solid defensive fundamentals and awareness. With D'Vauntes Smith-Rivera having graduated and Paul White transferring, there are some shots to be spread out over Georgetown's remaining lineup, which could help Derrickson showcase himself a little bit more on the offensive end. More important than sheer offensive output, however, is making major strides in his ball handling ability, improving the consistency of his three-point shot, and showing that he can adequately defend the perimeter, all of which would help boost his draft stock as a role-player at the next level.
#10, Luke Fischer, 6'11, Center, Marquette, Senior
Kyle Nelson
Although Marquette missed postseason play for a third consecutive year, the Golden Eagles took another step forward in 2015-2016 under Coach Steve Wojciechowski, improving to 20-13 and adding a trio of top-100 recruits in its 2016 class. Now without one-and-done big man Henry Ellenson's size, skill, and versatility anchoring its offense, the Golden Eagles need a breakout senior season from 6'11 center Luke Fischer more than ever. Since transferring from Indiana, Fischer has put together two solid seasons, but has struggled with passivity and inconsistency, while remaining on the outside looking in as an NBA Draft prospect.
At 6'11 and a 245-pound frame, Fischer has prototypical size for an NBA center and has improved his body substantially since graduating high school. While he is not the longest or most impressive athlete, he is mobile, moves well laterally, displays adequate quickness in the open floor, and is explosive enough around the basket to make an impact at the collegiate level.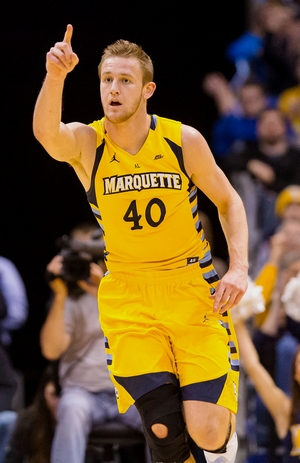 Fischer didn't change substantially from his sophomore to his junior season from an offensive perspective, as he once again saw most of his shot attempts close to the basket. Fischer was not the most productive player as a junior, either, scoring just 16.1 points per 40 minutes pace adjusted. With that said, he was efficient, making 60.8% of his overall field goals, and may be able to assume a more substantial role in Marquette's offense now that Ellenson has moved on to the NBA.
On film, Fischer still looks most comfortable operating with his back to the basket, using his body to carve out space, his length to collect passes, and his combination of strength and footwork to work his way to the basket. His jump hook remains his go-to post move and he showed the ability to execute it smoothly with both hands, with the body control and quick release allow him to get his shot off against most collegiate post-defenders. With few exceptions, however, this remains his only post move and, without diversifying his repertoire or more actively drawing contact, he may struggle to find clean looks without Ellenson around.
Elsewhere, Fischer did a good job of moving without the ball, putting himself in the position to receive the ball off of cuts (71.7% FG) and while trailing in transition (83.3% FG) due to his awareness, timing, and soft hands. While he is not featured in pick-and-roll sets that often (18 FGA), he was a very efficient finisher (77.8% FG) in these situations. Fischer is a decent offensive rebounder, as well, grabbing four per 40 minutes pace adjusted and converting 63.6% of his resulting field goal attempts.
Fischer has yet to demonstrate any competence away from the basket, however, as he struggles to put the ball on the floor and attempted only three jump shots as a junior (six total at Marquette). While his significant improvement from the foul line, from 58.2% FT as a sophomore to 68% FT as a junior, suggests that he may still develop his ability to step away from the rim, he has yet to show that he can stretch the floor for Marquette, let alone at the next level. The increased spacing of not playing alongside another collegiate center in Ellenson may again help us learn more about this part of his game as a senior.
As is also case on the offensive end of the floor, Fischer is at his best defensively around the basket, where his strength and solid lateral quickness allow him to hold his own while guarding his man in the post, even if his below average length and at times lethargic style of play makes him highly inconsistent in this area. Moving away from the basket is a mixed bag as well, as he still struggles with positioning in the pick-and-roll, does not close out as aggressively on shooters as one would hope, and does not show any type of fundamentals or effort crashing the defensive boards (4.4 per 40 minutes pace adjusted), which is one of the worst rates among big men prospects in college basketball. He regressed significantly as a shot blocker, as well, averaging a career low 1.9 blocks per 40 minutes pace adjusted. To have any chance of improving his NBA prospects, Fischer must work much harder on defense as a senior in order to show scouts that his inconsistent resume is a thing of the past.
Even with improvement on both ends of the floor, it remains to be seen how much of a role there is in the contemporary NBA for a traditional, post-bound center with average physical tools like Luke Fischer. A year older than most in his class and with a solid, but unspectacular resume, Fischer still has much to prove to NBA scouts on the eve of his senior season. He should have every opportunity to impress, however, as Marquette's top returning post player in a very shallow frontcourt rotation. For these reasons, scouts will be watching to see both how he responds, as well as how he stacks up alongside of NBA-caliber athletes, in early season match-ups against Wisconsin, Michigan, and Vanderbilt.
#11, Cole Huff, 6'8, SF/PF, Creighton, Senior
Matt Williams
After two very solid seasons as a member of the Nevada basketball program, which culminated in Mountain West Honorable Mention All-Conference honors during his sophomore year, Cole Huff opted to transfer to Creighton.  After sitting out the 2014-2015 season per NCAA rules, Huff returned to the floor for Greg McDermott's Bluejays last season, averaging 11.3 points and 5.1 rebounds per game.  Those numbers are very similar to those that Huff posted as a true sophomore, but he put them up playing 10 fewer minutes per game than he saw during his final season with the Wolfpack, showing marked improvement and solidifying himself as one of the top shooting forwards in the rising senior class.
Standing 6'8 with good length and a solid frame, Huff has nice size for a college forward to go along with decent footspeed and average explosiveness.  He spent the majority of his minutes at last season at the power forward spot, but figures to have some upside as a small forward at the next level if he can make some strides with his lateral quickness.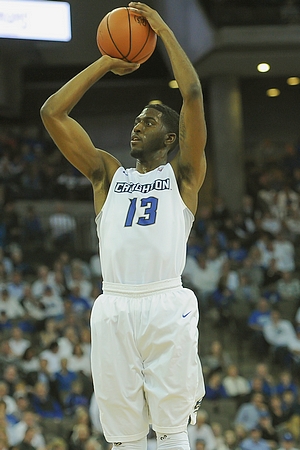 Huff's athleticism, however, doesn't factor all that prominently into how he makes an impact offensively.  Rather, its Huff's ability to knock down jump shots that makes him a capable and at times very prolific scorer.  The skilled forward hunts jump shots both in the half court and in transition, proving capable of making shots from the perimeter both off the catch and off the dribble with good consistency. Almost a third of his offense came in spot up situations last year, to go along with another quarter in transition, where the Campbell Hall HS (CA) product led the NCAA in points scored as a trailer according to Synergy Sports Technology.
Shooting the ball with somewhat funky mechanics with a lot of extra arm action, a very high release point, and a sometimes slow gather that has him releasing the ball on the way down, the Alameda, California native nonetheless proves to be one of the more dangerous shooting four-men in the college game.  Knocking down 38% of his attempts from beyond the arc on four-plus attempts per game, and 80% from the free throw line the last two years, Huff's shot may not always be pretty, and his misses tend to be more erratic that other comparably efficient shooters, but it is hard to argue with the results.
Doing a little bit of everything else for the Bluejays a year ago, Huff also flashes the ability to make shots out of the pick and pop, after using jab steps or quick step back moves in isolation situations, and even fading away in the post.  Seldom turning the ball over, but also not making many plays for others, Huff takes some tough shots, but seems to have a good feel for who he is as a player and how to play to his strengths.  Jump shots constituted 87% of Huff's attempts a year ago, and he made 41% of them.  He posted a number of high scoring games on the nights he was hot from the perimeter, but a number of quiet ones on the nights he struggled from beyond the arc as well.
Aside from his ability to make set shots and create a bit from the midrange, Huff's athleticism holds him back a bit as a penetrator and finisher.  He isn't the type of player who is going to break his man down off the dribble and create high percentage looks inside, nor is he particularly bouncy around the rim.  Shooting 47% in finishing situations in the half court last year, Huff can dunk the ball if he has space, but isn't always adept at finishing over length.
Defensively, Huff plays with good intensity.  His lack of size limits him as a rebounder and post defender in certain matchups, and he isn't immune to giving up dribble penetration to quicker players, but he generally does a nice job getting in a stance and moving his feet defending on the ball against comparably sized players, and rotating over to help when defending off the ball.  The big question for Huff at the next level will be who he defends most effectively, as it will likely determine what position he plays long term.  From an NBA perspective, he'll give up some size to many fours, and quickness to shot creating wings.  
The increasing emphasis placed on three-point shooting makes players like Cole Huff more intriguing for the next level than they might have been a decade ago. One of the top stretch fours in college hoops, Huff may not have massive upside given his lack of freakish physical tools and the fact that he turns 23 in March, but he does have the kind of role-player potential that will likely earn him some looks throughout the year and certainly a spot at the Portsmouth Invitational Tournament.  He figures to play a major role for Creighton this season as they look to get over the top and crack the field of 68 after making it to the quarterfinals of the NIT last season and losing only one player, rotation guard Jamal Milliken, to graduation.
#12 Yankuba Sima, 6'11, Sophomore, Center, St. John's
Josh Riddell
Although not highly ranked coming out of high school (where he underachieved in his one year at Arlington Country Day in Florida), a strong performance for Spain in the 2014 FIBA U18 European championships made Yankuba Sima a sought after collegiate recruit. He ultimately chose St. John's over Maryland, Louisville and Baylor, who were also in the recruiting mix at various points and to varying degrees. After Chris Obekpa left the program, Sima was thrust into the starting lineup from the onset of his freshman season, where he stayed for most of the year on his way to averaging 12.3 points, 9.9 rebounds and 3.9 blocks per 40 minutes.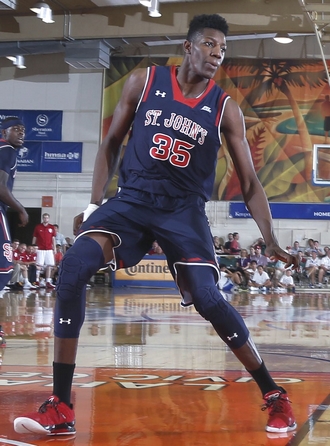 Still very much a raw prospect, Sima has NBA potential based on his physical profile, but needs to use his sophomore season to improve key aspects of his game such as his intensity level, feel for the game and offensive efficiency. While he was productive in his 23 minutes per game, he wasn't very efficient with a 48.3% conversion rate on two point field goal attempts and a 48.7% true shooting percentage. He is quick off the ground and is a capable dunker around the rim, but struggles incorporating touch into his shots at the rim, converting at a mediocre rate relative to players of his size of 53.8% of his shots around the basket according to Synergy Sports Technology.
Listed at 6'11" with a long wingspan, he has the size of a NBA center but needs to fill out his frame as he is listed at just 220 pounds. He does have a frame that can add more muscle and will need to bulk up in order to not get pushed around and be competitive around the rim. NBA scouts will also want to see a higher motor and intensity level from Sima as he has a tendency to drift through stretches of the game, turning into a low impact player far too often.
Outside of his ability to dunk the ball, Sima struggled to make an impact offensively. While he displayed some potential to get open looks at the rim out of post-ups or mid-range jump shots, he was not overly effective scoring in either of these areas. He's not an adept finisher after making a simple move out of the post and his shooting mechanics are a long way from being strong enough to make him a threat from the elbow, as evidenced by the 38% he shot from the free throw line.
A valuable skill for him to add as he goes forward is his ability to score out of the pick and roll. He'll need to do a better job seeking out contact on the screen to spring his teammate before rolling hard to the rim. He's too content to short roll to the free throw line for a jumper where he converted only 21% of his limited sample of 19 jump shots logged by Synergy Sports Technology. Sima can make almost every catch on passes that are in his area but struggles to score after a step or two with a defender in front of him. He will have to find a way to finish over length when he can't dunk or be able to get to the line, as he averaged only 2.8 free throw attempts per 40 minutes.
Defensively, he's shown to be a valuable rim protector by averaging 2.3 blocks per 40 minutes. He's a little reckless in that area, chasing every block opportunity and leaving the rest of the defense vulnerable when he comes up empty. He can get out of control trying to block shots and doesn't go straight up as he leaps up, which leads to quick foul trouble and extended stretches on the bench. Becoming a more disciplined shot blocker will help him stay out of foul trouble and keep him in rebounding position. He averaged a paltry 5.8 defensive rebounds per 40 minutes and will need to quickly improve that mark to show he can help control the defensive glass. He has the size and athleticism to be a better defensive rebounder, but he's always been more productive on the offensive glass and he'll need to increase his defensive output to help his team and show scouts he can fill that role.
Sima didn't offer much as an individual defender as a freshman and scouts will need to see some growth on that end to complement his somewhat limited offensive skill set. He's most likely going to be tasked with guarding post players to maximize his role as a rim protector, but he offered little resistance and was easily backed down by his opponent. When he stepped out to guard the perimeter on switches or pick and rolls he struggled to move his feet efficiently and stay in front of dribble penetration.
Sima looks the part of a rim protecting big man and will certainly be on the radar of NBA teams heading into his sophomore season and throughout the rest of his college career. The 20 year old is coming off a productive summer gaining experience playing for the Spanish U20 national team, the third straight summer he has appeared in competitions for the Spanish national team. He'll look to build on this experience as he heads back to St. John's to show a more efficient offensive game and a disciplined defensive skill set so that scouts can have a clearer picture of his potential NBA role, which will likely take a few more years to fully realize.
#13, Kris Jenkins, 6'6, SF/PF, Villanova, Senior
Kyle Nelson
After hitting a now legendary buzzer beater to lead Villanova to its first national championship since 1985, Kris Jenkins no longer has to worry about name recognition going into his senior season. Even before he made "the shot," Jenkins had taken a big step forward as a junior, breaking out to provide Villanova with perimeter shooting during its impressive 2015-2016 campaign. Now that Ryan Arcidiacono and Daniel Ochefu have graduated, Jenkins will play an even more important role in Villanova's repeat hopes and will do so with more attention from fans and opposing defenses alike. Scouts will be watching, too, as the senior forward tries to prove that he has the potential to play in the NBA.
At first glance, Jenkins – also known as "Big Smoove" – has an unorthodox physical profile for an NBA prospect. For one, Jenkins is a 6'6 combo forward with average length and a stocky 240-pound frame. Jenkins is a below average athlete,as well not particularly quick or explosive, despite displaying quite a bit of savvy at times to overcome these limitations.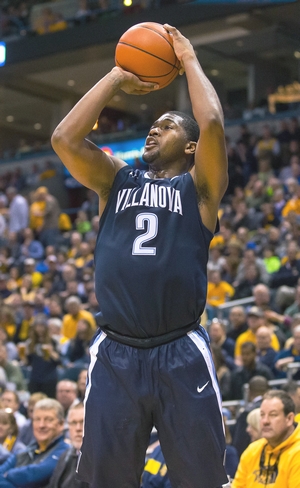 While Jenkins may not look the part of an NBA player, he has developed into a prolific collegiate scorer, scoring 19.8 points per 40 minutes pace adjusted after seeing his possessions more than double as a junior.
It is safe to say that Jenkins is a bit one-dimensional at this point in time, as 76% of his overall shot attempts are jump shots and close to 90% of these looks come from beyond the arc. He attempted 9.4 three-point field goals per 40 minutes pace adjusted and made an excellent 38.6% of his attempts, showing that he is very adept at that extremely important dimension he excels at. He proved to be equally competent shooting with his feet set and off of the dribble, and displayed range from well beyond the three-point line.
His mechanics varied according to the situation, but he displayed a high release point and a fluid shooting motion, albeit without much elevation, when he had time to set his feet. He made an impressive 50.7% of his open looks, which should translate nicely to the next level. He also shows potential from mid-range (19/35 as a junior), looking comfortable pulling up after a few dribbles, which is handy when he gets run off the 3-point line. His mechanics were less consistent when he was guarded, which accounted for a majority of his catch-and-shoot attempts at 33.1% FG%. Jenkins is a prolific shooter, not shy about launching shots from all over the floor, but also quite streaky and could stand to improve his shot selection as a senior.
Improving his ball-handling ability would open up his offensive game as well, particularly given his below average first step and lack of explosiveness. As a junior, he was right hand dominant and looked most capable executing straight line drives while proving to be an efficient finisher with either hand at the basket. While he is not a particularly creative dribbler, he compensates somewhat by using his body to create space for a layup or to spin and back down his man into the post. He also looked solid operating out of pick-and-roll sets, putting his court vision and scoring instincts to good use, albeit on limited attempts. While his sub-par athleticism may limit his upside at the next level, his versatile skill set, court vision, and strength present a mismatch for collegiate defenders that he should look to exploit more often as a senior.
Jenkins guards perimeter and post players in Villanova's small ball lineup, and will likely continue to do so as a senior. Unfortunately, his subpar physical profile makes it difficult to project him defensively at the next level at either forward position. He struggles to stay in front of quicker wings due to his below average lateral quickness, and lacks the length to disrupt passing lanes. Furthermore, he is likely neither strong nor long enough to make a consistent impact in the NBA post. Despite his physical limitations, he is a consistently engaged defender with solid fundamentals and rarely quit on plays, ultimately playing a key role on one of NCAA's top defensive teams.
Thus, despite solidifying his place in college basketball history, Kris Jenkins enters his senior year without much clarity as to his NBA prospects. After all, Jenkins will be a 23-year-old tweener without ideal length or athleticism who will likely struggle to keep up on the defensive end of the floor in the NBA. Whether his versatile offensive repertoire, court vision, and basketball IQ are enough to compensate remain to be seen. While he appears to have an uphill journey to the NBA, skill-full, intelligent players in his mold are having increasing success finding their way into an NBA rotation. What is clear, however, is that Jenkins will play a vital role in a dynamic Villanova offense and should have myriad attempts to make his case as a prospect in front of NBA scouts.
Honorable Mention:
Omari Spellman
, Villanova
Phil Booth
, Villanova
Trevon Bluiett
, Xavier
Eric Paschall
, Villanova
JaJuan Johnson
, Marquette
Marcus Foster
, Creighton
Justin Patton
, Creighton
Maurice Watson
, Creighton
Haanif Cheatham
, Marquette
Sandy Cohen
, Marquette
Duane Wilson
, Marquette
Desi Rodriguez
, Seton Hall
Kassoum Yakwe
, St. John's
Shamorie Ponds
, St. John's