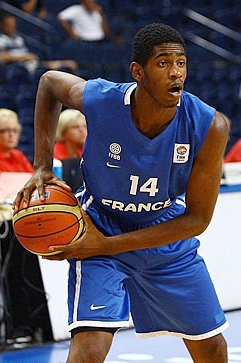 Jonathan Givony
Strengths:
-Good size, length and frame for a small forward
-Excellent athlete
-Can beat opponents off the dribble with a quick first step
-Good shooting mechanics with feet set
-Shows potential as a catch and shoot threat. Made 1.6 3-pointers per game
-Very good potential defensively
-Does a great job getting in the passing lanes
Weaknesses:
-Still transitioning to playing on the perimeter full time
-Average skill-level
-Poor ball-handler in half-court. Struggles to create his own shot effectively. Low 2-point percentages. Doesn't get to the free throw line very often
-Extremely turnover prone
-Doesn't create offense for others
-Shooting mechanics are inconsistent under duress. Possesses a slow release. Sometimes elevates and shoots ball on way down with a very flat arc. Struggles to make shots off the dribble.
-Doesn't rebound the way you would expect at this level of competition considering his physical tools.
-Feel for the game is questionable
Outlook:
Looks the part of a classic 3'n'D prospect with his size, length, athleticism, defensive potential and ability to make shots with feet set. Has made legitimate strides with his game since we last saw him a year ago, far more than many of his teammates. Has plenty of work to do to continue to improve, but has many of the tools scouts look for in a small forward prospect long-term.