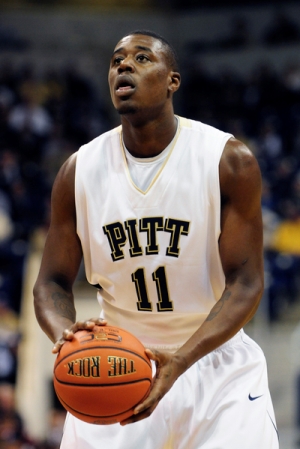 Derek Bodner
Dante Taylor
arrived at Pitt as the first McDonalds All-American Pittsburgh the school had signed since Bobby Martin and Brian Shorter all the way back in 1987. Since coming to Pittsburgh, the big man from National Christian Academy in Fort Washignton, Maryland has largely been a disappointment, playing behind the now graduated
Gary McGhee
during his first two years in Pitt's frontcourt rotation.
A 6'9" power forward with long arms, Taylor struggled through weight and conditioning problems as a freshman, and during his sophomore year, he battled tendinitis in his knee. The combination of the two problems have limited him to some degree athletically compared to the what we saw from him in high school as he doesn't appear to have the lift or lateral mobility he previously displayed.
Taylor still remains one of the best offensive rebounders in the country, and his 5.9 offensive rebounds per- 40 minutes pace adjusted placed him fourth in our database last year. He's able to use his strength, is an instinctive offensive rebounder, and does a good job converting the opportunities he creates for himself around the rim. He also moves fairly well off the ball on cuts to the basket and does an excellent job catching the passes his teammates send his way, showing terrific hands in the process.
Beyond that, Taylor hasn't developed his skills enough, particularly as an offensive player, to live up to the considerable expectations he has had on his shoulders. He has been an opportunistic and efficient scorer during his time at Pitt, but he hasn't generated much of his offense himself. His improvement from his freshman year to his sophomore year has been minimal, showing only a slight uptick in scoring (12.3 points per 40 minutes, pace adjusted, to 14.1), rebounding (11.2 per game to 12.5), and assists (0.4 to 0.9).
His post-game is somewhat methodical and predictable, although he looks capable of being able to establish solid post position. He hasn't shown much away from the basket, either in terms of an ability to hit the mid-range shot or a face-up dribble drive game. In the few instances he has attempted jump shots he's had solid results, but the high arc on his release may make it difficult to extend much beyond mid-range with consistency.
Taylor has made the most progress as a defender, particularly in the post, where he does a very good of denying position early and uses his length to disrupt offensive players. He's capable, albeit not dominant, as a weakside shot blocker, something that he could develop if he improves his conditioning and stays healthy.
Defending away from the basket is something of a weakness, as his lateral quickness would be a concern defending big men in the NBA. Once again, this could have been exacerbated by the weight and knee problems he's had these last two years, and we may not have seen the best he has to offer in this regard.
With
Gary McGhee
graduated,
Dante Taylor
has an opportunity to prove his previously lofty rating was deserved. He's reportedly come into the season in much better shape and without the knee pain that troubled him down the stretch last year. If he is able to stay healthy and maintain his playing weight, both very big question marks for a player who has not been able to do either to this point in his career, while showing some development in expanding his offensive skill set, his natural gifts still present an intriguing package, albeit one with considerable question marks.