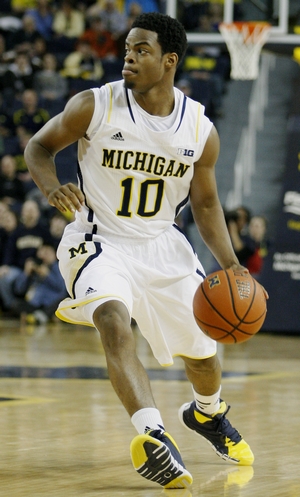 Josh Riddell
Derrick Walton was asked to fill the big shoes of Trey Burke as a freshman and he did a solid job from day one, helping Michigan get to the Elite Eight before falling to Kentucky. Walton provided 12.6 points and 4.5 assists per 40 minutes pace adjusted, while providing a steady presence at the point guard spot, and now returns as the second most experienced player in terms of minutes played last season, hoping to help Michigan on another NCAA tournament run.
Physically, Walton doesn't have any exciting features but has solid attributes across the board. He was last measured at 6'1" with an average wingspan and solid size, at 185 pounds, to fill out his frame. He is quick with the ball but not overly fast to help him speed past the opposition off the dribble. Due to his average speed with the ball and his lack of explosiveness, he is prone to getting his shot blocked at the rim, as he has no tools to get his shot off close to the rim at this time.
Michigan had plenty of offensive weapons last season, so Walton was not asked to take on a heavy offensive load and found himself playing off the ball a good portion of the time in the halfcourt. With Nik Stauskas and Glenn Robinson III moving on, it will be interesting to see how Walton's role expands this season and how he will lead the offense in more of a featured role.
Walton showed that he was a great shooter when he was playing off the ball, shooting 41% on 105 three point attempts,
one of the best marks for point guards last season
. He has a quick release and has strong height on his release for his size, which helps him get his shot off over the defender. While many of his shots came in catch and shoot situations, in a limited sample of shots off the dribble, he performed well, shooting 39.5%. This will be a valuable skill for him from the point guard position and will be interesting to see whether he can maintain these averages this season with added defensive attention.
As a point guard, Walton didn't have a high assist total due to playing off the ball frequently, averaging just 4.5 assists per 40 minutes pace adjusted,
a low mark among point guards
. However, this also helped him keep turnovers down, committing just 2.4 per 40 minutes pace adjusted as he didn't force anything when he did have the ball. This lead to a 1.41 pure point rating by Walton in his freshman year. Walton showed that he is willing and able to find the open man and should see a jump in his assist totals if he is asked to play on the ball more often this season.
Walton didn't create much for himself offensively, which led to few attempts in the paint. In fact, he took only 33 shots around the rim, making 51.5%, and five floaters, making none, according to Synergy Sports Technology. He didn't probe the defense off the dribble on a regular basis, as most of the offense was created by others. Now that Walton should have a larger role in the offense, his ability to create off the dribble and finish in the paint will be something to watch. His physical tools suggest he develop a useful floater or runner to get the attempt over the rim protectors.
Defensively, Walton struggled a bit due to his combination of size and physical tools. Defenders were able to shoot over him and he doesn't have the quickest lateral movement, which allows faster guards to drive past him. He was at a size disadvantage most of the year and blocked only one shot in his freshman season. His physical tools don't project him to be a strong defender, so Walton will need to make sure he works hard on this end while knowing proper fundamentals and positioning to provide as much value as he can.
It will be interesting to see whether Walton adds any skills to his offensive repertoire and becomes more assertive looking for his own shot this season. Stauskas and Robinson III have left for the NBA and while Caris LeVert and Zak Irvin return, Walton may be asked to do more offensively. With a bigger offensive role, his NBA draft future will begin to clear up, as we see how he handles a larger role as a point guard.
It's a little too early to make any predictions about Walton's future draft stock, as we will want to see what he can do over a larger sample of games and with more on his shoulders. NBA teams are constantly searching for solid backup point guards and Walton has the opportunity to demonstrate he can fit that mold, which will definitely help him catch the eyes of NBA teams as he progresses through his collegiate career.