Roundup: Verginis Carrying PAOK on his Back
January 3, 2008
It had to happen sooner or later. With severe financial struggles, PAOK had been unable to retain its best players for several years now, and went into this season with a pretty weak squad. The historic Greek team was only able to collect a lone victory during the first eight games of the domestic leagueís regular season. Thatís why the last two consecutive victories have been so crucial, and why Dimitris Verginisí leadership in those two games have a very special meaning. Thatís why heís our Player of the Week.

This past weekend, PAOK hosted AEL 1984 at home, and Verginis stepped up with 22 points, 2 rebounds, 4 assists and 2 steals. In the previous round he scored 19 points and dished out 3 assists en route to a very unexpected road victory against Panionios. These two victories momentarily move PAOK away from the feared bottom spots leading to relegation in the Greek league (the last two ranked teams in the regular season end up being demoting to the second division).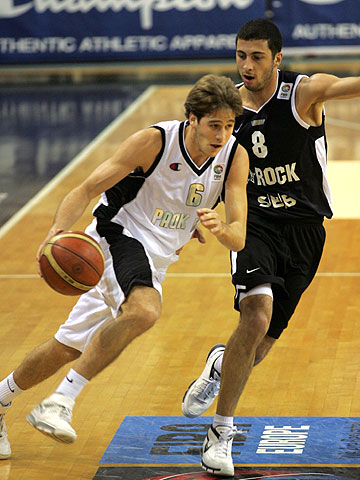 Photo: FIBA Europe
In line with his strengths, Verginis was pretty effective with his jumper, connecting on half of the combined 10 three-point attempts he took in those two games. Verginis is a very fluid player and easily gets in shooting rhythm, crediting a notable 43% for the entire season. Itís an interesting mark, especially since heís the main scoring threat on the team, with 13.6 points per game, and he executes some of his long range bombs in off-the-dribble fashion. He was also able to keep his turnover figures low, eventually not losing a single ball this past weekend to improve to a 1.7 average throughout the season. As we have stated before, heís a player that doesnít take many risks, but he still was capable of drawing 12 free-throw attempts in the last two games, of which he converted 11 (an excellent 93% during the season from the charity stripe). Hopefully, heís getting a bit more aggressive attacking the basket.
Anyway, heís hardly NBA material at all. Heís not greatly athletic, he doesnít enjoy crazy size or length as his countrymen Diamantidis or Papaloukas, his defense looks rather average at best, heís not the best distributor around, and heís not a great scoring threat in traffic (his 40% average on 2-point field goal attempts is rather disappointing). Still, he can emerge as a very decent heir of the outstanding guard crop that the Hellenic country currently enjoys.
[
Read Full Article
]
Roundup: Gallinari, a Euroleague Standout
December 4, 2007
Dimitris Verginis erupted this weekend for a 26-point performance in the Greek League against AEP Olympias, although his team PAOK continued its lackluster season with another defeat. Verginis is a finesse 6-4 point guard born in 1987. An average athlete but a solid ball-handler, his jumper emerges as his main strength. He enjoys three-point range, actually crediting a solid 42% this season, and heís able to shoot off the dribble while barely losing effectiveness. Not very explosive, nor aggressive, itís not common to see him attacking his match-ups. Actually, although a nice decision maker, he doesnít take many risks on the court, and itís also applicable to his passing game. Heís not a guy who often tries to attract defenses to leave a teammate open or looks for definitive passes, but instead will usually settle for easy open options. Indeed, he only averages 1.4 turnovers to go along with 11 points and 2.1 assists. An underwhelming defender, Verginis is not oozing with potential, particularly NBA-wise, but he may very well become a very good player on the European scene.
[
Read Full Article
]