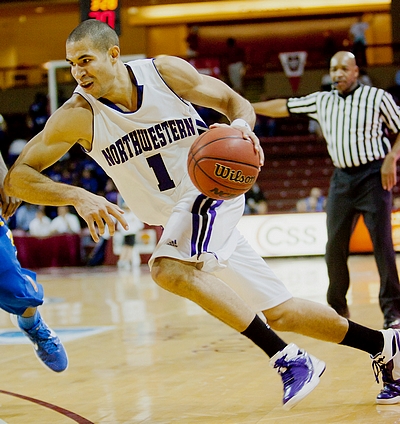 Jonathan Givony
A double-digit scorer and a heavy contributor from day one at Northwestern, it wasn't until his
Drew Crawford
's junior year this past season that he truly developed into an All-Big Ten caliber player. With leading scorer
John Shurna
now off to the pro ranks, Crawford looks poised to become his team's go-to guy as a senior. He will try to emerge from relative obscurity on the national level and solidify himself as a legit NBA prospect at the same time.
Crawford has solid physical tools for a college shooting guard, standing around 6-5, with a strong frame, and good, but not great athleticism. He's a relatively fluid and mobile guard who is capable of playing above the rim, but does not appear to possess top-tier explosiveness or an overwhelmingly quick first step.
Playing in the slow, methodical, Princeton-style Northwestern offense, Crawford scored with impressive efficiency last season, converting 52% of his 2-point attempts and 41% of his 3s, while posting a positive assist to turnover ratio. He doesn't get to the free throw line at a great rate, but also rarely commits turnovers, coughing the ball up on just 12% of his possessions last year.
A very intelligent player who takes what the defense gives him, Crawford can do a little bit of everything offensively. He's first and foremost a very reliable shooter with his feet set, capable of coming off screens, and showing excellent shot-selection, one of the big reasons he is so efficient offensively.
While not overwhelmingly quick or explosive, Crawford can make plays inside the arc thanks to his high skill-level and excellent basketball IQ. Showing good timing attacking unbalanced opposing defenses, he can dribble and finish with either hand, and does a good job of anticipating teammates getting open and finding them for easy baskets. With his strong frame, he can also go into the post a bit and score with his back to the basket, which is an added bonus.
Not possessing a terribly fluid or quick release, Crawford still has work to do on his in-between game, as he isn't quite as effective with his pull-up jumper as he is with his feet set. NBA teams might have some question marks about his ability to create his own shot at the pro level, as he already has some difficulties getting by some of the better wing defenders he encounters at times in the Big Ten, which could become even more pronounced in the NBA.
Defensively, Crawford isn't the easiest prospect to evaluate, as his team plays almost exclusively in a zone defense that wasn't particularly effective last season, ranking dead last in the Big Ten. He seems to put a solid effort in, but has some trouble at times staying in front of quicker opposing wing players, appearing to lack a degree of lateral quickness. Seeing most of his minutes at small forward, he's forced to switch onto big men posting up at times in his team's matchup zone concept, something that he can't really do that very effectively at his size.
Nevertheless, Crawford is smart, strong and competitive, so there is plenty of hope that he can become at least a solid contributor on this end of the floor in time.
Going into his senior year, NBA teams will want to see whether Crawford can maintain the same degree of efficiency offensively in a much bigger role now that the keys to the team have been handed to him. If he can continue to shoot the ball well and show improvement as a creator and defender, he'll surely earn plenty of looks playing in the highly competitive Big Ten.