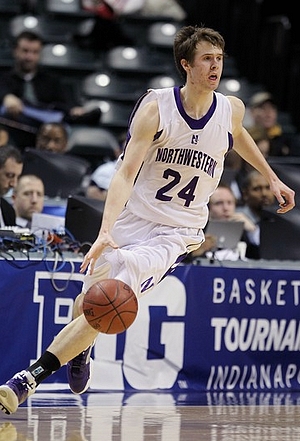 Matt Williams
Last time we checked in on
John Shurna
, we noted that he struggled to take another significant step forward as a junior after a breakout sophomore season. Withdrawing from the NBA draft to play his senior season at Northwestern, the Illinois native is having a year in-step with the one he had as a sophomore. Bouncing back from a less than stellar junior year, the question-marks about Shurna's NBA potential remain largely unchanged, and while his numbers have rebounded, he has not been able to lead his team to many victories in what could be the toughest Big Ten slate he's faced in his Wildcat career.
A prolific perimeter threat at the college level who has led Northwestern in scoring in each of the last three seasons and in rebounding in two of the last three, Shurna is an incredibly savvy player who makes the most of his time on the floor with his consistently high effort level.
Standing 6'8.5 with a matching wingspan and below average strength and athleticism, the main questions facing Shurna as a prospect start with his physical profile, what position he defends at the next level, and how he'll adjust to the speed of the NBA game. Given his weaknesses, it isn't difficult to see that Shurna's potential is as more of a roleplayer, despite his success as a collegiate scorer.
Fortunately for the soon-to-be graduate, he has a definable NBA skill, fitting the mold of some of the spot-up shooting specialists we've seen in the past. Though his ability to be in the right place at the right time and do the little things are major parts of his success in the college game, it is his prolific jump shooting ability that keeps him on the NBA radar.
Attempting as many 3-pointers per-40 minutes pace adjusted
as almost any power forward prospect in our database, Shurna has a quick, effortless release with little wasted motion that helps compensate for his somewhat unorthodox mechanics and low release point. Showing range out to the NBA line with some regularity already, nearly 40% of Shurna's shot attempts are catch and shoot jump shots according to Synergy Sports Technology, and his 43% shooting on such attempts are indicative of how he could help spread the floor at the next level.
Inside the arc, Shurna is as crafty a player as you'll find in the NCAA. He is not a dynamic threat off the dribble, and is not nearly as reliable a shooter off the bounce as he is off the catch, but his work ethic, patience, and feel for cutting to the rim make him a great fit in Northwestern's system and earn him plenty of easy looks around the basket and trips to the line. Though such looks will be far more difficult to come by in the NBA, Shurna's willingness to make easy plays and do exactly what his coaches ask of him could be plusses for him in a smaller offensive role.
On the defensive end, we've covered Shurna's attributes in detail in the past. He's as crafty and hard working as one would expect a player with his basketball IQ to be, but his lateral quickness is a limitation in staying in front of small forwards and his lack of strength is equally as problematic keeping power forwards away from the rim even in the college game. Additionally, he continues to rank as one of the worst rebounding power forwards in our database, which is likely to be even more of an issue in the NBA.
A candidate for the Portsmouth Invitational Tournament, Shurna is very much a known commodity at this point in many regards. He still has some things to prove defensively in competitive workouts, and his ability to hold his own on that end of the floor will be a key sticking point in how teams view the value of his spot-up shooting ability.