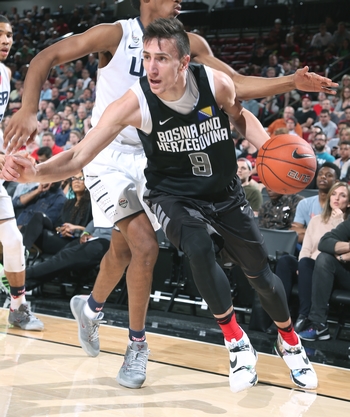 Mike Schmitz
Strengths
-Good size for a wing at 6' 7" in shoes. Decent length with a 6' 9.75" wingspan.
-Has improved his frame. Now up to 195 pounds, 11 pounds more than he weighed at 2015 Eurocamp in June. .
-Fluid athlete.
-Creative passer. Can deliver the ball from different angles. Unselfish. Playmaking wing.
-Comfortable straight-line slasher. Good timing with fairly long strides. Has some craftiness as a finisher.
-Good basketball instincts overall. Able to read the ball off of the rim as a rebounder. Makes plays in the passing lanes. Smart cutter.
-Capable shooter despite some mechanical deficiencies. Can make a hesitation pull up or a spot up three. Slightly more comfortable off the bounce.
Weaknesses
-Frame still has room to improve.
-Very inconsistent shooter. Dips his body slightly to his left to get into his motion. Slow release. Unnecessary hitch just before his release. Turned down open spot ups due to lack of confidence in his jumper.
-Not a stiff but isn't a great athlete by NBA standards. Relies more on timing and creativity to get into the paint. Doesn't always explode to the rim. Will stop short for floaters.
-Can be loose with the ball. Turnover prone.
-Handle can improve to unlock his playmaking ability. A bit hunched with the ball. Not overly shifty.
-Playmaker on defense but is a bit hunched as an on ball defender. Has some struggles when on an island.
-Isn't all that engaged with his teammates.
Outlook
Atic wasn't able to move the needle in a significant way at the Nike Hoop Summit. While he showed flashes, the 6' 7" playmaking wing wasn't able to string together enough impressive possessions to draw a huge buzz in the short-term. Atic is still an intriguing long-term prospect because of his size, playmaking ability and overall basketball instincts. A successful 2016-17 campaign could put him in better position going into 2017, but all in all he'll have to continue to evolve as a jump shooter and find more ways to score in the half court to do that.