Day one of the 2015 adidas Eurocamp in Treviso, Italy is officially in the books.
---
More EuroCamp Content
-adidas EuroCamp Preview and Roster Breakdown
---
The day started with some stretching and light drills, giving the hundreds of members of the basketball industry assembled here a chance to re-connect and put faces to names before competitive action tipped off.
This year's roster held up well, with only a couple players who had declared for draft withdrawing after being on the original camp roster, a testament to the hard work and planning of Maurizio Gherardini and his staff. There were three defections this year:
Benjamin Sene
, Senegalese mystery man Issa Dieng, and German forward
Paul Zipser
, who will be suiting up for Bayern Munich in the BBL Finals starting tomorrow. French power forward
Kevin Dinal
and Latvian scoring guard
Davis Geks
were the two late additions to the roster. Many NBA executives in attendance mentioned how strong this camp is from a 2016 and 2017 Draft scouting perspective, as there clearly seems to be a greater emphasis on getting talented youngsters in rather than simply load up on draft-eligible players who aren't NBA prospects.
Two players had to limit their participation at this year's camp because of injuries. Gipuzkoa forward and top 1993-born prospect Daniel Diez will be doing interviews with the teams in attendance, but an injury he suffered in the last game of the regular season will hold him out of competitive action. Sevilla point guard Nikola Radicevic tweaked his hamstring recently, and while he gave it a go this morning, he will not be participating in the competitive portion of the camp either.
Day One Activities
The first day of the adidas EuroCamp included drills and team practices to go along with a total of four games featuring all four teams of campers, the French U20 National Team, the Greek U19 National Team, the adidas USA Select Team, and an all-star team of the day's top performers.
When players aren't competing, they go through a gambit of athletic tests and measurements administered by BAM, the same company that runs the testing that NBA Combine, on a separate court. We'll analyze those numbers in detail when they're released in the coming days.
Playing in a setting that separates them from the comfort zones they've settled into with their respective clubs, day one always offers an interesting frame of reference into how well a player can survive off their instincts and adapt to their surroundings.
Dragan Bender
The most significant development of the first day of this year's Eurocamp was the play of a prospect who couldn't even declare for the NBA Draft this year. Croatian forward
Dragan Bender
was sensational at times this evening, leaving no doubt as to why he's a potential lottery pick next summer. Signing with Maccabi Tel Aviv last year, Bender spent this season loaned to Ramat Gan in the Israeli 2nd division. Averaging 9.7 points and 7.4 rebounds over 28.4 minutes per game, Bender held his own as a key contributor against low level senior competition, despite being in his first year outside his home country at just 17-years old.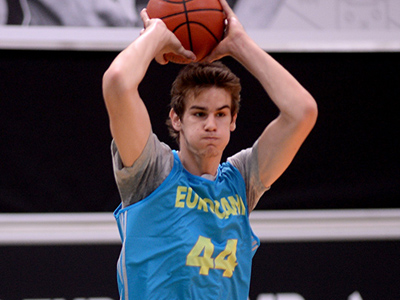 Named MVP of the Basketball Without Borders Global Camp at NBA All-Star Weekend in February, and averaging 23 points and 10.8 rebounds at this year's adidas Next Generation Tournament, Bender is a player NBA scouts are already deeply familiar with. He's been dominant at times at the junior level, but wasn't particularly impressive when he suited up at the Eurocamp as a 16-year old last year, looking very passive for the most part.
That was not the case today, as the 6'11 forward was simply outstanding in the evening session. His body appears to have improved noticeably from February, especially his legs, which is a very promising sign for the slender young talent, and he made a major impact today. Converting a number of floaters with deft touch while flashing improved shooting mechanics from the 3-point line, creating angles to the rim off the dribble, pushing the break himself, handling the ball like a wing, and making some superb passes, Bender's offensive skill set was on full display. Though he finished with only 9 points and 3 assists, his number belie the impact he had and the number of impressive moments he recorded, some of which didn't quite work out but were still very memorable.
He also had some fantastic moments defensively recovering to close out shooters on the perimeter and in one memorable sequence, stayed in front of a much smaller player he was switched onto before swatting away the player's attempt at the rim. His lower body strength appears to be improving, but he still gave up position to Greece's stronger big men as his frame still has a ways to go.
Though this was just one game, Bender's strong play will leave a lasting impression on the scouts in attendance. There simply aren't many 7-footers gifted with the same type of offensive skill and promising defensive ability as Bender. Not turning 18 until November, Bender has gotten an early jump on building his resume for the 2016 NBA Draft where he figures to come off the board sooner rather than later.
Player Notes
-
One of the main attractions of this year's Eurocamp is the high level talent assembled on the adidas USA select team roster. Featuring an assortment of top-40 players from the class of 2016, the event organizers hit a home run this season bringing in an even better roster than the inaugural group from last year, which included the likes of
Thon Maker
and
Brandon Ingram
. The 2014 US select team went 0-3 losing by an average of 25.9 points. The 2015 scored a 76-71 victory over the French U20 National Team in the second game of the day.
Though the USA Select team got contributions from a number of players, it was New York's
Rawle Alkins
who had the strongest showing today, as he poured in 18 points in 25 minutes while going 7/8 from the floor. A powerfully built 6'4 shooting guard with terrific athleticism hailing from Christ the King Regional HS in New York, Alkins showed why he's one of the top scorers in the adidas Gauntlet where he averages 24.3 points per game for the NY Rens. Possessing terrific strength for a 17 year old, Alkins did an impressive job creating opportunities for himself by being aggressive attacking the basket. Converting a number of very athletic finishes to go along with a couple of makes from beyond the arc, his efficient scoring was a big reason the US Select Team was able to get the best of an older, more experienced French squad.
On top of his scoring, Alkins came up with a number of rebounds (5), along with a handful of assists, and did a nice job defensively. Using his quickness to pressure the ball and contesting a number of shots effectively with his leaping ability, Alkins stood out today, despite being one of the younger players on the floor.
-
For the French side, Chalon shooting guard
Axel Bouteille
was the top performer, scoring 22 points on 20 shots. Appearing in 35 games in the French League in his first full season at the senior level after averaging a ridiculous 24.1 points per game at the Espoirs level a year ago, Bouteille's reputation as a scorer certainly held up here. A crafty offensive player who uses an array of eurosteps, changes of speed, and terrific instincts to create opportunities for himself, Bouteille looked to impose his will early and often in this game.
Lacking great length and being just a fair athlete, the 6'6, 95-born swingman had a number of shots rim out, but did a little bit of everything, as he figures to be one of this team's top players at the 2015 FIBA U20 European Championship after averaging 10.5 points per game at last year's edition of the event. A bit of a unique player in that he attempts a lot of midrange jump shots but very few 3's, Bouteille will need to continue to improve his consistency as a set shooter to help prepare himself for the higher quality competition he'll face at the senior level, but his overall skill level and scoring instincts should certainly pay dividends for him in time in the European game and could give him a shot at getting drafted down the road. He didn't declare for this year's draft, but won't be automatically eligible until 2017.
-Teaming up with
Dragan Bender
,
George De Paula
bounced back from a 4-turnover performance this morning to play well in today's nightcap. More aggressive looking for his own shot, the 6'6 Brazilian point guard got to the rim repeatedly thanks to his creativity and ball handling. He's still a work in progress offensively and needs to improve his perimeter shot, but De Paula showed the type of assertiveness he's lacked at times at the more visible points of the draft process. Though his numbers weren't outstanding, he looked as comfortable as we've seen him in some time.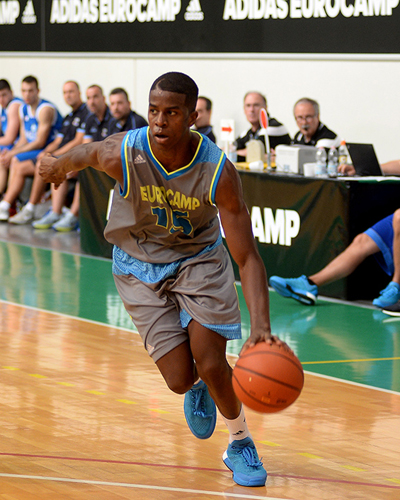 Defensively, De Paula was a menace, picking up full court and coming up with some superb steals and blocks. Making things extremely difficult for the smaller Greek guards, De Paula had a nice showing despite this being his second game of the day (as well as testing and drills in the morning) and his status as one of the most well-traveled prospects in this draft, having been on the road non-stop for almost 2 months.
-
The first game included quality performances from three of the more unheralded players on this year's roster. Lebanese guard
Wael Arakji
scored only 6 points on 3/3 shooting, but dished out 5 assists and pulled down 5 rebounds. The big point guard from Al Riyadi Beirut made an impact with his quickness and competitiveness, probing the paint and setting the table for others and coming up with a pair of steals defensively. One of the more unheralded players to declare for the 2015 NBA Draft, having played his entire career in his home country, Arakji is a player many scouts are keeping a close eye on here. At 6'4, 195-pounds, he has terrific size for his positions, and though he lacks great shooting ability, his athleticism and motor give him some intrigue. It will be worth monitoring whether the 94-born prospect leaves his name in the draft, as it could provide a clear indication of his confidence in being selected. His play today was a step in the right direction towards that end.
-
Italian guard
Diego Flaccadori
is another somewhat under the radar prospect who came up big today. Scoring 14 points and showing no signs of the rust that often plagues the perimeter scorers on day one, the 19 year old shooting guard looked like the best player on the floor for his team at times. Playing a minor role in the Italian first division for playoff qualifier Trento this season, after averaging 16.1 points per game at the 2014 FIBA U18 European Championship last year, Flaccadori is a left-handed scorer whose confidence and perimeter skill level allow him to score in bunches when his shot is falling, which was the case today. Knocking down 3 of the 6 threes he attempted, the skinny shooting guard propelled his team to victory hitting shots both of the catch and off the dribble. More than just a shooter, Flaccadori also flashes the ability to put the ball on the floor and create a bit using changes of speed. Though he gets a bit out of control at times, which is more obvious when watching him in the Italian League, and isn't overly big or athletic, which limits his upside a bit, he's a competitive young player who is worth keeping an eye on in the coming years as he matures.
-
Edin Atic
is one of the youngest players here, but stood out nonetheless with his combination of skill and athleticism. He scored only 7 points in the first game shooting 3/11, but came up with 3 steals, rebounds, and assists while flashing the upside that has him penciled in as one of the more promising talents in the 97-born age group. A 6'7 shooting guard with impressive explosiveness, Atic is an opportunistic scorer who can put the ball on the floor a bit, shoot the 3, and make plays for other. Though he still needs to get stronger, this was a solid showing for him, which isn't entirely surprising considering he's already playing a rotation role in the Bosnian League for Spars Sarajevo, where he's holding his own, averaging 5 points, 3.7 rebounds, and 1.8 assists over 17.7 minutes per game. A force for Bosnia at the junior level, Atic is a player who figures to be a fixture on the radar of international scouts for quite some time considering he wasn't old enough to declare for the 2015 NBA Draft.
-
Serbian power forward
Nikola Jankovic
has been built like a pro since we first wrote about him in 2010. An absolute bully at the junior level, who has averaged 16.1 points and 6.2 rebounds per game this season in the Belgian League for Pepinster, the 94-born prospect has parlayed his rugged interior scoring ability into a fair amount of success at the international level already. Scoring 16 points on 12 shots and even knocking down a 3 today, Jankovic is one of the more mature players in attendance here, and it showed on the floor. Not known for his shooting ability early in his career, Jankovic's ability to knock down perimeter shots is a point of interest as the development of his scoring arsenal away from the rim appears to be ongoing. Though his upside is limited from a NBA perspective by his lack of explosiveness, this was a strong showing for one of the more productive young players at the domestic league level in Europe. Opting not to declare for the 2015 NBA Draft, Jankovic will be automatically eligible next season and should receive some interest even if he isn't among the top long-term prospects in his age group.