Ekpe Udoh
STRENGTHS:
- Timing
- Versatility
- Ability to face the basket
- Nimble footwork
- Shot-blocking skills
- Strong Intangibles
- Work ethic
- Passing skills
- Above average athleticism
- Fluidity
- Mid-range Jumper
WEAKNESSES:
- Physical Toughness
- Older than class peers
- Average explosiveness
- Lower body strength
- Defensive rebounding
Recent Tweets
All Tweets
DraftExpress: Back to the crazy lineup: Ish Smith, Ellis, Klay Thompson, Rush, Ekpe Udoh-- the strength of this lineup is? Cause ... http://t.co/ZDb3QjQM
2011-12-26 12:33:47
DraftExpress: This lineup Marc Jackson is using: Ish Smith, Klay Thompson, Brandon Rush, Dorell Wright, Ekpe Udoh- is the ballsiest I've seen all day. Wow
2011-12-25 11:12:28
DraftExpress: RT @sorokman: After Trevor Booker (injured, didnt play a game) and JJ Hickson (released), Bnei Hasharon signed Ekpe Udoh, the team annou ...
2011-11-21 01:21:09
DraftExpress: The Dwight Howard sweepstakes have begun. Golden State offered Monta Ellis, Andris Biedrins and Ekpe Udoh. Unlikely that'll get it done.
2011-06-18 08:09:00
DraftExpress: ...At age 17. Some players develop physically and skills-wise a LOT later than others. I'm sure if I saw a young Ekpe Udoh or Paul George...
2010-09-17 05:51:55
Top 25s - Full List
Team: Fenerbahce
Physicals
Positions
Rankings
Salary
Misc
H: 6' 10"
W: 237 lbs
Bday: 05/20/1987
(28 Years Old)

Current: PF/C
NBA: PF
Possible: PF/C

RSCI: 153

Agent: Michael Silverman
Current Salary:$915,243

High School: Santa Fe
Hometown: Edmond, OK
Drafted: Pick 6 in 2010 by Warriors
Best Case: Jason Thompson
Worst Case: Hilton Armstrong

Predraft Measurements
| Year | Source | Height w/o Shoes | Height w/shoes | Weight | Wingspan | Standing Reach | Body Fat | No Step Vert | Max Vert |
| --- | --- | --- | --- | --- | --- | --- | --- | --- | --- |
| 2010 | NBA Draft Combine | 6' 8.75" | 6' 9.75" | 237 | 7' 4.5" | 8' 10.5" | 8.0 | 31.0 | 33.5 |



Basic Per Game Statistics

- Comprehensive Stats - Statistical Top 25s
| Year | League | Name | GP | Min | Pts | FG | FGA | FG% | 2Pt | 2PtA | 2P% | 3Pt | 3PtA | 3P% | FTM | FTA | FT% | Off | Def | TOT | Asts | Stls | Blks | TOs | PFs |
| --- | --- | --- | --- | --- | --- | --- | --- | --- | --- | --- | --- | --- | --- | --- | --- | --- | --- | --- | --- | --- | --- | --- | --- | --- | --- |
| 2015/16 | EURO | Ekpe Udoh | 6 | 23.0 | 10.8 | 4.2 | 7.2 | 58.1 | 4.2 | 7.2 | 58.1 | 0.0 | 0.0 | &nbsp | 2.5 | 3.3 | 75.0 | 1.7 | 1.7 | 3.3 | 1.3 | 0.2 | 1.3 | 1.5 | 2.3 |

Player Page&nbsp&nbsp| Player Stats | Mock Draft History | Related Articles&nbsp&nbsp| Add to My Draft Express&nbsp
&nbsp
NBA Draft Media Day Interviews: Turner, Udoh, Aminu, Monroe, Henry,etc
June 24, 2010
[Read Full Article]

---
Situational Statistics: This Yearís Power Forward Crop
June 14, 2010
Ekpe Udoh has developed into a highly versatile prospect in the past few seasons, but his situational efficiency still makes him look raw on paper.

Udohís 15.3 possessions per-game rank him above average in terms of usage, but his 0.885 PPP ranks him as the third least efficient player in our sample overall. Aside from his lack of efficiency, Udoh is a unique player in terms of where his shots come from. Heís able to step out to the midrange and make an impact while also displaying the length and fluidity to get to the rim.

Udoh ranks 5th in our sample in both jump shots per-game (3.4) and spot-up PPP at 1.08. He also used an impressive 14.1% of his offensive possessions in isolation situations, which would have ranked him right around average amongst small forwards. Udohís 0.831 points-per possession in isolation situations would have ranked him 8th amongst small forwards, and is a prime example of what he can bring to the table at the next level as a mismatch threat.

Some of Udohís overall inefficiency stems from the fact that he was often the one creating his own shots in Baylorís offense and didnít finish at a high rate. Nearly 54% of his offense came off post ups, isolations, or offensive rebounds, which is certainly impressive, but his 53.3% shooting in finishing situations is well below average. Udohís lack of physical strength, especially in his lower body, and average explosiveness, remain a concern moving forward. Udoh should benefit from having to shoulder less of a shot creating burden for himself in the future, but he still has a lot of room to add polish at age 23.

[Read Full Article]

---
NBA Combine Interviews: Al-Farouq Aminu, Ekpe Udoh, Aldrich, Ed Davis
May 23, 2010
Part One:
Part Two:
[Read Full Article]

---
Analyzing the NBA Combine Measurements
May 22, 2010
Ekpe Udoh also measured quite nicely: a legit 6-8 ĺ without shoes, with a 7-4 Ĺ wingspan. He has the size and length to play either the power forward or center spot comfortably, especially if he adds weight to his 237-pound frame.

[Read Full Article]

---
NBA Combine Video Interviews: Wall, Favors, Monroe, Udoh, Orton
May 21, 2010
[Read Full Article]

---
NCAA Weekly Performers, 4/6/10
April 6, 2010
Joseph Treutlein

After surprising many with his development early this season, Ekpe Udoh has held pace all year long to finish out an impressive junior season, putting himself firmly in lottery discussions as the NCAA season comes to a conclusion.

One of the most important players on a Baylor team that made a strong run to the Elite Eight, Udoh brings a variety of skills to the table as a player, most of which he developed while sitting out a redshirt season after transferring from Michigan. As the season has gone on, Udoh has grown more comfortable in Baylorís offense, and really opened up his game, contributing in a variety of areas on both ends of the court.

Offensively, one thing we didnít touch on when we profiled Udoh in December was his passing game, something that became more prominent for Baylorís offense as the season went on. Udoh dished out an impressive 2.7 assists per game, operating mostly out of both the high and low post, showing good court vision and the ability to hit both cutters and shooters for open looks. He shows a good feel for the game in general, something thatís become more apparent as the game slowed down for him as the year went on.

In terms of scoring the ball, Udoh does most of his damage out of the post, where he shows a very high level of fluidity and coordination, along with the ability to turn off either shoulder, though he clearly prefers going off his left. He even shows decent ability with his less dominant left hand scoring the ball, going to hook shots and lay-ups when the situation calls for it. He has a surprisingly good command of counter moves in the post, and transitions very well from one move to another looking for a high percentage shot.

At the basket, Udoh leaves some points on the floor at times, as despite being a very good overall athlete due to his mobility, fluidity, and coordination, he isnít the toughest, most explosive or reactive player, not always elevating with great ease around the rim, and seemingly shying away from contact at times. He isnít the greatest off his second bounce and he doesnít have the make-up to explode up and overpower his man, though looking at him, you get the sense his lower body strength probably isnít maxed out, and this is something he could improve with the right training.

Udoh is also a potent threat out of isolation situations, being able to utilize everything out of the triple-threat position, be it taking his man off the dribble, shooting a mid-range jumper, or passing to an open man. Udohís isolation game is very intriguing, as he shows nice footwork, a good first step, and a nice variety of moves, while finishing at a decent rate at this level.

His mid-range is also a pretty reliable weapon already, as he hit a respectable 0.85 points per shot on his 111 jump shots this season according to Synergy, with a good deal of them coming off the dribble or out of the triple-threat, with a defender on him. He hit seven three-pointers on the season, but thatís clearly a bit out of his comfort zone, though he does have nice range to 20 feet. Udohís shot is probably a bit too reliant on his upper body, and thereís reason to believe with some tweaks this could become an even better weapon for him.

On the glass, Udoh shows great instincts and pursuits on the offensive end, pulling in an impressive 3.6 offensive rebounds per game, frequently being right in the middle of the action around the rim, though his lack of a great second bounce doesnít allow him to be the strongest finisher on putbacks.

Defensively, Udoh does a solid job on the glass, but could be a bit more aggressive in boxing out and doing some of the little things, something heíll need to do to stay an above average defensive rebounder in the pros. He lacks some awareness at times on the glass and doesnít appear to be the most contact loving big man around, getting outmuscled by stronger players and not always fighting back as much as youíd hope.

Udoh can do some impressive things on the defensive end, though, showing outstanding timing with his shot blocking and using his length very well. Heís a great shot blocker both in man-to-man situations in the post and coming over from the weakside, showing pretty good rotational awareness and doing a good job in general in Baylorís zone.

As a man-to-man defender, Udoh plays to his strengths very well in the post, keeping his arms outstretched to force his man into tough shots, while also doing a good job moving his feet. He doesnít have the greatest leverage, and is prone to being backed down by stronger opponents, but again, he probably can improve his lower body strength some.

On the perimeter, Udoh was rarely tested this season, and when he was, it was on switches with guards as opposed to going up against the stretch fours heíll see in the NBA. Regardless, he looks out of sorts in his man-to-man stance on the perimeter, though his tools suggest he should be able to become at least adequate in this regard if he puts in the work to develop his fundamentals as he sees the situation more frequently.

Looking forward, Udoh is an intriguing prospect who looks likely to be drafted somewhere in the 10-20 range. He brings clear NBA skills to the table with his defense, shot-blocking, offensive rebounding, and developing post game, while also showing developing skills in multiple areas. That said, while the learning curve heís shown over the last two years is very impressive, he will be 23 years old by the time the draft comes around, so teams may have mixed feelings on how much more potential he has, particularly from a physical standpoint.

[Read Full Article]

---
Prospect of the Week: Ekpe Udoh
December 2, 2009
Jonathan Givony

Transferring schools might become all the rage pretty soon, if the success that Wesley Johnson at Syracuse and Ekpe Udoh at Baylor are having thus far is any indication.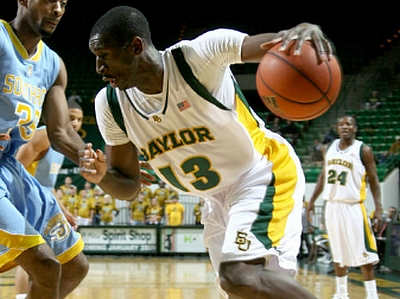 Walt Middleton, Baylor Athletics



Udoh took one look at then-incoming head coach John Beileinís methodical, perimeter oriented Princeton-type offense and decided it wasnít for him, eventually leaving Michigan for the greener pastures of Baylor. Based off what weíve seen thus far, he seems to have made a very good decision for himself. Not only is he being heavily featured in Baylorís offense, but he appears to have improved his skill-set significantly in the red-shirt year he was forced to sit out.

Udoh is still the same long, broad-shouldered and athletic big man he was at Michigan, but he now is looking more and more like a true power forward. He sees plenty of touches both facing and with his back to the basket, looking fairly comfortable either way creating shots for himself.

In the post, Udoh has a very nice jump-hook he likes to turn to, even if he doesnít always have enough girth to establish great position down low. Heís an excellent finisher as well, shooting 66% from the field on the season so far.

The place that he shows even more intrigue is on the perimeter, as he appears to have improved his footwork and shooting touch quite a bit, and has become much more effective attacking defenses off the dribble.

Baylor likes to isolate him about 15-17 feet away from the basket and let him go to work, asking him to create his own shot in pure one on one situations. This is something you donít see all that much at the college level, particularly not with big men. Udoh shows a solid first step and intriguing footwork here, usually pivoting or spinning his way into the paint, and often converting impressively. This is obviously a part of his game that has potential.

Heís not immune to turning the ball over in these situationsóeither by picking up his pivot foot too quickly on his initial attack or by trying to execute too complicated a move once heís inside the paint. His balance doesnít seem to be all that great and he has trouble finishing through contact at times, but itís nonetheless intriguing to see a 6-10 player flash these kinds of skills.

Udoh has also knocked down three of his six 3-point attempts on the season thus far in seven games, showing solid form and nice touch. He also made a number of mid-range jumpers in the film we took in, indicating that this isnít a fluke and heís indeed improved this part of his game. On the downside, heís only made 42% of his free throws on the season, which is obviously something that needs serious work. Nonetheless, if he can continue to establish himself as a legit floor-spacer as the season moves on, his stock will certainly rise with all the other things he brings to the table.

With his outstanding length, good size and solid athleticism, Udoh has all the tools necessary to be a very valuable contributor on the NBA level as both a defender and rebounder. So far this season heís putting them to good use, averaging 9.3 rebounds and 3.6 blocks. His timing appears to be solid, and he does a terrific job using his long wingspan to contest shots.

Baylor plays quite a bit of zone, and with Udoh manning the 4-spot we get a decent amount of opportunities to see him step out onto the perimeter, where he shows pretty good feet. He seems to have good potential as a pick and roll defender, although at the moment it appears that his fundamentals arenít always the best. He gives up post position too easily at times and tends to get backed down in the post, not always having the bulk to fight back against stronger opponents.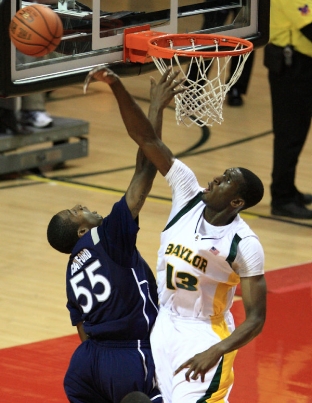 Walt Middleton, Baylor Athletics



Udoh also seems to lose some focus and intensity defending off the ball, although part of this may be attributed to his conditioning, which appears to be a work in progress coming off an 18-month absence from competitive play. Adding strength and gaining experience will only make Udoh more effective on this end of the floor, as there is no question that he can develop into a very solid defender and rebounder in the NBA in time, which even without his budding offensive skills would already make him a solid rotation candidate.

Right now Udoh doesnít seem to be on anyoneís radar screen, as heís receiving virtually no attention from the national media or the other NBA draft outlets. Expect that to change pretty soon, as itís only a matter of time until people take notice of how much Udoh has improved.

Comparing his last season at Michigan with what heís done so far at Baylor, on a per-minute basis, Udoh has more than doubled his scoring rate, improved his field goal percentage from 44% to 62%, upped his rebounding, assists and free throw attempts considerably, maintained his shot-blocking production, and reduced his fouls dramatically.

Its possible that we've yet to see the best of him just yet as well, as most players tend to take some time to shake off the rust after sitting out an entire season the way Udoh was forced to last year.

Watching him play, itís tough not to think about the way Jordan Hill rocketed up draft boards right around the same time last year. Udoh might not be quite as explosive as Hill, but heís got excellent physical attributes in his own right and is much more polished on both ends of the floor.

Heís getting strong reviews off the court as well from people close to the Baylor program. Head coach Scott Drew told us heís ďa class act and a winner,Ē via email and raved about how he ďdoes so many little things on and off the court that go unnoticed.Ē

Only 7 games into the season, it may still a bit early to be jumping to too many conclusions, but there are surely plenty of reasons for Baylor fans and NBA scouts alike to be excited about what Udoh is showing thus far.

[Read Full Article]

---
Top NBA Draft Prospects in the Big 12 (Part Two: #6-10)
September 7, 2009
Jonathan Givony

After sitting out all of last season due to transfer rules following his move from Michigan to Baylor, Ekpe Udoh will now have an excellent opportunity to show what kind of progress heís made over the past year.

Standing 6-10, with a great frame, long arms, and solid athleticism, Udohís intrigue will always start with his rare physical attributes. These tools manifest themselves mostly in the form of his shot-blocking and offensive rebounding ability at the moment, although it will be interesting to see how much polish heís been able to add as of late.

Based on the film we were able to take in from the 2007-2008 season while playing for Michigan, Udoh appears to be a fairly limited player offensively, which was reflected in his low scoring output and poor shooting percentages. He doesnít possess much of a back to the basket game, mostly being relegated to catching and finishing or catching and shooting due to his poor footwork and non-existent left hand, and rarely getting to the free throw line in turn. He doesnít have great hands and didnít always appear to know his limitations from what we could tell.

Udoh did show some potential as a jump-shooter, though, even knocking down 6/15 3-point attempts, which is not what you would expect from most 6-10 shot-blockers. He has good form and nice touch on his shot, leading you to believe that he may show much more in this area in a larger offensive role for Baylor this season. The fact that he only managed to convert on 59% of his free throw attempts in 07/08 shows that he obviously had a ways to go in this area, though.

On the offensive glass is where Udoh will be able to help Baylor immediately, as his excellent size and length gives him a big advantage at the college level, and he also shows solid hustle pursuing the ball and coming up with rebounds out of his area. Heís a surprisingly average defensive rebounder, though, as he doesnít always seem to box out his opponent (chasing blocked shots instead), not showing quite the same determination to make his presence felt as he does on the other end of the floor.

Defensively is where Udoh will make a name for himself this season most likely, as he may have a chance to emerge as one of the top shot-blockers in college basketball. His incredible reach is a huge asset, as it allows him to contest, alter and most importantly reject plenty of shots around the rim, at times showing impressive timing in the process. He ranked 8th amongst all shot-blockers in our database in 2007-2008, and definitely has the potential to improve even more in this area.

From a fundamentals standpoint, Udoh has some work to do based on what we saw at Michigan, as he tends to give his man too much space while allowing him to establish deep post position on him. This is partially due to his lack of lower body strength, but also because of his inclination to just wait for a shot to go up and then go and send it backósomething that obviously wonít work in the NBA.

On the perimeter is where Udoh struggles the most like almost all big men, often looking flat-footed trying to stay in front of quicker big men who can handle the ball, and being relatively ineffective defending the pick and roll. Udohís length helps him compensate for his average lateral quickness in a major way, though, and itís not rare to see him recover quickly after already getting burned and still manage to meet an opponent at the rim for an emphatic block.

Udoh is gathering some quiet buzz around Baylor already for the way heís reportedly looked in practice, as the coaching staff appears to be extremely pleased with the progress heís made from what they told us personally. Despite the fact that heíll be turning 23 in May, Udoh may have made a wise decision to leave Michigan, as he was never going to be a fit in John Beileinís slow, perimeter oriented offense, and already saw his role and production shrink from his freshman to sophomore years. It will be very interesting to see how he looks this upcoming season, as there is always a demand for 6-10 long and mobile shot-blockers in the NBA.

[Read Full Article]

---
Top NBA Draft Prospects in the Big 10 (Part One: #1-#5)
October 16, 2007
A raw, but intriguing big man, Ekpe Udoh was the third post player in the lineup for Michigan during his freshman season, and showed nice flashes of potential against Big Ten competition. This season, he will be more heavily relied on by new head coach John Beilein, on a Michigan team that will look much different from last season. Udoh can be labeled as a project for the time being, but has the raw tools to attract attention from scouts at the next level.

Udohís intrigue as a prospect starts with his promising shot-blocking ability. During his freshman campaign he averaged 4 blocks per 40 minutes (pace adjusted), ranking him 10th in the country amongst returning draft prospects. The sophomore big has a monster wing-span, and shows good anticipation both on the ball and coming from the weak-side. The talented big man can block shots with either hand, and avoids foul trouble surprisingly well for a young shot-blocker.

Offensively, Udoh remains raw, but can step out and hit the mid-range jumper with decent consistency. He lost confidence with his jumper during some portions of his freshman season, but shot the ball more accurately as he adjusted to more playing time later in the season. From the low block, Udoh has yet to become a scoring threat due to his lack of strength. In addition, better footwork will be a necessity for him to develop a back to the basket game. Udoh did show a little potential shooting a hook shot last season with both hands. Unfortunately, he really lacked touch on this shot, and sometimes resorted to turning and wildly releasing it, without gaining the proper position first.

Udoh must really focus on increasing his strength over the next couple of seasons. The lack of strength hurts him badly on the defensive glass, where he often loses the inside position to stronger players. He does rebound the ball effectively on the offensive end, showing good hands to compliment his terrific wingspan. A better body will allow Udoh to finish strong inside, rather than shying away from contact like he did last season.

Ekpe Udoh has the tools to make it to the NBA down the road, but he still remains a raw prospect at this point. Over the next couple of seasons, he must focus on becoming stronger while further developing his offensive game. It will be interesting to gauge the progress he makes this season playing against Big Ten competition, though it is likely that Udoh will have to stay at least a few more years at Michigan, depending on how long it takes him to add bulk and polish up his skill-set.

[Read Full Article]

---