Jordan Hill
STRENGTHS:
- Ability to get to free throw line
- Likes to mix it up inside
- Off-ball movement
- Makes quick moves in the post
- Turnaround jumper
- Ability to contest shots
- Activity level
- Lateral quickness
- Shot-blocking tools
- Competitiveness
- Physical Toughness
- Potential
- Only playing basketball for few years
- Ability to finish around basket
- Ability to run the floor
- Athleticism
- Explosiveness
- Solid frame
- Wingspan
- Defensive rebounding
- Offensive rebounding
- Rebounding tools
WEAKNESSES:
- All-around offensive polish
- Decision making
- Advanced post moves
- Left hand
- Questionable hands
- Defensive fundamentals
- Foul prone
- Man to man defense
- Average basketball IQ
- Older than class peers
- Passing skills
- Free throw shooting
- Inconsistent shooter
Recent Tweets
All Tweets
DraftExpress: Goldman: Biggest home free throw shooting chokers: Jordan Hill, Paul Pierce, Samuel Dalembert. #SSAC
2012-03-02 01:17:30
DraftExpress: Depends when. After 174 minutes? RT @nepotist But trading a lottery-caliber talent is also a signal ex: Anthony Randolph, Darko, Jordan Hill
2012-01-04 01:19:01
DraftExpress: Talib Zanna redshirted last season, which is a bit surprising. Just turned 20 years old. Nice find here at MSG. Reminds me of Jordan Hill...
2010-11-18 08:06:35
Time for some Summer League action in Vegas. Portland-Houston about to kick off. Jordan Hill, Patrick Patterson, Luke Babbitt, Armon Johnson
2010-07-11 16:16:17
Top 25s - Full List
Team: Lakers College Team: Pacers
Physicals
Positions
Rankings
Salary
Misc
H: 6' 10"
W: 232 lbs
Bday: 07/27/1987
(28 Years Old)

Current: PF
NBA: PF
Possible: PF/C

RSCI: 137

Agent: Kevin Bradbury
Current Salary:$9,000,000

High School: The Patterson School
Hometown: Atlanta, GA
Drafted: Pick 8 in 2009 by Knicks
Best Case: Better Rebounding Chris Wilcox
Worst Case: Ronny Turiaf

Predraft Measurements
| Year | Source | Height w/o Shoes | Height w/shoes | Weight | Wingspan | Standing Reach | Body Fat | No Step Vert | Max Vert |
| --- | --- | --- | --- | --- | --- | --- | --- | --- | --- |
| 2009 | NBA Draft Combine | 6' 9.25" | 6' 10.25" | 232 | 7' 1.5" | 9' 0" | 6.0 | 31.0 | 35.0 |



Basic Per Game Statistics

- Comprehensive Stats - Statistical Top 25s
| Year | League | Name | GP | Min | Pts | FG | FGA | FG% | 2Pt | 2PtA | 2P% | 3Pt | 3PtA | 3P% | FTM | FTA | FT% | Off | Def | TOT | Asts | Stls | Blks | TOs | PFs |
| --- | --- | --- | --- | --- | --- | --- | --- | --- | --- | --- | --- | --- | --- | --- | --- | --- | --- | --- | --- | --- | --- | --- | --- | --- | --- |
| 2015/16 | NBA | Jordan Hill | 13 | 24.1 | 9.2 | 3.8 | 8.7 | 43.4 | 3.8 | 8.7 | 43.4 | 0.0 | 0.0 | &nbsp | 1.6 | 2.3 | 70.0 | 3.2 | 5.1 | 8.3 | 1.4 | 1.0 | 0.3 | 1.4 | 2.2 |

Player Page&nbsp&nbsp| Player Stats | Mock Draft History | Related Articles&nbsp&nbsp| Add to My Draft Express&nbsp
&nbsp
NBA Draft Media Day Video Interviews
June 25, 2009
[Read Full Article]

---
NBA Draft Media Day Interview Transcripts (Part One)
June 25, 2009
Reporter: Milwaukee just made a trade where they acquired a power forward. Does that worry you that you may not have that as a fall back now?

JH: Not really, itís a crazy draft so we just have to wait and see how it turns out.

Reporter: What was your reaction to the trade?

JH: I didnít really hear much at all about it, they only one I heard about was Minnesota and Washington. I wasnít really paying much attention to it.

DraftExpress: Jordan at this point how much of an idea do you have about where youíll get drafted tomorrow night?

JH: I have no idea; it could be anywhere, two to ten. Iím just crossing my fingers and hoping for the best.

DX: Does it matter? Do you prefer to be closer to two rather than ten?

JH: It really doesnít matter, I just want to be picked up and be on a team. Everybody would like to be top five but it doesnít always work that way, so you just have to keep moving forward.

DX: Weíre hearing that the New York coaching staff really likes you but that front office might be leaning more towards a guard. What do you think you were able to show in your workout that made Mike DíAntoni fall in love with you?

JH: I was able to show more athleticism, my quickness, how well I run the floor, my mid-range jumper; they say Iím like Amare. You know Coach DíAntoni coached him and I feel like any team would want to have Amare and thatís how they feel about me.

DX: Did he bring that up to you? Amare?

JH: Yes.

DX: You spent some time at Amareís camp and played at Arizona, so you probably know him as a player pretty well.

JH: Yea, heís a real good player. Iíve got a lot more work ahead of me to get up there, but Iím on my way up.

DX: Are you going to be able to get the guns that Amare has? How long is that going to take?

JH: I hope it doesnít take that long; Iíve just got to stay in the weight room.

Reporter: What kinds of indication have the Knicks given that they might select you?

JH: I donít really know anything; the draft is all up in the air right now. I just have to wait and see how the teams feel.

Reporter: Would you like to play in Mike DíAntoniís system?

JH: Definitely; heís an up-tempo coach and I love to run the floor. Theyíve got Chris Duhon who is a pass-first guard and if I run the floor with him and I know heíll be able to hit me with a pass for a dunk or whatever. It would definitely be a good fit for me.

DX: Talking to some of the teams that you interviewed with in Chicago there has been some thought that maybe you were a little bit too open with some of the things you said about nightlife and stuff like that. Is that something maybe you regret in hindsight, being so honest and straightforward?

JH: I definitely donít regret it; they asked me to be honest. I donít go out and party all night, Iím not like that, but I like to have a little fun. When I get my work done first, then Iíll go out and have a little time for myself. I donít regret saying what I did, they wanted me to be honest and I was.

DX: So all the guys who were saying they like to drink apple juice and go to sleep at nine, is that what they wanted to hear you think?

JH: I donít know; they told me to be honest about everything and I was being honest. Iím not a party guy like that or anything, but I do like to have fun on my days off.

DX: Is ten in Milwaukee where you think your floor is?

JH: It could be, weíll see, I donít know.

DX: Do you think Minnesota having two picks changes anything? Maybe they go big and small?

JH: Again like I said I donít really know, weíre going to have to wait and see.

Reporter: Now that Washington has traded away their fifth pick are you saying to yourself why did I bother working out for them?

JH: No, Iím not saying that at all. Anything can happen in this draft, they could trade up and thereís nothing wrong with going and working out in front of different NBA teams.

DX: How often are you talking to your agent? Is it a once-an-hour update or is it just whatever happens, happens?

JH: Itís whatever happens, happens. Heís doing job and Iím just working hard and trying to get better.

Reporter: You have been rumored to go to the Wizards are you surprised they made that deal?

JH: Uh, what deal?

Reporter: The deal yesterday to trade their pick for Mike Miller and Randy Foye

JH: Oh. I was but I canít do anything about it. They felt it was a good decision so itís kind of hard to fault them on it.

Reporter: Were you given any assurances on your game by the Wizards while you were there?

JH: No not really basically they told me to just keep working.

Reporter: What kind of team are you hoping to go to?

JH: A team where I can come in and have a huge impact. Come in and get a lot of playing time and be an energy guy for the team and just go out and work hard.

Reporter: Whatís more challenging the workouts or traveling from city to city?

JH: Probably the workouts by yourself. Going by yourself is real tough but I managed to fight through it and I had an incredible run of workouts.

Reporter: Will you miss Arizona?

JH: I love the campus, the people the school and the environment. It was a real good fit for me. I basically just wanted to get away from home and mature on my own. I donít regret choosing Arizona. I really loved it.

Reporter: What areas of your game have you improved on the most in college?

JH: My mid-range game and my footwork. Defensively I grew up a lot just staying out of foul trouble. Those are basically the main focal points of my game.

Reporter: How did the yearly coaching changes at Arizona affect your game?

JH: I mean it prepared me more for the next level because I can definitely be traded to teams. Playing under different coaches in college prepared me to know what I expect when I get to the next level. But it really didnít hurt me and itís not my decision whoís going to be the next coach and the coach I was playing for. So I just kept my head on straight and just kept playing.

Reporter: Any idea of where you might be going tomorrow?

JH: This draft is getting kind of weird. Iím just nervous. Itís been a long process.

Reporter: Whatís it going to be like to finally hear your name tomorrow night?

JH: Relief. Relief. Just to know that I worked hard to get here. And I know it ainít over, so Iím trying to be one of the greatest so I just got to keep working.

[Read Full Article]

---
Jordan Hill: "I Got Heart"
May 26, 2009


Jonathan Givony: How has your training been going so far?

Jordan Hill: Itís been going really good. Itís been intense, itís been hard work, and everybody is coming out here, having fun, but getting work done has been really good. Weíve been going out there, early in the morning, and donít get done until like twelve, or two oíclock, but itís been really good.

Jonathan Givony: What are some of the things that youíve been working on from an individual standpoint?

Jordan Hill: Probably my footwork, just getting better footwork, stepping out, Iím knocking down the mid-range consistently now. Iím learning more post moves, learning more counter moves in case my opponent stops my first move, so itís really been a little bit of everything to try and get me ready for the next level.

Jonathan Givony: How excited are you to get into some of these private workouts?

Jordan Hill: Really excited man, Iím coming in there trying to be the best. At the next level itís going to be tough, and we got to get out here and just try to get to the next level, itís basically like a job, itís basically like interviews so weíve got to just go out there and do what we do to get ready.

Jonathan Givony: Do you think youíre going to surprise some people in the league with some of the stuff youíre going to be able to show them in private workouts?

Jordan Hill: Yeah, definitely. Itís not just trying to surprise people, I just love the game of basketball. Iím just trying to go out there and have fun. Whatever team I end up at I just want to go out there and help them win, just try to bring the energy, bring the hard work to the table and just go out there and do what I have to do.

Jonathan Givony: It seems like youíve been shooting the ball pretty well, in the drills I just saw. Is that something youíve been working on?

Jordan Hill: Definitely, my mid-range has gotten a lot better now. Just trying to step out there at 15-17 feet, and when Iím on my free time I go out there and step out for the NBA threes, so both of them have been coming around really good right now, I just have to keep working and trying to get better.

Jonathan Givony: Is that something you see becoming a major part of your repertoire in the NBA, that mid-range jump shot?

Jordan Hill: Definitely, a big man canít always be down on the block, trying all these post moves, the post moves are going to get stopped sometimes. Youíve got to have another move, another backup and thatís to step out and, if your opponents back up off you, to shoot the jumper. If theyíre on you, you can take it into the lane and score it, so either way, itís definitely a good move to have.

Jonathan Givony: Letís flash back about three or four years to high school. You werenít the most highly regarded guy in your class, but now youíre on the verge of being a top ten pick, what do you think happened there? What kind of high school player were you?

Jordan Hill: I started playing organized basketball my ninth grade year, I mean I played basketball when I was little just for fun, do what I have to do, but ninth grade year I played, tenth grade year I played, eleventh grade year I didnít play because of my grades, so I just tried to get that up, then my senior year I went to Patterson, North Carolina and played there.

I went through a lot, but I just loved the game of basketball, so I worked hard at it, tried to accomplish what I wanted, and Iím just trying to be a good basketball player. The situation Iím in now, Iím thankful for it, and I canít take it for granted, and I donít have any regrets, all this stuff Iíve been through, I just have to keep fighting and keep going.

Jonathan Givony: Did you ever envision during your senior year of high school that you would be in the position to be a top-10 draft pick?

Jordan Hill: Definitely not. It was definitely one of my goals, but the position I was in it was hard to say, ĎIím going to be an NBA playerí because nobody knew who I was, I was not even highly recruited. I just had the heart for the game, I just wanted to go out there and work hard at it, so if the opportunity comes to play at the next level Iím just going to go out there and do what I have to do.

Jonathan Givony: I donít know if this is just a legend, but apparently you were seen at an AAU tournament in Houston very late in the recruiting game and Lute Olson offered you there, can you tell us what happened there, the whole story?

Jordan Hill: Yeah, I was at the Kingwood Classic, and I was playing against DeAndre Jordan for one of the games, we lost that game, but after the game, my coach was just like, ĎArizona called me, they really like you, theyíre really looking at you,í and I was just like, ĎMan, Arizona?í I was kind of shocked, but I did go out there and work hard at it. I was definitely shocked, when they offered me I just took my official visit, fell in love with the city, and committed right on the spot, and Iíve definitely had my good years and a lot of fun there.

Jonathan Givony: What other schools were recruiting you other than Arizona, what other options did you have?

Jordan Hill: I had Miami, Georgia, Georgia Tech, Xavier, Vanderbilt, and Illinois. I had another couple of low schools there, but Duke, North Carolina, they were nowhere in sight. Arizona, they saw something in me. I think I made a really good choice by selecting them.

Jonathan Givony: Do you feel like people may have missed the boat a little bit on you in high school, or were you just not that good?

Jordan Hill: I knew I had potential, and I was an athletic, long big man, but I just needed a good coach to take me under his wing and have faith in me, and just work with me, and Lute Olson did that, but Lute Olson retired, and I only played with him for one year, so Iíve been trying to learn the game from different coaches. I just did what I had to do, I love the game, like I said, and Iím going to work hard at it and give it my all, and listen to the people that know the game.

Jonathan Givony: You made an unbelievable jump between your sophomore and junior years, just in terms of offensively, cutting down on your fouls, just your all-around polish. What happened there that let you do that?

Jordan Hill: I was hungry. I was really hungry. My sophomore year we had Chase Budinger, Jerryd Bayless, so there were two really well known players, and no one really knew about me, so I just waited patiently and did my role.

Basically I was a little bit of a role player my sophomore year, I let those two have their fame and glory. Then my junior year came, and I was like all right, itís time for me to step up. I started working on my game, doing everything to bring out my A game, to shoot up, and it came out my junior year, I really feel like I did a heck of a job, and Iím just going to keep going for what I want.

Jonathan Givony: How close were you to declaring for the draft after your sophomore year? We heard some rumblings that maybe you were considering it, but you decided not to.

Jordan Hill: I definitely wasnít considering it. I knew I wasnít ready to make that jump, I definitely made a smart move by coming back. I mean, it was hard work, I just had to go out there and wait for my turn to come up. I had faith in God, God gave me the strength to go out there and play basketball, the game I love. I was a baseball player awhile back, but I thought it was time for me to give it up as I started growing and growing, I was like, Iíll stay with basketball, thatís what Iím doing.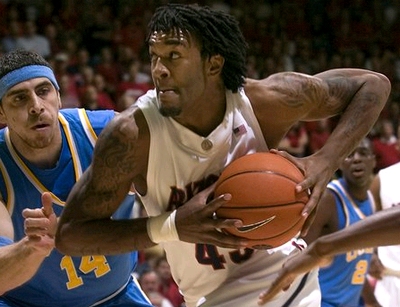 AP



Jonathan Givony: So, Iíll be honest, I donít think thereís a player in the top 10 who is going to get much flak as you from various experts, like ďOh, in any other draft he would go here, thereĒ I mean, youíre hearing that stuff, Iím sure. How does that make you feel?

Jordan Hill: I try to not let it get to me. Thereís always going to people who doubt you, thereís a lot of doubters out there. I donít have that much publicity, so basically to me itís just those people who are only watching the highly recruited players, who everybody is talking about, thatís who theyíre going to watch.

Iím really not known out there still, and I donít think theyíve been really watching my games, because there were some games where I really put my heart into it and played good, I think I played good in a lot of games. It really gives me motivation to just go out there and kick butt on the court. I love the game, but thereís always going to be doubters out there, I just have to shake it off and keep going, keep fighting.

Jonathan Givony: One game that really sticks out in my mind is the game at Washington where you hurt your ankle, and it looked like you were done, then they bring you back onto the court, and you canít even really move, but you somehow manage to help your team and get back in the game. That really showed me a lot. What are your thoughts on that game in particular?

Jordan Hill: Like I said, I got heart. I got heart and love of basketball. When I hurt my ankle, I definitely thought I wasnít going to play anymore, I thought I was going to sit out the rest of the game, but when I got off the court, the trainer was on me, moving it, and I was thinking, ĎMan, I donít think Iím going to be able to get back out.í

But then I heard the crowd getting into it, just getting louder, louder, and I was thinking my team might be losing badly, because they were just getting hyped, but then all of the sudden this adrenaline flows through my body and Iím like, ĎMan, Iím kinda ready to go now, Iím just kinda ready to go.í

So I told the trainer, ĎIím good, Iím going to go back out there, Iím just going to keep going, I know my team needs me.í I went out there and gave my team that little bit I had, I just wanted to help my team in any way.

Jonathan Givony: Do you see yourself as a guy in the NBA that is going to demand double teams on the block? Do you see yourself as more of a go-to-guy like you were in Arizona or do you see yourself as more of a complementary off the ball player?

Jordan Hill: Itís definitely going to take time for me to become a go-to player, but when I get there Iím going to have to be just like I was when I got to Arizona coming out of high school, I was a role player when I first got in. So I have to just go out there and be a role player for awhile just to see what I can do. I definitely can score, but Iím just going to do the things my team needs me to do, like I said. If it comes to me being a superstar, or a go-to-guy, then thatíll be a wonderful feeling. Until then, I just gotta play my role.

Jonathan Givony: Have you been watching the NBA playoffs at all?

Jordan Hill: Yeah.

Jonathan Givony: Anything youíve been noticing about the big guys there, like things that suit you, that could compliment your skill set?

Jordan Hill: The big guys in there, theyíre kind of different, like Dwight Howard- heís just at the basket, dunking everything, Paul Gasol- he can step out and shoot the mid-range, get rebounds, use the post move, but I think I can be more aggressive than him. He is a good player, but I think I can be more aggressive.

Jonathan Givony: Kenyon Martin, or Nene?

Jordan Hill: Kenyon Martin- I like him, heís a beast. Heís got a lot of heart and heís really aggressive, I like watching him.

Jonathan Givony: Could you see yourself playing a role like that?

Jordan Hill: I definitely could. Itís whatever my team wants me to do, if they need me to be a role player, if they need me to step up and score some baskets, Iím all for that, but everything takes time when it comes to the next level.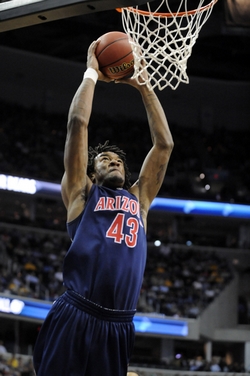 Icon SMI



Jonathan Givony: Something youíve been criticized for in the past is your defense, do you think thatís going to be a concern in the NBA?

Jordan Hill: I definitely donít. Iíve been working on my footwork a lot now. I used to get in foul trouble a lot, you know. Iíve been working on footwork, and trying not to block everything. My defense is getting there, I can alter shots, I can block shots, I can do things, my footwork got a lot better, but now I just have to keep working at it.

Jonathan Givony: How much room do you have left to grow still, as a player?

Jordan Hill: I still got a lot more, a lot more. Iím very coachable, my talent, my potential is still coming out right now, I still got more post moves that I can learn, I can get my feet quicker, my mid-range could be 80%. I think I can get out there with the three point shot, if I keep working at it. I can definitely get a lot better right now.

Jonathan Givony: What are your expectations in terms of where you might get drafted? What are you hearing there?

Jordan Hill: Iím not hearing anything, I just let my agent deal with that, I know I just have to go out and keep working hard, and whatever my agent says I just have to be ready for. It doesnít matter where I work out at, who I work out with, I just have to go out there and work hard.

Jonathan Givony: Does it matter where you go, if you go #4, if you go #9, is there a difference there for you?

Jordan Hill: Definitely not, I just want to get to the next level. Iíve been through so much in my entire life, and I hate to say it, but when I was younger I definitely had doubters who didnít think I was going to be anything. When I look back, itís just crazy. When my mom passed away when I was three, we were struggling, and struggling, I got into some trouble, everything kind of went downhill after my mom passed. I just want to keep going, it doesnít matter where I go, I just want to get to that next level so I can say, ĎYes, I accomplished what I wanted to.í

Jonathan Givony: The things that youíve been through, how big of a role have they played in the person that you are today?

Jordan Hill: They played a very big role. They helped me grow up, made me a smarter person, especially when I moved to Arizona. Before I moved to Arizona, I was around my family, to do all that, and I was like, ĎMan itís time for me to grow up and get out on my own.í So thatís the reason I went to Arizona, just to be on my own, and help me grow up, and live life how I want to live it.

Jonathan Givony: Jordan, youíve been great. Thanks for your time, and best of luck moving forward.

Jordan Hill: Thank you.

[Read Full Article]

---
A.T.T.A.C.K. Athletics Workout
May 26, 2009
Interview:

Part One:




Part Two:




Workout Webisode:





Analysis:

Hill appears to be working very hard, and the staff is pleased with the progress heís making.

Comparing him with other prospects weíve evaluated in these types of settings over the years, itís pretty obvious that Hill started playing basketball later than most, as heís not a very polished player at this point in time. Thatís part of what makes him so intriguing, thoughóheís a late-bloomer who still has a ton of room to improve, but was still able to be productive at Arizona this season, to the tune of 18 points and 11 rebounds per game.

The biggest revelation to come out of these workouts was the way Hill was shooting the ball. His stroke looked fairly consistent from 17-18 feet out, and he was even able to knock down a couple of college and NBA range 3ís. He needs to improve the quickness of his release and continue to work on his consistency, but having a solid mid-range jumper in his arsenal will surely help him make the transition to playing quality minutes in the NBA.

Another area of intrigue lies in the basic skills Hill shows facing the basket from the mid-post. Mike Procopio has been working extensively with Hill on his footwork and ability to attack his man off the dribble from 12 to 15 feetóas you can see in the workout video. Considering the quickness advantage he will likely enjoy over most of his matchups, this could develop into a very useful weapon for Hill down the road. He was finishing in a variety of ways, often with a powerful dunk, but also with a series of runners and floaters, trying to improve his touch, particularly with his left hand, which needs work.

While Hillís frame looks solid, itís pretty clear that heíll have to hit the weight room if heís to be able to effectively compete with some of the more physically developed big men heíll face in the NBA. He lacks strength in his lower body in particular, and this, coupled with his below average post-moves makes him fairly limited at this point with his back to the basket. This is probably not going to be a major part of his game in the NBA, but considering the direction the league is headingówhere quickness, toughness and aggressiveness are far more important than brute forceóplayers like Hill are becoming very much en vogue. It would likely benefit Hill tremendously to play in an up-tempo offense where he can utilize his athleticism in transition, alongside a point guard who is capable of creating scoring opportunities for him.

Jordan Hill NBA.com feature
Jordan Hill Interview transcript.

[Read Full Article]

---
Situational Statistics: This Year's Power Forward Crop
April 23, 2009
Looking over the numbers of our top power forwards, we noticed a number of players who are projected as lottery picks that don't look the part on paper. Sitting just behind Griffin in our rankings, we find Jordan Hill, who's overall Points Per Possession of.94 places him slightly below the mean of .98, not quite what one would expect from a potential top-5 draft pick. Looking deeper, we realize that Hill ranks right around the average in a number of areas. He surprisingly connects on just 63.87% of his finishing opportunities not including post ups, and only scores on 49.6% of his logged possessions Ėsitting just off the mean in both categories. Much of Hill's lack of efficiency can be attributed to the fact that he only gets fouled on 10.4% of his possessions and gets very few touches in transition (16th at 1.1 Pos/g) and basket cut situations (15th at 1.8), two scenarios where he's effective ( 1.33 and 1.43 PPP respectively). The other factor working against Hill is his jumper, which we'll discuss later.

Clearly teams are valuing Hill's upside quite a bit. He's already a productive rebounder and has a lot of potential long-term as a defender, but his offense doesn't stand out amongst his peers. He's raw, but some teams see his physical profile and athleticism and assume he will be a player that develops into a bigger threat on the next level.

[Read Full Article]

---
Blogging Through the NCAA Tournament (Day Four)
March 22, 2009
Jordan Hill had another productive game that did a good job highlighting his strengths as a prospect, as well as his shortcomings. One on hand he displayed his excellent athleticism with a number of terrific finishes off pick and roll plays and in transition, running the floor extremely well and exploding off the ground in impressive fashion. He also knocked down a 20 foot jump-shot, the most range weíve seen him show thus far, and converted on a decent looking turnaround jumper in the post.

On the other hand, Hillís poor skill-level was very much evident in this game, as he looked very raw and mechanical trying to post up Cleveland Stateís undersized defenders in the post, being stripped on one possession and also throwing up some ugly looking bricks. You would have expected him to dominate this game considering the huge advantage he holds in terms of size/athleticism against the 6-5 and 6-6 big men he went up against, but he really wasnít able to consistently take advantage of his natural gifts. Defensively, Hill has potential but clearly is lacking in the fundamentals department, having a hard time rotating over effectively to guard the paint and picking up some questionable fouls. His basketball IQ is clearly nothing to write home about, and unless heís able to significantly improve his skill-level over the next few years (not out of the question considering how far heís come), he looks a lot more likely to develop into a solid energy guy/role-player rather than the game-changing presence you might expect from a potential top-5 pick. With that in mind, the fact that his rebounding rate has fallen significantly recently, going from over averaging over 12 boards per contest in the first 20 games, to just 9.3 rebounds in last 12 games, is not a great sign.

[Read Full Article]

---
NCAA Weekly Performers, 12/15/2008, Part Two
December 15, 2008
A player weíve been following with interest for quite some time, it appears that Jordan Hill has taken a big step forward in this his junior season, establishing himself as one of the more productive big men in this draft class thus far. His per-40 averages of 25 points, 16 rebounds and 4 blocks per game are simply off the charts, and heís done so while shooting 61% from the field, against some decent competition.

Following up on what weíve already written about him, Hill has added some decent bulk to his frame this season and looks far more capable of utilizing his outstanding athleticism now. Whereas once he was mostly limited to catching and finishing around the basket--heís creating his own shot far more aggressively now, showing better footwork and some interesting moves in the post in the form of spins and pivots, often just to get himself close enough to the basket to allow him to rise up and finish with authority.

Hill is near-automatic around the basket at the collegiate level thanks to his combination of length and explosiveness, as he gets off the floor with ease, and finishes well above the rim, with minimal effort. This added ability to create scoring opportunities for himself (his usage rate has risen from 6% to 17% to 25% of his teamís possessions this season) makes him quite dangerous considering how athletic he is inside paint. This athleticism shows up on a regular basis on the offensive glass in particular, where Hill has been an absolute force all season long so far.

Hill looks more comfortable facing the basket from the mid-post and putting the ball on the floor. His terrific first step makes him very difficult to stay in front of, and is a big reason why heís getting to the free throw line 6.4 times per game. He seems more patient and under control with the moves heís making these days, even showing a bit of a left hand, and also mixing in a very nice turnaround jumper in the postówhich is very difficult to contest thanks to his high release point. It was exactly this shot that put #4 ranked Gonzaga away with 36 seconds to go on Sunday nightóan absolute huge win for Arizona.

Another area of improvement lies in his jump-shot. Hill is shooting quite a bit more from the perimeter than he did last season, and although the results have been pretty streaky at times, heís definitely established that he can hit the 18-foot jumper, sometimes even off the dribble. His free throw percentage leaves a lot to be desired at just 60%, so clearly there is still work to be done here.

Definitely a late-bloomer, Hillís overall skill-level and feel for the game are still catching up with his terrific physical tools. Even though his production has been nothing short of outstanding thus far, there is still a substantial amount of room to improve on the offensive end. Continuing to work on his all-around polish and decision making skills is a big priority, as he tends to look a bit mechanical at times still with some of the moves he makes, suffering some lapses in judgment on occasion, and is still not a great passer. Itís hard not to be impressed with the improvement heís made over the past two years, though, as he started with almost no skills at all as a freshman.

Defensively, we find somewhat of a mixed bag. On one hand, Hill is one of the more imposing big men youíll find in the country in everything related to his shot-blocking ability, as he not only has outstanding tools to get the job done on this end of the floor, but he also shows excellent timing rotating over from the weak-side and sending shots back. He still isnít always as fundamentally sound as you might hope, though, playing a bit too upright staying in front of his man, closing out wildly on the perimeter and not always fighting very intensely through screens. He gets lost occasionally defending off the ball in the half-court, and is still somewhat foul prone, though not as much as he was in his first two seasons.

Considering what heís showing so far, it might be time to start considering Hill as a legitimate lottery prospect, or even more. He has most-everything you look for in an NBA power forward athletically, and still has plenty of potential to improve on his already decent skill-levelófar more than your typical junior. Weíve heard comparisons to Chris Wilcox, and some NBA scouts we spoke with already have him pegged as high as the mid-lottery. Weíll have to see if he can keep it up as Arizona enters the Pac-10 portion of their schedule, but the early returns look very promising.

[Read Full Article]

---
Top NBA Draft Prospects in the Pac-10 (Part One: #1-5)
September 24, 2008
Still largely flying underneath the radar as far as the national media is concerned, this could very well be the year that Jordan Hill emerges as a college basketball star, in this, his junior season. We saw the potential in him last summer despite only averaging 4.7 points per game as a freshman, causing us to name him one of the top five returning NBA draft prospects in the loaded Pac-10.

He backed that up by upping his scoring to over 13 points per game in 29 minutes, shooting a scintillating 62% from the field (tops amongst all players on our 2009 mock draft) , while pulling down an excellent 11.1 rebounds per-40 minutes (4th in our 09 mock), and improving his free throw percentage by an astounding 24%, to bring him to a much more respectable 68% from the charity stripe. He also passed the ball considerably better, while still maintaining his solid 2.3 blocks per-40 averages, although his turnover rate increased and he still struggled at times with foul trouble.

All in all, there is no question that Hill did an excellent job showing that he is more than just an excellent prospectóhe was extremely productive for Arizona. A late bloomer who hasnít been playing organized basketball as long as most, he obviously still has quite a bit of room to grow as a player.

Despite standing somewhere around 6-9 and being somewhat skinny, Hill was used mostly as a back to basket inside threat for Arizona last year. His repertoire is mostly limited here to posting up on the left block and spinning to his left shoulder for a very effective right-handed jump-hook shot. He is quick enough to get this shot fairly easy against the average college defender, although he seemed to struggle when trying to use this move against bigger, stronger and more athletic big menóthe type heíll see much more frequently in the NBA.

Hill is a bit predictable offensively at times, he has a tendency to spin right into double teams and isnít great when forced to improvise or go out of his comfort zone. His post moves and footwork in general looks a bit unpolished, and heís not what you would call a great passer either, struggling to see anything besides the rim once he makes up his mind regarding what he wants to do, and not always reading the floor particularly well. His left hand is virtually non-existent in the post, and most smart defenders know that, making him fairly easy to neutralize with effective advanced scouting. Expanding his repertoire of post moves could do wonders for his production.

What Hill is excellent at is finishing around the basket, to the tune of making 71% of his attempts around the rim according to Synergy Sports Technologyís quantified report. His terrific hands make him a great target in the paint for his guards to drop off passes to (typically off a pick and roll), and he does an excellent job rising up above the defense and finishing with authority. If unable to finish the play with a dunk, he seems to have the touch and wherewithal to use the glass fairly well too, which leaves a lot of room for optimism. Hill also gets a few baskets every game simply by crashing the offensive glass or running the floor, which helps keep his field goal percentages sky-high.

Itís no fluke that Hillís free throw percentages went from 44% to 68% between his freshman and sophomore seasonsóhis shooting range expanded dramatically in that time as well. Hill has solid mechanics from 16-18 feet and nice touch as well from this range. He isnít incredibly consistent at this point, but this is a part of his game that shows a lot of potential, and he should clearly continue to work to improve on.

Although not a great ball-handler, Hillís first step is absolutely terrific, allowing him to leave most opposing big men in the dust if he can get an initial step on them. This is yet another part of his game that he can build off in the future, although itís not really a consistent part of his repertoire just yet.

A pretty poor defender due to his average awareness and fundamentals, itís on this end of the floor that Hill looks furthest away from competing at the NBA level just yet. His lack of experience really gets exposed, as he does not do a good job at all of hedging screens or staying in front of his man on the perimeter or inside the paint. He uses his hands excessively and is fairly foul prone in turn, the reason why he wasnít always able to stay on the court in some stretches when his team needed him. Gaining strength looks like a major priority for him here, but his nice length and athleticism already allows him to establish himself as somewhat of a shot-blocking threat, as well as an excellent rebounder.

Clearly a superior athlete with a skill-set that is rapidly improving and an aggressive mentality that bodes very well for his future development, Hill is certainly someone to keep an eye on this upcoming season, as itís quite possible that he breaks out and has a spectacular year. Heís nowhere near a finished product at this point, but thatís part of the reason heís so interesting, as most of his flaws look highly correctable, and his strengths are the type that canít be taught. The next step is to become much more consistent from game to game and improve on his polish and all-around feel for the game.

[Read Full Article]

---
Top NBA Draft Prospects in the Pac-10 (Part One: #1-#5)
September 18, 2007
One of the few bright spots in a very disappointing season for the Arizona Wildcats was the emergence of freshman power forward Jordan Hill, widely considered a project going into the year. Not having played organized basketball as a high school junior and largely unknown until being ďdiscoveredĒ at an AAU event late in 2005 (where he was essentially offered a scholarship on the spot by Lute Olson), Hill went from barely playing at all for the Wildcats (6 Ĺ minutes per in the first 18 games) to a major contributor after replacing Marcus Williams in the rotation against Arizona State on January 24th. He responded with a solid 12 point, 9 rebound performance, and from that point on was off and on the bench constantly (23 minutes per in the last 11 games) giving Arizona some of the size and athleticism they sorely lacked in the post. With Williams and Radenovic out of the picture now, Lute Olson and his staff will undoubtedly turn to Hill to try and make up for the production they lost and establish some sort of post presence for them on both ends of the floor.

Physically, Hill fits the description of an NBA prospect and then some. A superb athlete, with long arms, a good frame, and cat-like quickness getting off his feet, Hill is clearly a gifted prospect. With that said, he looks nowhere near a finished product at this extremely early stage in his development. Everything you get from him comes in small doses, but even those small doses transmit a tremendous amount of optimism regarding his upside.

Hill has good hands and really nice instincts to chase offensive rebounds and blocked shots, but is still extremely skinny and very much a work in progress in terms of his fundamentals and knowledge of the game. He canít create much offense for himself due to his below average footwork, even if he does show some promise here with the occasional jump-hook, and tries to dunk everything that comes his way. His left hand is certainly improvable, as is the range on his jumper, but he will step away from the basket on occasion and knock down a good looking shot from mid-range. Most of his production comes from the fact that heís so much more athletic than most of the big guys he matches up with at the college level, which is part of the reason why Hill was so inconsistent once he did get off the bench. Playing in Arizonaís up-tempo offense is a great fit, though, and certainly helps mask his shortcomings in the half-court as long as he has creators next to him.

Defensively is where Hill will need to show the most improvement over the next few years to go from prospect to player in the minds of NBA scouts. His lack of experience and high level coaching from a young age immediately becomes evident here, particularly in his lack of footwork and awareness on team assignments. He also has a tendency to leave his feet a little too early chasing blocked shots wildly, and thus will get into foul trouble on occasion. His focus level in general could stand to improve, as he ranges from being extremely active to very passive depending on when you catch him.

Adding strength is a major priority for him, as itís not rare to see him lose his balance or get outmuscled in the post when matching up with players who are more physically mature than him. Even though he often just outquicks other players for dunks immediately after he makes a catch and finish in the post (using his impressive wingspan in particular), he struggles finishing through contact when the defensive rotation meets him at the hoop.

All in all considering the natural progression that most big men go throughóparticularly late bloomers--as long as Hill does not buy into his own hype and continues to work hard, his future looks extremely bright.

[Read Full Article]

---