Top NBA Prospects in the Pac-12, Part Seven: Prospects #17-20
September 9, 2015
Derek Bodner

6'5" wing Elijah Stewart came on strong towards the end of the season, starting the last 8 games for USC while averaging 13 points, 4.4 rebounds, 1.75 blocks and 1.5 steals in just over 30 minutes per game over that span, connecting on 43.4% of his three point attempts. Stewart's emergence down the stretch was a ray of light in an otherwise disappointing season for the Trojans.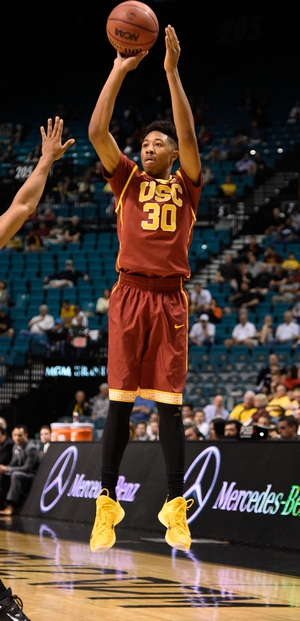 US Presswire
On the offensive side of the court, over half of Stewart's field goal attempts came from behind the three point line, where he connected at a respectable 34.6% clip. Stewart gets excellent elevation on his jump shot and can get the shot off with relatively little space, doing a good job getting in position before the pass, providing him with a relatively quick release. His form can break down occasionally, with his shooting elbow flailing out at times, but Stewart shows a natural shooting touch, and it's something that he should be able to correct with repetition.
Stewart also shows an ability to shoot off the dribble as well as from the catch, with comfort taking one or two dribbles in either direction to setup a step-back jump shot. Because of his athleticism, Stewart is able to rise up over his defender to get separation, giving him a clean look at the basket. Stewart's overall effectiveness when shooting off the dribble, only 0.719 points per possession according to Synergy Sports Technology, still leaves something to be desired, but shot selection likely has a significant impact on that number, and it's something that he could see an improvement in down the line.
The rest of Stewart's half-court offense mostly comes off the ball. While he's an incredible athlete, with great ability to elevate in the lane and a quick first step, his ability to create off the dribble is largely held back by his mediocre ball handling ability, especially with his left hand. Rarely does Stewart get all the way to the rim off the dribble, instead settling for difficult, contested perimeter jump shots, when asked to create for himself.
On the positive side, Stewart does find ways to contribute without the ball in his hands. Besides shooting off the catch, which does have the potential to be a strength of his down the line, Stewart's athleticism makes him a threat both cutting to the basket and off offensive rebounds, with Stewart finishing a number of emphatic putback dunks that showcased his athleticism for the position.
On the defensive side of the court is where Stewart most consistently made an impact for the Trojans last season. Stewart has good length for his position and moves his feet very well on the perimeter, which, combined with his high activity level, can cause some problems for opposing offenses, as Stewart averaged 1.6 steals per 40 minutes pace adjusted. Stewart also averaged an impressive 1.9 blocks per 40 minutes pace adjusted, which is the top figure for a shooting guard in our top-100, and shows how quickly Stewart can get off his feet, either off of one or two feet, another one of his athletic gifts.
Beyond just the numbers, Stewart was largely an attentive defender. While he could get caught ball watching and gambling for steals when playing off the ball, Stewart largely did a good job keeping himself close enough to his man that he could recover while still keeping himself in proper closeout position. Stewart is largely an engaged defender who gives consistent effort, and this should form the basis of his standing as a prospect down the line.
Stewart is far from a polished prospect, especially offensively, where a little more consistency on his jump shot and more confidence in his ball handling ability would go a long way to helping him find a role at the next level. That being said, there are signs that point to potential as a 3-and-D type of player down the line, and having the athleticism, and mindset that Stewart has is a good starting point for him to build on.
[
Read Full Article
]