We continue our coverage of the top NBA prospects in the Pac-12 with scouting reports on prospects 16-21:
Allonzo Trier
,
Kobi Simmons
,
Matisse Thybulle
,
Kadeem Allen
,
Lorenzo Bonam
and
Elijah Stewart
.
---
More DX Conference Previews
-The Top NBA Draft Prospects in the Big East
---
Top NBA Draft Prospects in the Pac-12
Part One
(#1) Markelle Fultz
Part Two
(#2) Lauri Markkanen
Part Three
(#3) Ivan Rabb
Part Four
(#4) Lonzo Ball
Part Five
(#5) Kyle Kuzma
Part Six
(#6) Drew Eubanks
(#7) Ike Anigbogu
(#8) Chimezie Metu
(#9) Rawle Alkins
(#10) Chris Boucher
Part Seven
(#11) Chance Comanche
(#12) Ray Smith
(#13) Dillon Brooks
(#14) Bennie Boatwright
(#15) Jordan Bell
#16, Allonzo Trier, 6-5, Shooting Guard, Sophomore, Arizona
Jacob Eisenberg
A top-20 recruit in the class of 2015 out of Findlay Prep, Allonzo Trier arrived in Tucson last season with lofty expectations. Slotted as one of the team's primary offensive options – and handed the additional burden of replacing lottery pick Stanley Johnson in the starting lineup – Trier experienced a predictably up-and-down freshman year in which he showed flashes of promise as a dynamic scorer but also displayed noticeable shortcomings with basketball IQ and commitment to off-ball defense.
After electing to forgo testing the NBA Draft waters and return to school, Trier will now look to improve on those shortcomings and further develop as a leader for a revamped Arizona squad.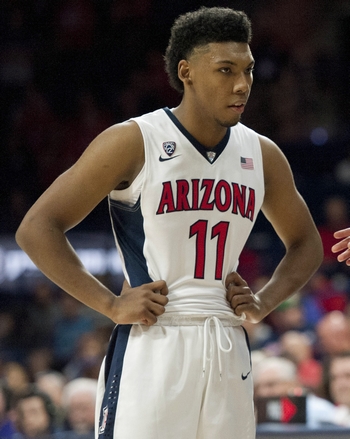 At 6-5 and 199 pounds, Trier has just decent size for his natural off-guard position at the next level. His 6-6 wingspan isn't particularly impressive either. While he would be better suited size-wise to the combo guard position in the NBA, his lack of court awareness, underwhelming ball-handling skills, and steadfast score-first mindset on the offensive end may make that transition challenging. Trier showcased an improved physique at the Nike Academy this past July, looking in noticeably better shape, undoubtedly taking advantage of Arizona's lauded strength and conditioning program over the off-season.
Trier's calling card as an NBA prospect lies in his scoring ability. He has a quick first step and an advanced series of crossover combinations that enable him to get into the lane fairly consistently when paired with his aggressive mindset. As a freshman, Trier averaged a strong 20.9 points per 40 minutes pace adjusted on a similarly impressive 61% true shooting percentage. Trier's success at getting to the free throw line was the key to his efficiency; per 40 minutes pace adjusted, Trier averaged 7.6 free throw attempts and shot an encouraging 79.3% on those attempts.
His jumper – while unorthodox – has proven to be fairly effective at the college level, but will need further tweaking to find similar results in the NBA. He shoots with a low release from his chest. The release is fairly slow and the rotation on his shot follows a knuckleball-like inconsistent trajectory. It's not pretty, but the results were encouraging as a freshman: Trier converted on 49-of-134 (36.6%) jump shots in the half court last year – an above average rate per Synergy Sports Technology.
Trier is also capable of shooting off the dribble with consistency. As a freshman, he hit on 18-of-43 jump shots off the dribble in the half court – an elite rate in the college ranks, per Synergy. Trier also has decent range with his shot. While the low (and slow) release may inhibit his success at the next level, Trier's displayed some solid touch from behind the arc. For the season, Trier hit on 40-of-110 (36.4%) three-point attempts.
Still, for all of his talent offensively, it's hard not to get frustrated with Trier's ball-stopping tendencies and apparent lack of interest with court spacing. Trier's usage hit 24.9% last season, one of the highest rates in the Pac-12, but his 1.6 assists per 40 minutes pace adjusted indicates he's just not enough of a team player at this point. And while he's not quite a turnover machine, he does turn the ball over more (13.8% turnover rate) than you'd like from a player who offers such little distributing.
Trier loves to play isolation ball and earned the moniker "Iso Zo" from the Wildcats fan base. While Synergy only tracked 12% of his possessions coming in isolation, it's fair to say that the percentage was actually significantly higher after accounting for isolation attempts in which he ate up the shot clock before eventually deciding to pass as a last resort. It's undeniable that Trier's court vision and ball stopping tendencies will have to improve as he makes the transition to being a role-player at the next level.
Defensively, Trier has the tools to be an effective perimeter defender at the next level. He's quick laterally and embraces assignments against top players in his conference. It's no coincidence that Trier had arguably his best defensive showing as a freshman against California, when he matched up against lottery pick Jaylen Brown.
Still, as is the case with his offense, Trier's physical talent far surpasses his mental diligence as a defender; he has a bad habit of losing his assignment away from the ball. And while he's undeniably active defending on-ball, that activity led to foul trouble and a bad habit of over-gambling as a freshman.
Trier certainly has the talent and make-up to play in the NBA. The question at this point is whether his understanding of the game will grow commensurate with his abilities. Trier showed some immaturity with demeanor as a freshman, frequently complaining to referees about calls. Now, following the departures of Ryan Anderson, Gabe York, and Kaleb Tarczewski from the Arizona program, Trier will need to assume more of a leadership role for this freshman-laden team.
Overall, there's plenty of room for optimism for Trier entering his sophomore year – especially if you take stories about Trier's work ethic at face value. As Sean Miller noted to Tucson.com, "[He's] is the hardest worker I've ever had. I have never seen a player work like he has worked in the summer."
It'll be interesting to see how that hard work translates on the court as a sophomore. Trier already has enough scoring talent for a team to justifiably take a chance him in the second round of the draft. If Trier can show significant progress with the rest of his game, he'll help his draft stock considerably and the Wildcats will be in great shape heading into March.
#17, Kobi Simmons, 6'5, Freshman, Point Guard, Arizona
Without the benefit of extensive high school footage, we prefer to wait and see how Simmons performs as a freshman before adding to his
DraftExpress profile
, which already features two scouting reports breaking down his strengths and weaknesses, and two video interviews.
#18, Matisse Thybulle, 6'5", Sophomore, SF, Washington
Derek Bodner
While much of the attention placed on Washington's dynamic 2015-16 freshmen class was focused on the incredible athletic exploits of Dejounte Murray and Marquese Chriss, head coach Lorenzo Romar had youth to develop virtually across the board, with five of the Huskies top seven players in their rotation getting their first taste of NCAA action last year.
While not as decorated as either Murray or Chriss, Matisse Thybulle did start in all 34 games for Romar, averaging 6.2 points and 3.2 rebounds in just over 24 minutes per game in an off-the-ball role.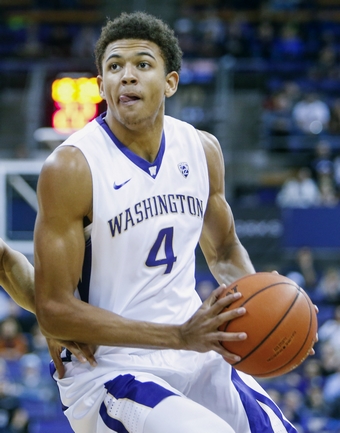 Listed at just 6'5", Thybulle wouldn't appear to have the size to defend either wing position at first glance, but what he lacks in sheer height he more than makes up for with a reported 7' wingspan. That length, as well as solid explosiveness and an ability to run the floor form the basis of a prospect who could develop into a valued role-player down the line.
Offensively, Thybulle was an almost entirely off-the-ball player, resulting in a usage rate of 13.3% that is astronomically small for an NBA prospect. In the half court this mostly meant spot-up jump shots, cuts off the ball, and occasionally using a screen to give himself a step on the defender he otherwise couldn't create with his limited ball handling ability.
Thybulle's jump shot was probably his most consistent offensive weapon, with jumpers accounting for nearly 68% of his half-court shot attempts, per Synergy Sports, although even that still has work before he has the type of consistency that would really spread the floor for his teammates. Thybulle doesn't get a lot of lift on his jump shots and can at times struggle with a hand in his face, but he does have relatively compact upper body mechanics that look like they could be fairly repeatable, even if not overly fluid, with enough repetition.
The rest of Thybulle's half-court offensive game comes mostly from cuts to the basket, where his quickness and ability to elevate around the basket really come to life. Thybulle needs to add some upper body strength to better handle contact when challenged at the rim, but he looks to have a frame that can carry additional weight down the line as he physically matures.
The rest of Thybulle's offensive game is very much a work in progress, held back by his sub-par ball handling ability, to the point where even attacking closeouts can be adventurous. This not only limits what he can do as a shot creator, but also hurts him as a shooter, since there's little consequence to a defense closing out with reckless abandon on one of his catch and shoot jump shots. Dribble penetration, pick and rolls, and shooting off the dribble are all very underdeveloped aspects of his game at this stage of his career, accounting for a very small portion of his offense and not showing much comfort on the rare instances where he tried, thus making Thybulle an easy cover for the opposition.
Defensively, Thybulle puts up some very impressive numbers, averaging 1.6 steals and 1.4 blocks per 40 minutes, pace adjusted. Thybulle uses his 7-foot wingspan to great effect here, being attentive off the ball and frequently rotating to provide weakside help. Thybulle showcases a lot of versatility down the line, especially as his body continues its physical maturation.
While his physical profile and raw statistics showcase his defensive potential, his overall impact isn't quite there yet. Part of this is physical, as he can get eaten up by hard screens at times, but part of this is his overall approach, focus, and inexperience as well, something that plagued Washington's entire team last season. Thybulle can get lost off the ball while he chases those blocks and steals, can get burned by misdirection moves on the perimeter with a stance that is frequently too high and upright, and just doesn't change direction quite as well as some other aspects of his athletic profile would have you believe. Still, the physical tools are there to become a plus defender, and most of his flaws are correctable with enough experience and discipline.
Matisse Thybulle has some of the makings of a valued roleplayer at the next level, with the tools and mindset to develop into a Three-and-D player. That being said there's still much refinement needed before he's solidified himself as a legitimate NBA prospect. While diversifying his offensive repertoire and improving his ball handling ability would be a welcomed sight and open up a much larger role for him, improving the consistency and projectability of his three-point shot and becoming a more consistent man-to-man defender would help solidify a role for him at the next level.
#19 Kadeem Allen, 6'3, RS Senior, Point Guard, Arizona
Josh Riddell
The 2014 National JUCO Player of the Year, Kadeem Allen transferred to Arizona to complete the last two years of his collegiate career. After taking a redshirt season in 2014-15 due to a rotation crunch, Allen averaged 13.4 points, 5.0 rebounds and 5.7 assists per 40 minutes as the starting point guard in his first D-1 season.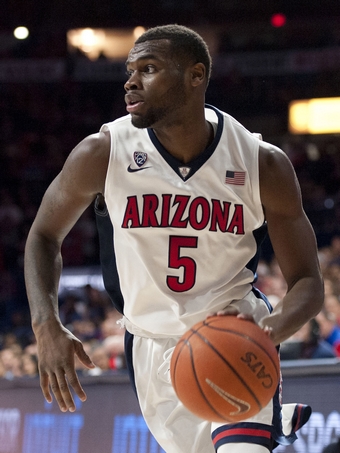 Already 23 and turning 24 partway through his senior season, Allen will be one of the oldest players on the draft radar. He has an impressive set of physical tools, listed at 6'3" with a strong 200 pound frame and an impressive wingspan, and certainly has the size of a NBA point guard. Much of his potential up to this point has stemmed from his physical profile and scouts will be watching to see if his skill set can catch up to match his athleticism to turn him into a complete player.
Ideally, Allen would become more efficient as an offensive creator in the half court, to help show he is capable of running an offense at the NBA level. Improvement in this area would start with his creation out of the pick and roll, with such possessions accounting for 46% of his derived offense according to Synergy Sports Technology. While Allen has shown flashes of offensive creation skills working off ball screens, he has not done so consistently enough to demonstrate he can regularly create efficient offense in the half court.
Allen's 5.7 assists per 40 minutes is a solid rate, and he has demonstrated some vision with the ball in his hands, which gives him the potential needed to develop into a shot creator in the half court. He's a capable passer in transition, but he needs to replicate this in the half court to maximize his passing ability. In the open court, he is constantly scanning the floor and looking to make a pass, but he puts his head down in the half court as he tries to get to the rim which limits his vision. He has the ability to make accurate passes on the move with either hand, but will need to show more refined vision in the half court to keep his teammates involved and distribute more regularly to lead an efficient offense.
He is also a little too turnover prone, coughing it up on a very high 23% of his possessions last season. He doesn't have a tight dribble in crowded spaces which lets defenders strip him in traffic or he will pick up his dribble without a plan to finish the play, which can leave him without an outlet and prone to a mistake. Becoming more protective of the ball and developing as an attacker will be key in his senior season.
While he has room to grow as a distributor in the half court, he has shown he can create for himself by getting to the rim with his quickness and shiftiness with the ball. While he has demonstrated an ability to get good looks, he struggled with his efficiency as a redshirt junior with a true shooting percentage of 55.5%. He has to improve as a finisher in the paint, converting on only 46.9% of his 64 attempts at the rim according to Synergy Sports Technology. He drives hard toward the rim but looks to avoid contact once he gets close to the rim which leaves him with some off-balance layup attempts as he falls away from the rim. On top of that, he doesn't have great touch on his layups or floaters which can turn open shots into misses. Allen has been able to leverage his physical tools to get into the paint but needs to develop his skills as a passer and finisher to finish these plays.
Converting 36% of his 50 three point attempts, Allen's shooting stroke is still a work in progress. Shooting a line drive shot, he'll need to improve his mechanics to become an efficient shooter over a larger sample. He had a similar number of spot-up and pull-up attempts and has a solid foundation as a shooter, but needs to improve his accuracy to become a shooting threat. He does prefer to get to the rim, but needs to feel confident in his shooting ability when he doesn't have a lane to drive to develop a more well-rounded offensive game.
While Allen is not yet a finished offensive prospect, his potential defensive role is much clearer to NBA teams. Sporting an excellent combination of physical tools at the guard position, he utilizes his quickness and length well to pressure the ball outside the three point line. He accepts the tough defensive assignments with the ability to guard several positions by leveraging his lateral quickness, wingspan and strength.
He will be locked in on every possession by moving his feet on penetration, fighting through screens, not letting his man getting anywhere on the court freely and recovering to finish plays. He's a physical defender who is not afraid to get in his opponent's chest and look to create a turnover, and he recorded 1.7 steals per 40 last season. He helps rebound from the guard spot as well, crashing the glass from the perimeter and pulling down 4.5 defensive rebounds per 40.
Allen has the potential to defend NBA guards right now and his desire to accept that role as a defensive stopper along with his physical tools has placed him firmly on the NBA Draft radar after his first season with Arizona. Since he will be one of the oldest draft prospects by next summer, he will need to show a more developed and efficient offensive game to prove to scouts he is capable of running an NBA offense as well. If he can do that, he'll show that he can be an asset on both sides of the floor and will be a strong draft candidate.
#20 Lorenzo Bonam, 6'4, Senior, Point Guard, Utah
Josh Riddell
After two seasons in junior college, Lorenzo Bonam originally committed to Southern Miss. When that program underwent an NCAA investigation, he received his release and instead signed with Utah, where he quickly inserted himself into the starting lineup on his way to averaging 15.1 points, 4.4 rebounds and 4.7 assists per 40 minutes.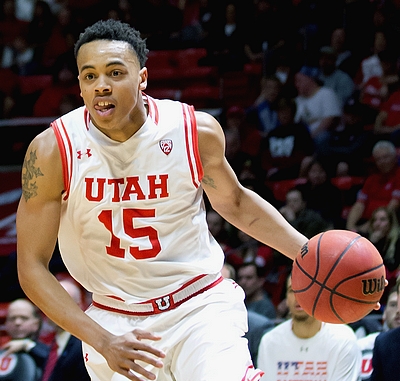 While Bonam is big enough to play either guard spot, he is much more effective with the ball in his hands. Listed at 6'4", he utilizes his quickness along with an innate ability to change speeds perfectly to penetrate into the paint. He also possess a long wingspan and a mature 225 pound frame to complement his quickness and round out an impressive physical profile that will allow him to compete against NBA guards.
Bonam uses a high percentage of his possessions working off ball screens, with Synergy Sports Technology logging 45% of his total possessions as pick and roll plays. He isn't great at breaking down the defense with his advanced ball-handling skills, so he needs to use the step he gets on his defender coming off the screen to get moving toward the rim before using change of pace moves to finish his attack. From there, he is tough to stop with a head of steam going downhill as he attacks the paint relentlessly.
Bonam is a solid finisher around the rim, as he converted 55.7% of his attempts in the half-court according to Synergy Sports Technology. He can drive to his left or right while he appears more comfortable finishing with his non-dominant left hand. He does prefer to slide past the opposition instead of facing them head-on, which can lead to some off-balance attempts as he avoids contact, which has hurt his overall efficiency. This is also shown in the fact that he attempted only 3.2 free throw attempts per 40 minutes last season, despite taking almost four shots at the rim. He's certainly strong enough to absorb contact and finish, so scouts will be looking to see whether he can develop into a more confident finisher on his drives.
Bonam is unselfish and a capable passer on the move, as he posted 4.4 assists to just 2.5 turnovers per 40 minutes. He protects the ball well and doesn't try to do too much which turns him into an efficient passer and playmaker off the dribble. He keeps his head up at all times and has the size and vision to see the entire floor and ping accurate passes to his teammates, which gives him the potential to play as the lead point guard.
To fully realize his potential as a penetrator, he'll also need to incorporate a more refined pull-up jumper into his attack. On 31 attempts last season he converted only 32% according to Synergy Sports Technology and struggled to transition from his downhill speed to an on-balance pull-up. He certainly prefers to drive all the way to the rim, but with his average finishing rate and inability to get to the line, he should look to add the ability to shoot off the dribble to give him options on his drives.
He displayed some potential as a shooter last season by hitting 40% of his 55 three point attempts last season, but he needs to shore up his mechanics to repeat his performance over a larger sample. As a spot-up shooter, he converted 38.6% of his attempts, but he can be bothered by length with a release that is from below his eyes and is a little slow. He's shown an ability to convert from beyond the arc, but he will likely need to make some mechanical adjustments to shoot it consistently from NBA range and be a threat off the ball.
Defensively, he has the tools to become a versatile guard who can defend either backcourt position with his length and lateral quickness, but his effort level has lagged at times which has limited his impact. His opponent can get by him too easily off the dribble, and he drifts off the ball so he isn't always in the right position to be a helpful team defender.
Bonam needs to utilize his tools better as his long arms are often at his sides and not pressuring his opponent on the ball or clogging passing lanes. He gets caught on screens and doesn't always use his speed to recover once his man is past him. There's plenty of defensive potential for him to unlock, but his awareness and motor will need to improve for him to make an impact on that end of the floor.
Bonam won't be 22 until after the end of his senior season which puts him at the younger end of the senior class. With the team's leading assist man in Brandon Taylor graduated, Bonam should get more of a chance to show his playmaking skills and his ability to create with the ball. If he can continue to impress scouts with his playmaking ability on the ball while showing more ability as a shooter/scorer and an increased defensive desire, he will certainly keep his name in the draft conversation.
#21, Elijah Stewart, 6'5", Junior, Shooting Guard, USC
Julian Applebome
USC took a step in the right direction in 2015-16 under third year head coach Andy Enfield, winning nine more games than the previous season, while making their first NCAA Tournament appearance since 2011. Sophomore guard Elijah Stewart was a key piece for an improving Trojan team, but, for the most part, didn't change much from his freshman year. Stewart found himself bouncing in and out of the starting rotation, stringing together some very impressive performances, while also looking like a non-factor in several games.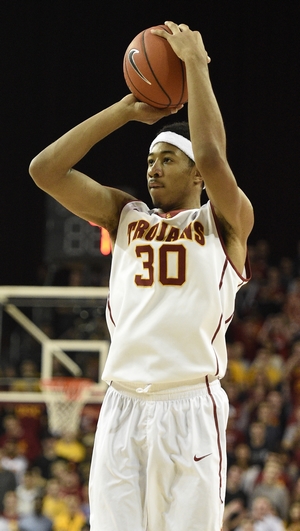 At 6'5" and 190 pounds, with above average length, Stewart has decent size for the shooting guard position. He is a dynamic athlete who possesses explosive vertical leaping ability, and has the explosiveness needed to finish above the rim off one or two feet. He is a threat running the wings in transition, getting behind the defense for alley-oops, or crashing the rim for tip dunks.
The most translatable skill Stewart possesses is his ability to shoot from beyond the arc. As a freshman, Stewart converted 34.6% of his 107 attempts from deep, but took a big leap forward last season, hitting 42.9% of his 140 3-point attempts. He doesn't have the most conventional shooting mechanics, often letting his elbows flail out, but has the size and quick release needed to get his jumper off cleanly on the catch, and saw excellent results. He is a threat to run to the 3-point line in transition, and found a lot of open looks from deep early in the shot clock.
Outside of his perimeter shooting ability, Stewart is limited offensively in the half court. 54% of his field goal attempts last season came from beyond the arc, with the majority of them in catch and shoot situations. His reliance on his outside shot caused several inconsistent performances over the course of the season, including nine games in which he scored 5 points or less.
Much of Stewart's limitations in the half court can be tied to his poor ball-handling skills. He has the ability to step in and knock down a smooth one or two dribble jumper, but any other shot-creation moves outside of that can be a struggle. He seems to be aware of his lack of ball-handling ability, and generally plays within himself, as evidenced by his very low 1.3 per 40 minute turnover rate. Stewart's inability to make plays with the ball dampers the effectiveness he can have offensively, despite the athletic ability he possesses. He'll occasionally try to get into the paint with a straight-line drive or using a ball screen, but often his forays to the rim will end with awkward runners that he doesn't convert at a high rate. When he does get all the way to the rim, he can finish effectively using his explosiveness and body control, but is generally a finesse finisher who doesn't get to the free throw line at a high rate. He was featured in a fair amount of ball screens last season, but didn't show much in terms of creating for others. He'll make the extra swing pass when he is closed out on the perimeter, but hasn't shown much else as a playmaker.
Defensively, Stewart has all the physical tools to be a contributor. He has the length, strength, and athletic ability to guard players that are both quick and strong, but he is plagued by over aggressive defensive tendencies. In nine games last season he had four or more fouls, with many of them coming far from the basket. He likes to get into ball-handlers, close out hard on shooters, and gamble for steals, often drawing whistles in turn. When he is staying out of foul trouble, he competes, and has a high activity level that allows him to influence the game as a defender. He moves his feet well, stays in a stance, and does a good job covering ground on the perimeter and using his length and athleticism to close out on shooters. He can occasionally get lost as an off ball defender, keeping his eyes on the ball handler and preparing to jump passing lanes, rather than sticking with his man. His steal and block percentages were both cut by about half this season from last year , but he was still able to influence a good amount of shots from the guard position.
USC will return a similar roster to what they fielded last year, as they look to build on their first winning season since 2010-2011. For Elijah Stewart, his junior season will be an important one, as he looks to distinguish himself as an everyday starter and a future NBA prospect. In order to build on his game he'll need to show more diversity on the offensive end, while continuing to shoot the 3 at a high rate. He has the physical tools to continue to improve, but will need to show more consistency on both ends of the floor, and take a bigger leap than he did from his freshman to sophomore year.
Honorable Mention:
Dominic Green
, Washington
Tyler Dorsey
, Oregon
T.J. Leaf
, UCLA
Thomas Welsh
, UCLA
Michael Humphrey
, Stanford
Dusan Ristic
, Arizona
Sam Cunliffe
, Arizona State
Malik Dime
, Washington
Tres Tinkle
, Oregon State
Jabari Bird
, Cal
Tra Holder
, Arizona State
Aaron Holiday
, UCLA
George King
, Colorado
Jordan McLaughlin
, USC
Josh Hawkinson
, Washington State
Shannon Evans
, Arizona State
Reid Travis
, Stanford
Josh Sharma
, Stanford